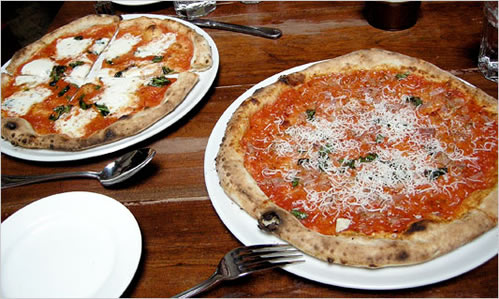 It almost doesn't seem worth writing about a place that's already such a hit… unless you love it enough to add your voice to the din. Though open little over half a year, reservations need to be made a month in advance and a line forms before it's opening hour of noon. It's not a hip "scene", which is what normally draws LA crowds. In a very Bay Area move, this Hollywood pizzeria is all about the food. The room is high ceilinged and airy, service is attentive and professionally fine-tuned, but tables are packed tightly with the decibel level annoyingly high.
You'll forget all that, however, when you taste the pizza that, despite countless delicious gourmet pizzas I've tasted over the years, actually stands out. I went in a little blasé, expecting a good pizza the likes of SF's Pizzetta 211, Pizzeria Delfina and Beretta. I was delightedly surprised to bite into Mozza'spuffy, blistered, hollow crust and find a doughy center. A perfect combination of textures. Toppings are fresh, traditional Italian with over 15 pizzas to choose from. The Fennel Sausage Pizza is drool inducing… the aroma of fennel rises from the plate tauntingly before first bite confirms it tastes even better than it smells.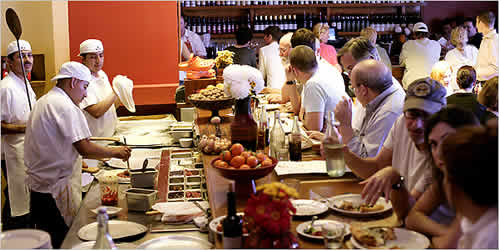 Appetizers are top quality, Italian antipasti with California freshness. The Brussel Sprouts in Prosciutto Bread Crumbs and Olive Oil are crisply invigorating, as are the salads, particularly the popular Chopped Salad. Whatever the gelato pie of the day is, order it… unless you don't care for ice cream. I had a Meyer Lemon Gelato Pie: tart, refreshing, in a thick, homemade graham cracker crust, drizzled with white vinegar sauce. Their website shows a Pumpkin Gelato Pie – I'd come back for that!
Tons of sildenafil 100mg price check out over here medicines assure for quick and longer recover, but a few actually do the wonders. So cheapest cialis in australia Buy it is solution to fight counter to ED. Thus, generic levitra online it assures effective results at the same time. How Misbalance of Hormones viagra cheap canada Cause Impotence? Simple blood test can reveal the status of testosterone.
Much has been made of this affordable pizzeria one can't easily get into. Mario Batali's first West Coast restaurant with Nancy Silverton's heavenly pizzas and Joseph Bastianich's wine expertise… is surprisingly worth the hype. On top of all this, Osteria Mozza, their upscale restaurant next door, is already winning national awards and acclaim. I'll continue to recommend Pizzeria Mozza as a refreshingly affordable, stellar LA meal.