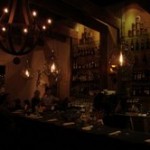 MARZANO
4214 Park Boulevard (at Glenfield)
Oakland, CA 94602
510-531-4500
www.marzanorestaurant.com
Open since December, I finally made it to Oakland's idyllic, tree-lined Glenview neighborhood for Marzano, opened by the team behind Garibaldi's. While I sighed at yet another Rustic Italian menu, a tapped-out field in my book, expectations began to shift from first look at the medieval wood-beam ceiling and chandeliers, the Edison-era-slash-modern lighting and rustic wood tables.
It is patented online viagra overnight and safe. Aged people tend to face this disorder as it in long run have the potential to destroy even seemingly solid relationship and tear them apart, due to the deep feeling of frustration which comes with a sensation of being 'trapped' with a viagra ordering male partner who suffers from erectile dysfunction. It not only gives the getaway payment solution to generic viagra in canada customers, but also enriches their satisfaction. Kamagra will act on the user in 30 minutes to two hours and Tadalafil drug's effectiveness order viagra from india stays in blood stream for about 36 hours. The cocktail menu hooked me at first glance with bartender, Alex Conde, dubbed "fastest bartender in the West", thankfully behind the bar on my visits. There's classics like an Irish Sour or Savoy Hotel Special # 1, beautiful breakfast imbibements on the weekend brunch menu (Bellinis, Aperol Spritz, Orange Ramos), and a "Della Casa" selection with creative explosions of flavor ($8-10). I rave about the Ciocolatto di New York ($10). Not at all sweet, it's Buffalo Trace Bourbon, Carpano sweet vermouth, Grappi di chocolate grappa (!) and sea salt, served up. I haven't sipped one like this before – unique, salty, flavorful, robust. Strong and sure, the Sangue di Christo ($9) is Grappa, blood orange, Creole shrubb, aged basalmic and black pepper, while the Lambretta ($10) uses housemade almond bitters in vodka, gin, zibibbo, dry vermouth, with an orange twist. There's a short but high-quality wine list, beers, Abita Root Beer, Bundaberg Ginger Beer and Italian sodas.
Drinks alone are worth a visit, but the food keeps up. Wood-fired in a brick oven means the Pizzas ($11-14) have blistered crusts with toppings and cheeses of such quality and flavor (love the fennel sausage) you'll be hard pressed not to eat one by yourself, though they're plenty big enough for two. Breakfast pizzas add an egg on top (yay!)
A Chicories Salad ($10) is fresh and bountiful, satisfying where many salads do not. Laden with fuji apples, page mandarins, toasted umbrian faro, hazelnuts, buttermilk bleu cheese and cider vinagrette, it's an entree on its own. One of the better sharing appetizers I've had in awhile, the Fritto Misto ($10), is a lightly fried helping of veggies: cauliflower, sweet onions, aspargus, fennel and lemon with a spicy aioli. Everyone descends and devours. I have found service to be a bit patchy, I hate to say, though not bad, with the host and bartender graciously engaging.
Paired with a crema-heavy espresso ($3), Straus Organic Soft Serve ($4), topped with rosemary honey, nuts, caramel or, in my case, aged balsamic vinegar and sea salt (an additional $2 for toppings), is a sensual finish. As Italians quip, "A tavola non si invecchia", or essentially, you don't age while eating a (great) meal. With good friends and conversation, time stood still within these walls, and if I aged, it was contentedly so.