Eating is highly subjective, and the man who accepts say-so in youth will wind up in bad and overtouted restaurants in middle age, ordering what the maitre d'hotel suggests."– A.J. Liebling, "Between Meals: An Appetite for Paris", 1962
I can barely keep up with all the amazing tastes this month. So, narrowing it down…
BREAKFAST
• Nothing like Chicken & Waffles (in maple syrup) on a chilly day. Hit the HP (Hunter's Point, that is) for Auntie April's $5 killer waffles with juicy fried chicken. Fills the void when I'm missing Roscoe's.
SAVORY – VEGETARIAN
• Sweet Corn Tamales with a cup of excellent Champurrado (Mexican drink, traditionally served with churros, made of hominy flour base, water, chocolate, milk, cinnamon, anise… reminiscent of chai) from the Mission's La Espiga de Oro
• Love Pizza Nostra's beautifully creamy Burrata with fava beans and wheat toast.
SAVORY – SEAFOOD
• Charleston She Crab Soup ($10) is served at new upscale Southern, Pican in Oakland. Since Charleston, I haven't even seen She-Crab soup on a menu: a creamy, rich bisque with sherry, topped here with fresh Louisiana Blue crabmeat. Traditionally the soup is enhanced by crab roe, which I believe is the case here, though didn't see any – maybe mixed in? Either way, it's good.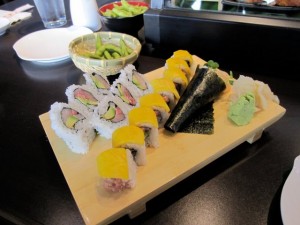 • Bushi Tei Bistro, a casual offshoot of what's long been my favorite upscale Japanese-with-French-cooking-ethos, Bushi-Tei, is a welcome all-day spot for sushi, udon and Japanese curry, inside Japantown Mall, but… it doesn't begin to compare to the original. Starters are generally better than entrees, but a couple pieces of sushi were slightly rubbery (not ok!) I was, however, pleased to eat a Crab Salad ($9.95) inspired by Bushi-Tei's brilliant Lobster Salad, replacing lobster with crab, tossed with smoky bacon and papaya, in a salad of Chrysanthemum leaves. Hopefully, BT's bistro catches up.
• Overall freshness is the name of the game at brand new Otoro, a Japanese sushi joint that just opened this week in Hayes Valley (yes, they do have a lot of good sushi in HV!) Everything from spicy scallop handrolls, to cooked butterfish, to signature Otoro Roll, are made with ultra-fresh fish and generously portioned. The space is tiny, chic… a welcome lunchtime respite.
SAVORY – MEAT
• Kitchenette does it again! At the Dogpatch garage for another weekday lunch, I, once again, licked my fingers clean of Berkshire Pork Korean Tacos ($8) marinated in hot bean & sweet rice, with napa cabbage & apple salad and spring onion-cilantro salsa. Run, don't walk, if you see it there again!
• Oh, Ryan Farr… if your Chicharrones weren't addictive enough, I had to try your gourmet Corn Dogs straight out of the oven, dipped in mustard sauce at Meatpaper Magazine's Pig Party at Camino. Damn!
• Pal's Takeaway, inside dodgy Tony's Market on 24th Street, has kick-ass sandwiches on ACME bread, like a Bahn Mi of pink/brown beef with jalapeno, cilantro and carrot.
• Celadon in downtown Napa is romantic, leisurely, with fine service. Starters rule: a Beef Satay ($12) cooked in yellow curry with cucumber, green papaya, pickled ginger, peanut sauce, transported me straight to Thailand. The tender meat was cooked just like I had it in my months there, not like most Thai places in the US. But equally as fabulous was crispy Soy-braised Pork Belly ($13; I know, I can't get enough of the belly) with tons of watermelon cubes, radishes, mint and Thai basil.
SWEET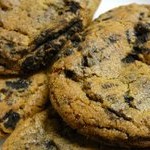 • Jardinere's Chocolate Brioche Bread Pudding with candied kumquat ice cream ($10) is hot, chocolately goodness punctuated with the candied tart bite of kumquat, served in a little cast-iron dish. Luxurious.
• Anthony's Cookies in the Mission ($5 for a half dozen) taste like Mom's homemade. They're ALL good but I think I'd choose Cookies & Cream if you forced me.
DRINK
• 15 Romolo (15 Romolo Place, San Francisco, 94133, 415-398-1359) is back… and then some. With new managing partners, Scott Baird and Aaron Smith, joining owners, Greg Lindgren and Jon Gasparini, revamped Romolo still has the intrigue of alley access in the heart of North Beach, a well-chosen jukebox selection, and a hint of the Old West from handlebar-mustachioed bartenders, to a dim, woody bar. Cocktails hold rank with SF's greats, including a Pimm's Cup even better than at Napoleon House in New Orleans (though who can beat their 18th century ambiance?) I was crazy about maybe the lightest, freshest take on absinthe yet: L'arc de Triomphe, with Kubler Absinthe, Egg White, Orange, Lemon and Orange Bitter Syrup. With the care I see going into drinks from each talented bartender, to some of the most creatively playful bar bites around (addictive Jambalini: Italian arancini-style jambalaya balls with Creole aioli; $4 for five), I think we have a new classic on our hands.
• Adesso (4395 Piedmont Avenue, Oakland, 94611, 510-601-0305) has pretty much the best happy hour ever… not only because cocktails are of artisan quality, like the Billionaire ($9) with Bakers' 107 Bourbon Whiskey, Grenadine, Absinthe Bitters, Lemon, or seasonal, mercifully not-too-sweet Fragola Coppa ($8): Pimm's No. 1, Cointreau, Limonata, with muddled strawberries, cucumber and mint; but because their FREE happy hour food is not just any free food: pork ragu arancini, salumi from their extensive selection, paninis, crostinis. It's good stuff – all for the price of a drink.
• Passion fruit aroma burst from a glass of Terra Mia Sauvignon Blanc at Liberty Cafe… passion fruit on the tongue, too, with a nice, mineral finish.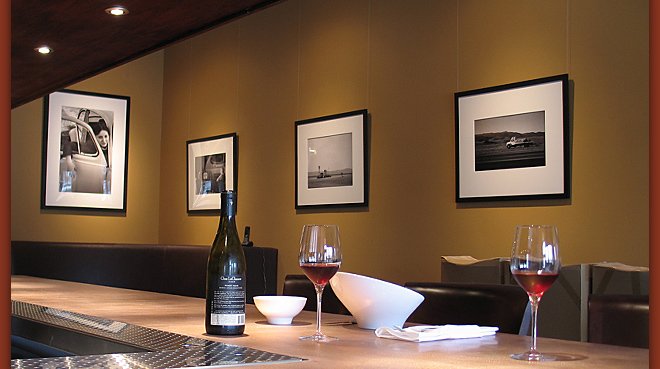 • At Sidebar in Oakland, I appreciate the cocktail menu from none other than Jonny Raglin of Absinthe as consultant. Two versions of classic cocktails is a unique/cool concept: "Classicist" or "Locavore", the latter being versions made with Bay Area liquors. My initial favorite was the hard to define, cinnamonny-cherry refresher, Zamboanga 'Zenie' ($10), a 1946 recipe from Charles H. Baker's Gentleman's Companion. The "locavore" is made with St. George Chardonnay Brandy, Acqua Perfecta Kirsch, pineapple gum, lime, bitters.
• At Forbidden Island Tiki Lounge, I always have a good time. My latest F.I. fling? The Nui Nui ($8) is a Don the Beachcomber classic with fresh citrus, housemade allspice liqueur and cinnamon syrup. I get the fresh breezes of Summer and the spiced comfort of Winter, all in one drink.