My favorite events this month…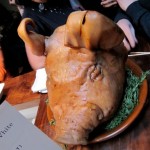 MEATPAPER'S PIG PARTY at Camino
The setting couldn't be more ideal for a pig party: wood floors, beams and chandeliers, long tables, and a roaring hearth fire with counter big enough to hold a massive pig and all array of homemade sausages, pig tails and terrines. It felt akin to a rustic, British home where we'd come for a heartwarming feast.
Celebrating the Spring issue (pig-focused, natch) of Meatpaper, the definitive meat magazine, the food/drink spread is well worth the $35 fee, though good luck snagging a table and making your way through a body-to-body crowd in the sold out event. I hate things that packed, but the vibe was convivial and Camino's staff stayed upbeat throughout, even when descended upon coming out of the kitchen carrying Ryan Farr's gourmet Corn Dogs with mustard sauce (I guiltily admit to being a descender).
Camino's patient bar staff made a couple house cocktails using sponsors, like Leopold Brothers gin and St. Barths' Batiste Rum, while wines (from Pacific Edge), beers (Trumer Pils) and a mild hibiscus juice flowed.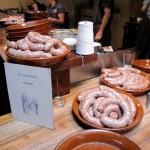 Leif Hedendal created some gorgeous vegetarian offerings in the midst of all the pig, like a bright Snap Pea/Blood Orange salad, Potato Salad and one of my tops, a bright Pea & Mint Crostini. Fatted Calf's Taylor Boetticher cooked juicy, grilled Crepinettes with Becker Lane Organic Pork wrapped in. His Pork Terrine with spicy mustard on toast was nuanced. Staffan Terje of Perbacco laid out charcuterie, but better was his one-of-a-kind Bacon Marshmallows. Camino's chef, Russell Moore, made Green Garlic & Herb Sausages (using Prather Ranch pork), and Ryan Farr's famous Chicharrones were piled in bowls around the room. Smart move. No one could stop eating them.

With quarterly release parties for each issue of the magazine (check their website), there will be more chances to indulge in such a feast. But back at the party, butchery of the hog commenced, its head sitting proudly on the counter, overseeing the festivities.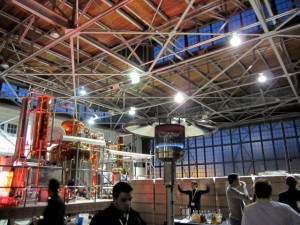 MINISTRY OF RUM at St. George Distillery/ Hanger One in Alameda
Ministry of Rum… what is that, friends asked? Some cool ministry of spiritual significance, roping in followers with fine rum? Well, that's not too far from the truth. An event focused on education in cane spirits, specifically rums and cachaças, in the massive airplane hanger of incomparable St. George Distillery, Ministry of Rum tours the country, its focus on "the noble spirit".

Mainly attended by spirits cognoscenti, it was one fine taste after another through the bustling hangar. Thanks to a well-paced crowd, I could talk reasonably with and hear from vendors about their rums, sampling different ages and styles. I heard stories of distilling processes, or in the case of delightful Sergeant Dave Classick himself, of his family who are all involved in running their distillery – his daughter and son poured tastes and mixed cocktails as we chatted.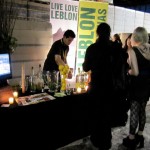 Despite a number of highlights (El Dorado distills some beauties), I was pleased, as a Bourbon lover (who hasn't yet met a spirit she didn't find some good qualities to), to discover a number of sipping rums that would stand beautifully alone, paired with a fine cigar (as the Renaissance Man continued to point out). My tops at first sip: Zacapa's rum, aged in bourbon, sherry and wine barrels, each barrel imparting another layer to the nuanced rum grown from Guatemalan sugar cane. The color of rich mahogany, it's dense with woody, vanilla and spiced notes. Another favorite was Mount Gay's Extra Old Rum from Barbados, one of the oldest rum distillers in existence since 1703. Aged 17 years in toasted oak barrels, it's smoky but smooth with notes of molasses and oak on the nose.
A major perk of the evening was having some of SF's best mixologists serving drinks made from each vendor's rum. The line-up was stellar and they were often educating on the rums they were working with: Martin Cate, Erik Adkins, Brooke Arthur, Thad Vogler, Duggan McDonnell, Marco Dionysos, and so on. Reason enough to go, but all in all, a richly informative night… and sensory delight, the lights of San Fran twinkling in the distance. All this in an airplane hangar.