(Upon discovering champagne): "Come quickly! For I am drinking in the stars."– Dom Perignon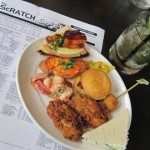 Let's go ahead and give the whole spread at Pican's Kentucky Derby Party in Oakland a nod. Hard-pressed to pick from the all-you-can-eat (and drink – Mint Juleps) menu: it might be Louisiana Crawfish Toasts, signature Buttermilk Fried Chicken (in wing form), super-smoky Ham Biscuits with an addictive chowchow (pickled veggie relish with a hint-of-mustard), or was it boozy rich Bourbon Chocolate Balls? Don't make me choose.
SAVORY – VEGETARIAN
• Vegan Pumpkin Bolani with Lentil Curry from East & West Gourmet Afghan Food's table at Thursday's Farmers Market at Crocker Galleria. Comforting goodness.
SAVORY – SEAFOOD
• Divine Sauteed Maine Sea Scallops ($29) with Rancho Gordo beans, swiss chard and Meyer lemon, at chic wine and dining haven, RN74. But let's just say there's way more where that came from! More on Michael Mina's latest soon…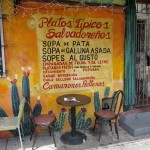 SAVORY – MEAT
• A tasty as hell Al Pastor Taco ($1.50) from El Cachanilla's straight-outta-Mexico window. Flecked with bits of pineapple, I added beans and scorching salsa to the pork – a heavenly bite for Mexican-food lovers like moi.
• It's so trendy, I hate to add to the din but the Korean taco craze that has taken over LA (thanks, Kogi), is slowly working its way through SF. John's unassuming little FiDi deli is the last place you'd expect to find the unusual, but head there on your lunch break for Korean tacos or burritos loaded with kimchi, your choice of bulgogi beef, bbq chicken, pork or tofu, plus lettuce, cilantro, cheese, onions and his mom's secret Korean sauce.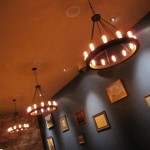 • When I heard Walzwerk owners were opening a German haufbrau-style, (soon-to-be) all-day eatery, Schmidt's Deli, I was delighted as there just ain't enough German food around. After a couple visits since soft-opening on May 6, I'm drawn in by the sparse, clean room, friendly German staff, German groceries (slated to grow), and impeccably fresh, but still keeping the 'heart' in hearty, fare. It's ALL good: Veal Schnitzel with sour cream & dill, juicy Wild Boar Sausage, apple-fragrant sauerkraut, and a killer Cheese Spaetzle (read more in my Guardian "Appetite" column).
• Martins West, in Redwood City's historic Alhambra building Wyatt Earp himself once frequented, the long, brick, wood space nods to the Old West in decorative touches (old photographs, candle chandeliers), while modeling itself on Martins Pub in Edinburgh, Scotland. Initial tastes proved strong, especially Black (blood) Pudding ($12), Pheasant & Leek Banger ($9), and a Devonshire Cream Tartlet. But perhaps my favorite: a breaded, fried Scottish Egg ($4) with sausage. Yes!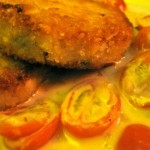 • Friday lunches at Bix evoke that 1930's elegance I adore so: sweeping deco staircase, grand piano, salads tossed and martinis shaken tableside. The hand-cut Steak Tartare ($13.95) is mixed tableside with shallots, capers, parsley & mustard, to striking effect, and their classic Chicken Hash a la Bix, part of the $19.95, two-course lunch special, is heartily delicious.
SWEET
• Humphry Slocumbe could easily be in my "Top Tastes" every month. As its been awhile since I mentioned them, thought I'd give a nod to some recent flavors that have been rocking my world, like Cream Cheese Chocolate Chip (tart/sweet with choco shavings) or smoky Scotch Rye (as in rye seeds) made with 10-year Laphroaig scotch? Hold me back.
• Sutro's at the Cliff House is definitely improved with George Morrone at the helm. Can't help but feel a tinge of corporate chain in the decor, but service is attentively sharp without being invasive, food consistently strong and the view… well, glorious. Dessert was a perfect finish: tart Frozen Lemon Souffle ($9) dotted with lemon zest, served with blueberries, aged balsamic, lemon curd, citrus shortbread and a hint of black pepper.
DRINK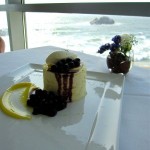 • Fly Bar, formerly Brick, is THE new happy hour deal. Went opening night (May 1) with a group and had a blast. Pizzas half price for only $4.50? And they're good, too, from Jimmy the Greek to Southwestern to Carmel Blue (gorgonzola, mozzarella, caramelized onions, white garlic sauce). Playful cocktails are $5 (still a deal at full price: $7-8), my fave being a root beer with benefits: Island Root Beer (New Orleans' Abita root beer, rum and house-made ginger syrup).
• Enjoyed a strong, smooth Burnt Fig Sazerac (rye, muddled burnt figs, agave nectar, orange bitters, absinthe rinse) and a balanced Cactus Flower (Cazadores Reposado, elderflower liqueur, lavender-infused simple syrup, Creme de Cassis, lime) at 83 Proof in FiDi (did not enjoy the screaming din of happy hour crowds, however, so must go on weekends or late). The staff know cocktails.
• In honor of SF Cocktail Week, a special menu at Bourbon & Branch included the Indian flavors of Ian Scalzo's' frothy Elephant Eyebrows ($12): gin, garam masala, honey syrup, fresh lime, nutmeg.
• Two beauties at Clock Bar to celebrate SF Cocktail Week: an 1862 recipe, the balanced Japanese Cocktail ($13) from Bon Vivant's Companion (Hennessy cognac, housemade agave orgeat, Angostura bitters on the rocks), and bar manager, Marco Dionysos', refreshing, nuanced Periodista ($14), inspired by the classic Journalist: Partida Anejo, Amaro Nonino, orchard apricot, fresh lemon, egg white, habanero tincture, with drops of Angostura.