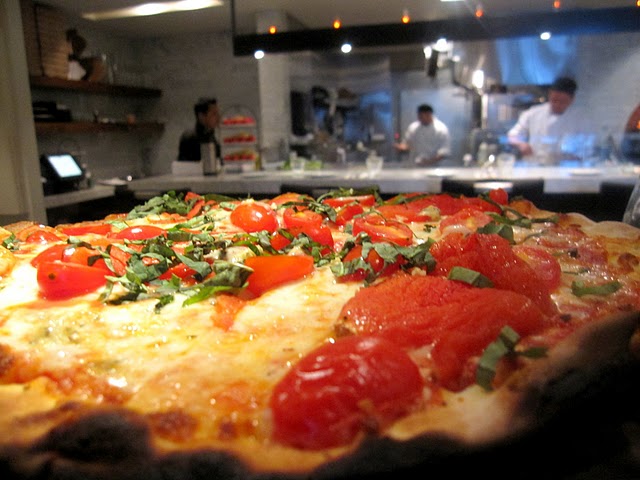 Top Tastes is my usual run-down of favorites. Rather than a list of all-time favorites (another thing altogether), it's highlights since my last newsletter, often from new openings. Many don't make the cut, being a revisit written about before or simply not as stand-out as dishes mentioned.
SAVORY – MEAT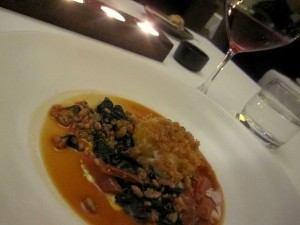 • My birthday dinner this year was a GOOD one: I finally made it to Daniel Patterson's Coi. I could not possibly choose one top course, so a few may have to be named. Understated and muted as the dining room is, service is impeccable, Patterson himself delivers some of the courses, and gently hip sounds of Radiohead and Zero 7 set the backdrop for a blissful, hours-long meal. The Renaissance Man and I ate our 11 courses ($125 per person) over about three hours, savoring the range, creativity and precision of each dish. Sizes only appear small – at about the 8th course, I was getting full. I have to say it: their famed Slow Cooked Egg, served with crisp chicken skin and broth, Swiss chard, farro, is all it's cracked up to be (oh, I loathe puns and here I am succumbing!) Texture, flavor, perfection.
SAVORY – SEAFOOD
• Bar Crudo has long been a seafood, and certainly crudo, favorite of mine since its original FiDi location, now in roomier (though missing some of the charm) Divisadero digs. There's little I've ever had here I don't just love, from the creamy dream of a chowder to crudo perfection. A Crudo Sampler ($12/23) is a great way to try a few, while a recent addition of Rhode Island Fluke ($12 for 4 pieces), with a kick of jalapeno, coconut milk, citrus, basil, mint, is topped with none other than chicharrones. Could it get any better?
• Another Coi highlight was grilled Monterey Bay Abalone. Tender, it rocked the a la plancha treatment, accented with Meyer lemon, shellfish vinaigrette, and puntarelle (in the chicory family). A truly approachable abalone dish.
SAVORY – VEGETARIAN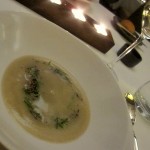 • Coi, take three: creativity flavor combo points for Sunchoke-Buttermilk Soup… the buttermilk broth poured tableside over a gelatin-like sunchoke disc. The kicker comes in unexpected additions of Asian pear, cocoa nibs and mint.
• Potrero Hill's new Mediterranean (in long-timer Eliza's space), Pera, is working out new opening kinks but gracious service isn't one of them. They're hospitable, willing to chat and explain dishes (from Turkey, Greece and beyond). Meze (small plates) give me a chance to try more. I like the fresh meat of Cannellini beans in Fasolaki ($7 at lunch) contrasted with bright lemon vinegar, tomatoes, red onion, olive oil and scallions, topped with a boiled egg.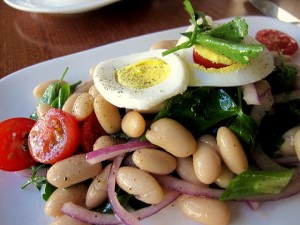 • By no means the best pizza in town, Local Kitchen & Wine Merchant's Point Reyes Blue Pizza ($16/$21) with mozzarella, Pt. Reyes fabulous blue cheese, cherry tomatoes, oven roasted tomatoes and basil, still hit the spot on a recent brunch. Sunday nights it's all-you-can-eat pizzas for $12.95 per person, which is the real deal.
• Bernal Heights' new East-meets-West bakery, Sandbox, is mostly French pastries mixed with Asian baked goods. Pastry chef, Mutsumi Takehara, comes from a high pedigree: La Farine and Chez Panisse (the West) and Slanted Door (and the East). A welcome little addition to the 'hood, in my initial visit I was impressed with a Sticky Bun ($2.25) – truly perfecting the 'sticky' – and a Negi-Miso Challah ($2.25), a savory roll laced with miso and scallions.
SWEET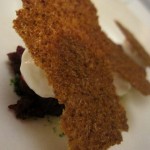 • Oakland's Lush Gelato rolls out holiday and seasonal flavors with a lovely (and boozy) egg nog, a meaty-fresh pumpkin and a fine cinnamon. I still gravitate towards their year-round classics like fresh mint chip, tasting like a creamy mint herb garden.
• Back to Coi once more for dessert: though there were two dessert courses, both delicious, my favorite was Steamed Kabocha Squash Cake, a little moist cake reminiscent of a fine gingerbread or pumpkin bread, but more airy, with accents of apple, pomegranate and genius addition of garam masala spices.