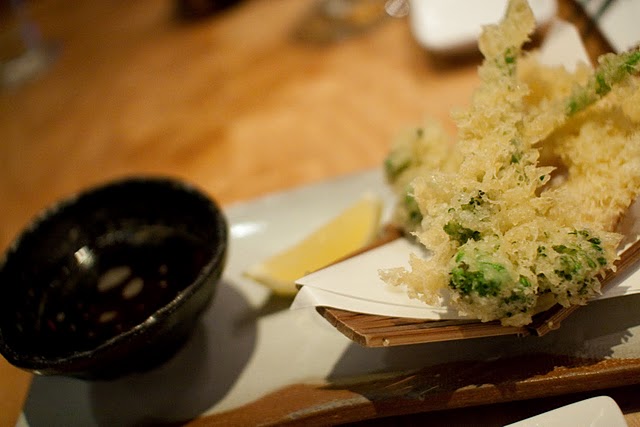 Top Tastes, rather than a list of all-time favorites (another thing altogether), is highlights of the best things I've been eating since my last newsletter, often from new openings. Many don't make the cut, being a revisit previously written about or simply not as stand-out as dishes mentioned.
MID-RANGE RESTAURANTS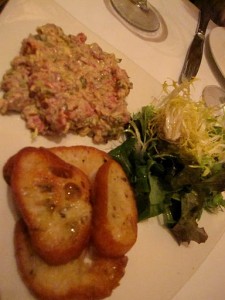 • has a new chef de cuisine, Sophiane Benaouda, from Lyon, France, with a background working in three-star Michelin restaurant, L'Auberge de L'Eridan, and attending none other than Paul Bocuse's culinary school, Chateau du Vivier. He's also a delightful human being, graciously stopping by to say hello as he's able, eager to talk about food, travel… he's a wonderful asset, enlivening Grand Cafe with new spark. Bringing French cooking expertise and Provençal flavors to the Cafe's menu, at a recent media dinner, I feasted on his garlicky, buttery Escargots de Bourgogne ($10), Tartare de Boeuf ($16), a lovely Waygu steak tartare mixed with aioli and capers, fresh-as-the-sea meat from King Crab Legs ($7 each for 5 oz. legs), luscious seared Scallops ($30) with crisped artichoke and celery root puree, then the gorgeous pink and brown of a medium-rare Buffalo special with a mound of artistic scalloped potatoes. Pastry chef, Jessica Miller's chocolates, went home with me. Sea Salt Chocolate melted with a filling that tasted of butter and brown sugar. Sigh. French food is receiving a breath of life at Grand.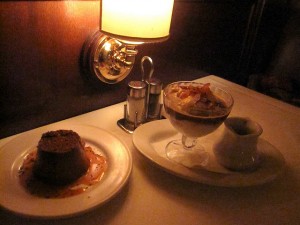 • On a rainy night, the mood at Poggio was magic. Lamps glowed, the smell of spit-roasted pig gave a whiff of intrigue for Porchetta Mondays (a generous $16 dish with white beans, tomato and sage), and my classic Negroni (Tony, the bartender's specialty), is one of the best I've ever had. Add in an order of homemade Burrata ($11), delicate cheese with sun-dried tomato puree on grilled ciabatta, or awesome pastas (all made in-house), like Chitarra (square cut spaghetti, $19) with big chunks of Dungeness crab and a light sauce of Meyer lemon aioli and saffron, then maybe an Affogato to finish. I was transported to Italy in spirit while enchanted by a misty Sausalito night.
APPETIZERS with DRINKS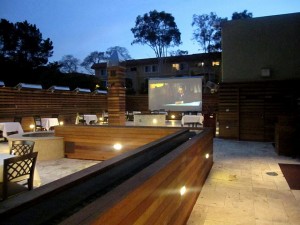 • I can't yet vouch for steaks and dinner at Burlingame's new Medallion Steakhouse, but its proximity right off the freeway a minute or two from SFO makes it an easy stop pre or post airport pick-ups. Sip The Medallion cocktail ($10/$5 at happy hour, 4-7pm, M-F) – Milagro Blanco tequila, Chamomile Citrus Berry AperiTea, St. Germain, lime – while eating oysters, a Prime Rib Spring Roll ($9/$6 at happy hour) or Fennel & Sausage Pizza ($11). What really intrigues me is a striking wood-walled patio with chic fountain, firepit, and big screen playing "Rebel Without A Cause". This could be an amazing spot in warm weather for drinks outdoors. Add in a relaxed crowd and it would feel like a happening private party.
CATERING
• A 1/18 private Bourbon & Branch Glenmorangie party was catered by chef, Daniel Isberg, recently in SF via Stockholm, having lived and cooked around the world. He caters through Mind Your Tongue, his international mix peeking out in creative dishes or classics, like a heaping wok full of Paella. My "Top Taste" nod goes to his Wasabi Cheesecake, with sweet graham cracker crust, creamy cheesecake with a gentle whiff of wasabi, topped with a little salmon. Wow.
BERKELEY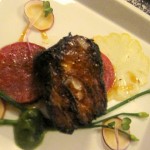 • eVe, one of Berkeley's latest openings a mere 6 weeks ago, surprised me with fine dining techniques, like sous vide, cooked comfortably within view at a mere $11 a course (must order a minimum of two, which is plenty filling for one). Exec Chef and Pastry Chef/husband and wife team, Christopher and Veronica Laramie, showcase cooking skills from Veronica's native Peru, to their stints with Charlie Trotter, to culinary school at the gold standard, Paris' Le Cordon Bleu. In a clean, black and white space, I ate Squid Ink Risotto: grilled squid over risotto balanced with a tart kick from candied kumquats and yuzu.
A sizable piece of fatty-licious Pork Belly goes beautifully with a warm watermelon radish, chive flower and paper thin slice of candied Buddha's hand. A generous Monkfish entree is perked up by hints of Peruvian panca chili over pureed sweet potato and grilled cipollini onions. Five-spice Short Ribs happily co-exist with farro, red cabbage, parsnip, sweet baked prune, red wine sauce. Only a Gnocchi dish, that didn't taste like gnocchi, fell a little short for me (though still good), hitting mainly salty/earthy notes without a balance of other taste profiles. Desserts showcase fruits and vegetables, the overall effect a pleasant surprise of unique presentation and cutting-edge technique… at a mere $11. Go now for what is truly creative deliciousness at a steal!
• There are some misses, like most of the sandwiches and "burgers" at veggie Mediterranean Chick-O-Pea's, but its clean, bright, and decidedly non-hippie, a deli-like offering of take-out or made-to-order plates. Skinny fries come with a fun range of dips or tossed in spices like harrisa, but it's pita fries that are really crispy, yummy. Other highlights include salads ($7) and pre-boxed sides like Israeli Couscous or Persian Cucumber Yogurt ($4 each).
SONOMA: PETALUMA
• White Anchovies (one option in tasting platters; 3 items for $15, 5 for $24, 7 for $33) and Sardinhas Assadas ($13) were a thrill in an all-around great meal at La Salette. Sonoma's long-standing Portuguese restaurant is a special one, platters laden with your choice of cheeses, Spanish hams, marinated octopus, blood sausage, and aforementioned anchovies. With a glass of wine, I'm transported to Portugal, carried further into bliss by hefty Bacalhau no Forno ($21), a baked salt cod disc loaded with potatoes, onions, olives, or especially those baked, meaty Sardines, drizzled with olive oil.
• Central Market is a Petaluma classic that continues to work – bustling and airy, the space buzzes with noise but isn't annoying. It's artisan ingredients in a chic, small town, main street setting. I loved smoked trout atop a Local Butter Lettuce Salad ($9) with Fuji apples, cranberries and creamy mustard seed dressing. Jalapeno Guacamole rocked a Kona Kampachi "Crudo" ($11.50), soaked in lemon olive oil.
MARIN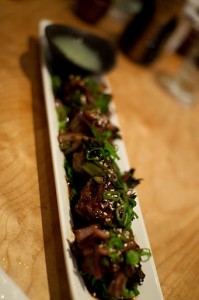 •  Any time I visit Sushi Ran is a happy occasion. My visit a couple weeks ago showed no lapse in quality since my first years ago. There's their meltingly good tempura ($7 each plate) – I particularly love the Broccolini Tempura – tempura as it was meant to be. Then, delicate Smoked Hamachi Tataki ($13.50) over avocado, ruby grapefruit, in a yuzu-black pepper sauce. Simple as it sounds, I dream of the fresh bite of a Salmon Citrus Maki ($15) perked up by lime wedges over salmon, Japanese cucumber and avocado. One of the best dishes is not even fish: Vietnamese Shaking Beef ($20), juicy, tender, pink cubes, rich with lime-black pepper sauce and the sweet of caramelized onions.
• Rosamunde Sausage Grill has been my favorite SF sausage source for a decade, and I may always be partial to the walk-in only original in Lower Haight with dynamic duo of Toronado Bar next door. But I have no problem seeing the sausage love spread around, even if the Mission gets so much of the city's best food already. They now get the 2nd Rosamunde right on Mission at 24th, with craft beers on draft (thick Rasputin Imperial Stout takes 5 minutes to pour, but it's worth it!) The other big pluses here are tables (!), extra menu items (like a $5.75 Sausage/egg/cheddar breakfast sandwich and Four Barrel Coffee in the morning), and sausages to cook at home from a little deli counter. Opening week, Pheasant/pork/wine/cranberries special ($6.50) popped with grilled onions, sweet peppers and house garlic pepper mayo.