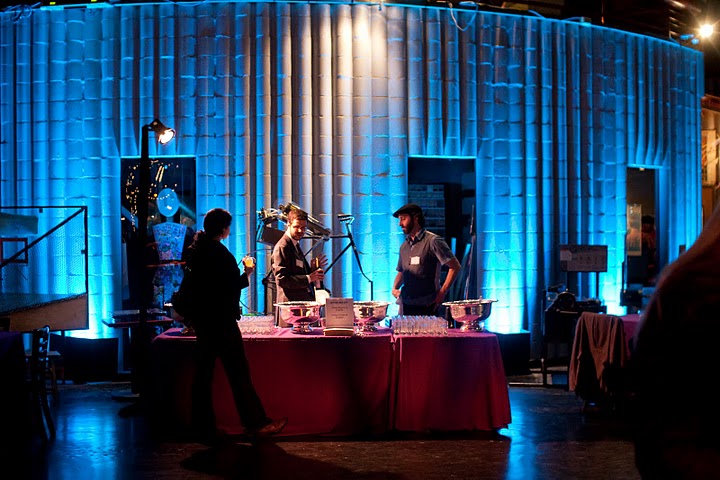 WINE
• Oh, 2006 Puligny-Montrachet, you are such a gorgeous Chardonnay… thankfully, RN74 serves you by the glass.
• I was delighted by the drinkability of Angove's Nine Vines Rose, a South Australian wine that came across my desk. A blend of 70% Grenache/30% Shiraz, it's zesty but rich, with spicy cherry notes, light but with satisfying depth. The winemakers are doing some wine pairing dinners soon: one on 2/24 at Betelnut, the other on 3/24 at Scalas's, with 30% of ticket sales going straight to Project Open Hand.
BEER
Delarosa may be in the Marina, but they've got some fine cocktails and beer (see my take on their food): sipped a complex Maredsous with fruit and white pepper notes and a bitter Drake's IPA with strong passion fruit aromas and toffee malt taste.
COFFEE
My new 'hood (Upper Haight) is sadly lacking in fine coffee – if only I could get Blue Bottle to go any time from Magnolia. But Central Coffee Tea & Spice is not far from me and as a locals go-to since 1995, they serve fair trade, robust, well-prepared coffee in a dingy but welcoming environment.
Three-month old Matching Half Cafe is a few blocks further, a longer walk from home, but it does me right with fabulous Verve coffee prepared as it should be (drip for a cup; cappuccinos with proper foam).
SPIRITS
• A private Glenmorangie party at Bourbon on Branch on 1/18, offered a rare foray into B&B's basement for a taste of the entire line of Glemorangie scotches and a talk from its master distiller, truly charming Scotsman, Dr. Bill Lumsden. Sampling the new Sonnalta PX before it was widely available was a pleasure – a well-balanced scotch. My greatest delight came in sipping 12-year Lasanta ("warmth and passion" in Gaelic), a spicy blend matured in bourbon casks, then in Oloroso sherry casks, with toffee notes and sherry sweetness. A close second for me is Quinta Ruban, also aged 12 years in bourbon casks, then extra-matured in ruby port casks. A little smoother than the spicy Lasanta, its walnut and orange notes are fine companions to hints of port.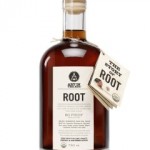 • ROOT – This new liquor comes from Pennsylvania and though unlike anything out there, it takes it's cues from as far as back as the 1700's when colonists were first introduced to root tea (with sassafras, sarsaparilla, wintergreen birch bark, among other things) by Native Americans who drank it as an herbal remedy, all the way to all-American root beer. Art In the Age has created something unique with the complexity of that colonial root tea (minus sassafras root, which was banned here in 1960), plus notes of root beer and a whisper of spearmint. It's not sweet or thick, nor is it "flavored" liqueur. This is a strong, vegetal spirit… an adult's dream of root beer with an herbal body.
COCKTAILS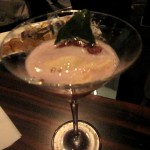 • On 1/18, at a private party for Hum Liqueur and The Perfect Puree at Luce, Chicago bartender extraordinaire (of Nacional 27), Adam Seger, tended bar. Straight Hum is syrupy-sweet (so I like it better in a cocktail), but love its emphasis on cardamom and hibiscus, with peppery hints and a honey sweetness. My favorite cocktail was 5:15 Bird to Bangkok, a dessert of a drink using Kaffir Lime-infused UE' Nonio Grappa, Hum, lime juice, Perfect Puree's Caramelized Pineapple and Meyer Lemon, with a dollop of Luce chef, Dominique Crenn's, lime sorbet and a lime leaf on top. Puckering tart melded beautifully with fruity, not-too-sweet tones. Aesthetically, that lime green was striking melting into pomegranate red.
• I hope the unique Science of Cocktails (The Chronicle's Jon Bonne did a nice overview of the event, which I don't have the space to outline in detail here) becomes a recurring event annually. Nothing like having free reign of a playhouse like the Exploratorium, cocktails in hand, while classes, experiments, food and game all surround the science of mixology.
It was a joy to see nitrogen smoke coming from Liquid Alchemy's cocktail wizard, Doug Williams, in a one-of-a-kind drink he created with Tom Mich of Sagatiba: Sagatiba cachaca, maraschino liqueur, lime, pink grapefruit, simple syrup… but in a crispy, boozy disc that dissolves in your mouth. Cocktails can be giddy and playful in such capable hands.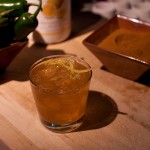 Other drink highlights include the always beautiful creations of Joel Baker of Bourbon and Branch: Pear Sonata, which I've had at B&B before, is a bright mix of 209 Gin, elderflower liqueur, Meyer lemon, dry vermouth and pear eau de vie.
Next to him, Sky Jet Wegman of 83 Proof, was doing some creative stuff with jalapeno skin, imparting that fresh pepper taste in 209 Gin with Aperol, toasted peppercorn, Darjeeling simple syrup and lemon. Removing seeds (and heat) from the jalapeno, the taste of the pepper and other ingredients shine.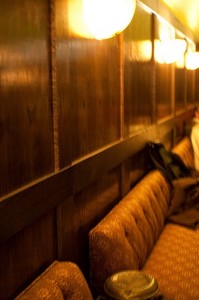 • I'm always in love with 15 Romolo creations ($9-12 each). Last week I couldn't decide which I loved more: the surprising, layered Track 42 (42 Below Manuka Honey Vodka, basil, unfiltered apple juice, lemon, egg white), or the adult dessert stylings of a Hunter's Flip (Speakeasy Hunter's Point Porter, Root Liqueur – see above, Kraken Rum, whole egg, nutmeg, cacao nib tincture). How about one of each?
•  Multiple visits to Smuggler's Cove and I only want more… thankfully, there are always more treasures. Port Royal is creative and spicy with Jerk simple syrup, lime, two kinds of Jamaican rum, housemade Hellfire tincture. Then there's pretty much the best Banana Daiquiri ever – minus bubbly froth. Don't forget the rum tasting flights.