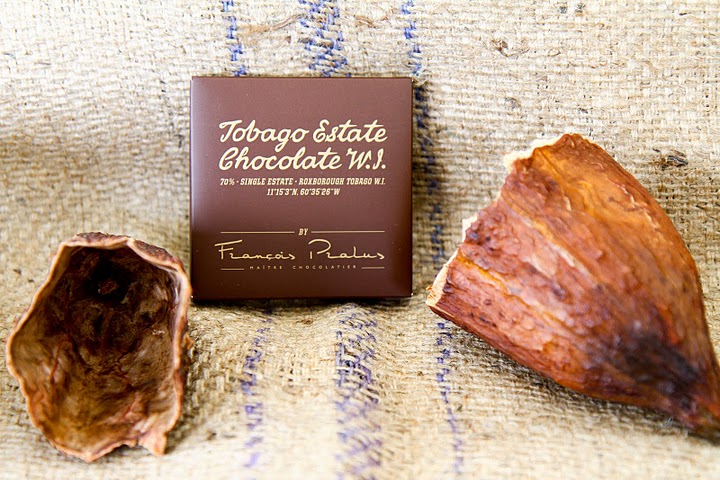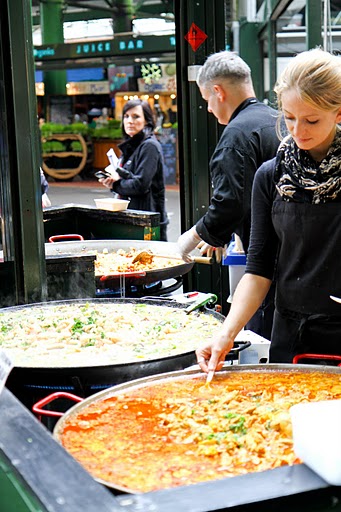 It was 10 years ago that I spent a month in England, a country I felt immediately at home in. Returning to the incomparable London last month certainly revealed changes – most for the better, including the ignited culinary and cocktail scene (I covered cocktails last issue). Maybe it wasn't as devastatingly amazing as some claimed (and produce still falls far behind what I'm used to), but over two weeks, I ate well and broadly, pleased to see London has become a world-class dining city, along with its other endless assets.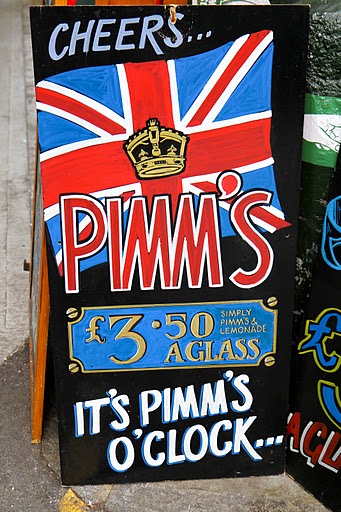 Foodies, do not miss Borough Market, the ultimate London food destination. It may not be a produce mecca like our own Ferry Plaza Farmers Market, but it shows off the best of local foods like cheese, sausages, meats, warm savory pies and pasties, fish, curries, fresh juices (from Natural Smoothie Co.), and, yes, produce.
Sip a Pimm's while sampling jamon from Tapas Brindisa (loved chorizo rocket sandwiches they were grilling outside). More highlights included African sauces (like coconut chili) from Bim's Kitchen, Exquisite Deli's Tyrolean sausages and salami, and a Rosé Spritzer (rosé wine, lemonade, Pimm's) from Borough Wines. See more favorites below under Coffee, Chocolate, Spirits & Wine Shops.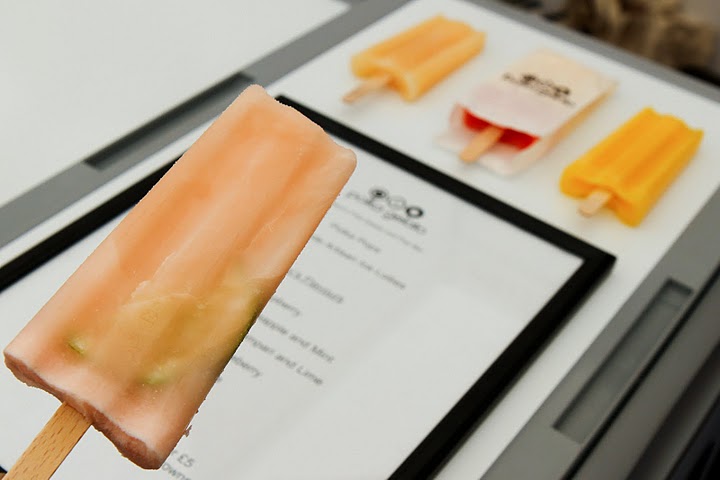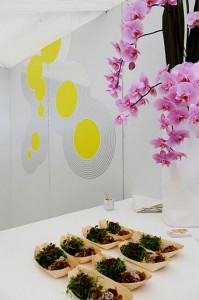 Another event I was privileged to attend was Taste of London in idyllic Regent's Park, similar to food and drink tasting galas in the States. Walking along purple carpets across muddy grass (it has just rained, thankfully clearing in time for the event), we tasted under tents and in makeshift cafes… an excellent way to sample from some of London's hottest chefs and artisan food and drink purveyors. Highlights were many:
– Caramel-rich Angostura 1919 Rum, paired beautifully with just-launched Tobago Estate, a dark, lush, single-estate chocolate from the West Indies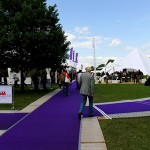 – Raved-about restaurant Yauatcha served some of their truly excellent dim sum, including Sweet Potato Mei-Si, Venison Puffs and a Crispy Duck Roll
– Brand new Polka Gelato: the owner and her ice creams/sorbets are delightful, particularly a Pink Grapefruit/Campari/Lime Pop
– Creole Soda Bread: I wish I could find a website for these guys, though I did run across a local blogger who felt the same as I did about these addictive breads; each one was better than the last, from Carrot Cherry to Ginger Fig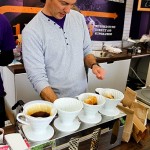 – Union Hand-Roasted Coffee is fair trade – they were doing single drip cups just like I'm used to at home; they roast small-batches, delivered to individual homes, restaurants and cafes
– Hendrick's Gin hosted a gin garden party, complete with a retro-clad hostess (dressed similar to much of my own wardrobe), and refreshing Hendrick's cocktails
– None other than Heston Blumenthal had an ice cream cart with two flavors: Chocolate & Rosemary, and my tops, Salted Caramel Popcorn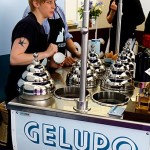 – Ice cream showed strong at Taste… I was crazy about Gelupo, creamy, sexy gelato (with a shop in Soho); just try not to fall in love with their Ricotta & Sour Cherry Ripple; they also served a Granita Cocktail: fresh cucumber and their rose granita doused with Hendrick's Gin – perfecto!

**One note when dining in London: be aware that a majority of mid-to-upscale restaurants offer a dizzying number of menus, different ones for tasting, a la carte, weekends, weekdays, lunch, dinner and so on. Wanting freedom of choice, I found a la carte usually served me best and didn't lock me into costly tasting menus.
Restaurants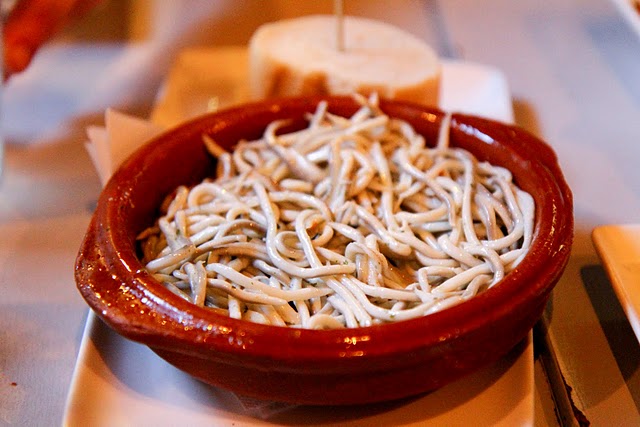 Pinchito, Shoreditch – Pinchito is your quintessential tapas bar. It's casual, convivial, and most importantly, delicious. Rounds of padrón peppers, warm cod fritters, patatas bravas, and pork belly with mango flow. Things step up a notch when a garlicky, comforting bowl of Gulas al Ajillo (baby eels) arrive, glistening in oil, slippery like fine noodles. I sip a classic Daiquiri and dive in.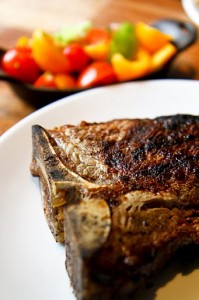 Hawksmoor, two locations – Hawksmoor claims the best steaks in London… and they may be right. One of the juicier, medium-rare, dry-aged steaks I've ever had, their Porterhouse (£6.50/100g) is a lesson in steak perfection with just the right amount of charcoal crust. With a hefty bone one is tempted to grab onto and gnaw off, a side of plump, colorful tomatoes in olive oil adds a feminine yin to the steak's manly yang.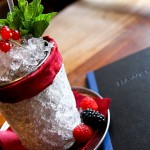 Starters of a half Dorset Crab (£15) with hazelnut butter or Potted Smoked Mackerel (£6) on rustic bread please. Do not miss their impeccable cocktails, which I raved about last issue. One of their visually striking and refreshing-tasting juleps makes an ideal companion to all that North Yorkshire cow.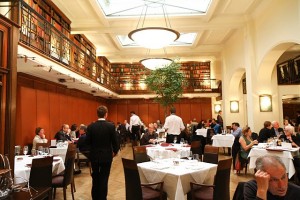 The Cinnamon Club, Westminster – In the Old Westminster Library, Cinnamon Club's clean-lined, high-ceilinged library is a memorable space for upscale Indian dining. Scents of curry waft down the street as you pass Westminster Cathedral on your way inside this elegant respite.
Start off with Cinnamon Bellinis. They are better than they sound, evoking the space's signature spice with effervescence. Executive chef Vivek Singh's creativity with Indian flavors is impressive: you will likely have dishes here in ways you've never experienced them before.
Tasting menus are a pricey £75 a head. There was a Maharaja's Express (a luxury train the chef recently traveled with) menu at £50, but I was happiest going a la carte. Thankfully, I got to try one dish each from both tasting menus: Cwalior, a selection of street-food chaat/snacks (like mini-bhel puri), and an innovative Chickpea Cake, moist, with a hint of Indian spices and mint sauce. Out of the ten dishes I tried, a key stand-out was vegetarian: Plantain 'Kofta' (£15) came with beetroot chutney in a yoghurt coconut sauce. Layered and exciting, it was bright, healthy and full of flavor.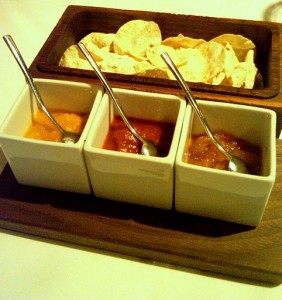 Benares, Mayfair – Benares may not have been as seamless (or in as beautiful a setting) as Cinnamon Club, but it's another upscale Indian restaurant with attentive service and inventive Indian food. I could eat Chicken Tikka Pie in a flaky pastry shell with wild berry sauce over and over again. I wasn't going to complain about Tandoori Pigeon Breast either, especially with beet puree and vanilla beetroot accents. Their satisfying Tandoori Ratan means you can try Fennel Lamb Chop, Mustard Chicken Tikka and King Prawn on one platter. Also a pricey restaurant, a la carte is the best way to go.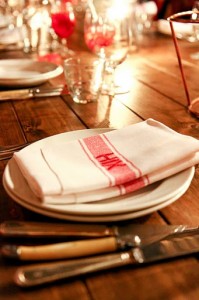 Hix, Soho – Over punchbowls with Nick Strangeway, we were treated to an hours-long, private dinner in Hix' atmospheric, candlelit basement. Our Chop & Trout Feast just kept coming. Rounds of asparagus salad topped with with soft-boiled Burford brown eggs, British Isles rock oysters, and potted smoked salmon flowed. The baked Bone Marrow shimmered with garlic and herbs, buttery slathered on toasts. It may be the exemplary bone marrow dish among the many I've had. Lemon Ginger Nut Cheesecake arrived shaped like a creamy egg, a fine finish to a true feast.
St. John's, Farringdon – Fergus Henderson and his restaurant St. John's revolutionized London (and the world's) dining scene since it opened in 1994. Nose-to-tail, whole animal, offal… whatever you call it… had its renaissance at the hands of Henderson via this humble restaurant in an open, rustic room, tables lined with butcher paper.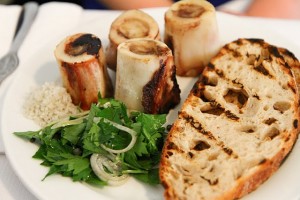 Other than having a downright snotty French waiter, which did not suit the environment (and is really unforgivable any time), we enjoyed famed Roasted Bone Marrow & Parsley Salad (£7.10 – although I preferred Hix' version, above), Venison Saddle alongside green beans and pickled walnut (£9.70), Ox Tongue with fennel & green sauce (£16.70), and a comforting slice of Welsh Rarebit (£5.20). Though pretty, a Chocolate & Cherry Pot (pot de creme) was an ok finish. Stick to the animal parts as that is what St. John's is all about.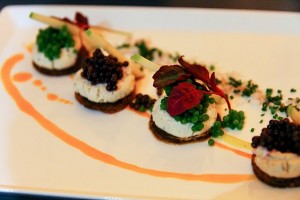 Saf, Shoreditch – I know it may seem strange for a carnivore in London to "waste" a meal on all vegetables, particularly when underwhelmed with produce throughout my weeks here. But it may be because of this very reason I wanted to know there was a place doing produce right and inventively. I'd heard from a couple sources that Saf was hands-down the best vegetarian in London. After I visit, I can see why.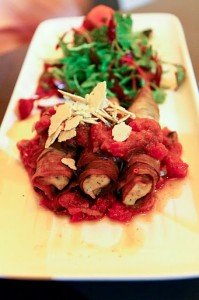 Eating at the original, sit-down location (not their more casual restaurant in Whole Foods), portions may appear small, but entrees were larger and by meal's end, I was full. Nothing is over £15.50), which is a steal in London for a hip restaurant such as this.
Of the eight dishes I tried, stand-outs included raw 'Caviar' Blinis (£7.50), or rather sweet potato blinis topped with beetroot & herbs balled into tiny 'caviar', and a Taco Trio (£14.45) of three mini-blue corn shells filled with pineapple relish, guac or tomato. They were having fun with cocktails like Sgt. Pepper (£8.85): Cazadores Tequila, pink peppercorns, red grapes, peach liqueur, lemon juice. I asked them to tone down the peach liqueur to make it less sweet – they obliged and as I hoped, pink peppercorn and tequila shone through.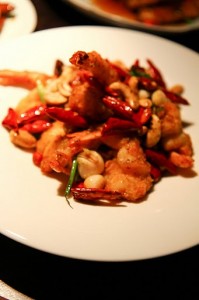 Hakkasan, Mayfair – Hakkasan is big in India… and London. The bar serves cocktails on the chichi, fruity side, though there's a broad spirits selection. With subterranean basement and deafening roar, it's a bit scene-y for me, but thankfully the upscale Chinese food satisfies. Their dim sum platter is particularly artful, loaded with traditional options like scallop shumai and har gow, but brightened with roe and colorful dumpling wrappings. Meat dishes and stir fries are all tasty, though not exactly traditional Chinese. Crispy Duck Salad was the best dish, with its sweet/salty shreds of duck accented by pomelo, pine nut and shallot.
El Camino (which has become El Camion, though sign still says Camino), Notting Hill – For a hint of where NOT to go, I was struck by just how bad "Mexican" food was at otherwise adorably hip El Camion (sans a single Mexican on staff during my visit). It tasted not much better than the "Mexican" I had in London 10 years ago, though a Mexican food craze has swept the city in recent years. There must be better than this around town (?), but I still find without a significant Mexican population, it seems hard to do Mexican right. Most of the US and the world generally don't get it right, it only makes sense that London doesn't either (despite claims I've heard to the contrary). That is, unless you consider gummy gunge to be guacamole (with stale grocery store chips), or thick flour tortillas and a worse-than-Pace-Picante red paste (I mean "salsa") to be the real deal. (PS – in typical London fashion, you'll also pay nearly $15 US dollars for two little tacos).
Breakfast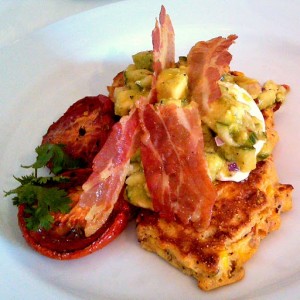 Ottolenghi, Islington – Brunch at the original location of ever-popular Mediterranean bakery Ottolenghi was as delightful as I'd heard (Yotam Ottolenghi himself is in SF this week and has been blogging rave reviews about the experience). In a clean, white space, creative savory and sweet baked goods make a dramatic mountain piled atop the counter. Just try to decide which cake, tart, muffin or other glorious baked goods you'll choose. Their breakfast menu is likewise fresh and enticing, especially Sweet Corn & Spring Onion Pancakes (£8.50) with roasted tomato (a British staple), bacon, avocado cucumber salsa, and sour cream.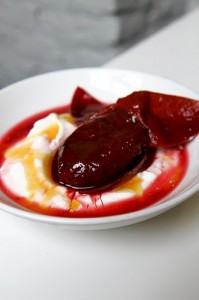 Modern Pantry, Clerkenwell – Downstairs from our fabulous Zetter Townhouse, off a cobblestone cul de sac, is this charmer of a restaurant. I recommend Modern Pantry's airy, light-filled space for breakfast. Service was about the most caring I had anywhere in London. When I didn't finish one plate (due to ordering too many and thus full), they were concerned we didn't like it. Without a guilt trip, they wanted to replace it and make it right. I insisted all was lovely. And it was. Try Spiced Red Wine-poached Tamarillo (£5.80): tart and robustly red, warm fruit, in a creamy Greek yoghurt drizzled with Manuka honey.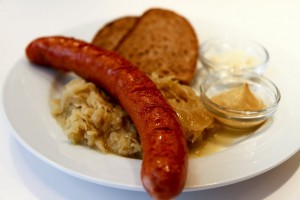 Kipferl, Islington – Just opened in April, Kipferl, an Austrian café off darling Camden Passage (a narrow, cobblestone-lined street evoking Old World Europe), is nearly museum-like in its quiet. It's a bit unnerving if you wish to talk (sit in the back for that). The majority of solo diners are in the front room, bright under big, picture windows. I heartily recommend it as a respite to read, write, work or think over a Viennese coffee. Pastries are a bit hit-and-miss (I had a dry poppyseed cake), but made with care, while a long Austrian sausage oozes with cheese inside, draped over a mound of near perfect sauerkraut.
Caravan, Clerkenwell – At the Aussie/Kiwi-influenced Caravan, coffee is impeccable while lemon curd/cream cheese/coconut bread is topped with rhubarb and served for breakfast. Get a table outside along the cobblestone, pedestrian-only Exmouth Market street, and it feels truly like Europe.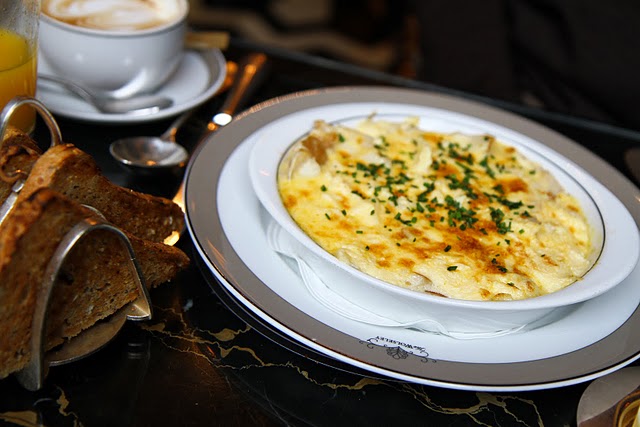 The Wolsley, St.James/Mayfair – Touristy or not, the gorgeous Wolsley Hotel (around the corner from my St. James hotel, Duke's) hosts a breakfast evoking Old World elegance. Coffee is strong, served in delicate white cups, paired well with a flaky pain au chocolat.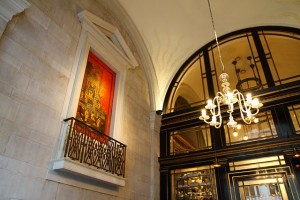 The real winner is a traditional British omelette, the Arnold Bennett (£10.75), originally named after Arnold Bennett at the Savoy Hotel as he loved it there so much, he insisted it be made for him wherever he traveled. It's a creamy, egg-y dream, salty with smoked haddock, in a creme fraiche and Parmesan cheese sauce. The lovely Sophie Dahl shows you how to cook one of these sinfully rich breakfasts here.
Blanche, Hammersmith – Out in the friendly, peaceful neighborhood of Hammersmith, I loved Blanche Eatery, a closet-sized shop making an excellent cappuccino, delectable baked goods (like lime poppyseed cake) and various to-go salads (quinoa, Mediterranean-style, etc…)
Coffee
Monmouth Coffee, Borough Market near London Bridge – You can't miss Monmouth Coffee at the edge of the ultimate British market, Borough Market (with two other locations). It's Blue Bottle-esque for all you Bay Area folk, i.e. lines stretch out the door all day long. And it's of that caliber. Probably the best cup I had in London.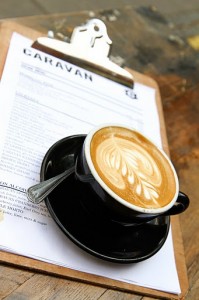 Espresso Room, Bloomsbury – On a rainy day (one of many), as I wandered the streets of Bloomsbury and explored Charles Dickens house, Espresso Room was like a beacon in the chilly June air. I was on the hunt for it, knowing it immediately by the carved-wood coffee cup hanging from a storefront on a mostly residential street. I could have been in the Mission in SF watching young hipsters grind beans in a tiny, wood-walled shop. It warmed up the grey day immediately (another nearby respite is The Lamb, a 1700's pub all-the-more cozy with a good book – purportedly Dickens hung out there).
Third wave, robust coffee – and just a plain good cup – has hit London full force. There's a long list of spots to sip a proper cup. Here are just a few more to recommend: Taylor Street Baristas, Flat White, Milk Bar, Dose, Store St. Espresso and Kaffeine.
Chocolate
Paul A. Young, Islington – On par with the best chocolates I've had anywhere in the world, Paul A. Young's truffles (£2 each) are so fresh and luxurious, not to mention unusual, I'm still dreaming about them.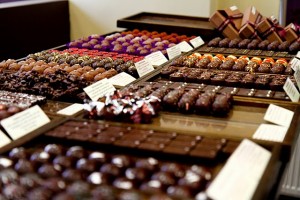 With a shop on charming Camden Passage (near Kipferl, above), Young was also at the Taste of London. He rose to fame as pastry chef for the likes of Marco Pierre White. Yes, he can do a Sea Salted Caramel and Dark Chocolate Champagne truffle like no other. But try Marmite for earthy, funky fun, or Passion Fruit & Vanilla, or Peppermint Leaf. Even among the best chocolatiers, I love some truffles and not others. But eight truffles later, I was loving every one of Young's.
The Rabot Estate, Borough Market – The chocolate stop at Borough Market, Rabot Estate is a rustic, hip shop with staff roaming the store pouring cups of free dark hot chocolate, salvation on chilly, rainy days.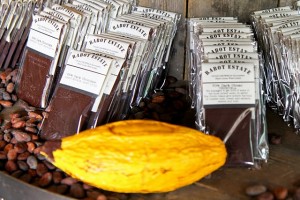 A dark chocolate chili bar particularly won me over with lush base of their Santa Lucia-grown chocolate. You can also order bites from their menu like banana, salted caramel & cacao nibs on toasted brioche or duck confit salad with chocolate dressing and orange marmalade. You can see why I love this place.
Artisan du Chocolat, Borough Market – Artisan du Chocolat is at numerous London shops and high-profile department stores such as Selfridges. I bought a box at Borough Market. Unlike with Paul A. Young, I was disappointed in a number of their truffles, though they are at least half the price of Young's chocolates. Artisan du Chocolat makes intriguing flavors like banana & thyme, tobacco, or lumi (sun-dried lime). I just wish all tasted as amazing as they sounded.
Spirits & Wine Shops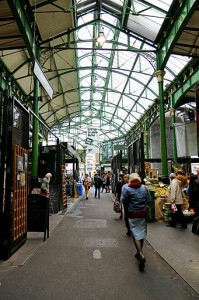 Whisky Exchange, Borough Market – About the best whiskey shop in the world? Whisky Exchange just off Borough Market could easily contend for that tile. A leading website for whisky, they sure know their Scotch, Irish and Japanese whiskies. But I was impressed with their expertise on American whiskies. Having met many of the world's greatest distillers, Hector swapped stories and favorite bottles for a good hour with us. He's a veritable whisk(e)y encyclopedia. We left with a couple special whiskies they bottle in-house. Spirits aficionados, don't miss this place on your next visit to London.
Utobeer, Borough Market – A truly impressive little section inside Borough Market, Utobeer wows with a well-curated beer selection, including a number of the US's best craft beers from Goose Island in Chicago to OC's The Bruery. As some London locals tell me, many Brits don't believe America has any clue what a good beer is, one of many reasons Utobeer's selection is a rarity and a boon for the city. I was particularly impressed with London-brewed craft beer from The Kernel, wishing we had that one here.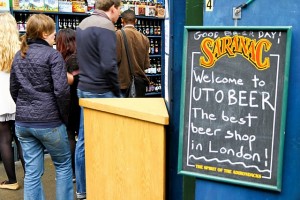 Berry Bros. & Rudd, St.James/Mayfair – Around the corner from my St. James hotel, Duke's, Berry Bros. & Rudd may exhibit a bit of a rarified air, but is a classic spirits and wine shop. Their spirits selection is far smaller than at Whisky Exchange, but extremely well-curated. First and foremost, it's a wine-lovers destination. Open since 1698, the space evokes Old World London with creaky wood floors, old chandeliers and coffee scales from its original shop. Along with neighboring Fox of St. James, a cigar shop frequented by Winston Churchill who's chair sits in the basement smoking lounge, and the unreal artistry of John Lobb, a very high end shoe shop and cobbler, St. James Street is lined with historical, evocative shops worth spending time in.