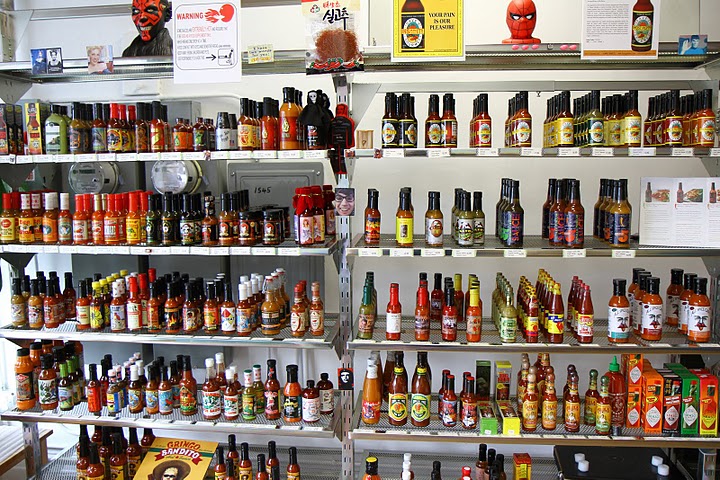 HOT SAUCE & PANKO, Inner Richmond (1545 Clement St., between 16th & 17th Ave., 415-387-1908)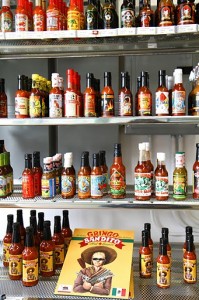 Pretty much my favorite opening in recent weeks is Hot Sauce & Panko. Not only is the hot sauce collection about the best around (reaching from the deep South to Japan), but just glance through their blog to witness the owner's quirky hilarity.
As a chicken wing take-out shop selling a wide range of hot sauces, a good 20+ are available to sample at any given time. However, beware: I've already run into a sell-out situation when trying to order wings over the weekend… they were all gone by 2pm (at least they handle it with humor on their blog).
I like Lower Haight's new Wing Wings, but I LOVE Hot Sauce & Panko (plus they're the cheaper of the two), cooked to order. I walk away with a tub of wings for $19.99, or plenty for two at $14.99. What makes me giddy? Hot Sauce & Panko lets me choose as many of their appealing preparations as I want. I've been known to go home with four different types in a $14.99 order.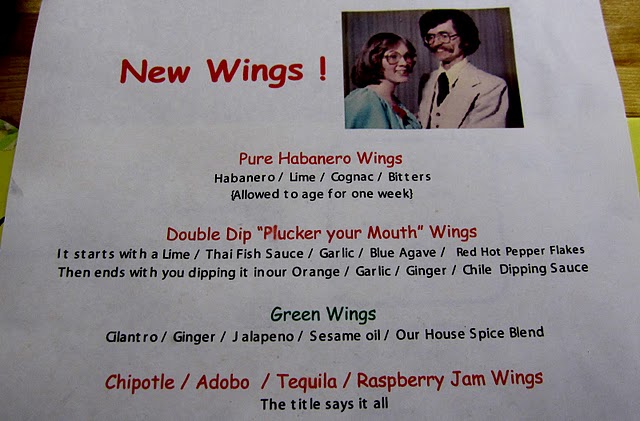 There's a regular menu offering classic buffalo or honey mustard, or the likes of kuzu salt & pepper wings. I tried wings & waffles together, which you can get as a combo ($5.99) or merely add a Belgian waffle ($1.99). The specials menu gets crazy with mixes like tequila/chipotle/raspberry jam wings or one week-aged cognac/habanero/lime/bitters wings!?
These aren't typical menu offerings. Favorites are creamy Thai peanut sauce wings, KFC (Korean fried chicken wings), and a "Pucker Your Mouth" special of wings in lime, Thai fish sauce, garlic, blue agave, red pepper flakes with an orange/garlic/ginger/chili dipping sauce. A side of spicy slaw ($1.99) will further push your heat tolerance.
THE DOG PIT, Parkside (1404 Taraval St., between 24th & 25th Ave.)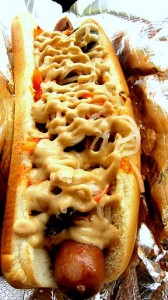 Vision for the new Dog Pit came from founder Jason's roots growing up in Flushing, Queens, with its dense Chinese and Korean population (my favorite Chinese & Korean eats in Flushing here). Hot dogs were plentiful in his youth, but quality… not so much. I heard another customer ask about meat source and found it curious that he wouldn't divulge the source (this is SF, after all), but these juicy dogs taste of good quality (all-beef dogs: $3.50-$4; veggie dogs: additional $1 – made of organic tofu, garlic, paprika).
Ownership is Chinese, but I particularly like dogs nodding to Korea and Japan. Tokyo Dog gets smoky nuance from bonito flakes and seaweed, with wasabi aioli adding creaminess (though could have used a little more aioli and a little less dry seaweed flakes). Seoul Dog is laden with kimchi (of course), pickled daikon, and korrake aioli ("Korrake" translates to croquette, which, in Korean food, is potatoes shredded and served hash-style with the likes of onions, carrots, cabbage).
You'll find plenty more than Asian dogs, however. Jason is from NY, after all, so there's the New Yorker with red onion sauce, or a Baked Italia cheesy with mozzarella, plus onions, garlic and tomatoes. There's a bit of everything on the dog front: Southern dogs with coleslaw and BBQ sauce, Chicago-style, bratwurst and Louisiana hot links.
Though a a new addition to the Parkside neighborhood, The Dog Pit is already one of its most playful cheap eats options.
KIKA'S TREATS: Crunchy Caramels, www.kikastreats.com
On a recent night at a Marin "pop-up" drive-in (yes, there is such a thing) watching my childhood favorite, the original Superman, the unanimous top treat in my car was Kika's Crunchy Caramels ($16 for a box of 9).
Kika's Treats, a homegrown local since 2006, makes caramels with coconut palm sugar and that whimsical Kika touch. Dark, bittersweet chocolate and a sprinkle of sea salt tie the caramels together but fun is had as puffed brown rice adds pop and sparkle to what could be typical gourmet caramels/truffles. These babies just won best caramels at SF International Chocolate Salon. Besides being available online, they're at shops like Bi-Rite, Cheese Plus, and new Little Vine.
AATO KOREAN, Marina (1449 Lombard St. at Van Ness, 415-292-2368)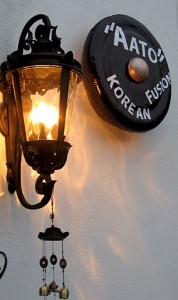 Aato, a new "Korean fusion" restaurant, only just opened. A surprising oasis on busy Lombard Street, decor is tasteful and soothing, while owner Jennie Kim grows herbs in potted plants out front by a little patio strewn with white lights. Despite a pricier menu than one typically sees in Korean eateries ($12-$15 for starters; $13.50-$25 for entrees), Aato is doing things differently, apparent from chandeliers and neutral colors in the dining room, to the use of locally grown, organic ingredients (though common-as-day in SF, unusual for local Korean spots). There's even chef's choice, 3-course menus ($32 or $29 for vegetarian), making Aato a bit more upscale.
When it comes to food, I've only ordered to-go, a pricey take-out option, to be sure, but each dish was made with gourmet care. The menu continues to evolve in these opening weeks but some initial highlights include Ssam, which literally means "wrapped" in Korean ($25). There's three versions served with rice, kimchi, veggies and rice paper wraps. I wanted to go straight for Eel Ssam, but Kim talked me into Hangbang (Herbal) Bo Ssam… I wasn't sorry. Tender, steamed pork, it's aromatic and nuanced with herbs, expertly prepared and delightful with ssamjang hot sauce and veggies.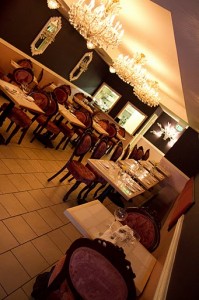 Man-Du Korean Dumplings ($12) are delicately pan-fried, plump with kimchi and shrimp (or veggie), an exemplary appetizer. Jab-Chae ($12) is traditional sweet potato noodles stir-fried with beef and seasonal veggies. They serve Dolsot Bibimbob ($15-16.95, vegetarian to seafood) piping hot in a stone pot (definition of the word "dolsot"). It's ever my preferred way to have this melange of meat, veggies, kimchi, egg and rice. Seafood Pajeon ($15), the popular Korean pancake loaded with shrimp, squid, oysters and green onion, was satisfying but not my top version (that is currently pajeon at Manna in the Inner Sunset).
Weekend brunch intrigues with the likes of eggs with "Korean-style" hash browns ($9.50), tobiko, salmon, avocado and cheese Fritatta ($12.75), and Man-Du Dumpling Soup ($13). Kudos is deserved for Aato stepping up the quality factor in what I hope will only continue to be ever-diverse Korean options (more on recent Korean openings here).