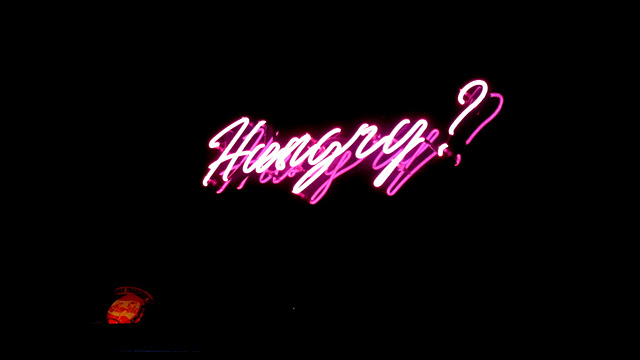 Our city is loaded with amazing cheap eats. Here's three new places worth adding to your go-to list.
CHUBBY NOODLE, North Beach (570 Green Street between Columbus & Jasper Place, 415-361-8850)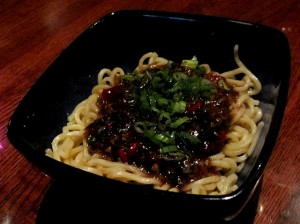 Chubby Noodle easily counts as a best cheap eats opening of 2011. In the back of comfortably retro Amante bar, order at a kitchen window (illuminated in neon by the word, "Hungry?"). Then slide into roomy booths to fill up on fresh, daily ceviche, Hawaiian tuna poke ($11), and heartwarming red miso ramen ($9 with pork and poached egg; $11 with shrimp). From owners of the excellent, neighboring Don Pisto's, I expected good, but it's better than good.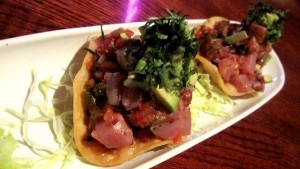 Whatever you do, don't miss organic, buttermilk-brined, Mary's fried chicken (5-piece wings or strips $9; 2 piece drum & thigh meal $7). It's American fried chicken with Asian attitude, dipped in habit-forming, creamy sambal dipping sauce. Tender chicken strips are an elevated, gourmet version of chicken tenders from childhood.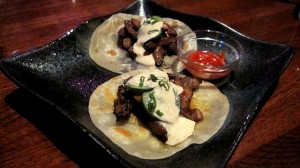 House kimchi is no slouch, working its gently heated wonders as a side ($4) or on a kimchi kobe beef hot dog ($6). Besides the fried chicken, my other top dish is spicy garlic noodles ($8). Chewy and homemade, they're oozing with garlic, oyster sauce, and a little jalapeno kick. Their Korean pork tacos ($9) aren't carbon copies of the usual trendy dish. Instead of shredded pork, chunks of Niman Ranch rib chop imbue beefy heft, contrasted by Korean pickles, yogurt sauce, and arbol chile vinegar.
Don't opt for Italian next time you're in North Beach. Opt for Chubby Noodle. You won't be sorry.
ROOSTERTAIL, Pacific Heights (1963 Sutter Street between Fillmore & Webster), 415-776-6783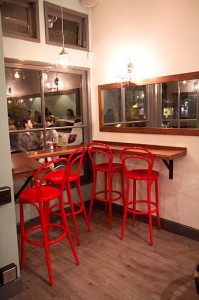 Roostertail is, yes, another rotisserie joint. But only weeks into opening, and a few visits later, I'm impressed with friendly staff who exude a warm welcome even when merely grabbing take-out (note: they just launched curbside pick-up with pre-paid phone orders). The space boasts silver countertops and bright red stools, festive with beer and wine on draft.
When it comes to rotisserie, I'll take dark meat, thanks ($5.75-$18.50, quarter to whole birds). The organic, juicy meat is delightful with their garlicky green sauce. Husband/wife team, Gerard Darian and Tracy Green, get their mainstay right.
A pulled pork sandwich ($10.75) is a solid sandwich pick, on an Acme bun topped with fresh coleslaw unencumbered by mayo. Tiny chicken wings didn't excite (I prefer Hot Sauce & Panko's creative, meatier wings), nor did the cheesesteak sandwich. But there's brisket, five different sandwiches or hefty salad options, along with soulful sides ($4-$5.50) like brisket baked beans or brussels sprouts with bacon.
I keep going back for the rotisserie.
GALETTE 88, Financial District (88 Hardie Place at Kearny, 415-989-2222)
There's a Ti Couz-shaped hole where my Brittany crepe hunger resides.
Through the years, crepes didn't get better than at the now-defunct Ti Couz. At the end of an alley off Kearny, the new Galette 88 isn't exactly a replacement. There's note quite the same depth of buckwheat earthiness. Their French galettes (aka buckwheat crepes; savory: $6-10, sweet: $5-6) are even thinner, still crisp, a little less flavorful, but nonetheless worthwhile. Gluten free and healthy, they're made with only three ingredients (water, sea salt, buckwheat flour made from buckwheat which is a plant, not a grain), loaded with fiber, vegetable protein, calcium, iron.
Order Four Barrel coffee, Mighty Lea tea, or hard cider and choose a crepe. Bruce's choice ($10) is my first pick, layered with smoked salmon, caramelized onions, and capers, topped with avocado slices, greens, and a tart/sweet lemon chive creme fraiche. Light yet filling, the zesty lemon sauce makes it.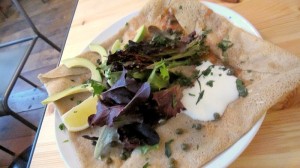 Bleu Velvet ($9) is a savory/sweet choice of blue cheese, browned apples, arugula, honey, toasted almonds. Dessert crepes (lemon sugar, roasted apples with salted caramel, chocolate with candied orange peel, or nutella), made with eggs, milk, wheat flour and sugar, lacked the subtle chewiness and flavor of Ti Couz' wheat dessert crepes.
But in their absence, Galette 88's crepes contend for the best in town.
It's already one of the more pleasant FiDi lunch options (with just-added dinner, Wed.-Fri.): casual, order-at-the-counter ease, the owner flitting about, ensuring water cups are filled and everyone is content. The space is minimalist with live birch trees towering in one corner and a decidedly Mission air… rare in FiDi.
Galette 88 may not fill that Ti Couz-shaped hole, but it definitely satisfies Breton crepe cravings.