FIVE PLAYFUL SUMMER DISHES

Here's five dishes that made a recent impression, from meaty, current-day classics in Oakland, at a bar brunch, and along Market Street, to fresh new joys in Palo Alto and SF – each bringing a little sunshine to the table.
15 ROMOLO – Fried Chicken Bacon Breakfast Biscuit Sandwich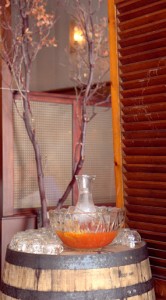 Brunch at one of the city's best bars, 15 Romolo, is a pleasure. The well-spaced room tucked off a North Beach alley is blessedly unmobbed. Arrive at opening (11:30am), late by breakfast standards, and you're likely to secure a table instantly. Greeted with complimentary waffle shots – yes, rounds of waffle bites resting in a mini-pool of maple syrup and boozy rum – you're then guaranteed impeccable mid-day cocktails ($9-10), like a zippy, frothy absinthe showcase (read: not for the anise/licorice averse), Famous Fizz, made with St. George absinthe, shaken with strawberry-thyme shrub, cream, egg white, finished with seltzer water. Or try a Breakfast of Champions # 2, rich with Manzanilla sherry, Nocino walnut liqueur, maple syrup, coffee tincture and house banana cordial – not cloying but warmly gratifying.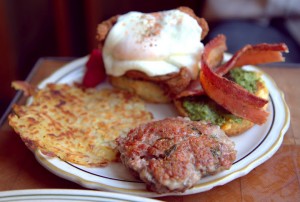 Drinks are a given but one of the many joys of Romolo is that food is never a slouch. This has been true at night of items like their Challah @ Cha' Boy ($7 – grilled banana, nutella, pickle, bacon sandwich on challah bread) and it's likewise true at brunch. The one that makes me salivate is the breakfast biscuit sando ($9). In keeping with other brunch dishes, portions are generous, while a moist, green chile biscuit converts, filled with crispy fried chicken, the kind of bacon odes are written to (not too crispy, fatty), fried egg, house pickles, and a vivid arugula walnut pesto. Hash browns accompany, then adding on a hefty, savory house rye sausage patty ($3), I nearly rolled onto Romolo Place post-meal, blissfully fattened.
PICAN – Smoked Brisket Meatloaf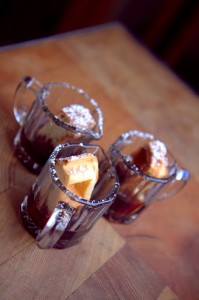 Though one can occasionally experience a few highs and lows at downtown Oakland's upscale Southern sanctuary, Pican (like uneven desserts or cocktails – oh, would that watery, sweet Mint Julep be less syrupy and served in a proper Julep cup), staff are eager to please and their American whiskey list is extensive. New Executive Chef Sophina Uong (of Waterbar, 900 Grayson, Betty Zlatchin Catering), who was helming the kitchen at one of my recent return dinners, introduces vibrant new dishes to the menus.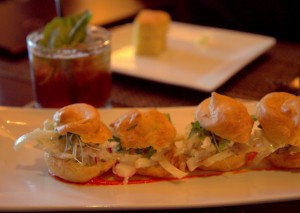 Even as I begin digging into new menu items like playful blue crab profiteroles, my heart belongs to their classic smoked brisket meatloaf ($21). It's genius, really: shaved slices of Creekstone natural beef brisket are baked into a meaty-yet-light loaf, served with BBQ tomato jam, on roasted sweet corn salad with Cajun cheddar aioli. It's like mom's home cooking met an upscale Southern restaurant, then married California creative-fresh, a veritable mash-up of cuisines… which, in fact, sounds a lot like the vision behind Pican's still satisfying food menu.
RANGOON RUBY – Mango Salad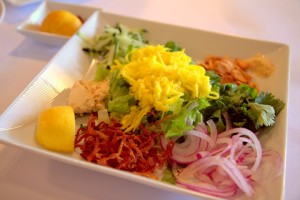 Merely a couple weeks old, downtown Palo Alto's brand new Rangoon Ruby boasts chefs Win Aye and Win Tin formerly of Burma Superstar's Oakland and Alameda locations (respectively), serving fresh, vivid Burmese dishes. The chic, clean space boasts a nice spirits collection (all three St. George gins can be found here, along with Camus Cognac) and tiki-focused cocktails, including lava and scorpion bowls for two or four. Burmese native and owner John Lee says the place has already been packed nightly. While they're still working out opening and service kinks, Lee presents a gracious, hard-working aesthetic grown from his own experience working from the ground up in the restaurant at San Francisco's Fairmont.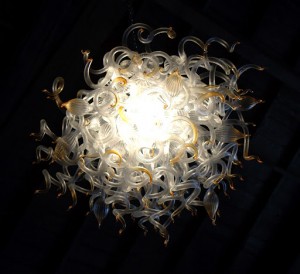 Beloved Burmese salads ($10-13), from tea leaf to ginger, are done right here – brightly generous. But no matter how many Burmese mango salads I've tried, Rangoon Ruby's is a superior version, with strips of mango atop greens, that fantastic hint of savory imparted by fried onions and garlic, accented with cucumber and dried shrimp. Also try Nan Gyi Nok ($12), a heartwarming mound of rice noodles doused in coconut milk chicken and yellow bean powder, accented by a squeeze of lemon and a hard-boiled egg.
SHOWDOGS – Pickled Hot Link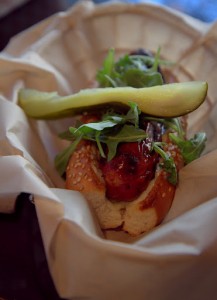 Showdogs corners dogs in a space that continues to improve Market Street's less attractive blocks, adding on old school sign and sidewalk seating enclosed by hedges since they opened. I have a number of go-to sausages (plus they rock a corn dog), but it's their pickled hot link ($6.95) that remains truly different. A hot link, plump and pickled in apple-cider vinegar for a couple weeks, it's tangy, slightly blackened as it's grilled to order, topped with Crater Lake blue cheese sauce (more of that, please) and arugula leaves.
NOMBE – Chawan-mushi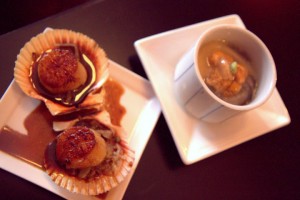 As part of an affordable seven-course Kaiseki dinner ($39.95) at Nombe, chef Noriyuki Sugie perfects chawan-mushi or Japanese savory egg custard. Though numerous izakayas (particularly Nojo) make memorable versions, I was recently hooked on Sugie's uni chawan-mushi, lush with uni's sea-worthy, umami notes, woven into a silky, custard, topped with fresh uni, served traditionally in a covered dish. Order a pour from Nombe's impressive sake list – ask co-owner and sake sommelier, Gil Payne, to recommend a pairing for you – and settle into black booths in the quirky, comfy Mission diner space.