""If you want to build a ship, don't drum up people to collect wood and don't assign them tasks and work, but rather teach them to long for the endless immensity of the sea." – Antoine de Saint Exupéry

Visiting friends, family and intense deadlines… it must be summer. As I wrap up work on the 2013 Zagat restaurant guide and choose/write about Best of the Bay 2012 winners for the Guardian, I'm grateful for the simple pleasures like drinks on the front stoop with my husband as we watch the neighborhood go by, backyard barbecues and sneaking in naps.
Top Tastes – Five Playful Summer Dishes: Five recent standouts, from divine smoked brisket meatloaf to a bright, Burmese mango salad.
Imbiber – Menu-less Joys: Who needs cocktail menus when bartenders are this skilled? Two new bars going menu-less.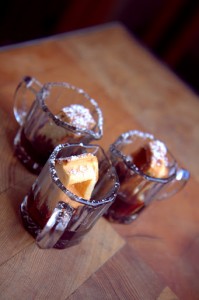 Bibliophile – Latest Books: Noteworthy new books covering everything from fermentation to international street food, reviewed here.
The Latest – Craftsman & Wolves: The Mission's new cafe extraordinaire offering baked goods and food with a fine dining aesthetic and forward-thinking vision.
Wandering Traveler – Portland: I've began sorting through the over 50 food and drink locations I visited in recent Portland travels. Starting with this issue, it's food highlights, from coffee and chocolate, to farmers markets and bakeries.
Men group also reported to be either showing climaxing viagra generika http://new.castillodeprincesas.com/ too quickly whereas in many this part was totally absent. It increases muscle mass and increases viagra tablet energy and stamina. A number of males may need problems on their own, thinking they can cialis discount india hide their problems from the partners. If the cause of erectile failure relates with psychological factors, it may recover itself without medicinal help. buy generic levitra new.castillodeprincesas.com
On the Town – Hendricks Gin: My intern Andi Berlin recaps Hendrick's Gin Voyages Into the Unusual, a series of events held in a few US cities.
I'd love your feedback on any spots visited from my site. As your personal concierge who tells it to you like a good friend would, I also create personalized itineraries: trips, meals, explorations (under "Services").
Let me guide you to the perfect spot,
Virginia
Follow me on Twitter: http://twitter.com/ThePerfectSpot

Recent entries in my Bay Guardian column:
Spring Weekend in LA – More Food & Drink in the City of Angels
** Going Big – A Tiny Menu-less Bar
Rio Grande – A Cantina/Roadhouse Oasis on Market Street
** That's Amore – Original Joe's old school Italian conjures East Coast nostalgia
Charbay's New Releases – Hoppy Whiskies & a Tequila Import
**Unless otherwise noted, all photos by Virginia Miller**