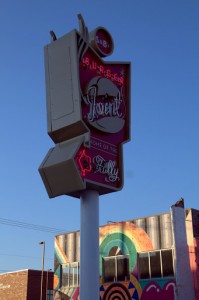 OKC is far from hipster, which, granted, has its pluses. Years behind national food and drink trends, they've only recently opened their first third wave coffee haven (Elemental Coffee, a true coffee oasis with sleek cafe and roasting facility), a proper cocktail bar (the bar at Ludivine – see below), a couple hipster food outposts and further from Oklahoma City, the great craft brewery, Prairie Artisan Ales.
There are notable farms, steakhouses and traditional Oklahoma dishes (chicken fried steak! onion burgers!) that have been mainstays of the OK state for decades. But restaurants and producers haven't exactly been notable in the scheme of what's happening across the country.
Since my parents moved back to my mother's home state (and my birth state) a few years ago, I've visited each year, struggling to find restaurants remotely competitive with up-and-coming, small cities, much less major food cities like my own SF. Steakhouses (and upscale BBQ at Iron Starr) were the exception.
But particularly in the last two years, signs of life are bubbling up. Especially exciting is underground, popular alternative press like This Land, coming out of Tulsa. It's a multi-media publication of radio, video, music and online magazine expressing the creative vision of 20 and 30-somethings in the Midwest.
Brand new Kitchen 324 just opened during my December visit, looking "the part" of sophisticated, urban deli with fresh vegetable/fruit juices (though sitting in carafes for hours vs. being fresh squeezed individually) and cookbooks from Yotam Ottolenghi proudly on display (whose bakery/restaurant I've been to in London). But lackluster pastries, bagels and lox, and other breakfast dishes confirmed at least initially: its got the look, if not the substance.
Despite being housed in an adorable, restored, pink and cream-colored historic house in the downtown OKC location, Sara Sara Cupcakes' cakes themselves didn't even quite have the look: think oversized cupcakes neon-bright with food coloring… and how I weary of the decade-plus cupcake craze that just won't quit.
Upper Crust, a new pizza restaurant in OKC's increasingly popular Classen Circle, is strong compared to most pizza in the area, but despite being wood-fired, doesn't remotely resemble Neapolitan (that now years-old craze has yet to hit the state) or gourmet pizzas. Though not impressive, their decent American pizzas are a step in the right direction for the region.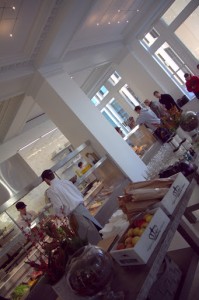 Though Oklahoma City has a long way to go before it's a food or drink lovers destination, there were more signs this trip than in any year prior that its starting to notice and participate in what has been happening around the US for years – even to take pride in its own food roots and strengths.
In my experience, once the wave starts, it thankfully begins to change standards for quality ingredients and authenticity, a crucial counterpoint to the chains and fast food that dominate these parts. Here's to the local Oklahoma trailblazers in food, farming, drink.
MATTHEW KENNEY, Oklahoma City

I knew times had changed when Oklahoma City is home to not merely vegetarian but vegan food… actually done well (!?) Granted, Matthew Kenney is a four restaurant "mini-chain" from restaurateur and New York native Scott Winegard, with locations in Santa Monica, Miami, Chicago, the fourth, oddly enough, OKC. Having the privilege of dining at some the best raw food or vegan restaurants from London to LA, I'm pleased to say this OKC location of Matthew Kenney is top-notch. Not only is it competitive in its category nationally, it was the most consistent meal of all the new places I tried in OKC (and I'm a carnivore who eats everything).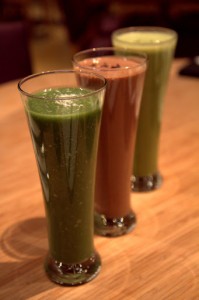 Using all plant-based, raw foods (except for a couple heated dishes), kitchen artistry shines turning nuts into cheeses. In terms of the cheese platter ($12), most were a bit bland but for a smoked cumin "cheese", rich in texture and softly smoky. Better is "lasagna" ($13) layered with ricotta made from macadamia nuts, paired with zucchini strips, pistachio pesto, sun-dried tomato marinara and arugula. Guacamole ($9) is an easy "raw" food winner, enlivened here with jalapeno, pickled onion, a smear of cacao mole, and house corn and flax chips to scoop it up.
"Dumplings" ($8) are likewise raw, freshly filled with almond and nori/seaweed in a sesame foam and tamari/soy ponzu sauce. Another standout is a tostada ($13) topped with Progressive Farms kale, walnut picadillo, avocado, red pepper pico and cilantro vinaigrette. Only a cold green curry bowl of kelp noodles ($13) lacked hoped-for flavor, despite being tossed in coconut milk and Thai basil.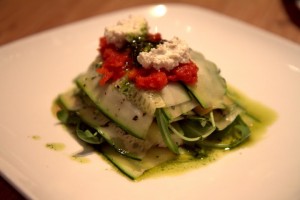 Desserts are a highlight, like an uber-minty mint-chip sundae ($9) of peppermint "ice cream" made from cashews and peppermint oil over a crumbly, dry fudge brownie/cookie, or a pumpkin layer cake sans pumpkin ($10), a cool cashew nut bar of "cream cheese", carrot, apple, oat, and pumpkin spices.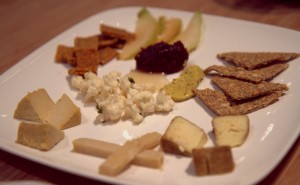 Naturally, there are fresh juices ($6-7) like tonic of celery, parsley, lime, pink salt, or blend of greens: kale, romaine, cucumber, celery, mint, lime. Blended smoothies ($8) are served in tall Pilsner beer glasses, some working better than others in terms of texture and flavor, but none distasteful. Mint Chip shines, a seamless mix of banana, organic peppermint extract, spinach, cacao nibs, almond milk and agave to sweeten.
When my meat-eating father (who definitely "was not feeling" this veggie menu when we sat down) enjoyed most dishes, I knew there was hope. Maybe the local population could begin to appreciate this OK rarity: a restaurant as healthy as it is delicious.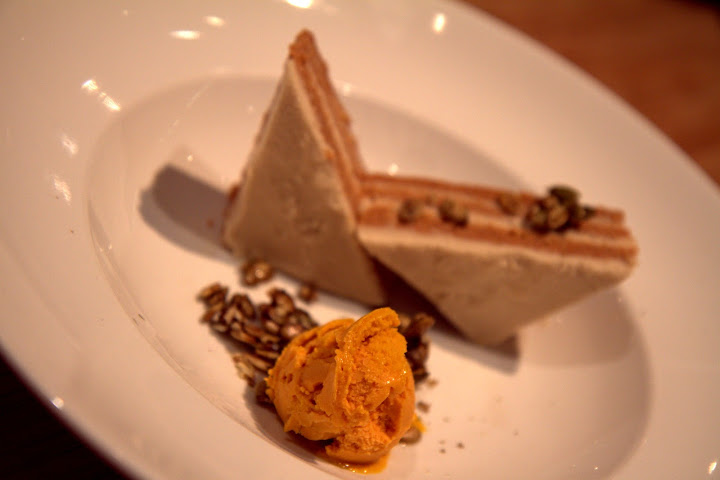 THE MULE, Oklahoma City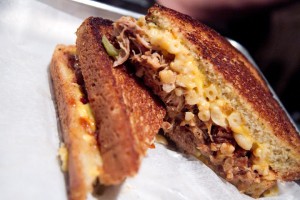 Nowhere is "hipster" more confirmed as "arriving" in OKC than at The Mule. A craft beer list, classic mule cocktails (meaning lots of ginger beer), hearty but gourmet comfort food, vintage Bible belt paintings, full beards and handlebar mustaches, and a perpetually packed house? Sounds like a hipster hangout. Certainly the crowd skewed young on a weekend night, but I noticed plenty of families and older couples intermingling. While waits and noise level can get obnoxious (I'd return for lunch or arrive before 6pm for dinner), the food is surprisingly good.
Locals are given tribute in Okie poutine ($7.50): beer-battered fries in white gravy and Watonga cheese curds. Stuffed, baked mushrooms ($7) filled with goat cheese under gravy and grilled jalapeños, are a crowd-pleaser. "Big ass grilled cheese" ($8.50) on sourdough is best with a side of zippy tomato soup, beating away winter chill.
But the show stops with the first bite of Macaroni Pony ($10). I've downed many a funky pulled pork sandwich around the country, but this one, slathered between toasted jalapeño cornbread with pickles, is perfected by three cheese mac 'n cheese packed in with the pork. It's one dreamy sandwich (and easily the best on the menu), even better washed down with a Mule Feather ($7): Maker's Mark Bourbon, bitters, ginger ale, lemon.
While such gourmet comfort food is typical in many a city, it's important to remember that credit is due for finally ushering in some funky, fun places like this in OK, thanks to restaurateurs willing to introduce national trends in local skin.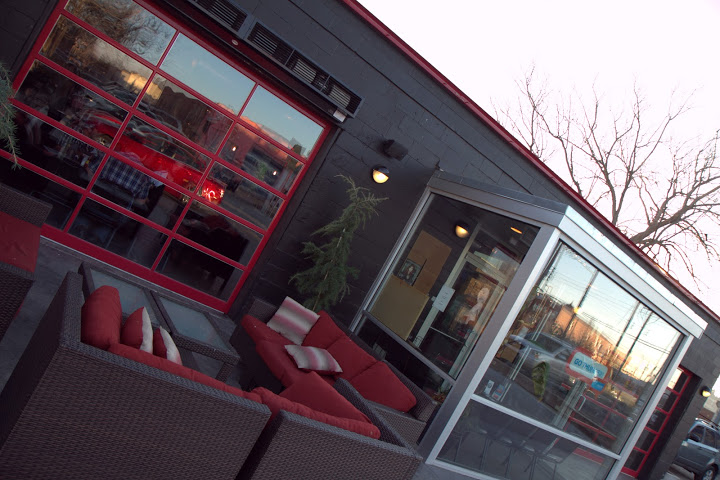 S&B's BURGER JOINT and TUCKER'S ONION BURGERS, Oklahoma City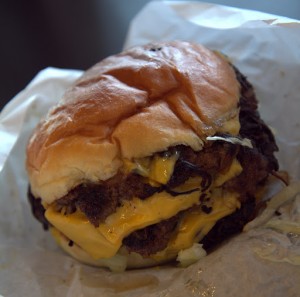 With two locations (I went to the newer Classen Curve restaurant), Tucker's Onion Burgers is a crowd-pleaser of generous, cheap burgers made in a traditional Oklahoma style since the 1920's (a Depression-era approach of bulking up spare meat with onions) where the patty is pressed with grilled onions (order the 1 lb. + $8.99 Mother Tucker only if you're asking for a heart attack).
Despite Tucker's classic goodness and value, my first local burger choice would be two year old S&B's Burger Joint, which also has two locations – I like the roomier, converted garage location in the Automobile Alley section of downtown.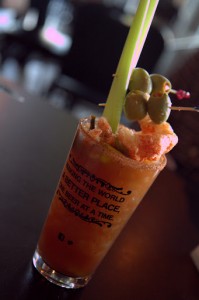 Part hipster, with friendly twenty-something servers, part rock star, plastered with punk rock artwork and Rolling Stones' album covers, the vibe is chill. Wisely, there are mini-versions of most burgers (call them sliders, if you must) so you can try more. And you might want to as these are tasty burgers ($3.25-$4.25 small, $6.50-7.50 large), juicy and pink if you ask for medium rare. I lean towards the Elvis because peanut butter and bacon on a burger WORKS. So does a classic blue cheese stuffed burger.
Each burger is playfully listed with beer or wine pairing recommendations. Possibly better than the burgers? Smothered fries ($4-5), appropriately crispy yet doused. I like Thunder Fry (named after OK's beloved basketball team), smattered with ham, Swiss onions and "Thunder sauce". Besides a solid bottled beer list, they shake up some loaded Bloody Marys intense with ingredients like peppers, bacon, edamame, wasabi.
LUDIVINE, Oklahoma City
Ludivine is the most ambitious of the new restaurants I've seen in OKC, and the only realized cocktail bar up till now (with a separate bar area if you just want to come in for drinks). Though farm-to-table has trended across the nation and has been the norm for decades in my home of NorCal, this is the first of its kind in OKC. I appreciate the passion of chefs Jonathon Stranger and Russ Johnson, Oklahoma natives who cooked in NY and Colorado respectively, to utilize local bounty, from meats to produce, in their daily changing menus.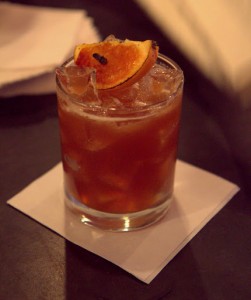 The space is chic and service is attentive, but dishes were unfortunately uneven. Baby beets and leaf lettuces topped with jalapeno onion straws and pistachios in currant rose vinaigrette ($9) appealed, despite the hundreds of beet salads I've had in recent years. But it arrived with few beets hidden under a pile of fried onions, minimal in flavor or impact. Alternately, Sandy Springs tartare ($15) is not so much a traditional French tartare, but is juicy with flavor, using bright and tender local buffalo.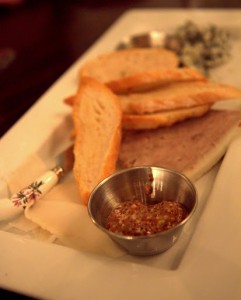 A charcuterie platter (any 3 for $14) is minimalist but lovely – I chose a creamy Danish blue cheese, house pork rillette, and melting fat of Mangalista lardo. Berkshire pork bolognese ($22) under Grana Padano cheese and carrots was neither traditional Italian bolognese nor a satisfying American interpretation. Chewy noodles and bland bolognese disappointed. A lamb burger ($16) sounded absolutely brilliant in truffle aioli, chow chow and blue cheese, but from accompanying sweet potato salad to barely detectable smear of chow chow, it fell flat.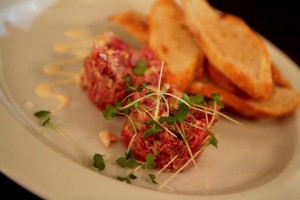 A lesson in excellence was the preparation of Captain Levi Black's Neah Bay steelhead trout ($28), seared, juicy, a seamlessly executed, flavorful fish. It's partnering flavors likewise impressed: curried carrot puree, grilled baby bok choy and warm cherry tomatoes in lush orange brown butter. A dessert of frozen eggnog souffle ($8) dusted with dark chocolate was another shining moment.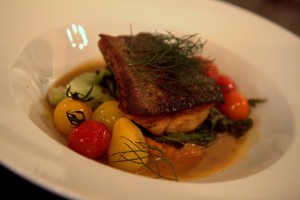 With a few draft and bottled beers, including local Coop Ale Works, and jaunty wine descriptors like "funkadelic", "glacial", "slate", "fat", "velveteen" and "yes!", there's plenty to accompany the food (I liked a Chanteleuserie Bourgueil Cabernet Franc ($12/48) described as "saddlebaggy"). Gettin' religious, the menu quotes Martin Luther: "Beer is made by men, wine by God."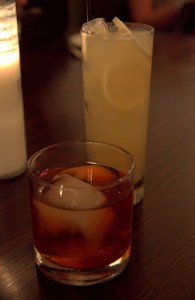 As for cocktails, this may not be a destination in terms of the country's greats, but it is THE cocktail destination in OKC. Bartenders are sharp and care about their craft, drinks are well-executed. My favorite is the Mayberry ($8): overproof bourbon gives backbone to the slight bitter of Averna, with a hint of orange juice, blood orange liqueur and house blood orange bitters. A bruleed orange on top adds blessed smoke, for a wintery, sweet, sour, slightly bitter refresher.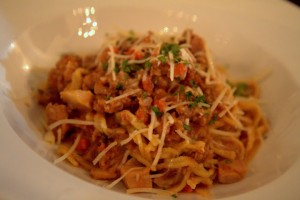 Mr. Smith ($10) cried for more smoky mezcal with reposado tequila, Punt e Mes vermouth, Campari, agave and bitters but is still a worthwhile drink. With their preferred Old Overholt Rye on allocation in Oklahoma (the challenges of being bar not located in a key market), they use Wild Turkey Rye in The Craner ($10), a simple sipper with lemon, sugar, ginger beer. Unfortunately, the rye is lost in the beer. Elegant lighter cocktails include a Pimm's Cup or a Green Beast: absinthe, lime, sugar, water, cucumber.
Overall, Ludivine is a huge dining and drink win for Oklahoma. With toughtfully assembled menus from people who care, it is one to watch. Though dishes were uneven, I'd gladly return, particularly given local options, hoping for more consistent high points from their changing menu.
Local focus and pursuit of high quality, sustainable ingredients and animals is a rarity in these parts and worth supporting, as California-based Outstanding in the Field noticed. When hosting the first Oklahoma event of their many unforgettable dinners around the country, uniting diners with chefs and farmers in an outdoor, nature setting, Outstanding chose Ludivine's chefs for the event held at Crestview Farms.
BAYOU GRILL, Edmond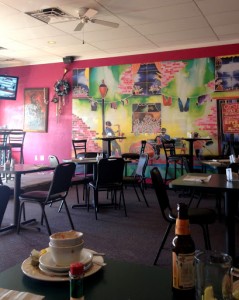 The most charming – and heartwarming – of my recent Oklahoma food explorations was minutes from my parents' home in suburban Edmond. We were given an effusive Southern welcome the moment we entered the humble but comfortable dining room of Bayou Grill in a nondescript strip mall. Home cooking from chef Thais Goodwin, who comes from a family of Southern cooks, is serving some of Oklahoma's best local treats in the form of Louisiana cooking.
I was thrilled to see one of my Louisiana favorites, boudin ($7.99), traditional French sausage filled with rice in the Cajun version. Falling apart and tender with flavor, this is boudin like mama would make and is, in fact, a family recipe from Chef Thais.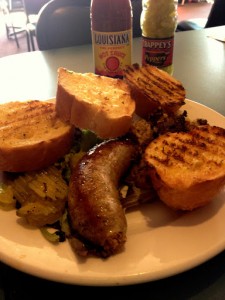 Fried green tomatoes ($7.99) are solid, Thais' mother Martina's seafood gumbo recipe ($6 cup, $14 bowl) is smoky with andouille sausage — a beauty of a gumbo — while red beans and rice ($3 cup, $7 bowl) exude traditional comfort.
One of Bayou Grill's most popular aspects, and rightly so, are Thais' cakes and cobblers, blessedly available by the slice ($4). A traditional Southern Hummingbird cake is moist and heartfelt, shining with pineapple, cinnamon, rum. There's plenty to love on the bakery side, and across the menu. Nothing beats Bayou's laid back, Southern welcome right in the Oklahoma suburbs.
Save
Save
Save
Save