This Winter saw the release of numerous new whisk(e)y releases, ranging from American whiskies (bourbon, rye, wheat, etc.) to Scotch and a Mexican whiskey (yes, you heard right, Mexican whiskey). Here are 9 whisk(e)y stand-outs and why they make an impression.
ST. GEORGE Lot 15 SINGLE MALT WHISKEY
St. George's newest, Lot 15 Single Malt Whiskey may be my favorite of their whiskies yet. It's limited edition (only 3000 bottles) and going for over $300 on some sites if you can find it. Distiller/blender Dave Smith has beautifully blended this release from barrels ranging 4-16 years of age, resulting in a whiskey that reflects both elegance and depth, bright fruit, spice, even subtle chocolate — unique and one-of-a-kind.
Why: Northern California whiskies have, over the years, become some of the best in the country. When it comes to longtime pioneers like St. George and Charbay, their high-end whiskies in particular reflect some of the most exciting whiskies in the world (yes, I said it). A few hundred is steep but there are far less balanced, memorable whiskies, from Kentucky to Scotland, selling for much more.
PIEDRE ALMAS ANCESTRAL CORN WHISKEY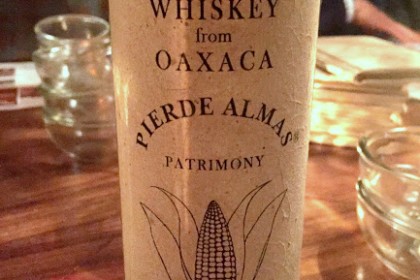 Being released in the US (first Chicago, SF, LA, NY) next month, Pierde Almas Ancestral Corn Whiskey (roughly $49) is exciting partly because it is produced by one of the great mezcal brands in Oaxaca, Mexico, partly because it is a first-of-its-kind corn whiskey made with ancestral grains from around the state of Oaxaca.
Why: This is an unusual release with the earthy brightness of the corn contrasted by subtle slate, white pepper and smoke reminiscent of mezcal. With a good 60 distinct varieties of corn in Mexico, 35 originated and still grow in Oaxaca, a region seeking to preserve ancestral corns (and resist GMO corn). These corns grow with a wide variety of colors, textures and flavors, all going into this unique whiskey, produced at only 4500 bottles a year with a portion set aside to age in charred American oak for release in the 2020's.
LOW GAP 4-Year Barreled WHISKEY & Straight Bourbon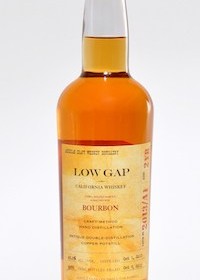 Craft Distillers (home of Germain-Robin's gorgeous brandies) produces Low Gap whiskies, with their latest released at the end of 2015, including Straight Bourbon ($65), which doesn't run sweet thanks to a 65% corn mashbill tempered by 20% malted barley and 15% malted rye.
Why: Aged 2 years, Low Gap Bourbon is a complex bourbon where sweet corn and oak shine but in balance. My favorite of the two is Low Gap's Four Year Barreled Wheat ($75), currently a blend of 4 and 5 year old whiskies from 2010 and 2011, among the first whiskies Low Gap produced. At 45.5% ABV, distilled in their Cognac still and made from 100% Bavarian hard wheat, the whiskey is sings with wheat and a hint of spice, a golden reflection of the inspired whiskies coming out of NorCal in recent years.
SPIRIT WORKS' Straight Rye Whiskey & Straight Wheat Whiskey

Husband/wife team, Timo and Ashby Marshall, have been producing my favorite sloe gin anywhere since they launched in Sonoma in 2013. Their whiskies have been aging over 2 years now and were just released in December 2015, featuring some Sonoma-grown grain. Ashby's skill as a distiller shows in both whiskies as she maintains a harmony of flavors.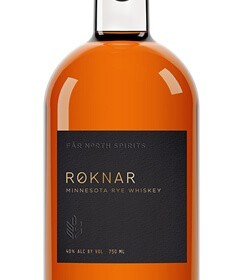 Why: These are a fine representation in the ever growing and quality category of Northern California whiskies, expressing Sonoma and the care this couple puts into each spirit. Of the two releases (both around $70), the Straight Rye Whiskey is my favorite, warm bread and fresh apple notes giving way to leather and cedar. But the Straight Wheat Whiskey, using 100% organic red winter wheat grown in the Sacramento Valley, is also a worthwhile whiskey, redolent of butterscotch, chocolate, walnuts and a hint of smoke.
FAR NORTH SPIRITS' Roknar Minnesota Rye Whiskey
Minnesota-based Far North Spirits is a fascinating new distillery producing farm-to-glass spirits, from gin to rum, from grains grown on their 1500 acre farm, overseen by owner/distiller/farmer Michael Swanson.
Why: Their Roknar Minnesota Rye Whiskey is a lovely rye, all grain and refinement yet packing a robust punch, redolent of warm cinnamon and oak. The distillery's clean, minimalist packaging speaks of Scandinavia, its roughly $50 cost and its fine balance suggests this is a "whole package" whiskey and a fascinating new option for rye fans.
GLENMORANGIE MILSEAN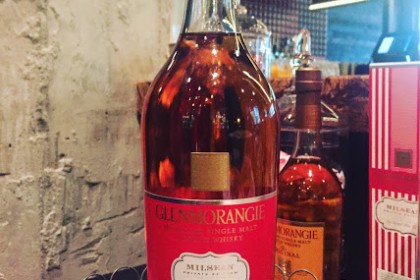 Glenmorangie is always one of the more elegant, balanced Scotches out there and the new Glenmorangie Milsean (Scots Gaelic for 'sweet things'; pronounced 'meel-shawn') is no exception. It's a single malt whisky that recalls candied fruit, and though sweet and lush, also evokes ginger and tobacco.
Why: Milsean is the seventh annual, limited release in their Private Edition line. At 46% ABV and starting around $100, Milsean is aged in ex-bourbon casks, then further aged in former red wine casks from the Douro region of Portugal. There is a brown sugar, candied orange peel kind of sweetness but even as someone who doesn't tend to love sweet, I find the usual Glenmorangie/Dr. Bill Lumsden restraint keeps everything in harmony.
HOCHSTADTER'S STRAIGHT RYE WHISKEY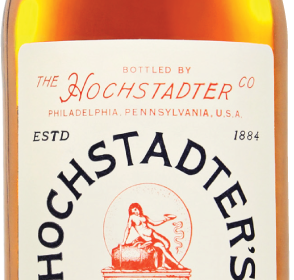 From The Cooper Spirits Co. (including Lock, Stock & Barrel Rye) Hochstadter's Vatted Straight Rye Whiskey was released this past fall and at 100-proof and $34.99 a bottle, it's a "good deal" option for cocktails and mixing.
Why: While it drinks a bit hot neat, it's still enjoyable with warm notes of rye, nutmeg and molasses. The strength holds up well in numerous cocktails, and certainly in the classics like a Sazerac or Old Fashioned.
It's a blend of five straight rye whiskeys aged 4 to 15 years and sourced from distilleries in Kentucky, Pennsylvania, Indiana and Alberta, Canada, reviving the classic Hochstadter's brand founded in 1884.
Post navigation