"[Whisky] feels appropriately intellectual: a drink you can wrestle with, linger over, and appreciate with all its nooks and crannies." — Victoria Moore, "How to Drink"
WhiskyFest turns into Whisky Week with many of the world's great master distillers and brand ambassadors in town from the reaches of Scotland and Kentucky. I had the privilege of meeting with seven different distillers – some over coffee or lunch, others at intimate gatherings. Impressed by the wide range of approaches, styles and personalities, I could easily write an article about each one and their respective distilleries. Instead, I share taste and conversation highlights.
TASTES – As usual, VIP hour is the time for the rare, the old, the latest, though it was more packed than ever with a mad rush waiting at the door at opening time. This meant less opportunity to chat with distillers and hear about what you were tasting. A lot can happen in a year and the number of whiskies I've had since the last WhiskyFest meant this year was a lot of re-tasting and confirming favorites. Of the whiskies I had not tried, there weren't a slew of stand-outs.
One that jumped out was a special unlisted, under-the-table pour of the latest George T. Stagg bourbon. Toasty, charred oak, and leather bring warmth, rounded out by a raisin-vanilla sweetness.
Out of many over-hyped whiskies in the 20-40 year range during VIP hour, Bowmore's 25 year stood out with a robust profile of salty brine and baked pear sweetness. Glenfarclas 40 year made a statement with tobacco, elegant tannins, orange. But it was many of my usual favorites that remained at the top, including Highland Park's 30 year, Pappy Van Winkle's 20 and 23 year bourbons, Parker's Heritage 27 year bourbon, and Charbay's incomparable Release II 1999 Pilsner whiskey.
It was good to see Wes and Lincoln Henderson (of Woodford Reserve fame) with their new, port barrel-finished Angel's Envy bourbon – I sampled an early version from Wes way back in December. Also on the non-whisky tip, I was happy as ever to sip a couple Germain-Robin beauties, including their complex Varietal Grappa, and oaky Coast Road Reserve brandy.
10/8 Lunch with RICHARD PATERSON – Richard Paterson, known as "the nose" for his impeccable nose and taste, has been Whyte & Mackay's master blender for decades. He's one of the world's leading scotch experts, author of the book Goodness Nose (which I savored as "homework" all through Whisky Week). To be part of one his seminars (such as at WhiskyFest Friday night), is to be bombarded with dates, history, uproarious expertise, irreverence, drama, laughter. When one lucky member of the class samples Dalmore Sirius (which has sold at up to $60,000 a bottle!), Paterson sets off a mini-rocket filled with confetti. Fireworks. Revelation. Kind of like tasting it myself…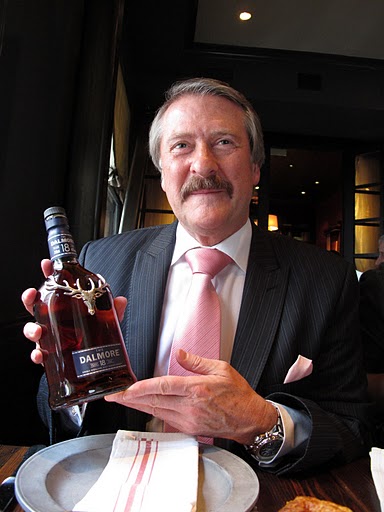 I had the privilege of an intimate three hour lunch over food and the Dalmore line with Paterson at Wayfare Tavern. We covered the range from 12 year to King Alexander III scotches (which I first had at Whiskies of the World). The chocolate, marzipan, tropical fruit of King Alexander III remains a Dalmore highlight for me. It's the only single malt in the world finished in six different woods (Port, Bordeaux Cabernet Sauvignon, Marsala, Madeira, Matusalem sherry, small batch Knob Creek bourbon barrels). Dalmore's Gran Reserva stood out more the second and third time I sampled it with spiced marmalade, crushed almonds, and sherry notes from the 60% Oloroso sherry casks it's aged in.
Get Richard started on wood and he says, "The wood is, as far as I'm concerned, the be all, end all." With a devotion to fine sherry casks (like Gonzales Byass), a key source of Dalmore's elegant taste profile, they also use a generous amount of American white oak, bourbon casks from Heaven Hill and Jim Beam, which enriches the profile further.
A favorite, which I would happily sip on its own, isn't bottled: the unaged distillate or, whisky base. It's amazing how much you can tell of a spirit's quality by its foundation. I was pleasantly assaulted with an array of tastes from spice and earth to lemongrass in the clear, strong distillate. I finished every drop.
Certainly a pinnacle is reached with the Sirius. The rare opportunity to sample highly aged spirits just a handful times (like two 1800's cognacs in New Orleans or Highland Park's 40 and 42 year scotches) has opened doors of flavor I could not dream up – this scotch transported me to regions beyond. There are only 12 bottles of Sirius in existence, a '51 vintage with a blend of Dalmore scotches from 1868, 1878, 1926, 1939. History courses through each drop, while Paterson's expert blending skills are illuminated here. Rich chocolate earth gives way to licorice and a bonfire smokiness. I count myself lucky.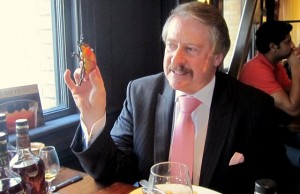 To drink with Paterson is to learn how to properly nose a glass, how to hold whisky in your mouth for maximum taste (from many seconds, up to 2-3 minutes). One learns how the dreaded phylloxera aphid (which wreaks havoc on vines) inadvertently aided whisky's growth by making dominant cognac in short supply, creating demand for other drink (read chapter seven in Paterson's book). But he doesn't just talk aphids, he brings visuals: big, plastic bugs to illustrate whisky's unexpected "friend".
Quirky and colorful, whisky comes to life through Paterson's interpretation. Intelligent and challenging though the whisky world can be, Paterson retains the intellect but makes it approachable, fun. A Paterson course in whisky education should be mandatory for all would-be and already-avid drinkers.
10/8 Coffee with JIMMY RUSSELL of Wild Turkey – Wild Turkey is a Kentucky mainstay since 1855, with Jimmy Russell as its master distiller since 1954. He comes from a family line of distillers: grandad, dad (who worked for him at Wild Turkey in the early years), now distilling with his son, Eddie. Jimmy could not be more charming. An older Southern gentleman, he's soft spoken, with an adorable sense of humor, which I discovered as we chatted over coffee the morning of WhiskyFest.
Russell makes Wild Turkey bourbons and ryes "the old-fashioned way" and says he doesn't even tell his son quite all his distilling secrets. They use barrels (charred four times) made of white oak mainly from Missouri, Kentucky and the Ozarks of Arkansas. Their basic bourbons are a blend of six, eight and ten year-aged, with a lower proof than some bourbons, generally 108-110 proof. He explains lower proof is actually more costly, a cost he's willing to absorb for taste quality, as there is more water added (read: dilution) to higher proof bourbons to reduce the proof down.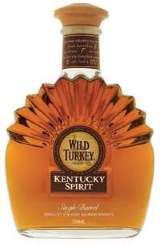 Stories of his town of Lawrenceburg, KY, are fascinating, particularly that it's in a mostly dry county where no drinks are allowed in restaurants and bars do not exist. "We're not dry, we're moist", he states, as there are a few limited options to purchase drink in the area. It was only a couple years ago they secured a "Souvenir Liquor License", one of many complicated hoops to jump through to allow tastings in their actual distillery. He says in keeping with Southern Baptist tradition, you only drink hard liquor for medicinal purposes, so, he remarks, in a gentle, Southern drawl, "I keep a cough pretty much most of the time".
Russell's humor, distilling heritage, and commitment to his craft make it clear why Wild Turkey has remained a top-selling bourbon for decades.
10/7 Sipping Wheated Bourbon with PARKER BEAM – Amidst the annoying happy hour din at Bloodhound last Thursday night was distilling legend, Parker Beam, hanging out with the Heaven Hill crew and a few of their whiskeys. They pulled out a bottle of brand new Parker's Heritage Wheated Bourbon, an earthy, wood-laced, wheat beauty (also made with corn and malted barley). Parker raised a glass as we attempted to chat above the din. Hearing clearly takes some effort as the delightful Parker speaks in a slow, Southern drawl dripping of honey, lulling you into relaxing and taking in the moment.
His passion for distilling shines in his calm demeanor. He's distilled for decades, both with his father, Earl, and now his son, Craig. And yes, he's related to "that" Beam. His grandfather and namesake, Park Beam, had a brother, the actual Jim Beam (aka James Beauregard Beam), so Parker is part of a royal distilling heritage. I asked if his son had any children who might next enter the fray. "My son has five daughters, so, no", he mused. "But, who knows? Maybe we'll have the first female bourbon distiller someday." It would be far from the first noteworthy accomplishment in the Beam family's rich history.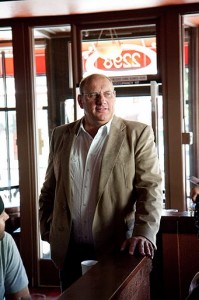 10/10 Bacon brunch with KEITH KERKHOFF of Templeton Rye – Setting: Reza Esmaili's Long Bar. Food: delectable spread from chef Erik Hopfinger. Heaping bacon piles of Eden Farms Berkshire Pork. And don't forget the rye. Templeton Rye from Templeton, Iowa, to be exact. The brunch was in celebration of this delightful rye finally becoming available in San Francisco, as it previously had only be for sale in Illinois and Iowa.
They are so small batch with limited number of bottles that you won't find it in any Bay Area shops outside of SF (our usual suspects, like Cask, Jug Shop, and K&L have it). Assistant Master Distiller Keith Kerkhoff (I wrote about a seminar with their president, Scott Bush, at Whiskies of the World earlier this year) and Brand Manager Michael Killmer hosted us for a relaxed, festive brunch where Templeton Rye flowed, and coffees were spiked with the rye, topped with Fernet whipped cream. Welcome to SF, Templeton.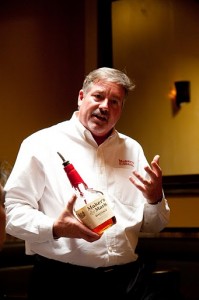 10/10 Dipping wax with Kevin Smith of Maker's Mark – At one of my favorite bars, The Alembic, Kevin Smith, the master distiller of Maker's Mark spent a couple hours with a small group of us, tasting through various ages of their bourbon, from white dog to years older than the finished Maker's product, so we could get an idea of the thought process behind knowing when a spirit is "ready". From a somewhat neutral base (cut down to 90 proof), it gained most of its flavor from barrel aging, while we sampled a woody 12 year version that came off astringent and tannic, though not unpleasant. Smith used this to highlight their choice of the smoother, rounder balance of the fully matured final product which is roughly 5-7 years aged.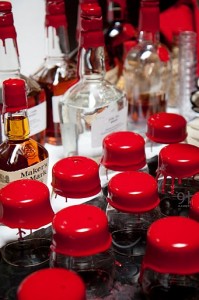 We finished with Maker's 46 (their first new product in 50 years). I've had it a few times and it makes sense Kevin said the inspiration was rye whiskey with advanced spicing, toasty oak and that "cinnamon bite"… It certainly is my preferred version of Makers. Thanks to The Alembic for serving us a gorgeous, bright cocktail using Maker's 46, sweet vermouth, absinthe, maraschino and a mint garnish.
We finished the session by hand-dipping glasses in Maker's signature red wax, a tradition established from the chemist wife of Bill Samuels, Sr. (Maker's original owner): she loved brandy and wanted the bottle shape and wax to imbue Maker's with a brandy elegance. Interestingly, California just surpassed Kentucky as Maker's #1-selling US market.
10/6 CHARBAY SPIRITED DINNER – With a magnificent sunset from atop the Marriott's View Lounge as our backdrop, Marko and Jenni Karakasevic of Charbay hold an intimate spirited dinner annually. With plenty of time to hang out with the Karakasevics and meet fervent food and drink lovers at the two tables, the highlight was, of course, drinking Charbay's incomparable spirits. Starting off with refreshing Green Tea Aperitif paired with Kumamoto oysters on the half shell, we then moved to one of the stand-out white whiskeys in existence: Doubled & Twisted Light Whiskey.
We moved on to what qualifies as one of the best things I ever tasted in my life (now, and every time I taste it): Release II of Charbay Whiskey. This was also the best food match of the night, paired with slow-smoked Berkshire Farms Pork Belly and a mini-tamale in Lagunitas chili mole. A surprise whiskey barrel tasting followed: the Release II, but aged twelve years instead of the six years of the current release. At higher proof, it's superb, complex, rich.
A Meyer Lemon Vodka ice intermezzo was a refreshing palate cleanser over basil ice, imbuing tart lemon with almost absinthe-like notes. Dessert was paired with their Black Walnut liqueur. As with most Charbay spirits, it's a stunning standard-setter in its genre.