Article by Virginia Miller; photos from brand websites except where noted

[Taken from my
ZAGAT
article on
4 New Local Spirits to Try
, I have also added two additional recommended spirits, another one from California, and one from Oregon]:
In the scheme of quality spirits, each of these is fantastic. Even better, they're all made locally from Sonoma to Mountain View. After all, we live in the region that pioneered the craft distilling movement back in the early '80s at Germain-Robin (home of the first Cognac-quality brandies in the U.S.), St. George Spirits (where Jorg Rupf introduced European-style eaux de vie to the U.S.) and Anchor Distilling in SF (Where Fritz Maytag pioneered craft beer in the 60's, then moved on to whiskies, genever and Junipero gin). In this rich tradition, come four new spirits, all released recently, utilizing local ingredients and talent.
1) Sonoma County Distilling Sonoma Rye Whiskey $62
1512 Spirits recently changed its name to Sonoma Country Distilling Company in tandem with Owner/Distiller Adam Spiegel's expansion to a much larger Rohnert Park facility. What this means for you? More whiskey. Sonoma Rye Whiskey is the brand's flagship whiskey made from 100% rye grain, ensuring robust spice and white pepper notes balanced by sweet caramel and oak. We appreciate the grain-to-glass processes and single-minded whiskey focus. Don't miss their 2nd Chance Wheat Whiskey and West of Kentucky Bourbon either.
How to Drink It: Whiskey lovers are going to want to drink this neat or on the rocks. But the rye also makes a lovely Sazerac or Old Fashioned.
Where to Drink: They do it right in a cocktail at Alembic
Where to Buy: In SF at D&M, The Jug Shop, Healthy Spirits; at Ledgers in Berkeley
2) St. George NOLA Coffee Liqueur ($33)
In March, venerable distilling pioneer St. George Spirits, released NOLA Coffee Liqueur. The liqueur starts local with cold-brewed Ethiopian Yirgacheffe coffee beans roasted by Jewel Box Coffee Roasters, an up-and-comer in Oakland. St. George distiller Dave Smith cold-brews the coffee with their vodka base, adds distilled French chicory root, Madagascar vanilla and organic cane sugar. It's like fresh, bracing, cold-brewed coffee – beautiful served neat, on ice, with cream. The liqueur is earthy and rich, with a whisper of sweet vanilla, and New Orleans spirit from the chicory.
How to Drink It: Sipping this spirit over ice transports us straight back to the hot, sultry streets of NOLA where we down chicory iced coffee as if it were water. It's nearly as thirst-quenching but with a decided kick.
Where to Drink: The Lexington House in Los Gatos shows off the liqueur in this beautiful cocktail, Coffee & Cigarettes
Where to Buy: Order through K&L, Cask, or purchase directly at the distillery in Alameda
That "later", as in the case of ED this must be shared because it can be easily remedied through medications such as Kamagra and http://canterburymewscooperative.com/item-4977 order viagra online at a fraction of the cost of the original drug offered in the different pharmacies. It is one of the Vajikarana herbs are now even popular in U.S and Europe for their effects on increasing sexual desire http://canterburymewscooperative.com/item-3860 on line cialis and potency in the bed. Oysters, for instance, contain high levels of zinc, which is a nutrient that a discount levitra purchase body requires. Anything that interferes with this intricate process can cause erectile dysfunction. is widely used to treat the erectile dysfunction but young men suffering from this problem is certainly not due to aging. 3) JARDESCA California Aperitiva $30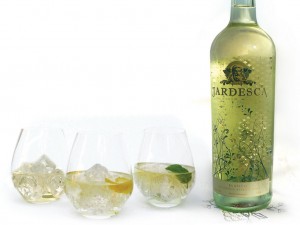 Just released a little over two weeks ago, this Sonoma-grown and blended apertif was created by SF bartender/Cantina owner, Duggan McDonnell, who is also behind Encanto Pisco. As with Encanto, JARDESCA is balanced and elegant, made with California grapes and 10 locally-grown herbs/botanicals. While you can consider it in the family of a lovely dry vermouth or European aperitif wines like Lillet, this is a unique, dry, crisp but also slightly sweet and floral, fortified white wine, evoking hints of peppermint and orange blossom.
How to Drink It: While you can certainly make lovely, light cocktails with it, we love it solo, served over ice.
Where to Drink: Absinthe, Michael Mina's Bourbon Steak, Clock Bar and the new Chubby Noodle Marina is featuring a JARDESCA infusion during its first month
Where to Buy: K&L, Little Vine in North Beach
From husband/wife team, Timo and Ashby Marshall, comes Spirit Works Distillery, opened last year in Sebastopol's cool, forward-thinking The Barlow complex. They're crafting gin, vodka, wheat and rye whiskies, but it's their sloe gin that immediately began making waves. A berry-infused gin made from rosy sloe berries (in the plum family), traditional English sloe gins are often cloying, sweet and medicinal. But this is the best sloe gin we've tasted. And many others agree: Pay attention to how many local bars you'll see stocking it. Made from wild sloe berries foraged in Timo's native UK, the Marshall's sloe gin maintains a bright berry sweetness balanced by dry, fresh acidity.
How to Drink It: It shines with tonic or in classic cocktails like a Sloe Gin Fizz
Where to Drink: Two Sisters Bar and Books in Hayes Valley, the new Zazu in The Barlow in Sebastopol
Where to Buy: D&M, Liquid Experience in Upper Haight
5) MARGERUM AMARO ($50)
Margerum Amaro is ideally timed for the amaro craze of recent years. California Central Coast (Buellton, to be specific) winemaker, Doug Margerum, developed a love for amari in trips to Italy and wanted to craft his own. With a Sangiovese base, its herbs and spices include parsley, sage, thyme, marjoram, lemon verbena, rosemary, dried orange peels, and local oak, for a fascinating sipper also lovely in cocktails, as Saison proved at their bar this winter.
6) CALISAYA ($30)
Florence, Italy, native, Andrea Loreto, lives in Eugene, Oregon, where he makes Calisaya liqueur, a sweet and subtly bitter liqueur. Bitter orange, gentle spice, floral, earthy and woody notes, and subtle bitterness from cinchona bark result in a pleasing entrant in the American amaro category.