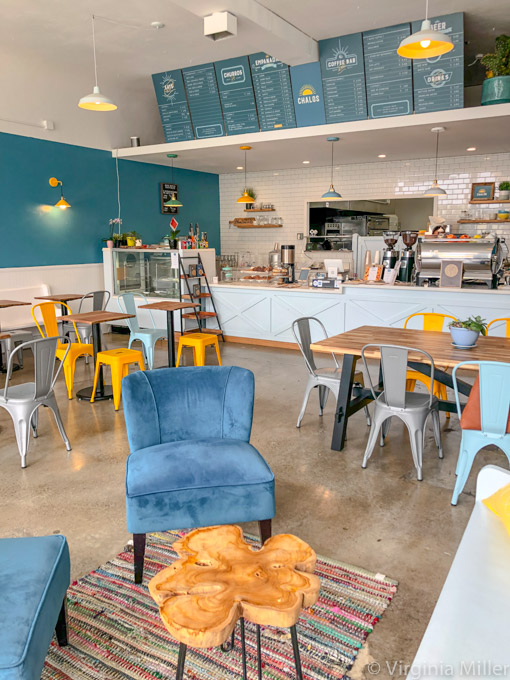 Published by Where Traveler (my other Where articles here) in July 2019, my article on eight standout San Francisco newcomers that are all order-at-the-counter, casual meals — with excellent food.
— AL's Deli
— Gioia Pizzeria
— Daily Driver
— Chalos
— Cafe Owakari
— Palermo II Delicatessen
— Grem's Good Dog
— Wilkommen
Article here: www.wheretraveler.com/san-francisco/eat/8-affordable-new-openings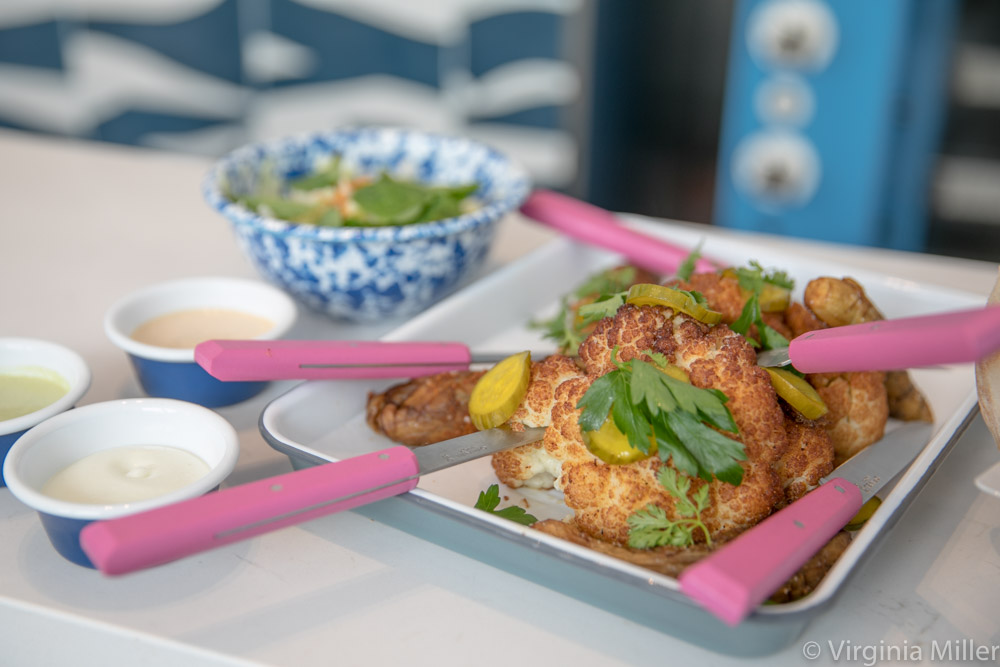 These 8 newcomers are all order-at-the-counter, casual meals — with excellent food. After all, excellence can be (and in SF is often) low-key.
AL's Deli, Mission 
AL's Deli just opened July 17th from chef Aaron London of Michelin-starred AL's Place down the street. Cheery in pinks, whites and blues, it's housed just across the street from the original Tartine Bakery. Neither traditional East Coast deli nor street food restaurant, London takes influences from both, resulting in his own irresistible order-at-the-counter menu, rotisserie meats, dishes like smoky brisket pita sandwiches (tributing his beloved Schwartz's Deli in Montreal), or potato latke pockets with your choice of filling. The menu is also available for home delivery via Caviar.
Order This: Smoky brisket or spiced chicken shawarma hummus pita sandwich; simple but beautiful tomato, smoked watermelon, mint, cucumber, chili salad.
Gioia Pizzeria, Hayes Valley
With NY pizza vibes and a husband-wife team (Will and Karen Gioia) who met at The CIA (Culinary Institute of America in Hyde Park, NY) and cooked at restaurant legends like Chez Panisse and Zuni Cafe, Gioia Pizzeria is damn good pizza. And it's a pizzeria with a long Bay Area history. Their original Berkeley location has been going strong since 2004, while they opened an SF locale in 2012, which just recently became the second location of Fiorella. In June, they moved to a smaller, focused Hayes Valley take-out space that keeps it quick and fun with an all-day menu of sandwiches, salads and pizzas by the slice or pie.
Order This: Salsiccia pizza (Sicilian sausage, mozzarella, pickled jalapeños, pecorino, sauce); Brokaw avocado and arugula salad with golden raisins, radishes, farro, pecorino and almonds; housemade cannoli.
Daily Driver, Dogpatch 
With opening kinks from long lines to sold out bagels early in the day, the ambitious, 5,000-square-foot Daily Driver in the Dogpatch confirms how eager the masses are for good bagels. Opened in June, DD is a bagelry, creamery and coffee roaster, all in one. Bagels are hand-rolled and wood-fired in full view each morning (resulting in an exterior crunchy and soft interior), while you can watch cream cheese, quark and butter being made in their glass-walled dairy. Red Bay Coffee roasts a special coffee blend on-site just for DD. Tamara Hicks and David Jablons opened Toluma Farms and Tomales Farmstead Creamery in West Marin in 2003 — they now bring their next evolution to SF, partnered with Hadley (who honed the butter and cheese recipes) and David Kreitz (he built their unique wood-fired oven and developed the bagel recipe).
Order This: Everything bagel with cream cheese; tuna bagel sandwich with capers, red onion, aioli.
Cafe Owakari, SoMa/South Beach
Hitting South Beach in May, the clean whites and woods of the new Cafe Owakari are pure Japanese. This sunny cafe is currently just open Monday-Friday (8am-2:30pm) serving  Japanese fare prepared with care, whether silky cuts of raw fish of the day for the chirashi bowls, salmon or tuna don or chicken brined for days for a classic chicken katsu sando.
Order This: Chicken katsu sando (fried chicken on soft white bread with cabbage and mayo); hojicha or matcha latte; chirashi bowl (daily selection of fish, sushi rice, vegetables).
Palermo II Delicatessen, North Beach
A sunny slice of Sicilian cheer in North Beach, Palermo II Delicatessen is the oldest in the lineup, opening last year as the reincarnation of its original Palermo Deli. Siblings Vince and Frank Balistreri, third-generation San Franciscans and North Beach natives, grew up at the OG deli since high school. Their father closed the business in 2008 but they are back full steam, rebirthing their family business with the same meat-heavy sandwiches and a true Italian-San Franciscan welcome that warms the heart.
Order This: A favorite from the original Palermo deli, the fab Crab Jack special (crab salad on legendary Liguria Bakery's focaccia made with red roasted peppers and Monterey Jack cheese).
Chalos, Parkside  
This charming new shop from SF native Annie Leong and her Argentinian husband Gonzalo Del Cerro is a welcome Parkside newcomer. Sightglass Coffee and housemade Argentinan empanadas, churros and alfajores greet you at Chalos, with a cheery space to linger in on the outer stretches of the Parkside 'hood.
Order This: While the empanadas can be fried or baked, classic fried rules, as does the classic carne empanadas in three versions: carne, carne dulce (sweet/savory) or carne picante. We love the carne picante, packed with ground beef, onions, green onions, a hardboiled egg, red bell peppers and a blessed kick of hot sauce.
Grem's Good Dog, SoMa
While we're thankful to live in a walkable, tightly connected city of neighborhoods that is not about drive-through fast food, it is fun to have a drive-thru newcomer in a city where they are a rarity. Enter Grem's Good Dog. In decades-long SF style, the sausages are gourmet (there are vegan Beyond Meat dogs, too), the rolls are half sourdough and baked fresh each morning and the staff welcome you with a big smile.
Order This: Jalapeno cheddarwurst spicy pork sausage with honey mustard and sauerkraut; spicy Italian sausage.
Wilkommen, Castro
Yet more sausages, this time it's Willkomen, a new German beer hall with modern industrial bones and a Castro party vibe. SoMa's Black Hammer Brewing brings the beer (10 on draft), alongside local wine, cider and kombucha, while the space is marked by picnic tables, lofty ceilings, bright murals (being hand-painted as we visited) and massive windows.
Order This: Sausages are from SF's long-great Rosamunde, served in the style of your choice, like currywurst or Bavarian (on a plate with lackluster red cabbage but a comforting warm potato salad).