My dining column at print and online magazine, Bob Cut — column details and my philosophy here — covers standout newcomers and longtimers we want to keep supporting. During shelter-in-place pandemic times, I cover outdoor dining, takeout and delivery restaurants:
www.bobcutmag.com/stories/2020/9/28/best-bay-area-restaurants-to-order-to-go-from-or-dine-al-fresco-at-in-september
CUISINE DEEP-DIVES
New Modern French Restaurant from Baking Master: ROUTIER
Opened August 14th by one of the nation's great pastry chefs, Belinda Leong of B. Patisserie, business partner Michel Suas and former Manresa chef John Paul Carmona, Routier just glows. All windows, wood, dark green and vintage lamps, it shines from its corner locale. I can't wait to dine-in but in the meantime, this is the kind of takeout that feels like being back in one of SF's countless world-class restaurants: artful, nurturing food with pristine ingredients and plating. Routier's bright deliciousness got me through the peak of our heat waves. Swordfish rillettes are contrasted by pickled cucumber and dill, or a "lobster grand aioli" platter boasts poached lobster, raw and cooked vegetables and addictive tarragon miso aioli. What sounds like "just" a tomato dish — tomatoes in albacore tuna tonnato sauce — is a glory of late summer, showcasing NorCal's bounty in greens, purples, reds and yellows, accented panzanella-style crispy bread. There are reasonable $39 "formule" set menus, gorgeous desserts and sommelier Renee Nicole Kubin's smart wine and cocktails. Kubin's refreshing spritzes feature rare vermouths and fortified wines, like the Mistral: Mommenpop Blood Orange d'Sange Vermouth, Panama Pacific 3 year Old Blanco Rum, Jack Rudy small batch bitters, lime and Fever Tree tonic. // 2801 California Street, www.routiersf.com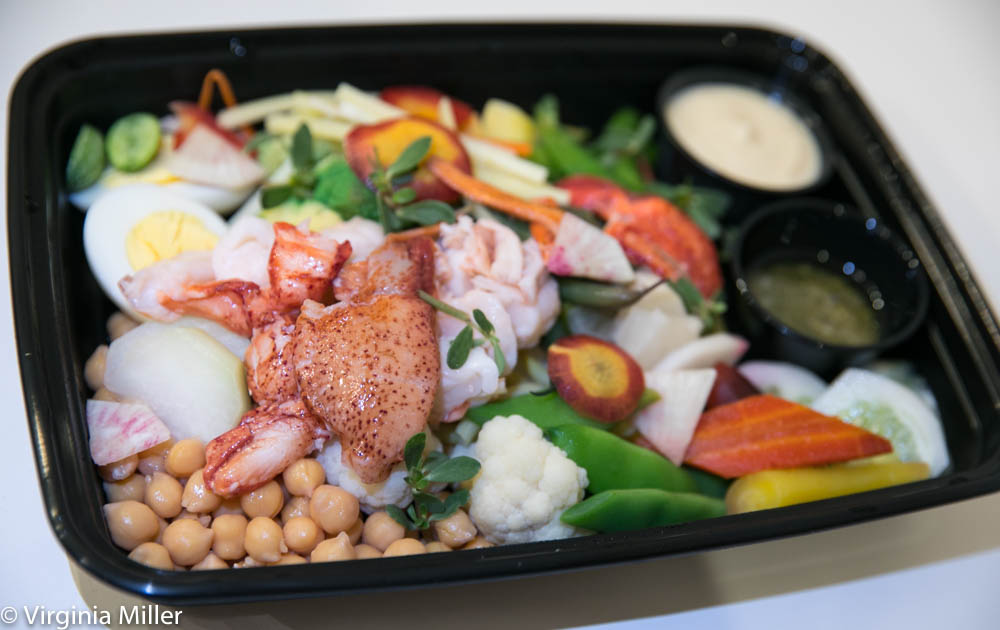 Indian Elegance: ROOH SF
ROOH is better than ever. Chef Sujan Sarkar's creative Indian cooking, the likes of which recall India and London's best modern Indian restaurants, reimagines and plays with regional Indian cuisine. Comfort comes in the form of a green pea-goat cheese kulcha under shaved black summer truffles, or one of the best Delhi-style butter chicken curries you'll find on the continent. It also comes in dishes not workable for takeout, but among Sarkar's best: frozen yogurt chaat with tamarind, mint, cilantro, dried mango powder and chile chutney; ground Sonoma duck seekh kebab, a fabulous re-texturing of duck; or silky tandoori masala-spiced monkfish in rhubarb alleppey lentil coconut curry. Paired with Chetan Gangan's elegant cocktails (don't miss Whistle Podu, a take on Chennai's most popular drink — smoked rasam — here with vodka, honey, tomato and curry leaf, carbonated in-house). Dessert may be the imaginative likes of a celeriac tart in jaggery and pineapple caramel, recalling pineapple upside down cake. It's the most inspired use of celeriac I've seen since Noma in Copenhagen, although the tart's accompanying peanut chikki (traditional Indian nut brittle) gelato threatens to steal the show. // 333 Brannan Street, www.roohsf.com
German Oktoberfest: Schroeder's
Schroeder's has long been one of our historic treasures, a massive 1893 Bavarian-inspired beer hall that serves legit German food, beers and wines. Sadly, the hall is sitting vacant in pandemic but their parklet just opened (in addition to delivery and takeout) in the Financial District. A little astroturf, umbrellas and spaced out picnic tables under towering highrises feels like Oktoberfest (which runs September 19-October 4) while sipping German beers on draft and beautiful Germanic wines, from Gruner Veltliner to Spatburgunder. Their giant Bavarian Pretzel dipped in Wild Turkey bourbon mustard and beer cheese is the ultimate comfort food. I'm all about their sausages served in buns, on platters or to-go party packs. Try their authentic kasekrainer (white pork sausage oozing emmentaler cheese) or spicy bierwurst (spicy beef and pork sausage made with amber ale beer). // 240 Front Street, www.schroederssf.com
SHAPE-SHIFTING from Indoors to Outdoors, Eat-In to Take-Out
Presidio Social Club Exchange
I will sadly miss the indoor space at Presidio Social Club, a 1903 military barracks that felt like stepping into the 1940s. They just morphed into Presidio Social Club Exchange, all delivery and takeout, either cooked or frozen and prep-at-home meals. With hearthfire cooking, gourmet groceries and in-house bakery, chef Ray Tang and pastry chef Rene Cruz' extensive menu has a little something for everyone, whether Cruz' dreamy coconut cream pie or Tang's mac and cheese. Though I love their comfort food mastery (meatloaf, prime rib, etc.). I dig chef Tang's specials showcasing Asian comfort food, like the recent spicy goodness of his chicken fried in charred scallions, chiles, Padron peppers, peanuts, cilantro, lime. Pair with PSC's bottled barrel aged cocktails (standards like Negronis and Old Fashioneds) and you have yourself a feast. // 563 Ruger Street, www.pscexchange.com
Old Skool Cafe
Earlier this year, I shared the heartwarming purpose and neighborhood vision of Bayview/Hunter's Point gem, Old Skool Cafe. Although we miss the dim blacks and reds indoors of this 1920s-30s-inspired, youth-run jazz supperclub, they recently secured a patio out front in the square flanked by palm trees, Muni light rail stop and locals hanging out, exemplifying the life of the neighborhood. Youth jazz trios play outdoors a couple hours some nights, while a soundtrack of crooners and jazz keeps the supperclub vibe alive in the square sans concerts. In addition to outdoor dining, they're offering family meals to go and on September 6th, launched Sunday brunch. Their shrimp and grits or Abu's peanut butter stew (the family recipe of one of their youth chefs with West African roots) exemplify nurturing soulfulness. // 1429 Mendell Street, www.oldskoolcafe.org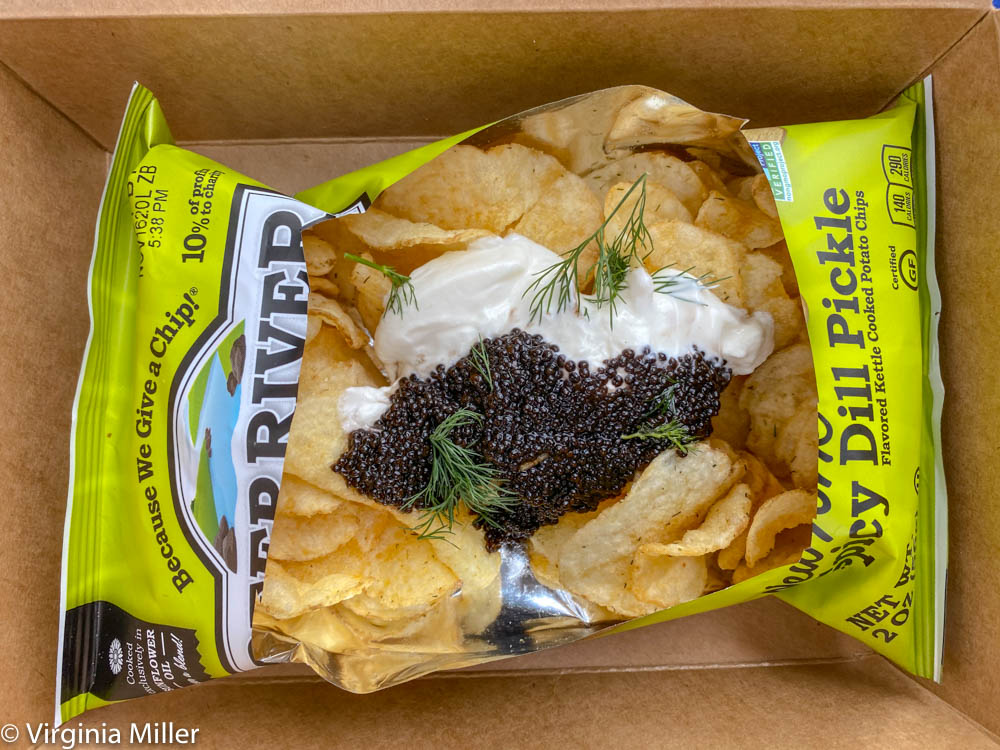 SANDWICH TIME:
Turner's Kitchen
In a city long rife with killer sandwiches, Turner's Kitchen is one of our best sandwich shops. Ken Turner purchased Clare's Deli (next to 500 Club) in 2015, learning the secrets of Clare Hulme's beloved French dip sandwich while working with her for years prior (it's still on the menu). Turner also cooked at the great Zuni Café under legendary Judy Rogers. You can taste the gourmand in his creative sandwiches, like the fantastic Hawaiian Bulldog (pastrami, avocado, arugula, caramelized pineapple, coconut chili jam, fresh mint, fried onions on a brioche bun). He nails chili, frito pie and seasonal sides like peaches in feta, mint, applewood smoked sea salt, olive oil and lime juice. An almost childlike whimsy sings in "Robin Leach Chips & Caviar" (1 oz. of black Bowfin caviar, dill and Mexican sour cream on your choice of potato chips ranging from dill pickle to aged cheddar and horseradish brand chips). Served in a cut open potato bag, it's a snack both delectable and Insta-worthy. // 3505 17th Street #B, www.turnerskitchensf.com

MINA DUO:
Mina Family Kitchen Brunch & Cocktail Kits
Mina Family Kitchen continues to step it up, just launching Diane's Bloody Mary Brunch, one of my favorite elements at Mina's Tailgate Parties at San Francisco 49er's games. Michael Mina's wife, Diane, now offers her Bloody Mary bar in cocktail and full-on kit form, alongside a plethora of comforting brunch dishes like Early Girl tomato shakshuka, a comforting English muffin scrambled egg sando and flaky, lush leek fondue-mushroom quiche in a puff pastry. There are also extensive lunch and dinner menus representing their SF restaurants. Their new cocktail boxes are another win for at-home celebratory sipping, created by Anthony Attanasio. Each box creates 10-15 total cocktails in themes like Little Italy or Summer Necessities, complete with spirits, citrus, garnishes, tonics and housemade syrups. // 252 California Street, www.michaelmina.net/delivery
Pabu Outdoor Japanese & Sushi Feast
Thank goodness for PABU. With an expansive patio amid Financial District highrises, this urban oasis for edomae sushi and robatayaki (Japanese "barbecue") recently opened outdoor dining with heat lamps, greenery and one sweet dining experience. Their team is world class, from Tokyo native chef Ken Tominaga, to one of the nation's few sake masters, Stuart Morris, who has long poured some of the most rare and fascinating sakes available in America. Add on Raymundo Delgado's cocktails and superb dishes like an heirloom tomato salad in nori green goddess dressing with whipped tofu crème fraîche or Monterey squid okonomiyaki and you have an SF gem that just keeps getting better. // 101 California Street, www.michaelmina.net/restaurants/pabu/san-francisco
NEIGHBORHOOD SUSHI TAKEOUT
Ginza Sushi
Ginza Sushi is the Haight-Ashbury's best sushi go-tos for rolls/maki, chicken kara-age (also nicely done in salad form) and tomodashi tartare (diced maguro tuna and salmon tartare with avocado, black tobiko roe, citrus ponzu, scooped up with gyoza chips). As is true in general, their best rolls are the raw/fresh ones vs. fried rolls, namely the Ginza, Daburu and Sakura rolls. // 1793 Haight Street, www.ginzasanfrancisco.com
Izakaya Mayumi
Despite the inaccurate izakaya name (this is mainly a sushi spot rather than Japanese pub fare), Outer Richmond's Izakaya Mayumi opened last fall, an ideal delivery/takeout spot for sushi via DoorDash. Among their couple izakaya items, creamy scallop croquettes hit the spot. Sushi rolls/maki like a 49ers roll or unagi yakuza are straightforward but well done. // 2221 Clement Street
Daigo Sushi
An Outer Richmond standard since 2012 for quality sushi and rolls/maki — though not about edomae (historic, Tokyo-style)) sushi perfection — Daigo Sushi does right by sashimi, nigiri, unagi/eel hand rolls and maki/sushi rolls. // 2450 Clement Street
BONUS RECOMMENDS
— Unexpected Wine Bar Gem: Velvet 48, Burlingame
Sidewalk seating feels like a party in the suburban but walkable downtown of Burlingame at Velvet 48. Ask the sweet staff to guide you but skip the big brand wines for treasures in White Burgundy, from the Santa Barbara highlands or Italy's great Cantina Terlano in the Alto Adige, a pioneering winery I had the privilege of visiting last year.
— Small Town Treasure: Huria's, Bodega Bay
Huria's is an unexpected source for Neapolitan pizzas in the sleepy, moody, coastal fishing village of Bodega Bay. Even combos that don't sound like they'd work for Neapolitan (like The Chateau Rouge: havarti cheese, fresh mozzarella, smoked and caramelized onions, mushrooms, Parmesan cheese, dried herbs, garlic oil) really do.
— Japanese-style cheesecake meets Basque cheesecake at Basuku Cheesecakes: Dense-yet-fluffy, blessedly not too sweet and with a caramelized top, industry vet Charles Chen is making Basuku Cheesecakes by hand in his East Bay home, using cream from Alexandre Family Farm, the closest he's found to a Hokkaido-quality dairy growing up visiting his Dad's side of the family there in Japan. The cakes are selling out weeks ahead. Order via Basuku's social media or in SF at Nightbird or The Morris, Oakland at Magnolia Mini Mart.