The notable restaurant openings of May were City Counter, Tahini, Chris Cosentino's Acacia House in Napa, A Mano, Miller's Rest, Dumpling Time, Le Marais Bakery's second location in the Castro, The Catamount in Los Gatos, The Castro Fountain (the second location from Ice Cream Bar owner), Reem's in Oakland.
I have yet to make it to Reem's (soon), Acacia House or The Catamount, but among the rest, here are my top three newcomers of the month… and why they stand out. Make way: this round of newcomers is affordable and fun across the board.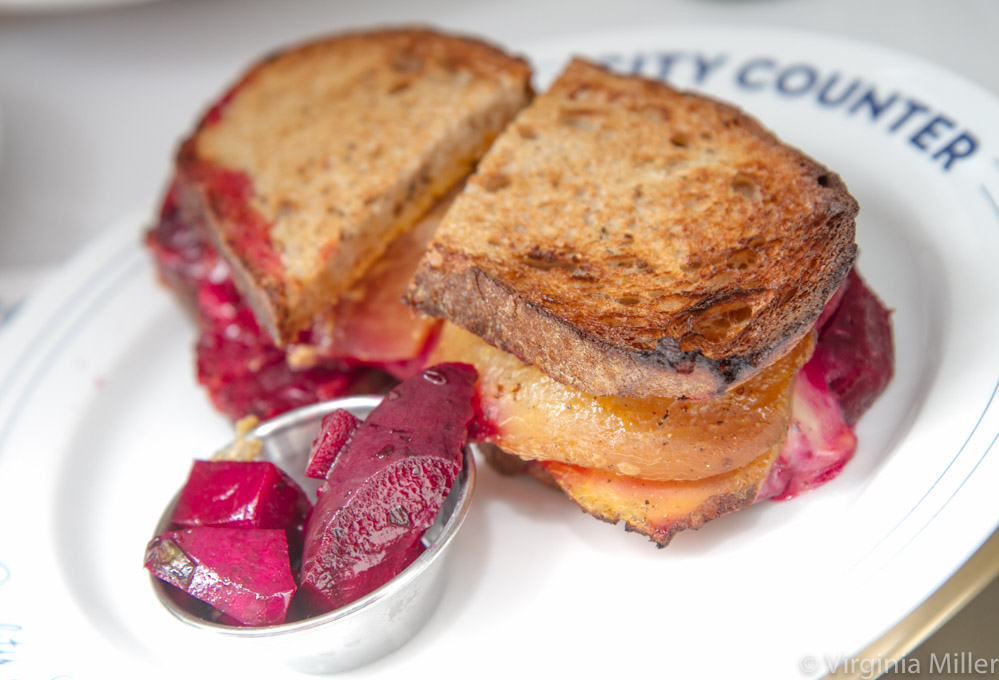 CITY COUNTER, FiDi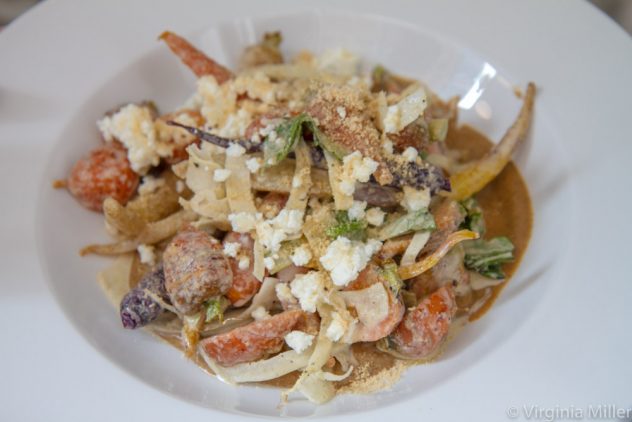 Open May 8th in the Financial District, City Counter is partly inspired by historic Woolworth's lunch counters and founder Harper Matheson's years in the restaurant industry in NYC, where she frequented luncheonette counters.
In the striking Art Deco Standard Oil building, conveniently off the same lobby as a Blue Bottle Coffee and The Treasury, pull up to a stool at the long counter or a bench seat along giant picture windows in the sunny, white dining room. From service to the excellent sandwiches, the experience is as sunny as the space — an ideal lunch spot.
Eat This: Order dine-in or takeout at the counter off a menu created by chef Sean Thomas from longtime SF gem Blue Plate.
Nothing tops out over $14 and the food is filling and gratifying as much for the food lover as the casual dinner. Think "Counter dips" ($7 each) — like spicy pimento cheese with salted pan de mie toasts or artichoke pepperoncini with Acme rye crisps. Order a taste of the season in a generous roasted carrots dish ($12), layering farm-fresh carrots over a charred eggplant spread tossed with feta, mint, almonds and shaved fennel in a lively kaffir lime tahini dressing.
On the sandwich front, the tuna melt on toasted sourdough ($12) is a heartwarming mountain of house tuna salad in decadent three-cheese fondue, contrasted by red onion and pickled celery. But the vegetarian Reubenesque ($10) threatens to steal the show packed with smoked beets, sharp cheddar, pickled cabbage and a dreamy house version of Russian dressing on toasted rye. As a Reuben fanatic, I (almost) don't miss the meat.
Drink This: A very short but thoughtful few wines and beers please, like the balanced oak and acidity of a 2015 Poco A Poco Chardonnay from Mendocino.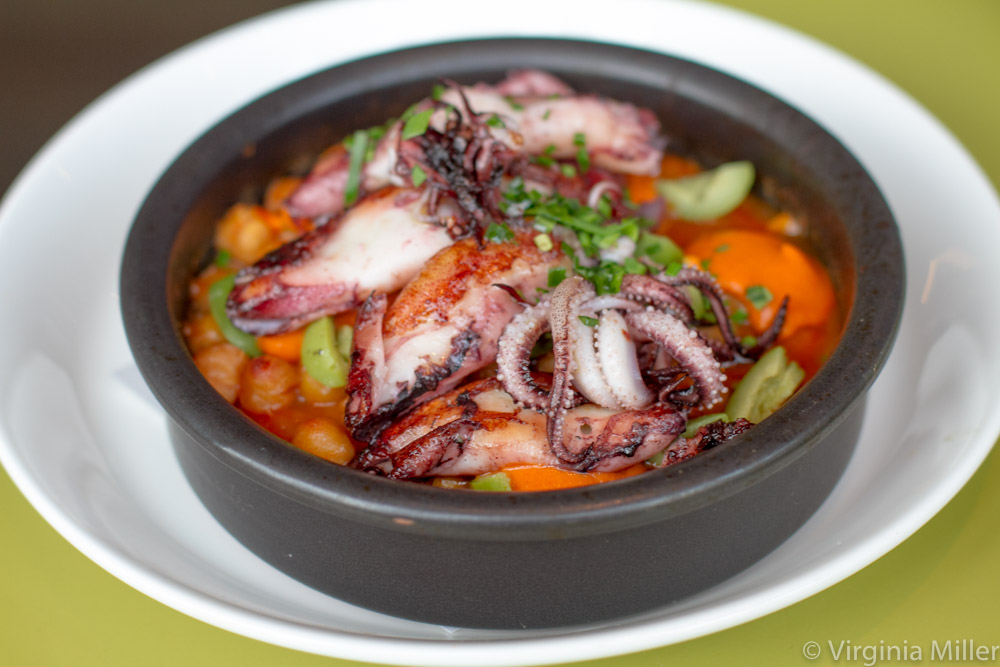 A MANO, Hayes Valley

Airy and bustling with communal seating, floor to ceiling windows and a prime Hayes Valley location in a new condo building, A Mano (meaning "by hand" in Italian) already feels like an SF hotspot, vibrant in greens as well as red and white (the Italian flag).
Drinking aperitif cocktails and filling up on pastas and pizzas, restaurateur Adriano Paganini and his team at Back of the House Restaurant Group (Belga, Beretta, Super Duper, etc.) have what seems at first visit like another approachable crowd-pleaser on their hands, with chef Freedom Rains (Belga, Flour + Water, Incanto) running the kitchen.
Eat This: As stated on their site, pasta is the highlight here, handmade daily, fresh, bright and affordable — only a nightly special of juicy Tuscan fried chicken was $22 during my recent visit, while everything else is well under $20. Plump chicken polpettine ($13 — meatballs) in spicy tomato sauce or grilled Monterey squid ($14) with ceci beans, tomato and romesco sauce stand out, while a light and easy dessert is gelato and sorbetto ($5) from La Copa Loca in the Mission.
But A Mano is about the pasta, whether tagliatelle ($15), vivid green and singing of spring with pesto, English peas, fava beans and pinenuts, or mostaccioli ($13) with an appealing sauce of braised tripe and nepitella (an herb in the mint family), a loose play off trippa alla Romana. But the superb version of trippa alla Romana at 54 Mint is far more gratifying and authentically Roma.
In a town full of amazing (on par with the best in Italy) pasta from multiple noteworthy chefs, this is far from the best. But at the right price, it's a deal and can hit the spot with a good glass of Italian wine.

Drink This: Of the cocktails tried, some worked more than others (despite its bourbon and Scotch base, the Godfather played too sweet).
The simplest, most straightforward drinks, like a crisp, clean Cardinale ($11 — gin, Luxardo Bianco, Dolin Blanc vermouth, grapefruit bitters) work best. Go with simple aperitifs or Italian wines like a mineral 2014 Mustilli Greco del Sannio from Campania ($12/24/48).
DUMPLING TIME, SoMa's Design District

Open May 19the from the Omakase Restaurant Group (Omakase, Okane), Dumpling Time delivers on its promise of dumplings, dumplings and more dumplings.
If a bit utilitarian — dishes rush out all at once and the space is first come, first serve, filling up fast, with mostly communal seating — it's easy to eat your money's worth (with pleasure) here.
Beyond the endless wealth of old school dim sum in this town, it's fun to savor modern interpretations (akin to but different than at China Live) that takes things beyond the usual: tom yum xiao long bao, anyone? This is owner Kash Feng's (who hails from Xi'an, China) dream project and it's a fun one.
Eat This: Made from scratch in a glass-enclosed dumpling room, it's all about the dumplings, whether xiao long bao (soup dumplings) or gyoza. Buttery-crispy shrimp toast ($8) may just be one of the best items on the menu — same goes for seafood gyoza ($9.50 for 9 pieces) with pan-seared spinach skin and packed with crab, scallop and shrimp in a spiced chili butter sauce.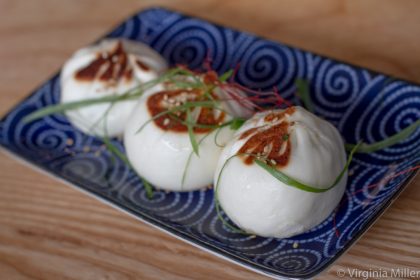 Clean your palate with pickled lotus root, carrot and Fresno chili ($5), then dive back in for a decadent char siu bao ($6 for 3 pieces) filled with roasted pork belly and (wait for it…) a touch of peanut butter — there are also chicken or pork versions. Among the trio of dessert buns ($5.50), the classic egg yolk bun is the most gratifying.
But for something different, try the tom yum goong xiao long bao ($8 for 6 pieces) loaded with pork belly and shrimp, wrapped in beet dumpling skin encasing a coconut milk broth.
Drink This: They were waiting on their drink license during my initial visit but the menu is a straightforward list of saké, wine and 10 beers on tap, including popular Asian brews like Sapporo and Tsing Tao, plus California craft beers.