Since my parents moved from New Jersey back to the town my mom grew up in — Edmond, OK — a decade or so ago, I've had more opportunity to visit the land of my birth: Oklahoma City. We left there when I was one so I have no actual memories there other than occasional visits to my extended family and relatives (I have big Sicilian-English family on my mom's side) and dozens of aunts, uncles, cousins and second cousins all in the area.
I've been writing about OKC's small but growing food and drink revival, akin to what's going on around the US, if behind much of it. While one could still not call it a "great" food city, given the over 600 restaurants and bars I visit every year around the US and world, it is clear by its own standards that OKC is progressing each year — and in the last couple years it has taken some real leaps forward. It is now possible to find more authentic Asian food beyond the Vietnamese community that has long been here and a solid cocktail at more than a few spots.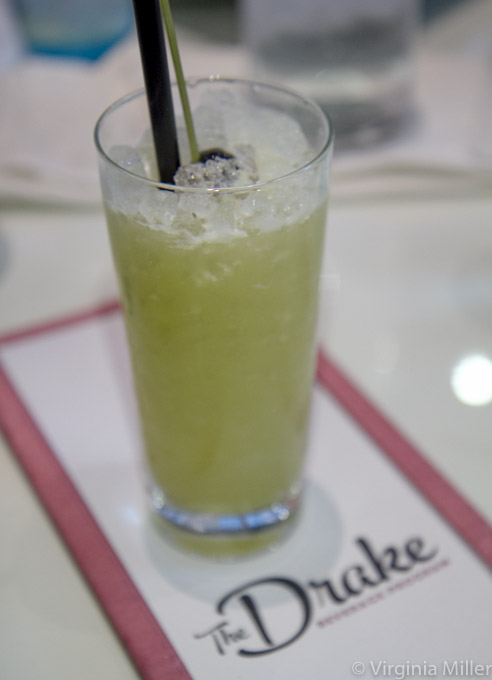 As knowledge grows, so does passion and it is starting to come through in some some restaurants and bars who have been pioneering a more creative, seasonal, crafted food and drink experience in an area often slow to catch up… I no longer have to say it's only old school steakhouses and burgers that shine here.
The surest sign of a big leap forward the last year or two is that there are a couple spots, like Power House or WSKY Lounge (covered under my OKC bars feature), that are not just great for Oklahoma, but great in the country. The times they are a changin'.
There are many misses: hip spots like the The Loaded Bowl would make me shrug off vegetarian food entirely if I hadn't long had incredible, game-changing vegetarian cuisine in the ever pioneering Bay Area and around the globe for 20 years. But that's bad news for locals who have yet to figure out expertly prepared and ultra-fresh vegetables can be as crave-worthy as meat, making it even sadder that Loaded Bowl is serving flavorless, heavy veggie dishes.
While there is still tons of room for growth in numerous categories, here are 8 places in OKC doing it right — or on their way (this in addition to my past recommends here and my current article on top OKC bars here).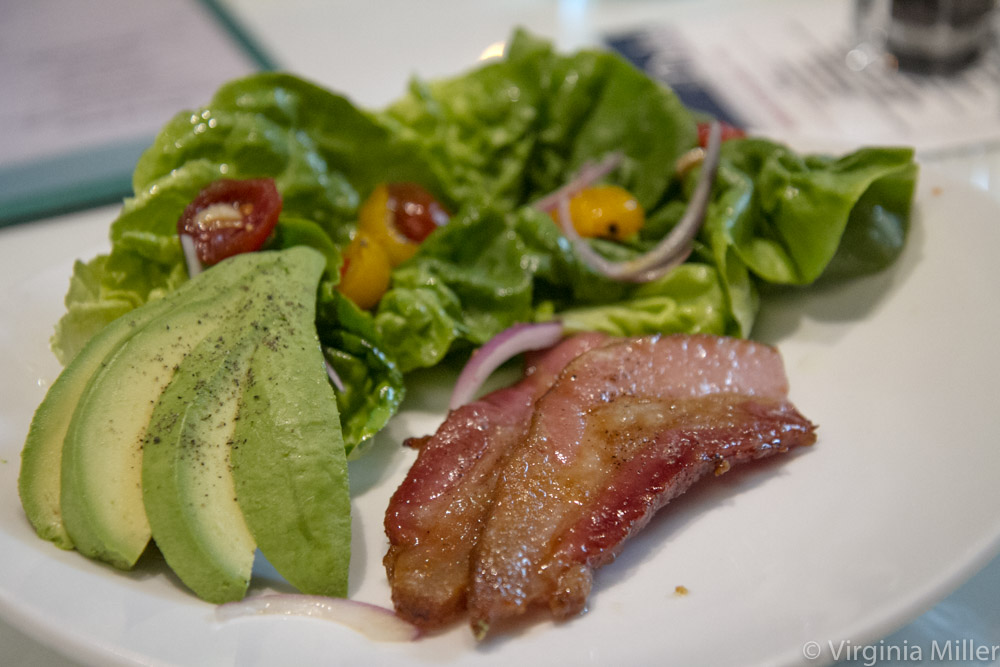 1. Seafood & Salads: THE DRAKE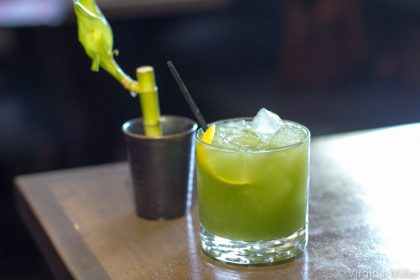 Seafood is not what you go to land-locked Oklahoma for. And to be fair, even at The Drake (from OKC's ultra-successful A Good Egg Dining Group), seafood dishes aren't necessarily the highlight.
The Drake crew kills it with the creative, fun salads (a shaved celery and fennel salad with pickled raisins; a Brussels sprouts Caesar salad; a BLT salad with juicy Mccabe's steak bacon) while they turn out whole salt-crusted branzino ($38) and lobster rolls ($22) with ease, better than you're going to get maybe in the entire state.
Cocktails are straightforward, even simple, but well-crafted, using excellent spirits like Smith & Cross rum, as in the Sir Francis Drake cocktail I featured at Liquor.com.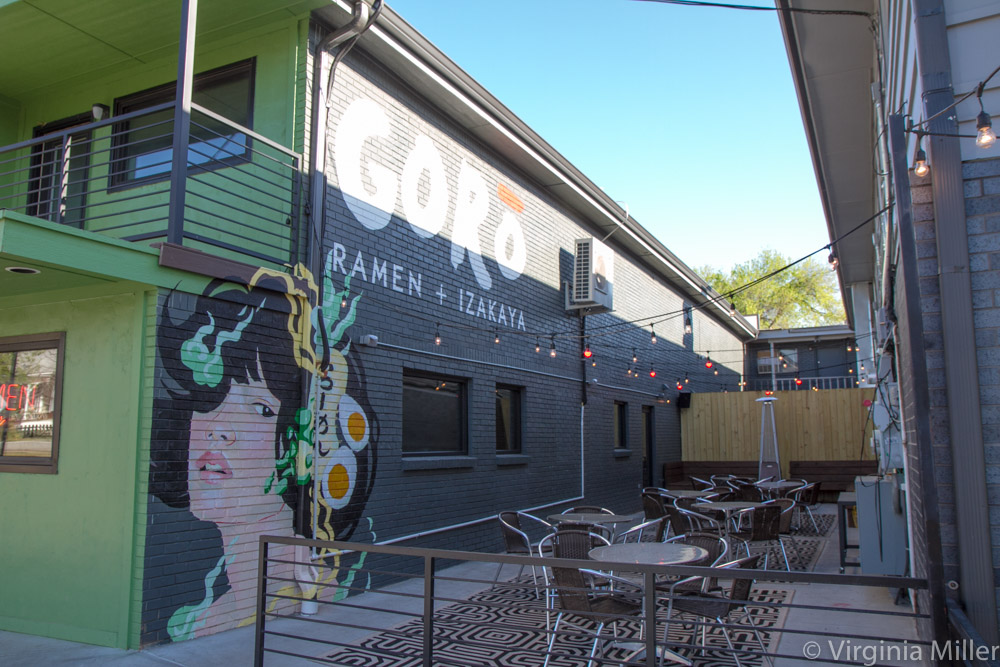 2. Ramen & Asian Small Plates: GORO RAMEN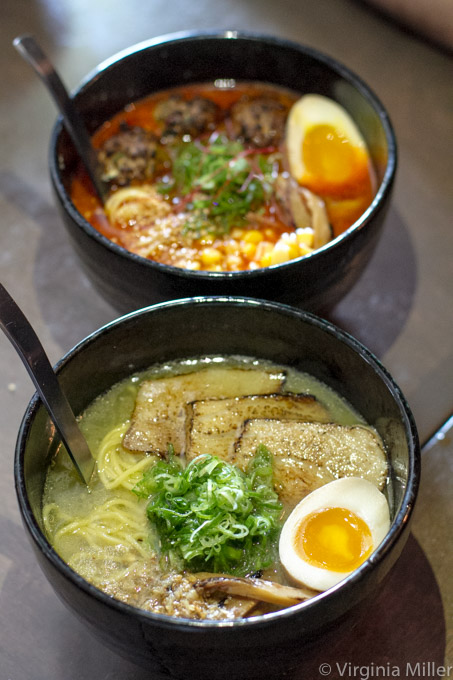 Goro Ramen is the kind of place I've been waiting for in Oklahoma (opened mid-2016). Sure, I was burnt out on the ramen craze many years ago. But not only does Gor? do more than ramen right (which up till now you couldn't get in OK), but owners Jeff Chanchaleune and Rachel Cope (who started this as a pop-up, Project Slurp) love and care about Japan.
Chatting with Jeff, I met someone passionate about Japan as I am, spending time traveling there and pulling endless inspiration from the supreme perfection of one of the best food countries in the world. And he's got more exciting projects in the works so keep an eye on this team.
Chanchaleune's dishes are Japanese-inspired but pull from all over Asia, including killer nikuman (the Japanese version of bao/steamed buns — $7-8 for two), a fresh, nourishing wakame (seaweed) salad ($5), and juicy tebasaki ($8), fried chicken wings in gochujang fish caramel sauce and furikake. Note: even my parents, who never had seaweed before and weren't expecting to like it, loved this wakame salad.
Cope's drinks are refreshing and playful, like the Pai Mei ($8), a bright mix of gin, Urban Teahouse matcha tea, saké, lemon, honey syrup and lavender bitters.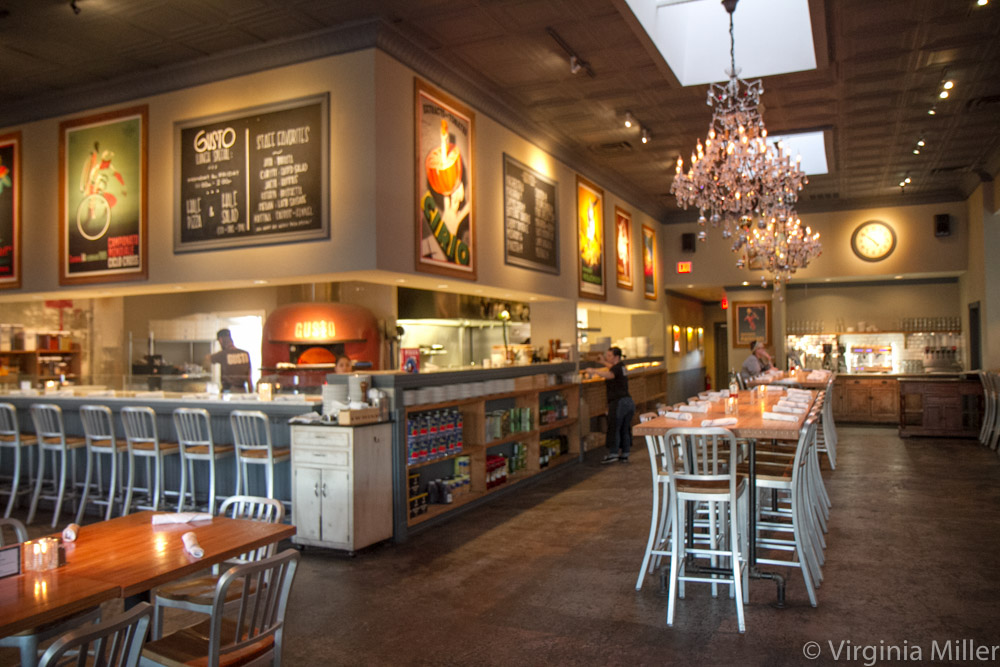 3. Neapolitan Pizza & Cocktails: PIZZERIA GUSTO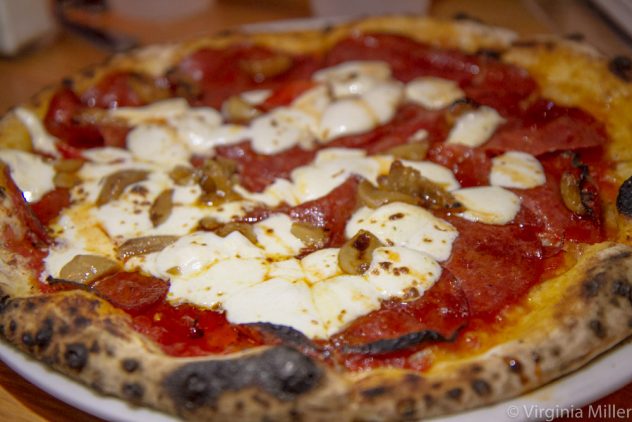 Wood-fired, Neapolitan pizza may be tired and overdone in every city of note across the US (or dozens of excellent spots in my home town, as good as it gets even in Italy), but in OKC, it was long impossible to get Neapolitan-style pizza at all.
Decent pizza of any kind has been tough to find in Oklahoma (thankfully, Empire Slice House came along in 2013, a local great doing NY-influenced pizza).
Thankfully, Pizzeria Gusto strikes all the right notes, from Neapolitan pies and pleasing small plates to balanced cocktails. I wrote about their Leaning Sour of Pisa cocktail at Liquor.com and recommend their drinks in general, paired with a dreamy, salty-spicy-sweet Gusto Pepperoni pizza ($15), laced with pepperoni, mozzarella, oregano, roasted garlic and a honey-Sriracha drizzle. A couple visits later, this all around quality restaurant is now a family go-to when I'm in OKC.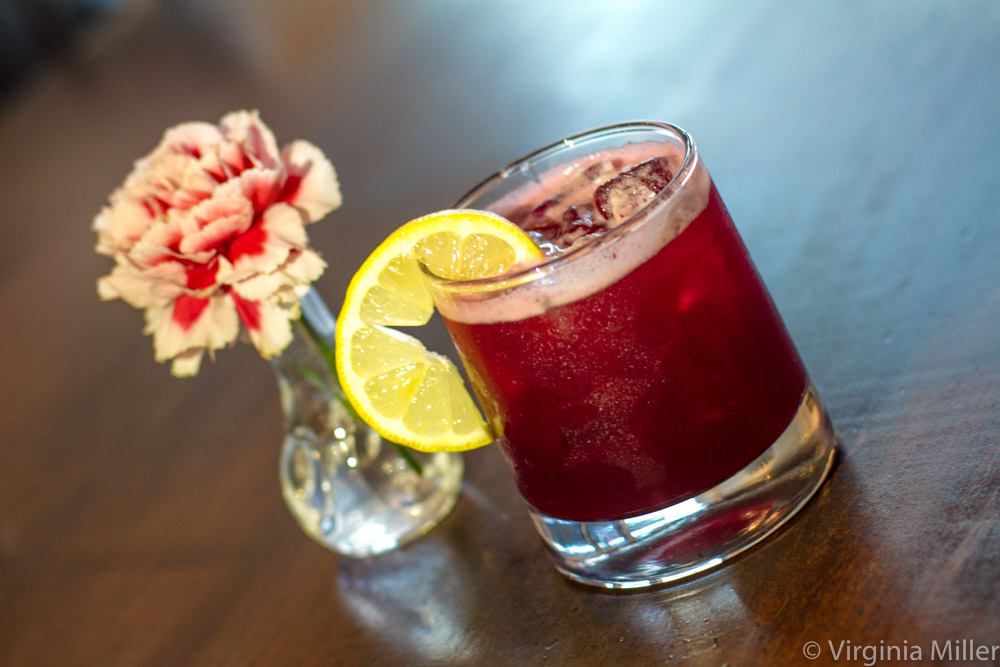 4. Small Plates Wine Bar: THE PRITCHARD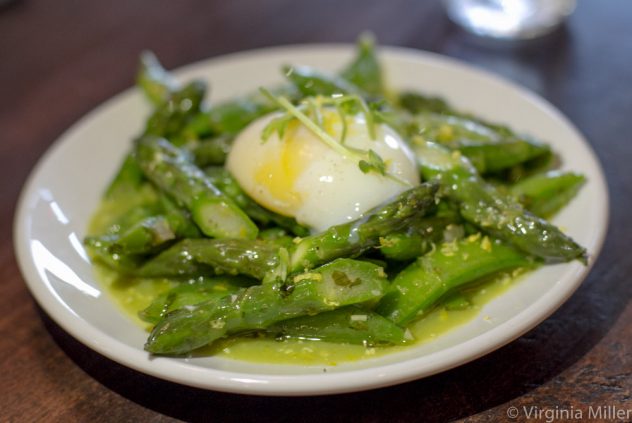 In OKC's now thriving Plaza District surrounding local gem, the Lyric Theatre, The Pritchard (opened at the end of 2016) is essentially a wine bar with food but one where food plays prominent — a worthwhile dinner. White walls and dark green banquettes lend an elegance to the space, while chef Shelby Sieg marries her pastry chef past (tart lemon cream with rhubarb compote and elderflower meringue makes a lovely dessert) with pleasing savory dishes, like a Gruyere cheese dip ($9) laced with caramelized onion and pancetta, or spring freshness in a dish of asparagus, snap peas, ramps, lemon and a slow-cooked egg ($8).
These are dishes many of us have seen before — including the popular butternut squash gnudi ($8) in mascarpone cream and hazelnuts — but they're done well and nicely paired with GM and beverage pro Mindy Magers' great drink options. Yes, there is plenty of wine and wine on tap, but Magers also crafts elegant, balanced, often low proof cocktails (though they do serve spirits here), like A Damn Good Thyme ($10) with its Cocchi Rosa base enhanced by Rainier cherry syrup, fresh thyme, lemon and Woodford spiced cherry bitters.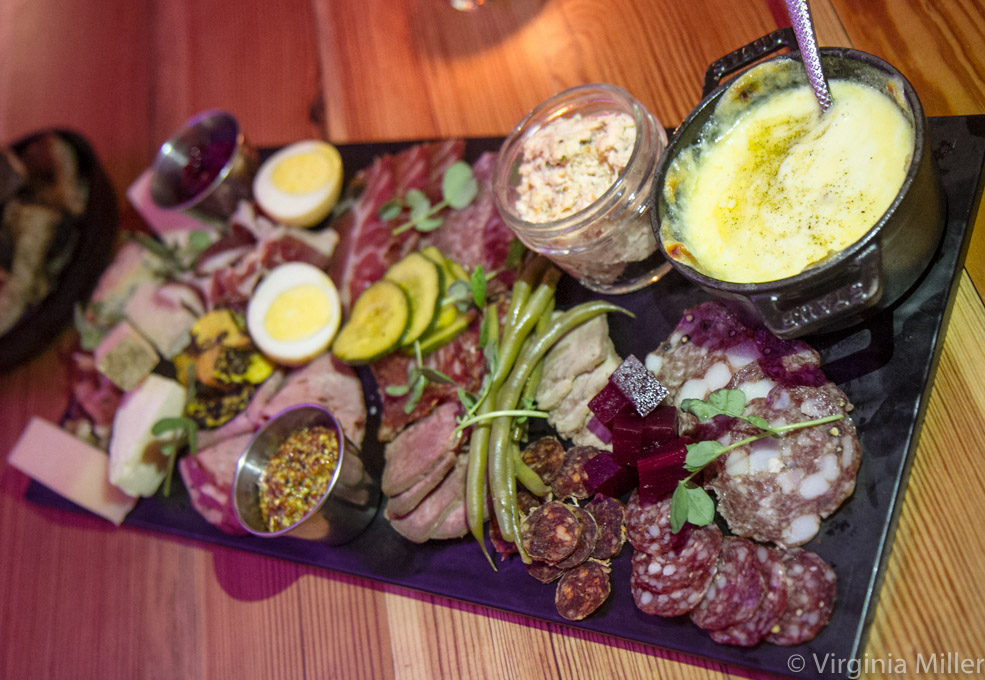 5. Killer Charcuterie & Artful Setting: MARY EDDY'S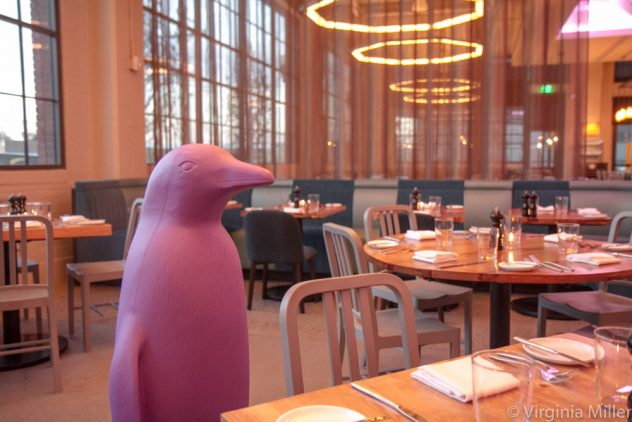 The always cool 21c Hotels opened an OKC property in summer 2016 marked by their usual quirky art pieces around the hotel and restaurant (don't miss the rotating army of penguins just off the lobby). 21c OKC's restaurant, Mary Eddy's Kitchen and Lounge, is located inside a lofty, former Ford Motor Company assembly plant, centered by a wood-fired oven. Chef Jason Campbell brings care to his dishes and he excels at house charcuterie.
While I was burned out on house charcuterie 15 years ago when it seemed every bar and restaurant in San Francisco was doing it, Campbell's meats and patéa are truly a highlight, available in auto-themed platters like the Toolbox ($20) or the off-menu The Garage, packed with mustard, pickles, larded toast and all manner of meaty delights.
He and his team cook elevated comfort food like a roasted shallot dip ($10) or the Tin Lizzy Burger ($16), layered with aged cheddar, lemon aioli and mustard greens. Campbell nails it with juicy, pastrami-style lamb ribs that took me straight back to NYC's pastrami greats that blew my mind as a teen.
On occasion, some of the most creative-sounding options, like P.W.A. flatbread/pizza ($19) topped with harissa-roni (house pepperoni), charred shishito peppers, mizuna, baked egg and drizzled in a schug vinaigrette, disappointed by being surprisingly bland and bread-heavy. But care and promise is here — and the cocktails are straightforward but fun (which I wrote about here at Liquor.com).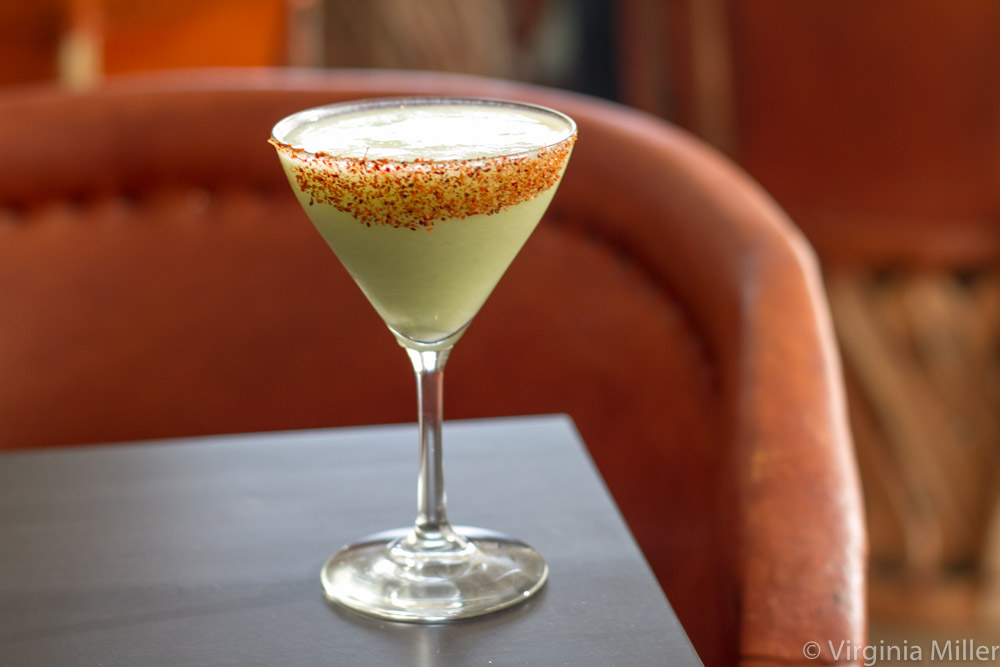 6. Cocktails & Bites: BARRIOS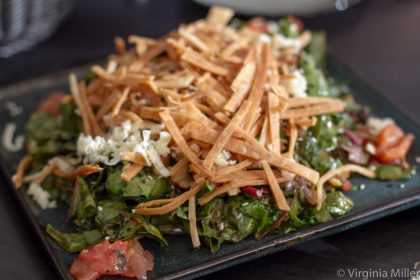 Another popular hit from A Good Egg Dining Group (also behind The Drake), Barrios plays with Oklahoma's typical Tex-Mex (e.g. a fajitas section) and actual regional Mexican food in a spacious, sunny dining room and inviting back patio. While you'll find the likes of housemade molé, barbacoa, huitlacoche and fresh(er) ingredients — all favorites of mine — these are not necessarily great renditions. Some lackluster salsas, dry tamales and enchiladas, and an oddly disheartening spicy peanut kale salad (served too cold and almost buried in tortilla strips) bring more than a few disappointments.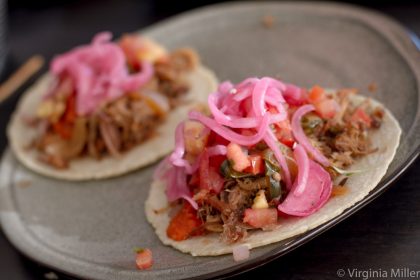 It's tough finding Mexican food remotely comparable to the best, coming from the land (California) of millions of Mexicans and our Mexican roots with 150+ years of superb, regional Mexican cuisine everywhere in the state — not to mention my regular travels to neighboring Mexico and the pristine ingredients of California. While Mexican food is getting better nationally as awareness and appreciation of real (vs. Americanized) Mexican cuisine grows, it's still rough out there.
Thankfully, there's great guacamole and queso at Barrios, ideal with playful cocktails from Good Egg's bar & beverage director Jason Ewald, which I wrote about at Liquor.com. The Frozen Avocado slushie cocktail ($9) is rightfully popular with its lively tajin rim. Plantation 5 yr rum-based Cactus Fruit Slushie ($10) is vivid pink-purple with prickly pear puree, coconut and a sour gummy worm garnish. But the Guava-Habanero cocktail ($9) was my unexpected favorite. Habanero-infused Tapatio Reposado tequila has a whisper of spicy heat, softened with guava puree and boozy, fluffy foam.
7. Modern Korean: CHAE
Despite the generic dining room, Chae (opened late 2015) is — like Goro Ramen — the kind of place it's good to finally see happen in OKC. Results definitely aren't as consistent here as at Goro (and cocktails are better at Goro) but the joy is to be able to find some solid modern Korean food in OKC (there is a short list of spots like Korean House and newcomers like Taste of Korea).
Daniel Chae and team offers traditional family dishes and some of my common Korean favorites, like ddukboki ($12 – Korean spicy rice dumplings) and short rib bibimbap ($25), alongside more hit-and-miss "fusion" from kimchi duck sauce egg rolls ($6) to kimchi arancini ($8). Vegetable dishes like cauliflower salad ($9) — pureed, fermented and fried — or chili-cured zucchini bao-style buns ($7) dotted with Korean yogurt, are unexpected standouts.
8. Playful Sushi & Small Plates: DEKORA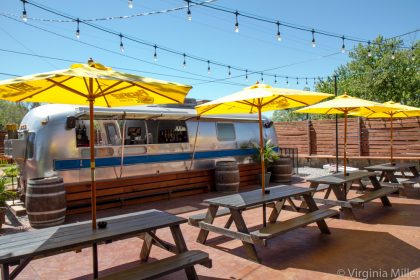 Playful, Americanized sushi is the name of the game at Dekora, open at the end of 2016 in Bricktown. There are togarashi fries ($6), bulgogi tuna steak ($26) and other Korean-Japanese mash-ups.
Guilty pleasure, Americanized maki/rolls here are often fried with cooked fish and shellfish vs. actual raw sushi. Think Lobster Bomb ($20) rolls or local tributes like the Thunder and Sooner rolls. The tuna tower ($18) loaded with tuna, avocado, crab and masago over sushi rice and doused in Sriracha aioli, eel sauce and sesame seeds is a highlight.
Dekora's sister bar (with food) The Union at Sosa just opened this spring with a hidden downstairs bar, casual upstairs bar and inviting back patio with Airstream trailer bar — the patio is pet-friendly, offering cocktails and beer with grilled cheese sandwiches and beyond.