My dining column in print and online magazine, Bob Cut (column details and my philosophy here; last month's column here): www.bobcutmag.com/stories/2021/2/26/the-best-newcomers-and-og-classics-around-the-bay-to-check-out-before-february-ends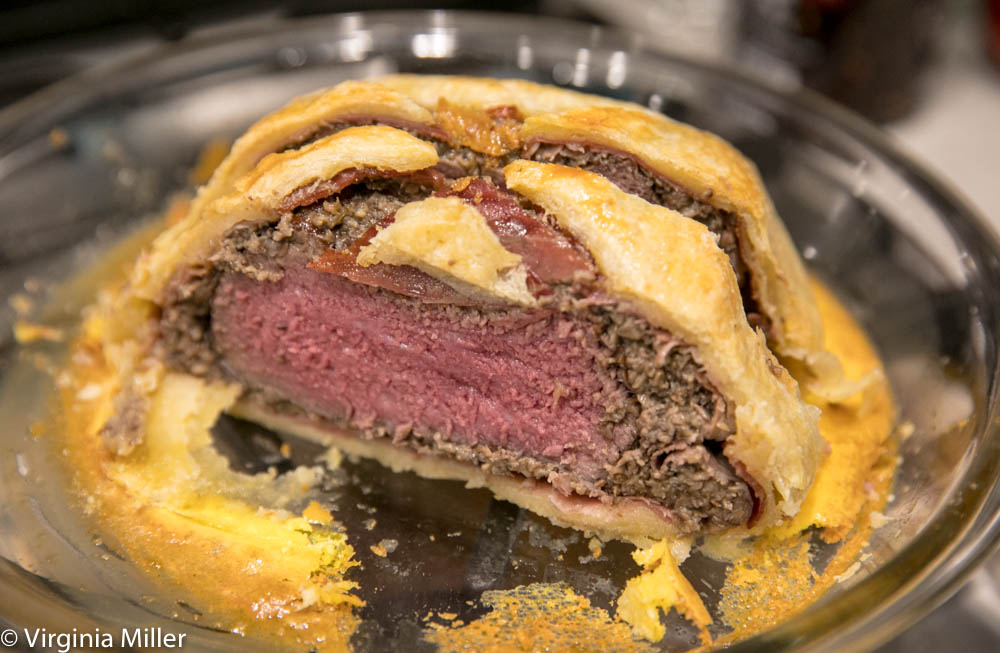 During the pandemic, our beloved dining and drink communities continue to struggle to survive, so my dining column includes takeout/delivery and outdoor dining standouts. Please join me in contacting congress to keep independent restaurants and bars alive, celebrating what has long been one of the world's best dining cities/regions. We're in danger of losing what has long made us great without local and national government aid.
I have vetted, visited, and/or ordered directly from each place and all working hard adhering to safety guidelines:

SF NEWCOMERS:
Jaranita, Marina District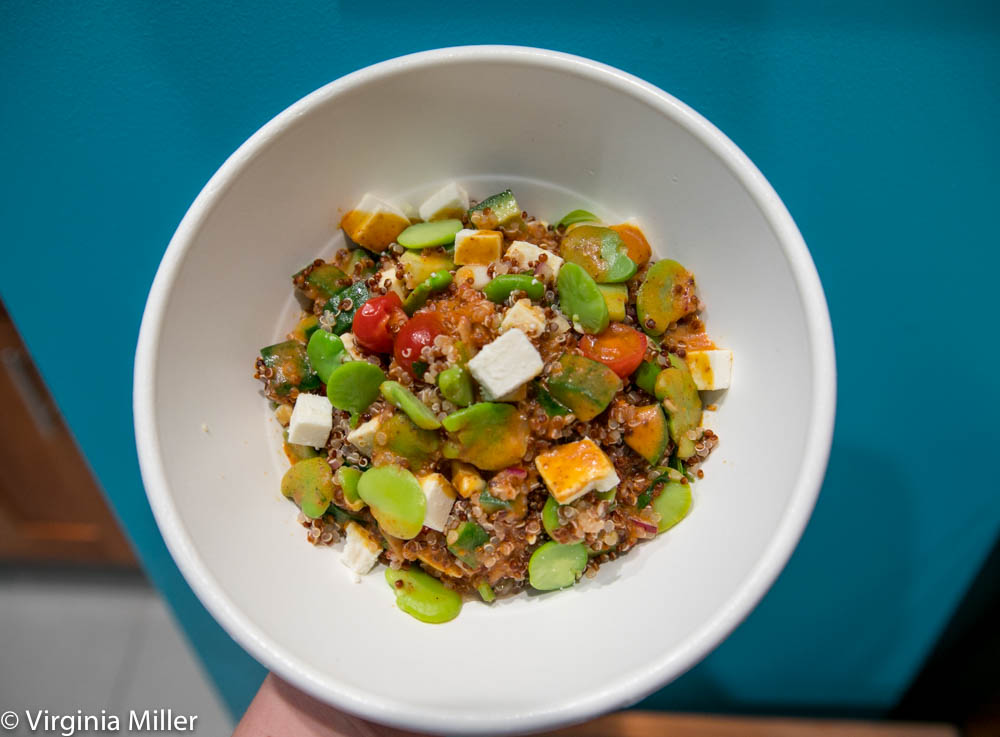 Opening January 2021 from the team behind decade-plus Peruvian great La Mar Cebicheria Peruana, Jaranita is centered around a custom-built charcoal grill and Peruvian staple, pollo a la brasa, utilizing free-range, pasture-raised chickens. Chef Javier Cussato and GM Kenzeo Mpoyi run the team as part of the 50+ international restaurants in Peru's Acurio International Restaurant Group. Alongside rotisserie pollo a la brasa dipped in aji Amarillo and huacatay sauces, ceviches, empanadas, salads (like gratifying quinoa with roasted bell peppers, red onions, cucumbers, roasted corn in a rocoto pepper-cranberry-sesame vinaigrette) and Chifa (Chinese Peruvian) classics like lomo saltado. Save room for chicha morada cheesecake, based on the Peruvian purple corn spiced drink. Low-proof cocktails will be available soon, while their vibrant juices — like chicha morada or passionfruit-anise-lemon — make ideal mixes with spirits at home. All day 11am-11pm hours, seven days a week for to-go and delivery, make it a convenient "anytime" meal. // 3340 Steiner Street, www.jaranitasf.com
KEN, Western Addition/NoPa
I was sad to see Ijji close, an intimate, wood-lined sushi bar that transported me straight back to Japan. Thankfully, chef Ken Ngai took over the space, dubbing it KEN, after over 15 years working closely with Mitsunori Kusakabe at Michelin-starred Kusakabe. Hailing from Hong Kong, he's been making sushi for over 20 years and is sharing weekly-changing omakase menus and chirashi (sushi rice bowls) for pre-ordered takeout. Portions are small but the quality is high, from toro taku (tuna belly) in maki/rolls to Japan-sourced seafood. Hand rolls wrapped in first-harvest Ariake nori seaweed stand out, whether Hokkaido bafun uni or deep-sea crab topped with soy-cured ikura/roe. Finish with a yuzu and Buddha's hand citron Basque cheesecake from Bakt.by.jen: delicate, silky, fluffy and filling. I look forward to visiting KEN in person. Check the online ordering form and place your orders early in a given week as they typically sell out. // 252 Divisadero Street, www.instagram.com/chef_ken.sf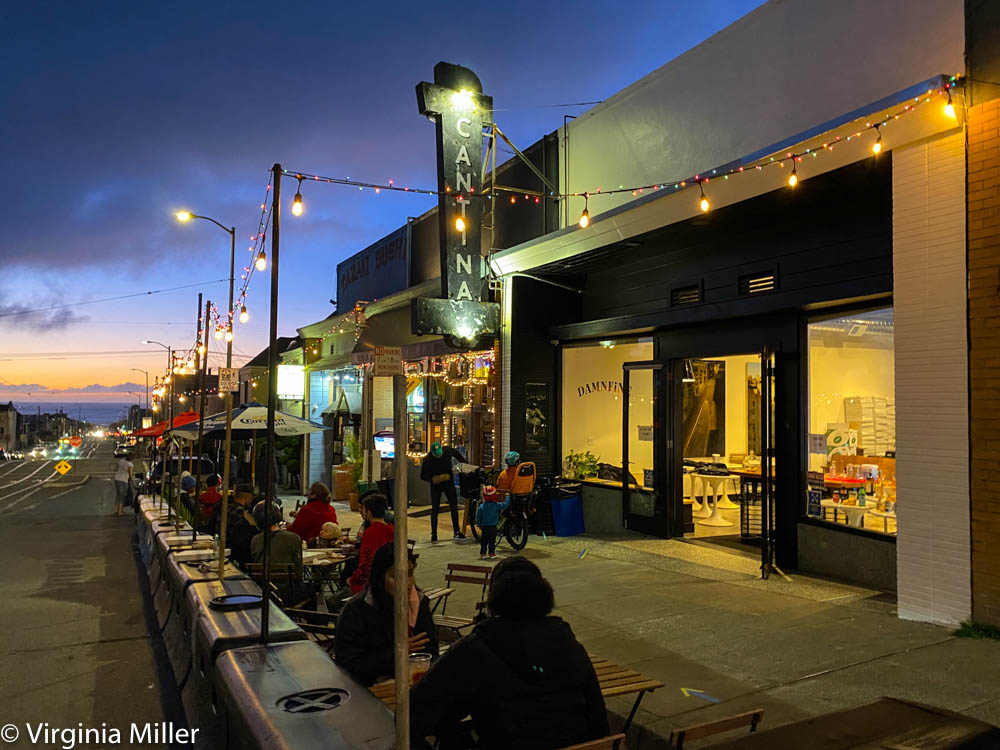 Damnfine, Outer Sunset
Visiting Outer Sunset's new Damnfine, the deep navy blue of the sky post-sunset made a gorgeous backdrop with the Pacific Ocean down the road. Outdoor dining had just returned, tables glowing under white lights. Drink offerings are strong for a casual location and the neighborhood, whether a bottle of pet nat Lambrusco or Spritz and Negroni cocktail variations. But the centerpiece is pizza cooked in their 5500-lb wood-burning oven, with daytime coffee (their own label) and pastries coming. Open in January 2021 by Laura Seymour and Colin O'Malley (Colin is co-owner of John Colins and neighboring Sunset Cantina), the pizza dough is a three-day, natural ferment with creative toppings like purple potato, pancetta, pesto, mozzarella, olive oil, parmesan, rosemary, thyme. Though I was more excited about the unique pie given the plethora of pitch-perfect classic pizzas in this city, the potato pizza leaned salty and one-note, begging for more pesto and acid, while the Clam it Up pizza benefited from garlic butter and herbed ricotta, but needed the squeeze of lemon for bright contrast (Fiorella is really the only other place long doing a proper clam pizza). More common pizzas like pepperoni were ultimately more gratifying here. Order for pickup with delivery coming soon. // 3410 Judah Street, https://damnfineco.com
Lucinda's Deli & More, Alamo Square
SF and the broader Bay Area hold no end of excellent sandwiches, whether newer delights like Turner's or decades' old legends such as Little Lucca. A pandemic newcomer just off Alamo Square, Lucinda's Deli & More opened in June. They do it right, from bread to just enough dressing to make it flavor-packed but not sopping. The hot ham sandwich is an example of the intriguing yet classic profile typical of Lucinda sandwiches: aged cheddar pimento, garlic confit mayo, grated fresh horseradish, pickled onion and cucumber, tomato and arugula. Gratifying and classic, yet interesting enough to feel unique and current. Then there's roast beef with blue cheese mayo, onion jam, arugula, pickled red onion, fried onions — and to step it up: Thai BBQ sauce. // 535 Scott Street, https://lucindasdeli.square.site

SOUTH BAY/PENINSULA Newcomers: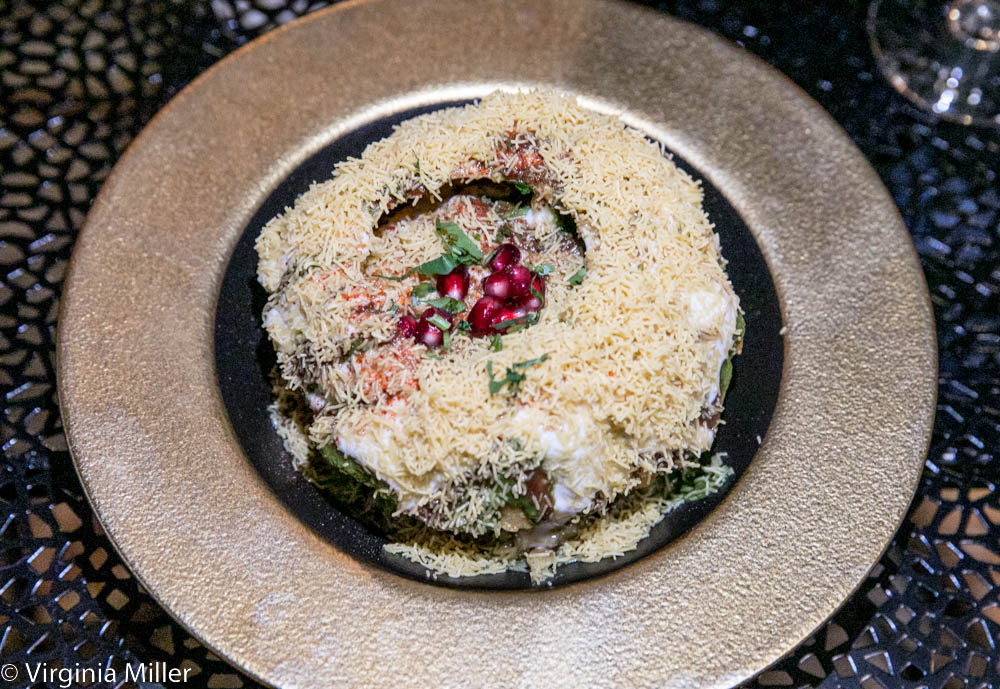 Aurum, Los Altos
The sleepy, charming Peninsula town of Los Altos is home to the new Indian restaurant, Aurum, from Chef Manish Tyagi (formerly of August (1) Five in San Francisco, which we were saddened to see close, and celebrated Rasika in D.C.) and Anupam Bhatia, owner of Redwood City's Broadway Masala. With takeout, delivery and outdoor dining underway since opening late January 2021, Tyagi's menu is full of classic recipes — like a lush Malvani fish curry or butter chicken — to creative dishes like Mr. Potato chaat (a variation of puri: one large pastry filled with cumin white peas, swimming in tamarind cilantro yogurt). The irrefutable hit out the gate is Brassica Beats, lightly fried cauliflower vibrant with curry leaf, mustard seed, degi chili and lemon. Low proof cocktails also stand out, whether the sweet-spicy Tango in Goa (Pineau de Charentes, mango, lemon, chili) or the truly unique, lightly green and creamy Green with Envy (nigori sake, white vermouth, Yuzuri Japanese yuzu liqueur and khus, aka vetiver, a fragrant herbaceous grass). // 132 State Street, Los Altos; aurumca.com

Desi Contemporary Indian, Campbell
Husband-wife founders Mohit and Archana Nagrath opened Desi Contemporary Indian in Silicon Valley's Campbell at the end of 2019. Like others in the same predicament, they soon had to shut down, pivot, reinvent, recently reopening with outdoor dining, takeout and a "Desi on Demand" delivery van, delivering lunch and dinners on different days to Santa Clara, San Jose, Sunnyvale. They also launched Gabru Bar, showcasing their cocktail program and non-alcoholic joys of like saffron Thandai milk laden with almonds, saffron, pistachio, cardamom. Hailing from North (Mohit) and South (Archana) India, they combine flavors from across the massive country, with a playful, modern ethos. Case in point: mini-desi paneer bhurji tarts or the number one dish from my initial order: kulcha flatbread tacos with butter chicken. There are a range of fun bites, like desi sliders (in chicken tikka to minced lamb formats) or guija empanadas (a play on a traditional Indian dumpling). There are also DIY bowls, customizable with bases like saffron rice, a side of Indian bread (roti, naan, kathi), greens, and choice of pulled jackfruit, chicken or paneer tikka. // 501 E. Campbell Ave., Campbell; www.eatatdesi.com
EAST BAY Newcomers: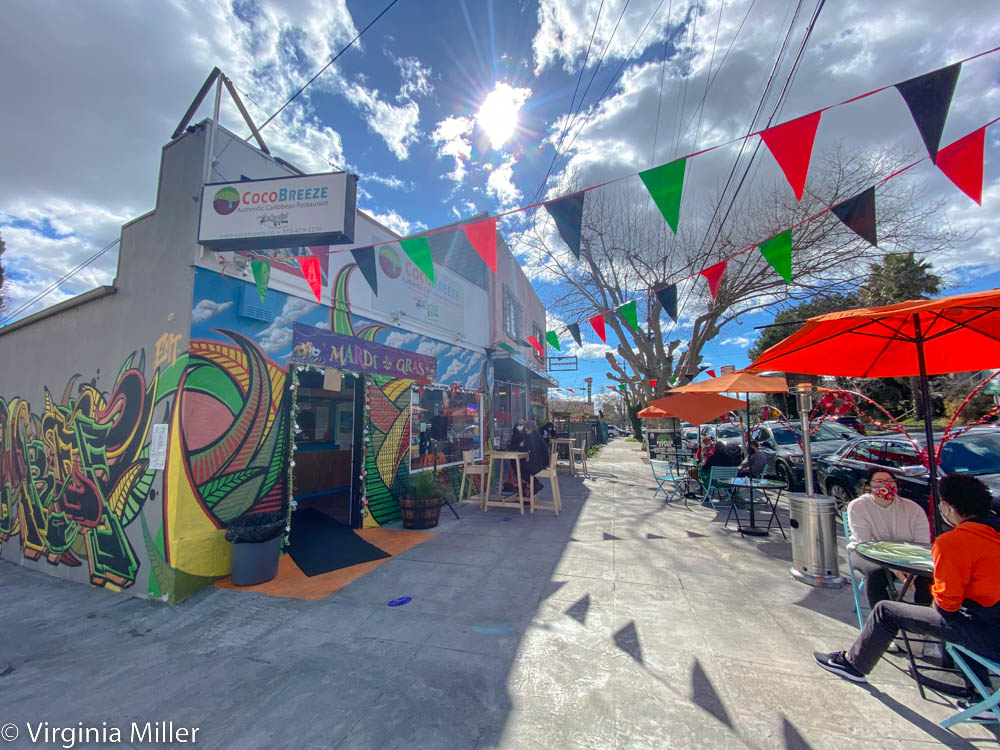 CocoBreeze, Oakland
Though there are a few strong Caribbean spots around the Bay Area (looking at you, Back A Yard), Trinidadian restaurants are a rarity. Thankfully, Oakland's CocoBreeze is excellent — and a pandemic newcomer, opening in July 2020. From the sunny, palm leaf sidewalk tables to a vibrant mural on the sidewall, the order-at-the-counter spot is a colorful, cheery meal (even if you can wait a good while for the food to come out). The food is "real deal" Caribbean fare from chef Annabelle Goodridge, who hails from Trinidad and Tobago. I can hardly resist the doughy comfort of her accra saltfish fritters or accompanying tropical dip. Popular jerk chicken with Creole rice is as irresistible as jerk chicken fans would hope. But it's curry goat with pelau rice (pigeon peas, coconut milk, rice) or fish specials like whole red snapper escovitch with Creole rice and plantains that steal the show. // 2370 High Street, Oakland; https://cocobreezeco.myshopify.com
Friends and Family, Oakland
Friends & Family suffered through the opening in 2020 to seasons of takeout cocktails, food and outdoor dining with parklet. F&F's magical space feels in some ways like pre-pandemic days, especially if you are seated through the restaurant on the dimly lit, romantic back patio, separated by little walls and greenery. Black Cole (formerly of Oakland's Hopscotch) and Kimberly Rosselle (formerly Bon Voyage and Trick Dog in SF) have created a transporting space. As one would expect given their background, cocktails are a highlight here, from an infused sherry flight (charmingly dubbed My Sherry Amour) to regular and low proof cocktail sippers. Chef Christa Chase's food menu is abbreviated for now. Let's just say if her killer grilled cheese sandwiches are any indication (I love both but the #1 sings with mozzarella, cheddar, balsamic roasted tomatoes, caramelized shallots, spicy honey, basil, arugula on Firebrand sourdough), we can't wait for more. // 468 25th Street, Oakland; www.friendsandfamilybar.com
SF LONGTIMERS:
Stonemill Matcha, Mission District
While we still miss the great Bar Tartine, Stonemill Matcha was a worthy takeover of the space, an escape-to-Japan treasure that opened in 2018 serving proper stone mill-ground and whisked Japanese matcha in a range of drinks, as well as toasty hojicha tea or black sesame lattes. Everything is Japan-proper, whether pork katsu sandwiches served in a basket in-house or matchazuke (salmon rice bowl) with matcha tea poured over it. Pastry chef Mikiko Yui's collaboration pastries with Tartine Bakery are another draw (matcha cream pie!), as are seasonal offerings like Lunar New Year plum blossom mochi filled with candied burdock root and miso white bean. // 561 Valencia Street, www.stonemillmatcha.com
Belcampo Meal Kits: Anya Fernald's humanely-raised, butchered, organic, hyper-sustainable grass-fed meats from animals raised on her Mt. Shasta farm makes Belcampo Meat Co. a model meat company. Their local Oakland and San Mateo locations have been offering new meals and meat cuts (like keto meatballs), the most notable being a pitch-perfect "Take and Bake" Beef Wellington, kicking it English old-school-style with upscale flair (think an egg-washed, 10-oz tenderloin wrapped in mushroom duxells, prosciutto and puff pastry with red wine demi-glaze). // Download Belcampo's app for delivery across the Bay Area; they also deliver through major apps

WINE COUNTRY NEWCOMERS:
Vinoma Tapas Argentinas, Rohnert Park
Vinoma Tapas Argentinas, just off the 101 in Rohnert Park (ideal as a stop driving through Sonoma County), opened in February 2020, just as the pandemic hit. As an order at the counter place, they're easily equipped for takeout and curbside pick-up, whether you're ordering a dozen (with a discount), frozen or individual. The entire menu is a variety of empanadas or canastitas (open-faced mini-pies, also typically savory though they have some dessert options). The couple behind this Argentinian-inspired shop, Lorena and Brian Corrigan offer the diversity you'll find in Argentina's wide array of regional empanada filling, alongside their creative offerings like a plum bacon fontina and mozzarella canastita. Some of the more traditional fillings stand out, namely jamón y queso (ham and cheese) or choclo a la crema (sweet corn, onion, garlic nutmeg, cream sauce). // 5085 Redwood Drive, Rohnert Park; www.vinoma.net

___________________________________________________________________________________________

*It is more crucial than ever to "save restaurants" by asking the government to pass the-still-stalled-in-the-White-House Restaurant Stabilization Act before we thousands more independent restaurants. You can help by signing this petition & ordering locally.