Published by Where Traveler (my other Where articles here) in June 2019, my article on the top 7 new restaurants worth checking out.
4 midrange standouts: Che Fico Alimentari, The Vault, ONE65 Bistro & Grill, Berber
2 affordable neighborhood newcomers + 1 chocolate factory & cafe: Falafelland, Tender Curry & Co., Dandelion Chocolate, Bloom Cafe
Article here: www.wheretraveler.com/san-francisco/eat/7-top-new-san-francisco-restaurants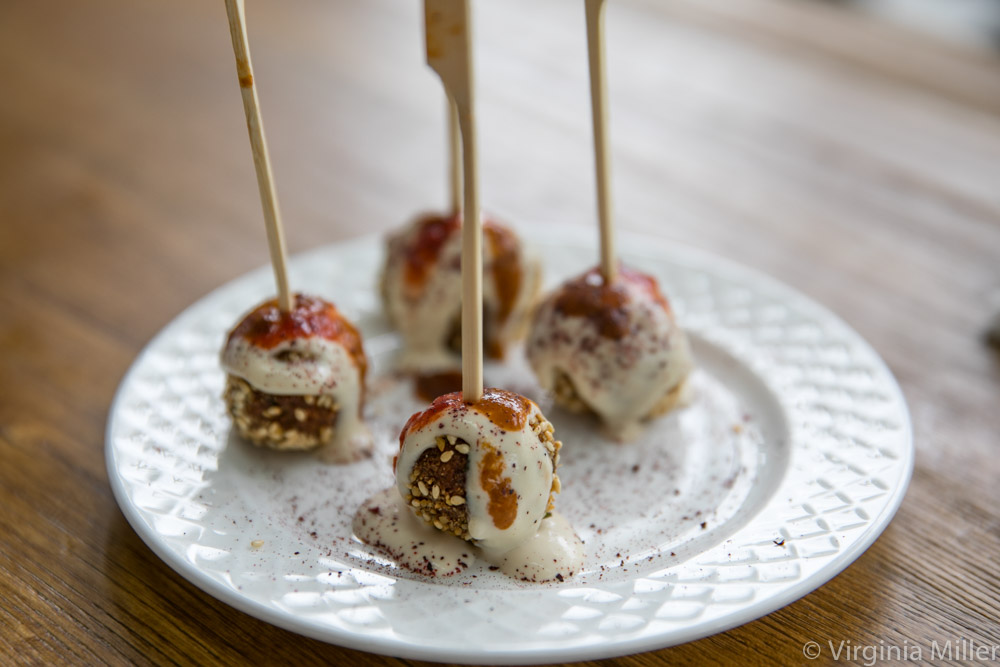 Another slew of standout newcomers hits San Francisco the last few weeks, ranging from cheap eats to mid-range restaurants. After a round of affordable new spots we recommended last month, here are 7 newcomers you shouldn't miss, covering the gamut from temple to chocolate to Moroccan dinner theater.
Che Fico Alimentari, Western Addition/NoPa David Nayfeld, Angela Pinkerton and Matt Brewer did it again with Che Fico Alimentari. Opening April 30 downstairs below their crazy-popular Che Fico, it houses a deli, Italian market and sexy, dim, pressed-tin ceiling dining room that feels like being whisked away to Italy. Take home Che Fico's housemade salumi, antipasti, breads and desserts plus local and Italian cheeses, or dine in with gratifying, traditional pastas using Pastificio Gentile dried pasta (as opposed to the innovative, handmade pastas upstairs). Other joys include caciocavallo cheese in lemon and fennel pollen (a welcome take off a dish they used to have upstairs), Pinkerton's perfect focaccia, daily bruschetta like a Spring version covered in ricotta, English peas and mint, swordfish a la Siciliana (in tomato, golden raisins, capers, walnuts) or dreamy cannoli for dessert. Pair all with wine director Francesca Maniac's thoughtful selection of mostly Italian wines and aperitivo (low proof), like a 50/50 Mint "Martini of mint-infused red and white vermouths.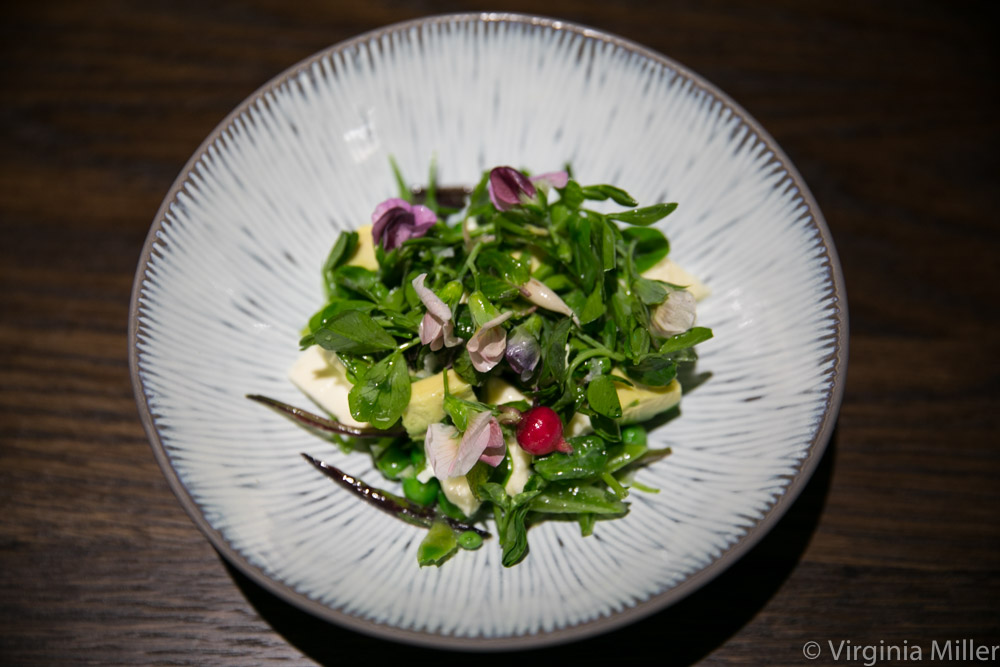 The Vault, Financial District No surprise, Hi Neighbor Hospitality Group (Trestle, Corridor, Fat Angel) and talented chef Robin Song bring it with The Vault, opened April 2019 in the basement of the towering 555 California Street building, flowing from TV-lined bar to elegant dining room. The raw platter wows, stacked with the likes of chilled Maine lobster salad in green garlic aioli and preserved lemon or Ft. Bragg sea urchin over egg custard. Song perfects a range of meats, seafood and pastas, whether refined duck breast and confit leg with dirty rice and pickled cherries or comte cheese-stuffed rye tortolloni.
As in the past, his seasonal vegetable dishes hide some of the menu's bests, like a stellar Iacopi Farms spring peas "salad" dotted with avocado, fresh mozzarella and mint. In keeping with Hi Neighbor restaurants in general, expect smart wine, beer and cocktail selections and gorgeous desserts like a yuzu mousse sphere with raspberry, green almond and chrysanthemum granita.
ONE65 Bistro & Grill, Downtown/Union Square ONE65 is a 6-floor French culinary destination downtown with four distinct dining and drink experiences: a bright patisserie/cafe that opened May 16; fine dining O' by Claude Le Tohic opened June 6; Elements bar on the 4th floor and ONE65 Bistro & Grill on the 3rd, which both opened May 24th. After or before an elegant cocktail upstairs at Elements, head down to the bistro helmed by chef/partner Claude Le Tohic, for Cal-French fare and a section of dishes cooked on a Josper charcoal oven imported from Spain. Initial highlights include reasonably bite-sized frog legs and escargot in parsley cream butter, magret duck for two in lavender peppercorn gastrique and a creamy version of a classic French il flottante ("floating island") dessert of meringues floating in orange cream, accented with caramelized praline.
Berber, Russian Hill In its initial months, Berber's back room supperclub is already a tough reservation to snag for good reason: this is no cheesy dinner theater but an intriguing, intimate flow of dance, acrobatics, belly dancers, aerialists and song with surprisingly good Moroccan food and a top-notch selection of Middle Eastern wines from Morocco to Lebanon. With an escape-to-Marrakesh vibe, the lively front restaurant and bar offers a la carte menus but the supperclub/show reservations are in tasting menu format ($65-85 per person). The menu fares best in dishes like butternut squash-swiss chard bastilla or sunchoke soup dotted with argan oil and medjool date sauce.
Falafelland, Downtown/Tenderloin The gracious hospitality of Falafelland (aka Falafel Land) owner Billy Alabsi is a sunny jolt of joy on rough-and-tumble 6th Street. But his gracious hospitality is icing on the cake: his traditional Yemeni food comforts the soul, whether pitch-perfect falafel (wonderful in wrap form), kabsa rice plates with lamb shank or chicken (and sandwiches) and dreamy desserts, namely his baklava and nutty havla.
Tender Curry & Co., Little Saigon/TenderNob While the "pick a protein, a base and a sauce" format is typical in many order-at-the-counter eateries these days, Tender Curry & Co. is a rarity in Little Saigon with its bright, bold colors, pristine space and Asian mash-up of flavors from Vietnam, Thailand, Japan and even Hawaii (take their coconut Aloha curry). Choose a curry, from Japanese to Thai-style, a meat or veg and a rice (jasmine or ginger garlic) for a nurturing lunch or dinner bowl. Add on gratifying sides like spicy eggplant and peppers. Dandelion Chocolate, The Mission It's been a joy watching Dandelion Chocolate grow from its tiny original Dogpatch factory in 2010, to larger Valencia Street digs, to Japan and now their new, 28,000-square-foot space factory space and gorgeous Bloom chocolate salon on 16th Street, designed by Chris Harrelson of Gensler architecture. The cafe and factory launched April 2019 with tours and tastings, while Bloom opened in May, with its blacks and whites, beveled antique glass, brass, tea towers of elegant desserts and breakfast-through-afternoon menus from pastry chef Lisa Vega.