Covering the 11 top agave spirit (tequila, mezcal, raicilla) cocktails around the US at Liquor.com, you'll find my top national drinks on menus at these bars/restaurants: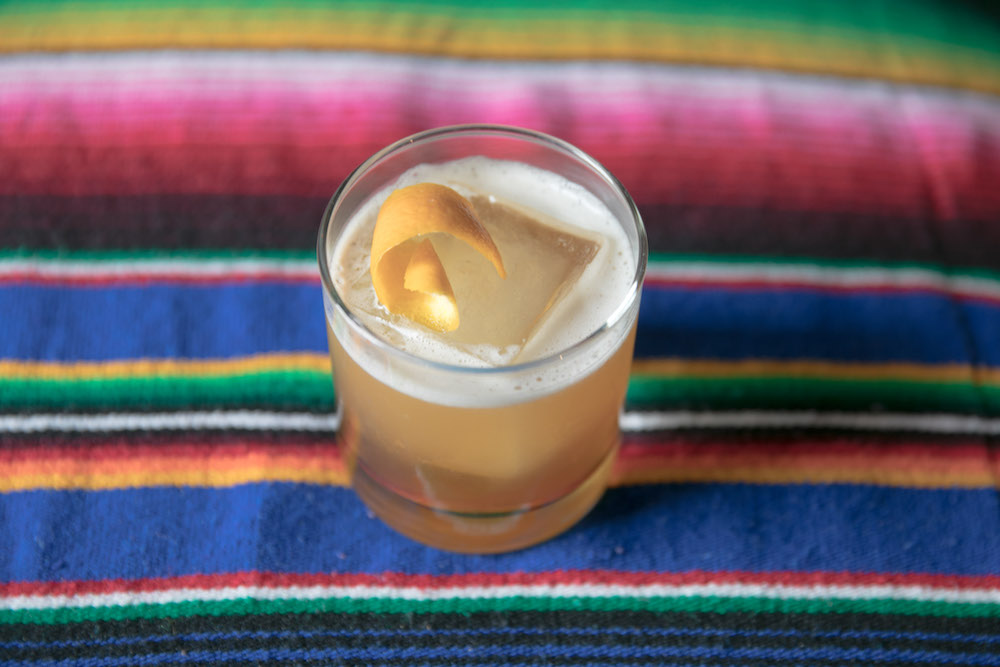 Spring is in full bloom and agave spirits are just the thing, whether you lean spirituous mixing agave with amari or mirto, keep it vegetal with beets or jalapeno, or go a hibiscus, spiced route. Mezcal and tequila play nicely with all of the above — and well beyond — as these national bars and restaurants prove. Here are 11 notable agave spirits cocktails on menus now.
Can't make it to any of the bars this month? Try making Definite Maybe from Abigail Hall at home.
Pear Shaped Panther (Palenque Mezcaleria, Denver, CO)
Palenque Mezcaleria founder Brian Rossi (also of neighboring restaurant, Adelitas Cocina y Cantina) knows his agave. Flip through photo albums of his extensive travels through Oaxaca visiting mezcalerias or Jalisco's raicilla and tequila producers. Not only is this Denver's first mezcaleria, it's still the city's only temple to all things agave, offering a deep collection of spirits and a transported-to-Mexico vibe. GM Chris Wingate and team craft straightforward but pleasing cocktails. Pear Shaped Panther stays robustly boozy combining Nuestra Soledad mezcal, mirto (Sardinian myrtle berry liqueur) and the bitter-anise of Amaro Soldatini, rounded out with St. George Spiced Pear Liqueur and Corazon bitters.
Turmeric (Mace, New York, NY)
One of NYC's most exciting bars — and arguably its best for produce-driven, culinary cocktails — Mace just graduated this March to "Mace 2.0.", moving to a larger location with food for the first time from chef Nick Sorrentino and cocktails by co-owner Nicolas "Nico" de Soto. In a two-room space lined with spice jars, plants and framed butterflies, the opening cocktail menu features 12 of Mace's greatest hits since opening. A clarified milk punch, the Turmeric, showcases fat-washed chicharron and mezcal meaty smokiness alongside the vegetal green of jalapeño-infused blanco tequila, green apple juice and lime, silky with corn milk and coconut water, with whispers of vanilla, cinnamon and fennel.
Matadora (Tony's Pizza Napoletana, San Francisco, CA)
Tony Gemignani is one of the world's great pizza masters, winning over 13 World Pizza Championships, including the toughest in Naples. At his North Beach destination, Tony's Pizza Napoletana, he excels at every style of pizza from Jersey Trenton tomato pie to Detroit pizza, Chicago thin crust (at his neighboring restaurant Capo's) to Neapolitan, using different doughs, sauces and ovens for each. Bar manager Elmer Mejicanos keeps drinks fun and pizza-friendly. Matadora is a mix of Cenote tequila, ginger liqueur, black pepper-infused red beet juice, lime and mint, dusted with a little shimmery gold so it sparkles in the light.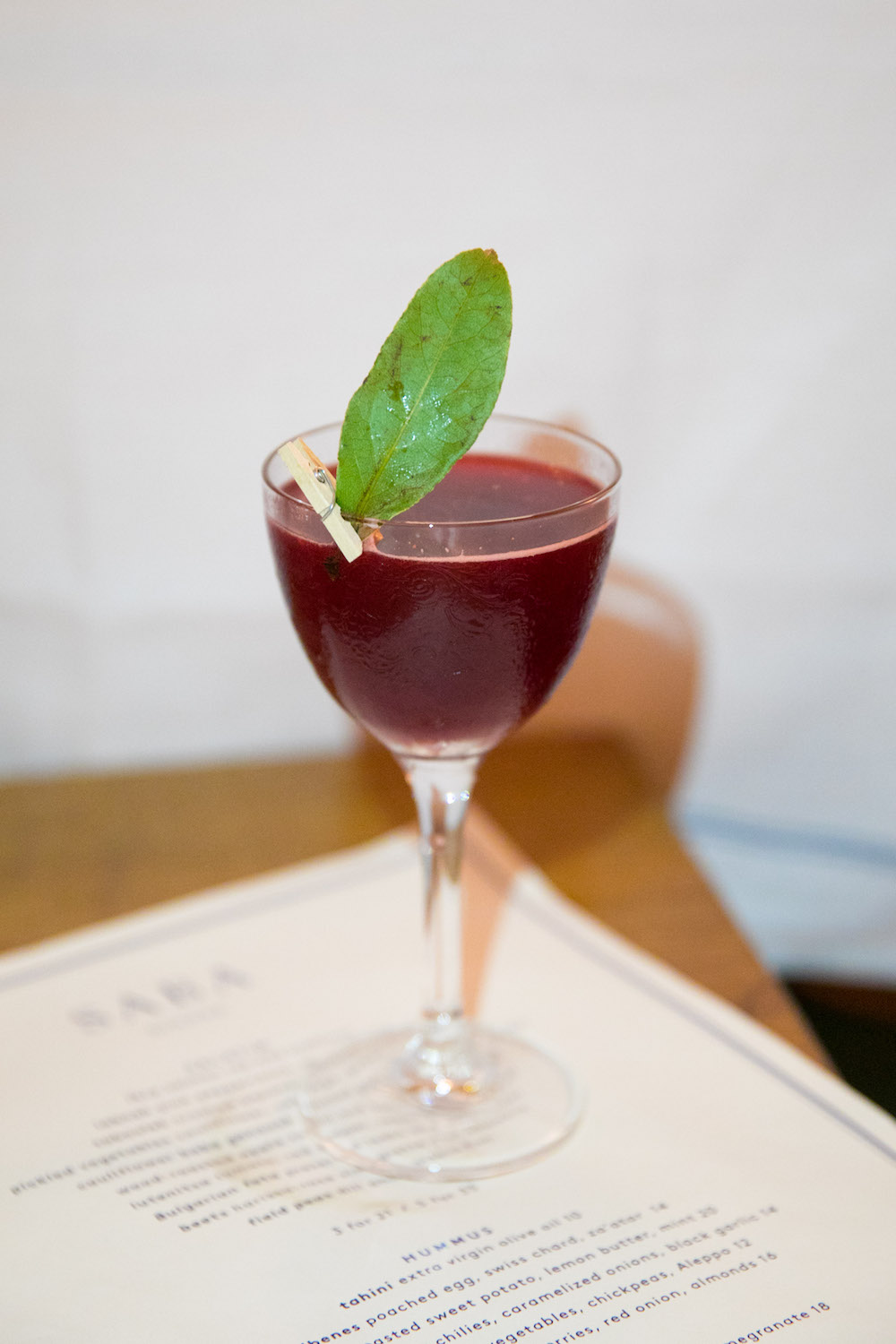 Acahualli (Clavel, Baltimore, MD)
Lane Harlan runs three of Baltimore's best bars: her original amari cocktail den, WC Harlan, the newer natural wine and sake bar/shop, Fadensonnen, and agave spirits destination, Clavel. "Real deal" Mexican food (think huitlacoche tacos and tortas) —hard to find in the region— is draw enough. But then there is Clavel's deep agave spirits selection and cocktails. Highlighting Jalisco's oft-overlooked agave spirit, raicilla, the Acahualli cocktail complements the subtle acidity of La Venenosa raicilla sierra with a lively kick of fresh carrot and passionfruit juices. Aji amarillo pepper brings the heat alongside lime juice, Yellow Chartreuse and a tortilla ash made from tortillas leftover from the previous night. The "ash" is made from torching, dehydrating and pulverizing tortillas in a blender with sea salt and spices.
Definite Maybe (Abigail Hall, Portland, OR)
Inside PDX's chic Woodlark Hotel near the popular new Bullard restaurant, lies the soothing oranges, reds and greens of Abigail Hall, a lounge marked by fireplace and floral wallpaper. AG goes gourmet with a dry-aged cheeseburger, Waldorf salad and buttermilk chicken fingers, paired with a vodka Red Bull gimlet to please the cocktail geek (!) Beverage director Daniel Osborne also has fun with agave, pulling inspiration from orange creamsicle for his Definite Maybe cocktail. Banhez Mezcal and Dolin Genepy get a citrus kick from fresh orange and lemon juices, unfolding with minty intrigue from a mint simple syrup that enhances the slate-y smoke of the mezcal.
Burnt Offerings (Saba, New Orleans, LA) 
Saba is Nola's true modern Israeli dining gem, thanks to James Beard award-winning chef Alon Shaya (who also runs the fantastic new Safta in Denver). The shining Magazine Street space glows with warm service and rounds of salatim (aka salads) like heartwarming lutenista (tomato, red pepper, roasted eggplant spread) or Bulgarian feta with preserved leeks and coriander. The Middle Eastern influence extends to the cocktails, as with Burnt Offerings, a rosy mezcal cocktail aromatic with hibiscus, spiced pear and jallab, a fruit syrup enhanced by dates, grape molasses and rose water.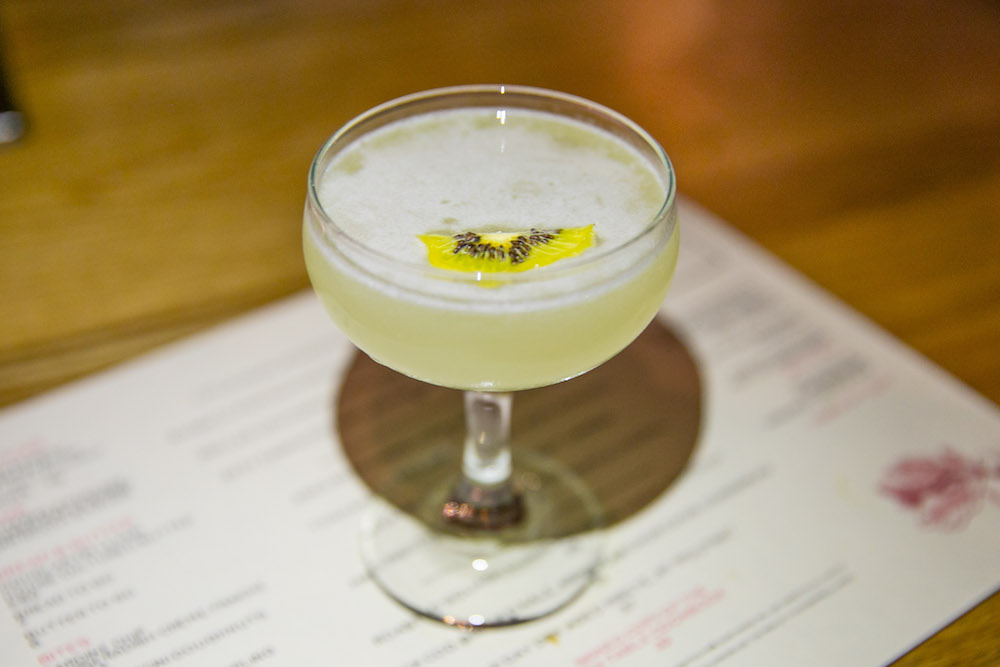 The Wright Stuff (Rich Table, San Francisco, CA)
As one of San Francisco's consistently excellent restaurants since 2012, Michelin-starred Rich Table continues to wow with Evan and Sarah Rich's ever fun and inspired food, like a dreamy chicken liver mille-feuille: a flaky pastry savory with paté, pistachio and kombu. Larry Piaskowy lets the food shine, enhancing dishes with cocktails that are both culinary and subtle, easy drinking but never dumbed down. The Wright Stuff is just that, playing mezcal slate off the green notes of Mirto Verde, a myrtle berry/leaf liqueur from Sardinia, beautifully brightened and spring-like with house kiwi syrup and lime.
Yes, Daddy (The Limbo, Louisville, KY)
Expect cheeky good times and a vibrant community at San Francisco transplant Olivia Griffin's The Limbo, Louisville's first tiki bar and playful space for surf movies, karaoke, live music and drag shows. Mingle in the outdoor patio or multi-room space with tiki cocktails often featuring bourbon and local Kentucky whiskies vs. rum. Off the rum/whiskey path, Yes, Daddy is a tall refresher of Mala Idea mezcal and Triple Sec with an earthy-tart-spicy jolt of beet juice, lime and jalapeno.
Hot Daisy (Rapscallion, Dallas, TX) 
Since 2015, Rapscallion has been a festive Lower Greenville hotspot for Nashville hot chicken, shrimp and grits or rotisserie chicken, paired with bar manager Ivan Garcia and team's approachable drinks. The Hot Daisy showcases a base of Rapscallion's house single barrel of Patron Reposado Tequila and Gracias a Dios Joven Mezcal, vivid with passionfruit, lime and habanero, given a Tiki touch from orgeat and falernum. This mix of smoky, spice and citrusy sweet benefits from a spicy burst from habanero bitters.
Antiguo Negro (Wayan, NYC)
Just open in Nolita in February, Cedric Vongerichten's (of Perry Street and son of famed chef Jean-Georges Vongerichten) Wayan is a French-Indonesian restaurant serving the likes of lemongrass coconut chicken curry and lobster noodles in a glowing, intimate space with a greenery-lined bar. Beverage director Eileen Chiang experiments with Indonesian ingredients and straightforward 3-4 ingredients in her cocktails The Antiguo Negro features Casamigos Reposado enhanced by a dose of mezcal, finishing with toasty notes of black sesame and bitters.
Hole Mole (Cultura, Carmel, CA)
An unexpected haven for Oaxacan Mexican dishes — and the best agave spirits selection in these parts — hides off a historic courtyard in the charming seaside village of Carmel-By-The-Sea. Cultura founders Sarah Kabat-Marcy, John Cox, Michelle Estigoy and Michael Marcy travel often to Oaxaca, bringing back mezcal finds, served traditionally with orange slices, sal de gusano (worm salt) and chapulines (grasshoppers). In a town where it's tough to find an expertly-made cocktail of any kind, they showcase agave spirits in sippers like Hole Mole, combining mezcal with a savory-spiced house mole, tart with apple, lime and Peychaud's bitters.