Here's a link to Outer Richmond, Part One. Now let's hit more of my favorites in the wealth of cheap, tasty Outer Richmond food:
BRUNCH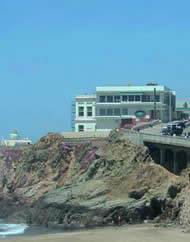 Cliff House Bistro: This one isn't cheap and the location is notoriously touristy as it is historical, perched on the edge of the sea. But since the remodel a couple years ago, when faced with the need for a breakfast spot overlooking those gorgeous Pacific waves, I find the Bistro surprisingly satisfying, albeit costly. The free Swedish popovers and jam they start you off with fill me up fast. I like the Johnson Omelet (Dungeness Crab Meat, avocado and sour cream – how could you not? $16.95), and the Sourdough French Toast (with crisp bacon and an apple compote; $12.95) is not half bad. They don't take reservations and waits are loooong on weekends so go early.
DINER/BURGERS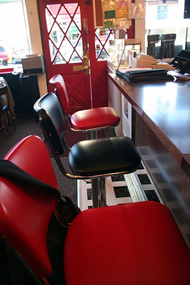 Bill's Place: Greasy spoon diner, it is. But a darn charming one. With the requisite white countertop and red chairs comes the startling placement of chandeliers along the ceiling. That way you can have your chili burgers (smothered in chili and cheese) or a big Dreyer's milkshake with a touch of class.
SEAFOOD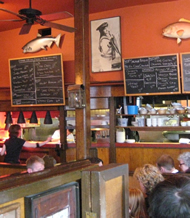 Pacific Cafe: This long-timer is seafood ala 1970 with cheap wood paneling, booths and the feel of an old school Boston seafood house. Since I first moved to SF eight years ago, it has been a favorite. The FREE, all-you-can-drink (or as often as they come out and pour) house white or red wine is certainly a crowd-pleasing draw. I've made many a friend waiting for a table in the chilly ocean air, sometimes well over an hour, as they don't take reservations. But it's all part of the unique experience.

The food is far from exquisite: think fat steak fries, iceberg lettuce and slightly unappetizing sides of boiled vegetables. But the fish is fresh and dishes heartwarming and tasty. You won't get the inventive here (no fish in mango salsas or coconut broth), just traditional goodness: I like the clam chowder and my fave entrée, Parmesan encrusted fish of the day (the upper teens cost of this dish has risen to mid-twenties over the years).
ASIAN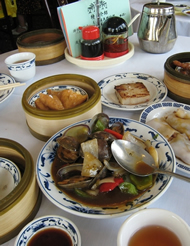 Mayflower: 6255 Geary Boulevard at 27th Ave; 415-387-8338; A cheap, clean spot serving unique additions to the usual dumplings and buns Dim Sum (though they do these well, too), such as Shrimp Banana Rolls or sweet Pan-fried Water Chestnut Cakes. Eat your fill for not much more than ten dollars in the relaxed (or at prime meal times, bustling) dining room.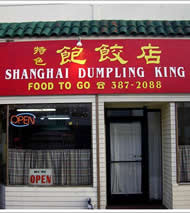 Shanghai Dumpling King: 3319 Balboa Street between 34th & 35th Ave; 415-387-2088; Mon, Wed-Fri 11am-9pm, Sat-Sun 10am-9pm; On a rather desolate block in a dingy dining room sits a spot with Shanghai specialties rarely seen in the US. Their wontons, buns and steamed soup-filled dumplings, Xiao Long Bao (watch out as they explode in your mouth), taste freshly homemade and at $4.25 for 10 spicy wontons, 10 dumplings or 8 mini-pork buns, it's beyond a steal. You'll be hooked.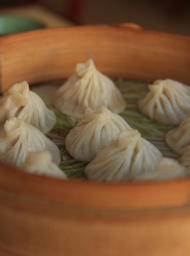 Shanghai House: 3641 Balboa Street between 37th & 38th Ave; 415-831-9288; Some of the most delicately homemade soup dumplings (Xiao Long Bao) you'll ever taste come from this quiet little haven on Balboa. Clean and fresh, this peaceful, slow-paced restaurant is a preferred lunch spot for me with a good book on a foggy, moody day. Much of the menu is equally delicious and authentic (cash only so prepare accordingly).
I've heard mixed reviews on whether sushi is the reason to come here. With so many fave sushi joints already, I came to Oyaji for what I heard was great Izakaya (Japanese snacks/small plates served with drink) and was not disappointed.
I like the grilled cod, yakitori skewers and the changing menu of ryori ("tavern food") specials. There's a good number of vegetarian plates and ramen along with the sushi, which I'll have to try next time.
Khan Toke Thai: 5937 Geary Blvd, between 23rd & 24th Ave; 415-668-6654; Usually I'm all about food first so I have to warn you: the food alone would never bring me to Khan Toke.
There's much better Thai around and though decent, nothing here has ever overwhelmed or taken me back to months spent in Thailand. But what does transport me and makes the place worthy of mention, is the playful layout and décor. Take your shoes off as you enter and get seated on the floor in one of a network of rooms. You'll feel like you're in a Thai home, either in one of the small spaces or the larger room looking out at the back garden.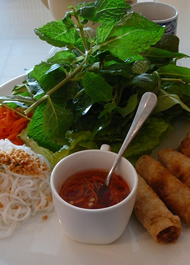 La Vie: 5380 Geary Blvd, between 22nd & 23rd Ave; 415-933-6232; An unassuming but clean little dining room on Geary is the setting for authentic Vietnamese food I've liked for years. Fresh standards like pork vermicelli bowls are under $10 and often big enough for two. A real deal and one of the better Vietnamese joints on this side of the Avenues.