La Cocina is a neighborhood food endeavor you should know about. Located on a residential Mission block of Folsom (between 25th and 26th), it's a non-descript building housing over twenty young food businesses in our fair city from gourmet catering to specialty food products to farmers market ventures. They have a lovely commercial kitchen space and offer technical assistance to low-income entrepreneurs as they launch, market and formalize their business. What a friendly, delightful staff they have and a vision that excites me.
On September 12, I went to an afternoon industry-only Open House at La Cocina (which was followed by a public event that evening). A few of the vendors I already knew and tasted (like Kika's Treats or Sabores del Sur's alfajores), but many I discovered, delightedly so, for the first time. Best of all, I got to talk to many of the entrepreneurs, mostly women, about what inspired them to start their businesses or the vision behind their excellent foods.
I want to recommend a few of my favorites, so you can check them out, too. I can honestly say there was not a bad one in the house – I was impressed at the consistent quality and taste of every vendor, so it's tough to narrow it down. Some don't have websites so read about them on La Cocina's (which links to sites if they exist) for contact info and where you might find the products.
DRINK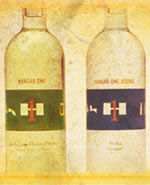 It helped to have Hangar One/St. George Spirits on hand to wash down all those tastes with little shots of vodkas, whiskeys and Eaux de Vie. After a recent tour of their distillery, I have a fuller appreciation for the craft alcohol they make. Crispin's Rose Liqueur is a fascinating, hand-distilled, fresh rose petal liqueur I tasted at this event with a subtle rose flavor to compliment the apple and honey tones (www.greenwaydistillers.com).
SAVORY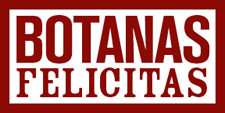 Oh, those pepitas! Botanas Felicitas (email; 415-574-1449) roasts Mexico City botanas (snacks) like pumpkin seeds (pepitas), peanuts and chicharrones to perfection. The Pepitas Con Chile (spicy) or Con Limon Y Sal (with lime and salt) make perfect movie-watching snacks.
El Buen Comer is a family owned business that cooks homemade Mexican guisados, mole sauce and chilaquiles at my neighborhood Noe Valley Farmer's Market on Saturdays (8am-2pm). Yum!
El Golazo – Hearty homemade pupusas.
SWEET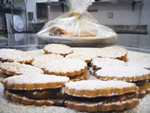 The aforementioned Sabores del Sur ("Flavors of the South") is a catering company that makes sinfully decadent Alfajores (classic South American shortbread cookie sandwiches layered with caramel-ly dulce de leche, dusted with powdered sugar). I can't get enough! You can buy them at the La Cocina booth at the Ferry Plaza Farmer's Market or in places like Canyon Market on Diamond.
Billie Grant makes truly Sinful Sweets, individually packaged brownie-cookie-cake type desserts, my favorite being "Gabrielle's Delight", a pecan pie/buttery shortbread-like brownie. Richly satisfying.
Kika's Treats you'll see more readily around town in popular shops like Bi-Rite. Their artisanal shortbreads, graham crackers and honey cakes are dipped in dark chocolate. I have to say, I love ALL five of their products, but am especially fond of the Espresso Cardamom Shortbread in Dark Chocolate.
Di Tullio's is a Cal-Italian family business making Neopolitan foods, including a White Chocolate/Candied Orange Peel Biscotti and Pastiera Napoletana, a signature Naples' dessert: creamy ricotta cheese cake with the texture of cooked wheat berries? Sign me up!
And maybe my favorite of all…
Neo Cocoa – These handcrafted, "unshelled" chocolate truffles are some of the best I've tasted. The chocolate is dark, rich, aromatic and the flavor combinations in perfect balance: Mocha Cinnamon or Toasted Coconut (wow!) I can't wait to try Key Lime and Roasted Peanut Butter.