SAVORY / SWEET
Crispy Pork Rinds sprinkled with chile powder, dipped in a dark chocolate sauce (also rich with spice) at a private tasting at Orson. The addictive snack I'll dream of in my sleep… more! More!
SAVORY – VEGETARIAN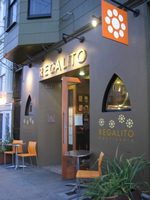 Elote (traditional Mexican grilled corn-on-the-cob covered in grated Cotija cheese, Mayo, Lime and Arbol Chili powder; $6) at the always pleasant Regalito Rosticeria – though toned down both in spice and mayo compared to how its traditionally done (try Dona Tere's Cart at 21st & Alabama if you want the hardcore experience), their sweet, white corn on the cob is a juicy rendition of a Mexican street food favorite.
Moroccan style Carrot Soup with Ginger and Lemon Crème Fraiche at Radio Africa Kitchen, Chef Eskender Aseged's "nomadic Ethiopian restaurant", currently residing in Coffee Bar on Thursday and Friday nights
SAVORY – SEAFOOD
Fresh-as-the-sea Paddlefish Sturgeon Caviar, native to Tennessee Valley rivers, most similar to Caspian caviar ($35 for 1 oz. or order tasting menus starting in the $40's, served on tiny blinis with crème fraiche) at Tsar Nicoulai in the Ferry Building – widely regarded as some of the US' best caviar, it's a revelatory taste.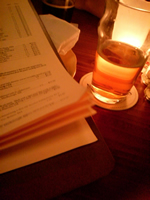 The Pot Pie of the Day ($16) at Monk's Kettle – a creamy seafood pot pie with veggies and two giant, juicy scallops under the puffiest of puff pastries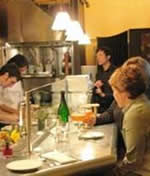 One of my favorite seafood restaurants, the one-of-a-kind, matchbox-sized Bar Crudo, always thrills me: this month with a crudo of raw Massachusetts Dayboat Scallops ($12 for 4) on white corn puree with lobster mushrooms (tastes like grilled garlic) and tarragon oil; I'm sad to see Crudo move to Divisadero St. soon as I love their unique space (maybe there will be two locations depending on what they do w/ the current space?)
SAVORY – MEAT
I enjoyed everything on my first visit to Jack London Square's new hotspot on the Bay, Miss Pearl's Jam House, but… if you made me, I'd say I was most pleasantly surprised by the Jamaican Pepperpot Stew ($9) a delicious mix of oxtail, cassava, okra, yams, spinach, coconut broth, piquant chilie