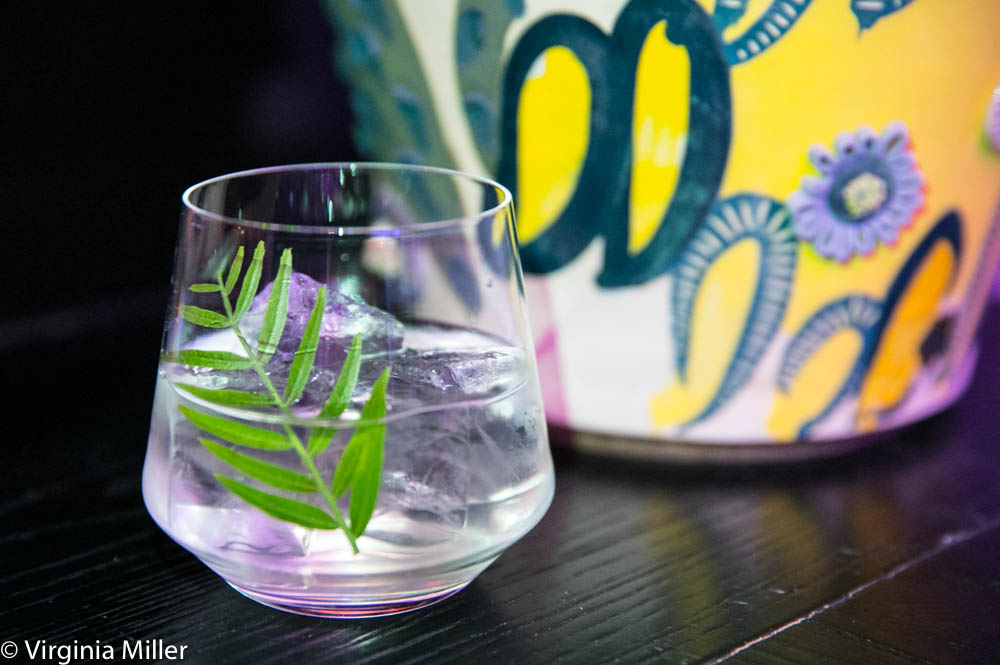 My dining column at print and online magazine, Bob Cut — column details and my philosophy here — covers both standout newcomers and longtimers we want to keep supporting. During shelter-in-place pandemic times, the column is in takeout/delivery mode:
www.bobcutmag.com/stories/2020/4/15/aprils-best-new-bay-area-restaurants-and-old-school-alternatives-to-order-to-go-from
A highlight of my day is ordering from one of our hundreds of world-class spots. Thanks to all our restaurants for nurturing us with heartfelt cooking in brutal times.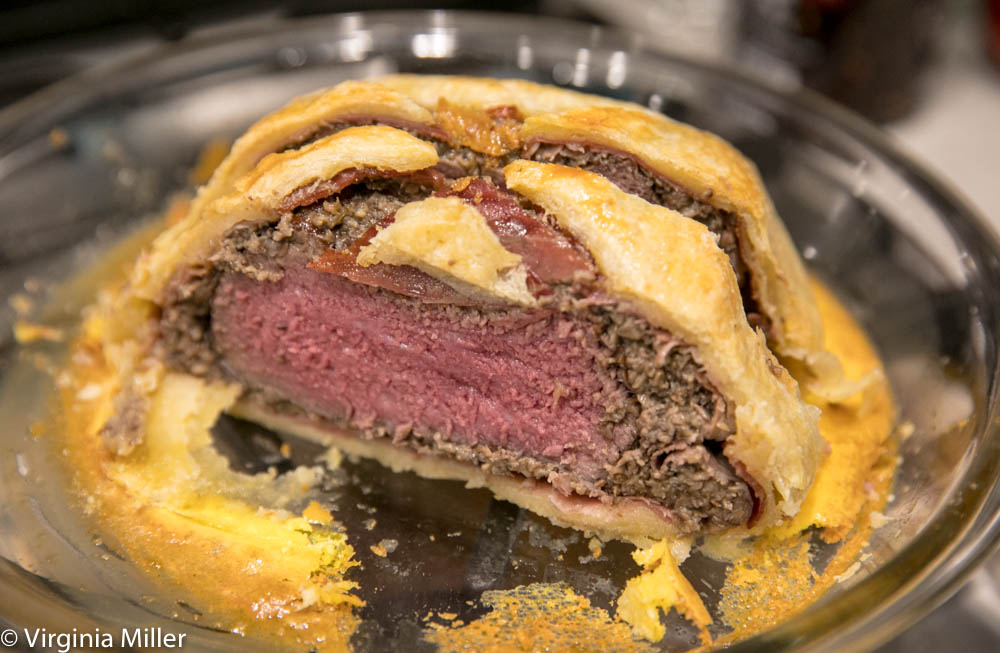 NEW OPENINGS
— Belcampo, San Mateo (Humane Meats, Burgers, American)
With CEO/co-founder Anya Fernald's focus on humanely-raised, butchered, organic, hyper-sustainable, grass-fed meats from animals raised on the farm she started at the base of Mt. Shasta, Belcampo Meat Co. is one of the country's shining meat sources. With nine restaurants, her newest in San Mateo opened in March as we started to shelter-in. Thankfully, this protein-rich goodness is available across the Bay Area.
Order This: Parmesan-crusted chicken; any burger; tom kha gai chicken soup.
Details: Download their Belcampo app for delivery across the Bay Area; they also deliver through most major apps. Multiple Locations

— Viridian, Oakland (Cocktails, Modern Asian Appetizers)
Open January, casual, FUN Viridian was one of the year's standout openings so far because of chef Amanda Hoang's gourmet Asian bites and dim sum, fine dining-worthy desserts (like Thai tea tiramisu or "leaky sand buns") with cocktails from bar director William Tsui (who previously killed it at two Michelin Lazy Bear). Thankfully, they launched to-go menus, although there are few snacks (here's hoping their dreamy chili garlic milk bread and boozy rum egg custard tarts are on the menu soon).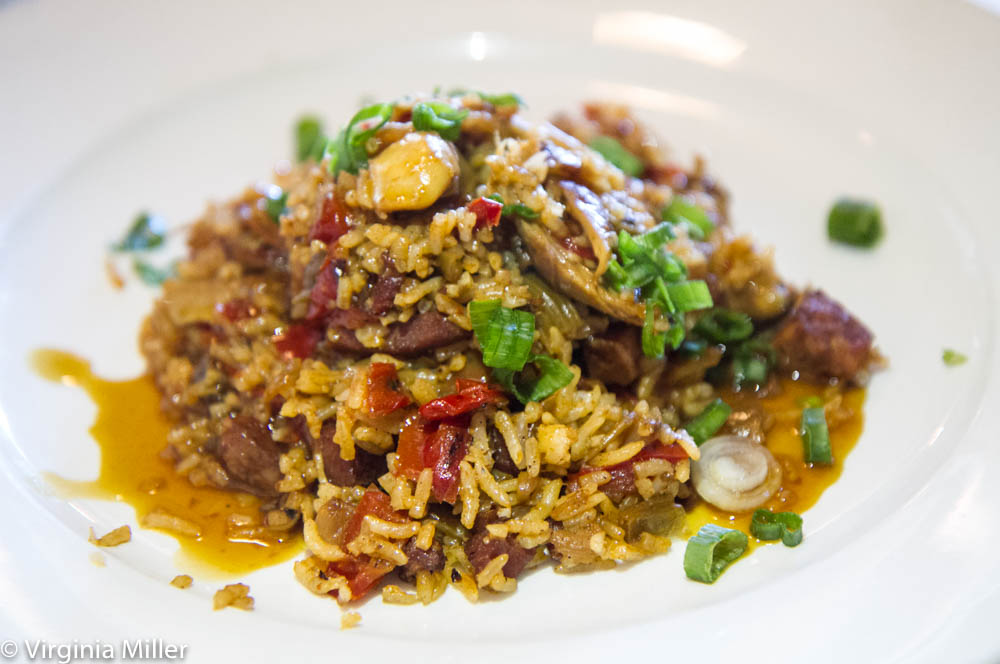 Order This: Hojicha shortbread; Tomato Beef bottled cocktail (blanco tequila, basil eau de vie, tomato water, lime); wine list ranges from orange wines to sparkling red Lambrusco.
Details: Call or text to pick-up: 510-393-9333; Monday-Saturday, 3-9pm. Pay in-store or via Venmo @Viridian-Bar. 2216 Broadway (Oakland), https://viridianbar.com
— CreoLa, SF (Creole/New Orleans)
Since Hayes Valley's Boxing Room closed, there's little "real deal" Cajun or Creole food in California besides Brenda's wonderful restaurants and po boy shops like Queen's. A nearly 25-year-old San Carlos institution, CreoLa, opened its first SF restaurant in Cole Valley in February. They're doing takeout now from their cozy space, serving beignets and gumbo.
Order This: Boudin balls with remoulade sauce; catfish po boy or cornmeal-crusted catfish with black eyed peas and collard greens.
Details: Call 415-260-3143 to order pre-pick-up; Tuesday-Sunday 12-8pm. 900 Stanyan Street, www.creolabistro.com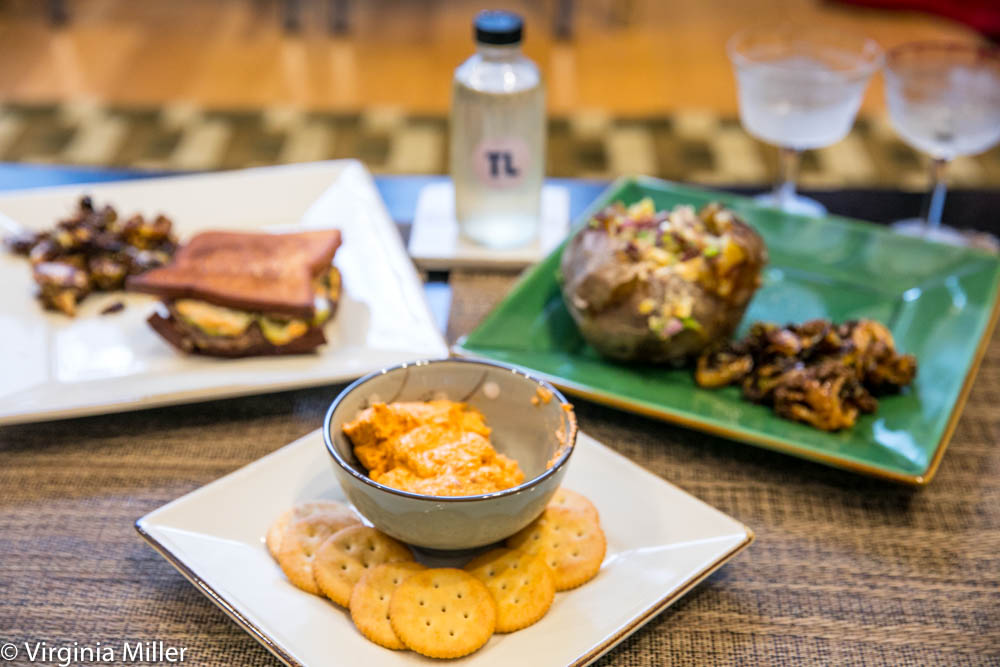 OG GREATS & LONGTIMERS
— True Laurel (Cocktails, New American)
The great True Laurel — among the most innovative-yet-approachable cocktail menus in the world with top-notch bar food (sister to the great 2 Michelin-starred Lazy Bear, which is also serving takeout all day; check Instagram) launched take-out with delivery in the works.
Order This: Any bottled cocktail; that decadent patty melt; fried hen of the woods mushrooms; lamb carnitas tacos.
Details: Hours 3-8pm, Wednesday-Sunday. Order in-house or call ahead at 415-341-0020; menu here. 753 Alabama Street, www.truelaurelsf.com

— Che Fico (Modern Italian, New American)
Always-special Che Fico, helmed by chef David Nayfeld, goes above and beyond with a nightly family meal. Order home meals for 2-3 or as a donation to families in need. Che Fico is feeding up to 250 in-need nightly. Expect their superb house bread, salad, protein or veggie-entree and dessert of the day.
Details: Check the daily menu, released at 3pm, on Instagram. 834 Divisadero Street, https://cheficofamilymeal.com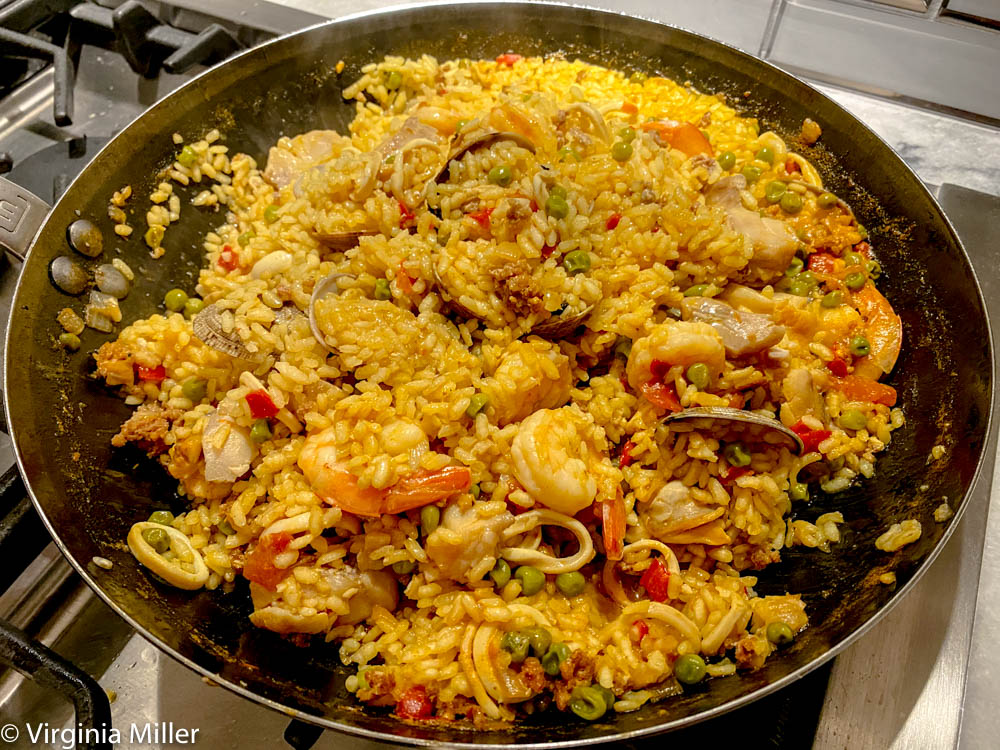 — La Cocina Community Food Box (A Range of Cuisines)
The great La Cocina has been funding and launching primarily female, minority-run food and restaurant businesses since 2005. Here they list all restaurants with takeout/delivery in cuisines from Nepalese to Japanese (plus links to their GoFundMe pages, etc.) La Cocina's Emergency Relief Fund offers financial support to their entrepreneurs most in need.
Details: La Cocina Community Food Box is a smart idea: changing boxes (pre-order, pick-up only, 2x a week) of prepared foods from 10 La Cocina restaurants with 100% sales going directly to businesses. Check here for menus and pick-up dates. 2948 Folsom Street, https://lacocinasf.org

— Canela (Spanish, Brunch)
Castro treasure, Canela, is run by chef/owner Mat Schuster, whose business and life partner is a Spaniard. They nail authentic Spanish cuisine, blessedly serving their tapas, Spanish wine flights and paella to-go. They also hit on a smart idea: "Brunch Every Day," the ultimate comfort food. Brunch kits include fruit, a dozen eggs with scramble toppings, buttermilk pancake batter, thick-cut bacon, Mr. Espresso Coffee or Art of Tea, loaf of bread with butter and house jam, plus recipes.
Order This: An array of boxes in addition to brunch include DIY paella kits for 2 or 4, produce, butcher, cheese and flower boxes. Details: Order all boxes, dishes, wines for pick-up here; for delivery, order individual dishes, wines, sangria via Caviar. 2272 Market Street, https://canelasf.com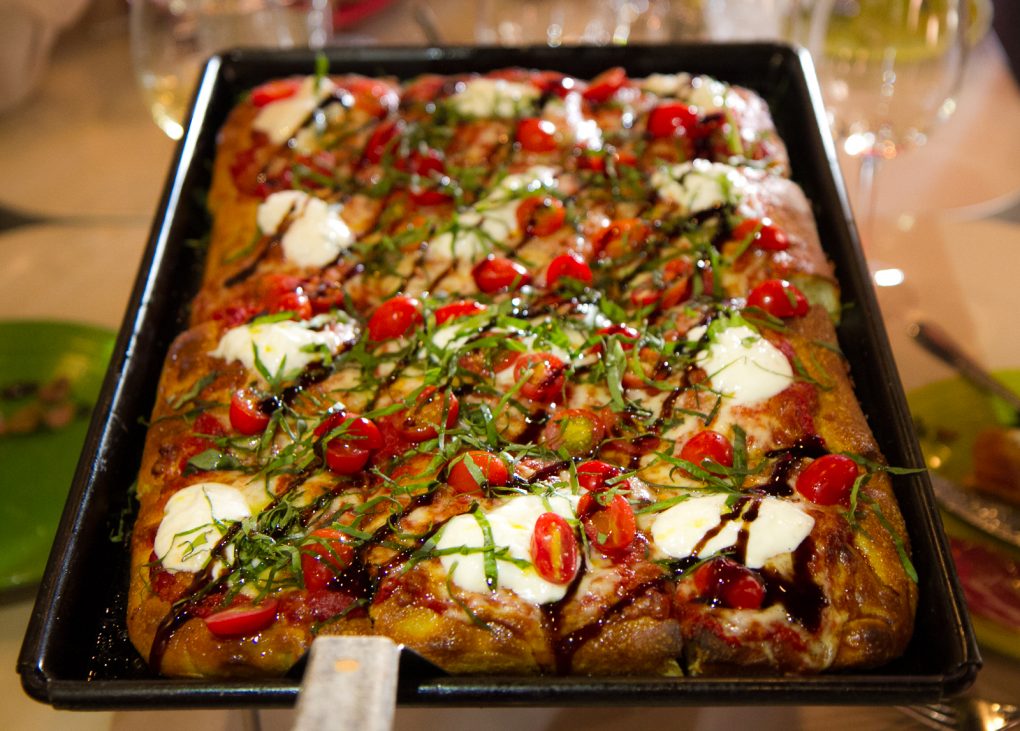 — Nari/Kin Khao (Modern Thai)
You'll find dishes from both of restaurateur Pim Techamuanvivit's Michelin-starred, modern Thai destinations, Kin Khao and Nari, on Nari's takeout menu. Located next to Japantown's Hotel Kabuki, conveniently pull into the circular hotel driveway to pick up your order.
Order This: Hot wings, pandan toast, vegetable Mumbai curry. Curries can be chill-packed to be reheated later.
Details: Order online, then pick up in Hotel Kabuki's circular driveway. Hours: 12-6pm. 1625 Post Street, www.narisf.com

— Tony's Pizza Napoletana & Capo's (Pizza of all styles from Chicago to NY to Neapolitan)

Tony's Pizza Napoletana and Capo's are not just local bests, but among the best pizza in the world (THE best, according to Forbes this January). For a decade, Tony Gemignani's pizzas — and neighborhood grocery, Giovanni's — are local treasures. Order everything from NY to Neapolitan pizzas at Tony's, or all Chicago styles (cracker-thin to deep dish) at Capo's (here's hoping we can eventually get St. Louis, Detroit, Sicilian, etc. pizzas delivered).
Order This: NJ-style Trenton tomato pie at Tony's; Italian Stallion pizza at Capo's; killer mostaccioli pasta in meat or vodka sauce. Details: Pick-up at Tony's Coal Fired Pizza shop next to Tony's Pizza or in-house delivery (aka Pizza Valet), employing their own staff. Both restaurants, plus Haight Street Slice House and Tony's Coal Fired Pizza, all deliver via UberEats, Caviar, DoorDash. Tony's, 1556 Stockton Street, https://tonyspizzanapoletana.com; Capo's, 641 Vallejo Street, https://sfcapos.com

— Sushi Nagai (Upscale Sushi; Japanese)
Those craving Tokyo-worthy sushi, head to Sushi Nagai. Chef Tomonori Nagai's changing menus are normally over $200 per person in-house, but he has created curbside pick-up bento boxes, chirashi sushi bowls, maki/rolls and a la carte dishes, including fab onigiri rice balls and taiyaki (fish-shaped waffles stuffed with adzuki beans).
Details: Check daily menus via Resy to pre-order online or via text (415-527-8219); curbside pick-up, 12-8pm. 125 Ellis Street, https://sushinagaisf.com
My Bob Cut articles:
—A Taste of Chinese Szechuan Cuisine in SF
—The Hunters Point Jazz Supper Club That Helped Transform a Community Needs Your Support
—Best New Bay Area Restaurants & OG Dining Greats of the Month: Feb-March 2020
—January's Best New Bay Area Restaurants & Old-School Greats