When you hear the word Szechuan (aka Sichuan), most think of mind-numbing heat and red chile oil. While both are certainly a staple, what many consider China's most complex cuisine —and therefore one of the most complicated in the world— Sichuan merely begins at spicy. This is a cuisine where key flavors start at 24. Yes, there are at least 24 base flavors which we'll get into shortly.
Just before this COVID-19 madness, I visited the heart of Sichuan: Chengdu, China. Like countless Chinese cities, Chengdu is a vast expanse of polluted air and utilitarian, communist architecture. But this "smaller" Chinese city of over 16 million people holds ancient history and vibrant cuisine as shimmery "gold" underneath its grey exterior (it's infamously cloudy here much of the year).
Diving deep over a few days, I tasted dozens of dishes at family-style restaurants, noodle shops and hole-in-the-walls. I tried everything. Think intestines, tripe (stomach lining) and rabbit heads, eyeballs and all. I believe in fully embracing the edible culture of any place I'm traveling. This philosophy has blessed me with no end of friends around the world and genuine peeks into the real culture of a place. Don't worry, there's much more to Sichuan cuisine than innards and offal, but like most countries throughout civilization, utilizing all animal parts is not only less wasteful but the respectful use of the whole animal.
Sichuan's 24 Flavors Showcased in One Dinner
As always, I go both "high-low" in my eating adventures, and this trip was centered around a fine dining Chinese food "pop-up" series, RUYI Gastronomy by LEGLE France, the Chinese wing of the renowned porcelain-maker. The brand's founder and creative director, Taiwan-based Desmond Chang, launched these feasts across China as deep dives into Chinese cuisines from Shanghainese to Cantonese.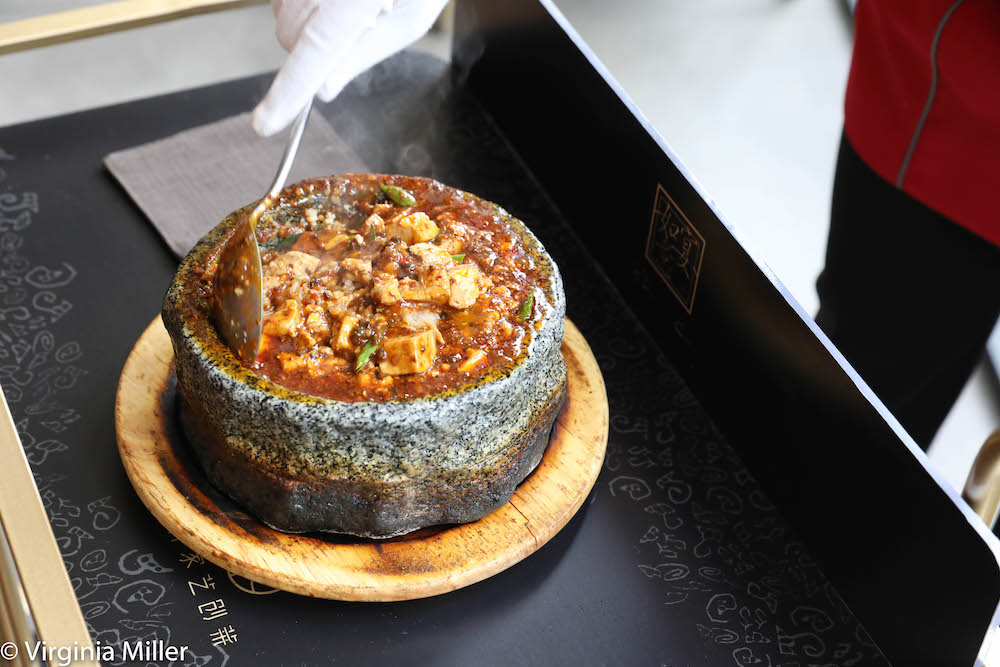 Chang focuses on authenticity, quality, history and range, serving each course on his stunning modern Chinese tableware with a team trained in fine dining-level service. Chang and master Sichuan chefs, who he worked with tirelessly on this menu for months, agreed on 24 base flavors to Sichuan cuisine, showcased at RUYI Gastronomy via 24 courses. We started with sesame, red oil, pickled, mustard and aged-tangerine-peel flavors, then on to umami, sugar-vinegar, smoke, sour-spicy, five spice, burnt pepper, fish fragrance, smoky lychee (the actual native flavor of "kung pao," not Westernized kung pao) and, of course, numbing spicy flavor.
Better described as "experience" than meal, RUYI Gastronomy Chengdu was artfully delicious, highlighting a key Sichuan ingredient: douban, a broad bean fermented chili paste often considered the "soul" of Sichuan dishes. Across Chengdu, I dove into red Sichuan peppercorn as well as equally numbing green peppercorn. Often served over fish in a pickled spinach sauce, this side of Sichuan peppercorn is completely different: acidic, bright, even palate-cleansing. This is the "yin" to the red peppercorn/red chile oil "yang." Sadly, these green peppercorns are pretty tough to come by outside China.
Most of what I ate was roughly 25% spicy/numbing. Everything else ran the gamut from acidic to umami. This is not the Sichuan food we get outside of China. Chengdu chef Xu Fan's restaurants, from experimental Xu's Creative Cuisine to traditional Xu's Cuisine, offer master lessons in spectacular flavor range: the varied pitch of sweet and sour, salty and garlicky, smoky and fermented. Xu's mapo tofu, served in a sizzling pot, wows.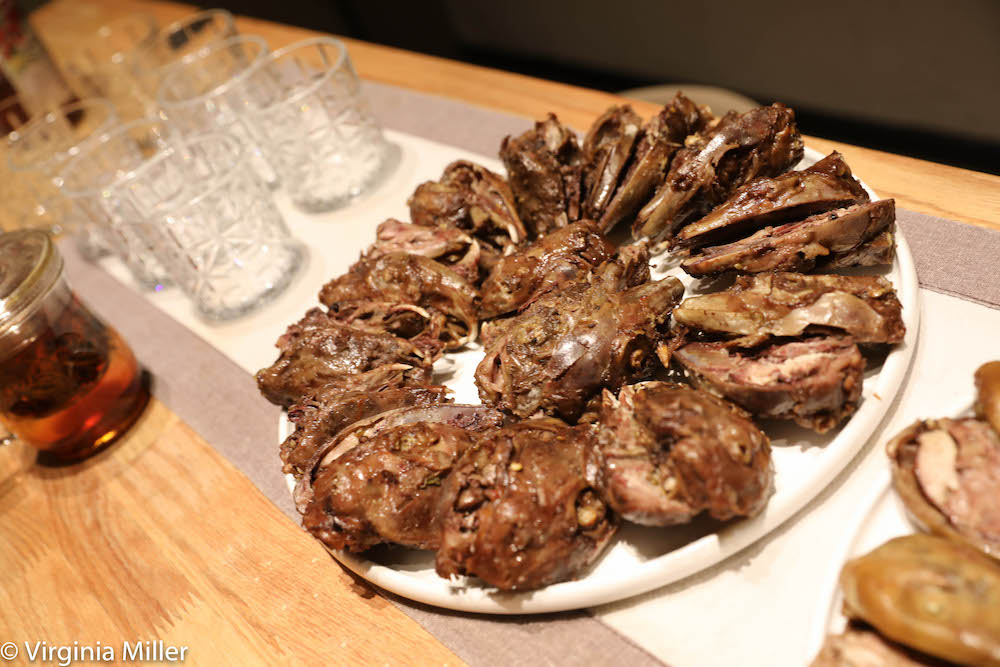 Of Rabbit Heads, Tobacco-like Tofu and Chocolate-y, Earthy Noodles
Chengdu's centralized location, surrounded by mountains and the Tibetan plateau, kept it protected from the outside world in its initial centuries. Once the rest of China found routes in, the Sichuan region became a "melting pot," taking influences from all over China. The result is a pure reflection of Chinese cuisine, per a rousing conversation I had with chef Fan and Madame Yang Wen, another master chef who also apprentices many chefs in the ancient ways of Sichuan. They filled me in (via translator) on the attitudes, history and unique place Sichuan holds in all of China and the culinary world at large. And how little understood it is.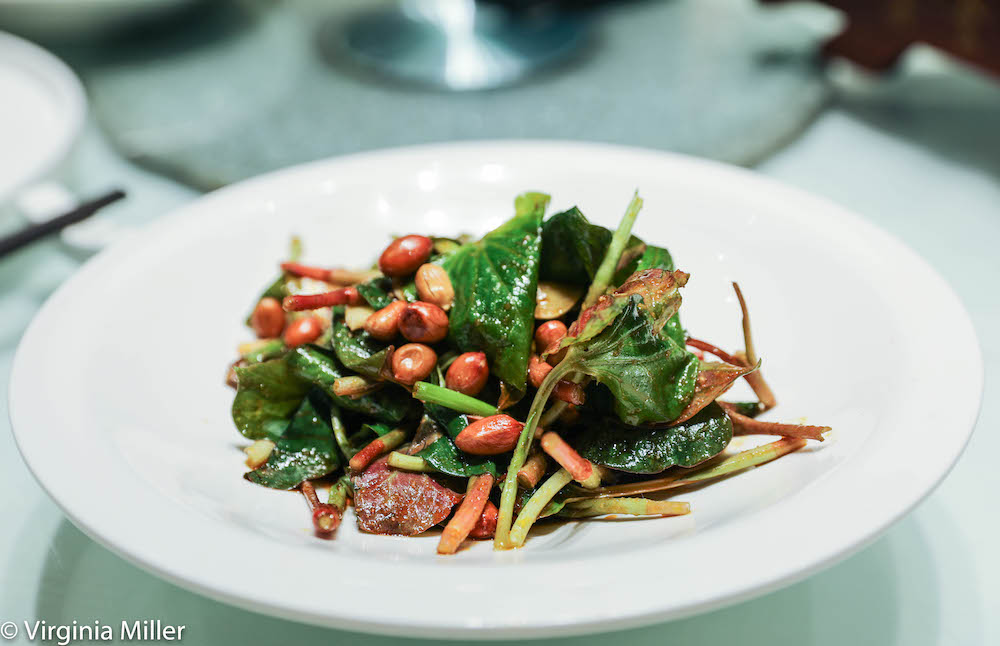 A few tastes during my week were downright unforgettable: and felt kindred with some of the world's most lively cuisines. A generous helping of garlic cloves across the board delighted my Sicilian side. I still dream about a "dessert" at Xu's Cuisine of thick, chewy noodles in spicy, sweet, chocolate-y Sichuan peppercorn sauce. It recalled the complexity of Oaxacan mole and is one of the best desserts I've tasted out of hundreds all year. At Hongxing Restaurant, subtly bitter yuxingcao, a green known locally as having "fishy" flavor, would be at home with garden-fresh California cuisine, raw in a salad. Eel noodles at a tiny shop — in green and red peppercorn versions — were textbook perfect noodles with silky oil and fish. Chef Xu's mother's fermented tofu/bean curd was a revelation: smoky, earthy and tobacco-like in a coat of chilies, it made an ideal pairing with whisky and rum, evoking silky cigar-like qualities.
I tried the aforementioned Chengdu speciality of rabbit head, which Sichuanese consume at a volume of over 700 million a year. Despite the bony head and teeth, it wasn't cartilage-heavy or fatty, as I expected. It was subtly spiced and tender.
Where to Get Sichuan at Home
Outside Chengdu (or a RUYI Gastronomy dinner), you may be hard-pressed to find the range of real Sichuan food anywhere. As I dined with some of the most venerated Michelin-starred chefs across China and Taiwan, they expressed how even they were "getting schooled" on the range and history of Sichuan at our RUYI dinner.
n addition, being cut-off from the outside world by China's government — every website from Google to Facebook is blocked — it is tough to write about the region's restaurants, as many aren't listed on maps the rest of the world uses, and most don't even have websites. Were I to send you to the unreal noodle shops Chengdu chefs took me to at 1am, many were not found or markable on the world's common mapping sites. Then there is this damned coronavirus.
But, thankfully, we can find little pieces of Sichuan here at home — even amidst this current coronavirus crisis. Traveling at home is a joy any time and a privilege of living in a deeply diverse place. Now it feels crucial. Alas, the COVID-19 pandemic has fueled racism against all Asians — and especially Chinese — even here with one of the most populous, oldest and formative Chinese populations outside of China. After all, San Francisco is the city that popularized Chinese food in the Western world.
My local takeout/delivery recommends for Sichuan food in San Francisco article HERE in my Bob Cut Magazine column.
**For further study, ready British-born Fuchsia Dunlop's books, where I first started learning more about Szechuan cuisine. These are crucial starting points for English-speakers wanting to dig deeper in this most complex of regional foods.**