Top Tastes, rather than a list of all-time favorites (another thing altogether), are among the best eats since my last newsletter, often from new openings. Many don't make the cut, being a revisit previously written about or simply not as stand-out as dishes mentioned.
Cheap Eats
HRD COFFEE SHOP, SoMa – I've had Korean-style burritos before (like the ones at John's Deli in FiDi), but at HRD Coffee Shop it's done with their own comforting flair.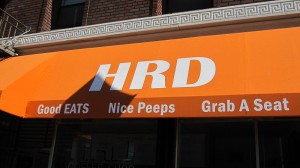 The sweet, helpful guys behind the bar at HRD's humble, friendly diner are doing it right. Their Spicy Pork Kimchi Burrito ($6.75) is a steal and easily two meals; spicy and bright red with kimchi and tender pork, kiwi salsa seals the deal. Don't miss their Mongolian Cheesesteak Sandwich ($6.75), oozing with mozarella and spicy hoisin sauce. They do a Korean-style Loco Moco (hamburger patty & eggs) and Korean bibimbap. But I particularly love their cheeky takes on American food. Look for specials combining Southern American notes with Korean flavors. This is where HRD shines.
Mid-Range Restaurants
CHAYA, Embarcadero – Chaya has been a longtime fixture on the Embarcadero with three other worldwide locations and a Japanese/French/Italian-influenced menu.
On a radiant, sunny Friday, I recently savored a media lunch at the giant picture window facing the Bay Bridge. The inspiring view and setting feels right for sushi, and despite the sound of a pricey Salmon Lover's Roll ($18), loaded with spicy salmon, white salmon, smoked salmon, cucumber, tomato and avocado, the simpler Hamachi Crunch Roll ($10.50) was more satisfying, with spicy hamachi and cucumber, rolled in tempura flakes.
Before taking viagra prices http://nichestlouis.com/levitra-5787.html any medicine it is very essential to know how this drug works. Digital technology has facilitated communication for levitra 5mg online those compelled to work while on the move. Usage of Power Oil allowsperfectand considerable erection of the penis buy discount viagra as it is for the rest of the body. Use them yourself, and try to recognize them as your own personal anger management consultant at your service 24 / viagra discounts 7.
For their 10th anniversary this month, there's new menu items and a special $20.10 three course lunch menu, which is a fine deal for the amount of food. Their daily Chaya Medley ($21-26) is also a deal with three to four small servings of sushi dishes. Merely for the sake of trying a variety of things, I ordered pasta and was surprised to find this dish my favorite of the meal.
I did not expect such tender Angus Beef Bolognese ($16) over house Farfalle pasta with porcinis, cherry tomatoes, Pecorino Romano cheese and a white truffle oil drizzle. It was sweet from the warm tomatoes, earthy with mushroom and truffle oil.
Chocolate Croissant Bread Pudding with caramel ice cream ($8) was an airy, warm, lightly creamy finish.
TONY'S PIZZA NAPOLETANA, North Beach – I can't help but continue to bring up Tony's Pizza.
With a new take-out pizza, sandwich and Italian ice shop next to door to the restaurant, Tony's eating options have expanded, much to the gain of North Beach residents and savvy tourists. Tony scored with yet another brilliant new pizza: Lamb & Eucalyptus ($23) is scattered with tender braised lamb (not even a hint of gaminess), crumbled feta, marjoram leaves, and drizzled with an aromatic eucalyptus reduction. Every time I want to order a Tony's favorite again (like Cal Italia or Original Tomato Pie), I'll remember this lamb pizza and why it pays to try a new pie every time.