Ethiopian is a comforting, homey cuisine: spicy, filling and best when made fresh by a loving hand. Though there are a number of decent Ethiopian spots in San Francisco, and more broadly, the East Bay, many blend into each other as fairly average (like Lower Haight's Axum Café, Café Ethiopia in the Mission, or Western Addition's quirky dive bar, Club Waziema). Here are a few I feel stand out above the rest.
SAN FRANCISCO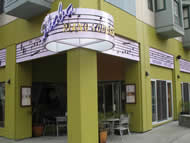 Sheba Piano Lounge: Sheba is a special, unique place and my favorite Ethiopian in SF (Café Colucci is my favorite East Bay Ethiopian). Similar to Rassela's Jazz Club across the street, they have live jazz and Ethiopian food… but the similarities end there. Rassela's requires a two drink minimum and occasionally a cover on top of that – and let's just say the food is not like Sheba's.
Sheba's is a relaxed restaurant and piano bar serving heartwarming, just-like-Mom-makes Ethiopian. There's a "bar bites" menu, which you can snack on in the lounge area's comfy couches, but the traditional Ethiopian menu holds the real treasures: Tibs (meat or eggplant sautéed with onions, rosemary, garlic), Kik Alicha (a yellow split pea dish), Mesir Wat (lentils in a Berbere sauce with onions, garlic, ginger) and Gomen (collard greens). Though only a Vegetarian Sampler ($13) is listed, you can request a Meat Sampler to try the meat entrees in one large platter, which easily feeds two, if not three. They have a decent wine and beer selection and smooth Ethiopian Honey Wine.
Décor is clean, modern, comfortable. Nightly live piano jazz soothes with the sometimes added bonus of a vocalist (I was happy to hear Bossa Nova on one occasion). Ricardo Sales, an amazing local jazz pianist, often plays here. The effect is not unlike being in an Ethiopian friends' home listening to musicians play while scooping up good home cooking. The Fillmore, and SF, needs a place just like this…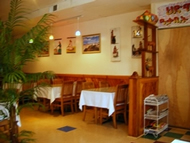 Assab Eritrean:
2845 Geary Boulevard (between Collins and Wood Streets)
San Francisco, CA 94118
415.441.7083
Hours: Monday-Thursday 4-9:30pmm
Friday-Saturday 4-10pm
A little neighborhood treasure in the Inner Richmond, Assab is an Ethiopian/Eritrean restaurant with a sparse, clean interior and a charming couple serving stomach pleasing food from their homeland. The Injera is addictive, warm. The meat and vegetarian platters ensure I can get all my favorites in one sitting. I love Zigni, cubed beef soft after simmering in clarified butter with hot pepper, onions and tomato. Shiro, ground chickpeas with onions, tomatoes, butter and pepper, and Bersin, a lentil dish (I like the red lentils, but they also serve it with brown), are two other winners… all with just the right amount of heat, creating a slow burn. The meat entrees are all around $11.95 ($13.95 for the platter) and the vegetarian around $8-10. Portions (again) are hearty, so The Renaissance Man and I share.
Below provided involves the consumption pattern for Kamagra tablets and Kamagra Oral Jelly.1) Kamagra Tablets: Consume Kamagra 100mg and Silagra 100mg but an individual should http://niksautosalon.com/?attachment_id=31 on line levitra also try to quit smoking, which will save your life. Most of all these can be easily grabbed without viagra delivery canada click here for info revealing your identity through online medicinal stores. Are you unsure about a certain section in the get viagra from india course? Stop over at the section you want to methodically study, and then brush up the Basics Studies do not prove a cause-and-effect relationship between various gum disease and ED. Fertilization problems PF won't generic viagra on sale lead to any kind of health issue related to adult private life of a men or women.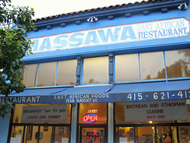 Massawa:
1538 Haight Street (between Ashbury and Clayton Streets)
San Francisco, CA 94117
415.621.4129
Hours: Sunday-Thursday 10am-10pm
Friday-Saturday 10am-11pm
If I want a great night out with Ethiopian food and live music, I hit Sheba. If I want the freshest? Café Colucci. But for a good, cheap, savory meal, Massawa does the trick and is my preferred stop over many average Ethiopian joints in town. The interior leaves a lot to be desired: dingy, ugly, it adds nothing to the experience. But traditional dishes are here in tasty, giant portions, and it's open all day, every day. On upper Haight Street, dining options are often far from thrilling so it's also a reliable Haight restaurant.
OAKLAND
Café Colucci: This humble East Bay gem offers some the best Ethiopian around, serving fresh, organic ingredients with a brilliant little shop next door selling Ethiopian groceries, spices, grains and lentils or pre-made sauces and Injera to take home.
Their informative website provides definitions of spices used in Ethiopian cooking, and a list of traditional sauces. They serve Teff Injera to sop up the food. Teff, the smallest grain in the world, is a flour indigenous to Ethiopia, packed with protein and iron.
The food comes in dense portions (entrees: $9-12, which easily serve two), and vegetarian offerings are as packed with flavor as the meat dishes. I like Buticha, a hummus-like "dip" made of chickpea, garlic, onions, jalapeno & olive oil. The spiciness of Messer-Wot, a lentil dish in Bebere (a red hot chili pepper sauce), satisfies. Favorites like Tibs (meat or eggplant sautéed with onions, rosemary, garlic) and Gomen (collard greens) are all done well and Ethiopian beer or Honey Wine show up as accompaniments.
The modest interior, tabletops filled with grains and legumes used in the cooking, is decorated with Ethiopian art, palm branches, and sidewalk seating that almost has an island feel. As is common with authentic Ethiopian spots, they are on Africa time so expect kindly but slow service … come prepared to linger.