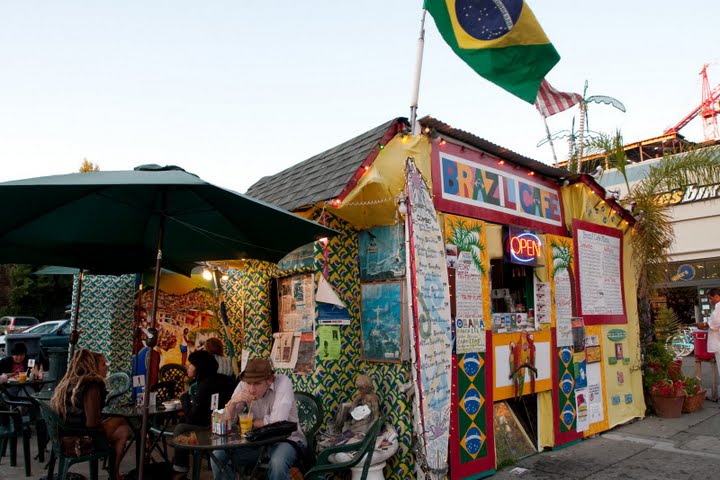 Top Tastes is my usual run-down of tastes over the past two weeks. Rather than a list of all-time favorites (another thing altogether), it's highlights since my last newsletter, often from new openings. Many don't make the cut, being a revisit written about before or simply not as stand-out as dishes mentioned.
SAVORY – MEAT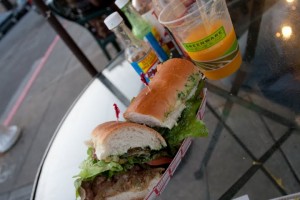 • Berkeley's Brazil Cafe feels like vacation… hit the original, street-side stand (they now have an indoor restaurant down the street), draped in palm leaves, with umbrella-covered tables, faded posters of Rio, a surfboard menu, and friendly owner, Pedro Robin, who seems like he lives a perpetual vacation.

A Mango or Avocado Smoothie washes down the insanely tasty (fast becoming legendary around Berkeley) Tri-Tip Sandwich ($7.99), doused in addictive cilantro garlic sauce. Tender, juicy tri-tip is loaded with pineapple, jalapeno, green olive, tomato, onion, lettuce – a small bit of each for overall balance. Really, perfection in a sandwich. I'm salivating just thinking about it.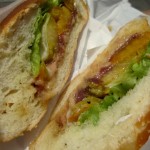 • Though I think $15 is an insane amount to pay for a sandwich of this size and from a lunch window next to Enrico's in North Beach, Naked Lunch (skilled Chef Ian Begg, of now-closed Cafe Majestic) serves some truly gourmet sandwiches at a worthy $8-9… until you get to the mother lode: the $15 Foie Gras Torchon & Duck Prosciutto Sandwich with Heirloom tomato, butter lettuce, white truffle oil. You might still be hungry afterwards, but it's well worth trying – a luscious, luxurious, if spendy, sandwich.
SAVORY – VEGETARIAN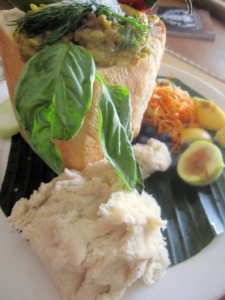 •  It was with humor and reverence that I entered Doc's Clock blissfully greasy bar on a Sunday, ordered a peppery Bloody Mary ($8) with a tender piece of tri-tip and two stalks of asparagus (all of which bartender, Ryan, grills himself some Sundays), placed it on my Michael Jackson (Jackson 5 days) placemat and opened up a Bible to the Three Papayas menu inside.

Three Papayas is chef Ta-Wei Lin, who just launched Vietnamese brunch every Sunday afternoon from 12-4pm at Doc's. Portions are huge and all $8 (about 5 of them). Chef Lin garnishes plates with seasonal, delicious fruits like figs, passion fruit and, of course, papayas. Lin's creative plates are fun enough to look at, but even more fun to eat. I dig the Vietnamese Crepe (vegetarian or with pork & shrimp), Papaya Salad, and for cardamom and daal (lentil) lovers, I recommend the unusual Bunny Chao, a hefty, hollowed-out loaf of bread (with filling piled neatly on the side) overflowing with green lentils, veggies and cardamom-pods. Amen and hallelujah!
• Probably my favorite dishes (at least of the few I was able to try due to 30 minute+ lines) at the madly-packed SF Street Food Festival were Aziza's. Their "Bite", a Squid Salad ($3) with maras pepper, preserved lemon, cabbage, mint and cilantro, was explosively bright, and their "Forks & Fingers" main dish, a Moroccan "Taco" ($8), was a thick, grilled flatbread drizzled with harissa, filled with yogurt and veggies – or lamb, if you so desired. Yum.
SAVORY – SEAFOOD
•  The trek down to Mountain View provides something we don't see a lot of in SF, despite our excellent Tenderloin 'curry houses': upscale, creative Indian food with cocktails (yes, Amber attempts this). New Sakoon is sleekly designed, with upstairs lounge and striking fiber-optic light fixtures oozing a magical glow. I'm partial to the Kerela Fish Curry ($18), a finely cooked sea bass with shrimp and scallops joining in, covered in creamy coconut curry sauce. It partners well with The Mistress of Spice cocktail ($8): Cuervo Traditional tequila, Rhum Clement Creole Shrubb, 5-spiced mango nectar, lemon, salt rim. I couldn't get enough of their Naan – especially Rosemary Pesto.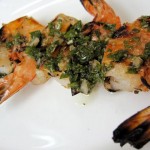 •  Since it opened, I've had a problem with the overpricing at Nettie's Crab Shack, much as I adore the bright, New England-meets-California decor. In a recent re-visit, I found a more affordable way to eat here than $17 Fish & Chips or $36 Lobster Rolls (ouch! Even in NYC, mid-20's is the highest I paid for the best I've ever had at Pearl's Oyster Bar).

I started with Blueberry Skillet Cornbread in maple syrup ($5 for two big pieces), four juicy Gulf Prawns on a skewer ($10), a lovely Halibut Fish Taco ($5) and a perfectly grilled Sardine ($4). Four items for the cost of one of the main dish highlights. The outdoor grill gets going at noon and with a $7 Boston Swizzle (bourbon & lemon in a frosty, julep-like cup), it's a pleasant lunch.
• Jai Yun is a Chinatown classic known for its multi-course, Chinese feasts – starting at $55 a person. Those dinners add up but a cheaper alternative is try it at lunch on a weekday where a mere $18 gets you five starter tastes (pickled vegetables, ginger and other delights) and 6 dishes, many of which are served as part of the dinners. I'm such a fan of being able to taste many things, rather than being limited to one or two, and this lunch delivered. My favorite was an Octopus Salad, punchy with chilis and a flavorful broth.
SWEET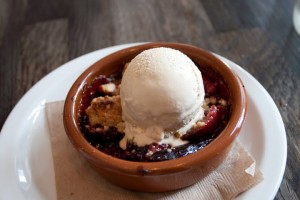 • I recommend brand new Starbelly (from owners of wildly successful Beretta), because new opening kinks and all, it's already an ideal urban comfort food spot with fine beers on tap, gracious service and reasonably-priced gourmet goods (hello, Corn with mascarpone & garlic!) A first go-round at Starbelly led me to a finale that topped it all: Warm Strawberry & Fig Crumble ($7) with my beloved Humprhy Slocombe's balsamic-caramel ice cream.
• Summer (and ANY time) is the right time for ice cream and Tara's is a happy addition to the Bay Area, established in Sante Fe but moved to Berkeley last year. Thankfully, there's an SF option now as well as the Berkeley shop – you can get Tara's at the daily Island Earth Farmer's Market inside the Metreon. Not only are Tara's ice creams unique, full of flavor and organic, but the staff have excellent pairing suggestions – flavors you might think wouldn't go together, end up making wonderful partners. Why not try Basil and Banana? Sweet Corn and Sage? Black Sesame stands strong alone. Ask them.
• Not being a cream puff lover, it says a lot when one wins me over… I tried a few at new Pacific Puffs, but my 'hats off' to the Classic ($3.25), oozing vanilla custard, crowned with chocolate. From the owners' long-held family recipe, it does them proud.