Top Tastes, rather than a list of all-time favorites (another thing altogether), are among the best eats since my last newsletter, often from new openings. Many don't make the cut, being a revisit previously written about or simply not as stand-out as dishes mentioned.
CHEAP EATS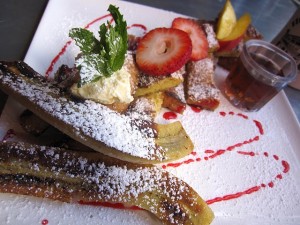 **2013 Update: I strongly recommend against Red Door. The longtime host/owner insults locals and those who've been dining there since their early California Street days to show off for tourists and suburbanites. He claims to be doing just the opposite when he handpicks from those waiting in line who he deems "special" enough for the privilege of his "unique dining experience." When you have to say over and over again that you're "not trying to be bitchy," as he did, that speaks for itself.

One should never be insulted or judged for their appearance (especially whenb completely in error), much less pay for it. There are hundreds of amazing places to dine in SF and this is not one of them. I found it almost hilarious that he dared to insinuate my husband and I were from Walnut Creek (we've lived in the city for over 12 years and I grew up in LA & NYC areas) because we committed apparently his cardinal sin: wearing sunglasses on a sunny morning while waiting outside in line (it should also be noted that we both have dressed retro of different eras from the 1940s-70s since our teens, so we don't dress like suburbanites either — again, not that we should be judged either way).

He would not seat us because he said he could "not see the whites of our eyes," (!?) and sat the tourists behind us instead. As we waited before he came out, people on both sides of us mentioned the suburban towns they were from while we were apparently the only locals in line. We won't ever be those chumps again. His judgement was way off and ridiculously insulting. 
Red Door Cafe – I was bummed when this quirky breakfast spot closed down (making way for the nice but underwhelming Olea) on California Street. It has re-surfaced on Bush Street (at Franklin), in a smaller, but still funky space, with playful service and towering bagels. At around $11.99, they're pricey, rather mediocre bagels, but they come in presentations you haven't seen the likes of. Their French Toast Josephine ($9.50, add $1.75 with Caramelized Banana) remains the reason to go, particularly with the banana added.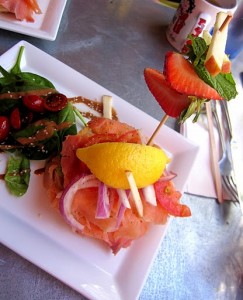 Pica Pica – At a pre-opening party for this Napa favorite debuting its first SF location, we enjoyed small bites of menu items and pours of Sangria, fresh Passion Fruit juice and a fabulous, frothy Coconut Milk Lime drink. Female-owned and launched by Adriana Lopez Vermut, love for her native Venezuelan cuisine shows in the care with which she modernizes it with uber-fresh ingredients and dipping sauces.
Favorite tastes include a glorified grilled cheese ode, the "Maize-Wich" ($7.99): sweet cornbread with ham and cheese. I particularly like the savory/sweet combo of Pabellon Cachapa ($8.99): skirt steak, black beans and cheese topped with sweet plantains on a sweet corn pancake/cachapa.
There are traditional Arepas ($7.99), available in a myriad of toppings or fillings, plus Empanadas ($3.99), soups ($3.99-$5.75), salad ($3.99), sides of plantains and salsas. I appreciate the clean, bright interior functioning as high quality Venezuelan fast food on the go or to eat in.
Ike's Place – Sure, this sandwich mecca is old news, but I've been going for years and despite the now sick crowds which have led to lawsuits from neighbors, this tiny hole-in-the-wall still shells out some of the best sandwiches ever, even if the only time to get them with a mere 15 minute wait is a Tuesday morning at 10:45am.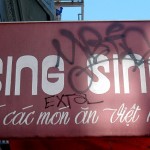 Recently, I ordered a Mark Cuban ($8.98), not pressed like my beloved Cubano, its inspiration, filled with ham, pickles, jalapenos, Jack cheese and Ike's Godfather Sauce mixed with their now legendary Dirty Sauce. Keep it decadent with a Manage-a-Trois ($11.11): Halal chicken breast, honey, honey mustard, BBQ sauce, Pepper Jack, Swiss, Smoked Gouda. I love it all, but one of my best remains Paul Reubens ($9.99): sliced corned beef, Swiss cheese, poppy seed coleslaw, French dressing. With news of Ike's impending closure and relocation, it's getting scary to think we may be without it for awhile… if only Ike's customers were more respectful of neighbors (noise, leaving trash around, etc…), the lawsuits maybe would not have happened?
Sing Sing Sandwich Shop – It couldn't be sketchier, this Tenderloin/Little Saigon dump with graffiti-ed signage and dingy interior. Vietnamese music videos pep it up. I felt immediately transported back to my month in Vietnam as a slew of older Vietnamese gentleman played Keno-like games in the back, while younger guys chatted me up at the counter.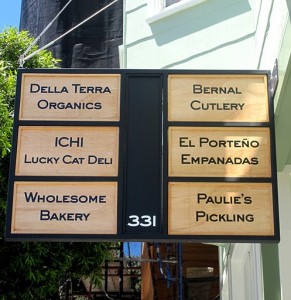 They only make one thing: Bahn Mi ($3). And it's only one kind of Bahn Mi. Classic pork pate with usual carrots, cilantro, jalapeno, mayo, in crunchy French bread. You're braving the elements for this one, but it's a deal and authentic bahn mi experience.
Wholesome Bakery – This former farmers market regular now has a permanent home, along with other treats I crave, like ICHI Sushi and El Porteno Empanadas, in Bernal Heights' brand new, little 331 Cortland Marketplace. Their regular chai is done Bombay-style, which is the more common. On a recent Sunday, they made a Calcutta Iced Chai ($3.75), heavy on the cardamom and quite refreshing.