In my travels last week through the magical land of Tequila, Mexico, I tasted, yes, ridiculous amounts of tequila from a wide range of distillers, but also at various restaurants and bars. After watching tequila being made and sampling it in its homeland, I gained a deeper appreciation than I already had for the agave spirit.
Here are three superb but uncommon tequilas only found in Mexico or in the states with some investigative cunning. Of course, the incomparable Tommy's Mexican Restaurant here in SF at one time or another stocks every one of these by the pour if you wish to sample.
San Matias Gran Reserva Anejo
San Matias' Gran Reserva Anejo is distilled in Ojode Agua, Jalisco, aged three years in French oak barrels, and is a shocking value in Mexico at less than $20 a bottle. Recommended to me by a restaurant owner on the outskirts of Guadalajara, I was pleased by its gentle amber color and subtle notes of orange peel, roasted apples and smoke playing off the herbaceousness it thankfully retains despite age (a fault I sometimes find with anejos). When asking locals why it's so cheap compared to other anejos, they said it's because it's about 80% agave vs. a high quality 100%. Their website says otherwise, claiming to be 100%. I may never know the truth, but I can say this was a favorite find during my time in Mexico and certainly the best deal.
Arette Unique Reposado
Arette was one of the distilleries I visited in Tequila and has become a favorite, specifically for their fabulous, reasonable (around $60 a bottle in US, $30 in Mexico) Reposado Artesanal (they also have a basic reposado). But the one everyone claims can only be purchased in Mexico is their Unique Reposado (there's a Unique Blanco and Extra Anejo as well). Though I see K&L Wines can special order it and even if I actually prefer the Artesanal repo, the Unique impresses with its refined balance, aged 11 months in white oak bourbon barrels. Nuanced and subtle, it's a fine reposado intro for the uninitiated.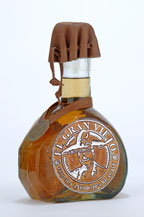 I was more excited by the rare, small production Gran Clase Extra Anejo, aged over three years with woody mellowness yet herbaceous, agave properties… and the extra anejo El Gran Viejo with its artistic, unusual bottle. It's warm with vanilla, almond richness, rested six years in bourbon barrels.
Reserva de los Gonzalez Blanco
Another sip recommended by a Mexican local, Reserva de los Gonazalez has Don Julio ties.
Its directors are Eduardo and Francisco González, sons of none other than Don Julio González. Produced in Los Altos, Jalisco, and made from the Tequilana Weber blue agave plant, the Reserva Blanco is 100% pure agave, clean, reminiscent of Don Julio's blanco with a gentle sweetness, floral, grassy notes, and plenty of agave.
DON JULIO's Master Distiller visits SF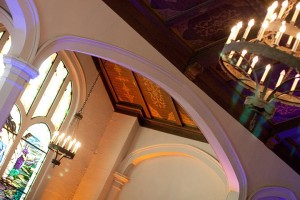 I've long said it: Don Julio is the one huge tequila brand I love. Though my favorite tequilas are less than mainstream, Don Julio remains consistent, especially with their refined reposado. I couldn't miss the chance for an afternoon with their master distiller Enrique de Colsa when he was in town last week.
Fresh on the heels of my trip to Tequila, Mexico, I felt like I was still there, albeit in a striking Dolores Street church transformed into a stained glass temple to all things Julio.
We tasted through the entire line, of course, enjoyed a fine Mexican lunch from the skillful 15 Romolo crew, and participated in Luxury Drop, a Top Chef-style mixology contest creating shots on the spot with fresh ingredients. Luxury Drop is a Don Julio concept conceived in London in 2009 with six of the world's biggest mixologists (in case you're curious, it was Salvatore Calabrese, Simon Difford, Dale DeGroff, Peter Dorelli, Gary Regan, and Hidetsugu Ueno). With the idea of creating modern interpretations of the classic ritual of pairing salt and lime with shots of tequila, bartenders all over are pairing ingredients with tequila shots and an accompanying ritual.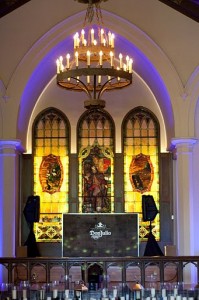 At 80 proof and all twice-distilled, Don Julio's elegant tequilas remain a standard. Blanco ($35) captures the essence of Tequila's Highlands with a sweet agave nose, bright lemon/lime and pepper to taste. The aforementioned Reposado ($40) has long been my Julio choice, aged for eight months in American white oak (Jim Beam and Four Roses barrels). I love its woody, dry sweetness but also herbaceous qualities accented by cinnamon and vanilla. I've heard it said it's a bourbon-lover's tequila. I guess it's obvious, as I'm a bourbon devotee? Anejo ($50) is maybe my least favorite in the line, yet strikes a fine balance: sweet but not syrupy. It has a dark chocolate earthiness married to maple, nuts, caramel.
Don Julio 1942 Anejo Tequila ($100) was a 60th anniversary release in 2002 and remains an example of the range tequila can offer. It's also my ideal savory/sweet "dessert". Distilled in a small pot still for its second distillation, it's aged 24 – 38 months. Though the nose hits you with vanilla, it's not too sweet, instead is a layered mix of salted caramel, coffee, cinnamon spice, pepper, toffee, with a fine strain of agave shining through. This one's gorgeous and you'd be a classy big shot serving it as an after-dinner pour.
Don Julio Real Extra Anejo ($350-$400) may not be the worth the price for many, but it's a special pour. A light, golden brown, it's aged 3-5 years with balance it's leading characteristic. Yes, you get black pepper, citrus, even that clean slate and hint of smoke essence one gets in mezcal. Thankfully, the usual barrel-heavy, butterscotch sweetness of a typical anejo are absent here. What remains is a nuanced, light, sweet spice.