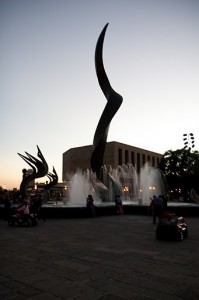 The gritty air and poverty in Guadalajara faces you as soon as you take a cab from the airport to downtown. But this first glimpse is hardly the make-up of the place. As dusk falls and you wander Plaza Tapatia, an enchanting 17-acre walkway that goes on for blocks in the Centro Historico (historic center) behind the largest and most famous cathedral in the city, families are out laughing and playing together. They wander the plaza, eating street food, blowing bubbles kids chase down the plaza or buying whizzing, whirring toys that light up like shooting stars as you catapult them into the air.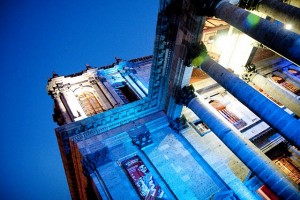 There's a European feel reminiscent of town squares of Spain or Italy, where families spend evenings together taking in the town. The glow of the cathedral is ethereal while the Plaza's many fountains release a gentle mist that cools the heat and smog of the day. Here I sensed a whisper of the core of Guadalajaran people and culture, which unfolded further over the week. Certainly its riches are partly exhibited in its food…
LA FONDA DE SAN MIGUEL, Centro Historico – Points go to La Fonda de San Miguel for most magical atmosphere of any restaurant on my trip (though El Sacromonte, below, is a close second).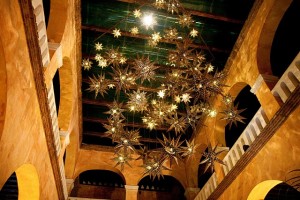 A flew blocks from the bustle of Guadalajara's Plaza Tapatia, this haven opens up at the end of a long hallway laced with Jesus and Mary statues into a massive, Spanish villa-style atrium, twinkling with Mexican star lanterns over a giant fountain. As a parrot owner, I was charmed by hand-carved parrots on each chair's back, and cages full of various-sized parrots and birds surrounding the courtyard.
The only-in-Spanish menu sounds mouthwatering. There's even a long list of cocktails… debate amongst us drink industry folk ensued as to what ingredients might be in drinks like a "Bull" (turns out many of them are some form of spirits and Mexican beer or spirits and juice).
Though I ate Guacamole (68 pesos, approx. $5) everywhere, this version is enlivened with fresh mango chunks. Paired with a damn good Pina Colada (54 pesos, approx. $4.50), I was off to a joyous start.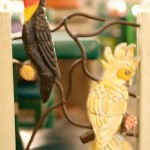 Pechuga San Francisco (129 pesos, approx. $4.50) is chicken stuffed with huitlacoche… yes, corn fungus showed up all over the region, this dish in particular appearing on more than one menu. Finally ordering it here was a bit of a let down since the chicken was excessively dry. Epazote sauce couldn't moisten it up enough.
Faring better is their popular Molcajete, another specialty of the region: stone mortar cauldrons bubbling with sauce, cheese and meats. My friend had a chicken version in a tart tomatillo sauce, though I preferred my Molcajete del Mar (140 pesos, approx. $11.50) filled with fish, shrimp, celery, onion, chiles, in a creamy tomato sauce, bubbling with melted cheese.
Another dish that sounds better than it tastes is Camarones Gustaf (168 pesos, approx. $14), looking more like an artful shrimp salad with seasonal fruit, cucumber sauce, and lemon. If I were able to taste the lemon, I think it would have perked it up, as would a zippier cucumber sauce.
With an ultra-gracious host, surrounded by chirping birds and the glow of candlelit romance, we left happy, despite not tasting one overwhelmingly great dish.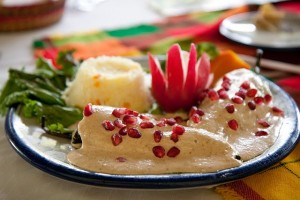 EL RINCON DEL SOL, Tonala – El Rincon del Sol feels like vacation under a covered patio with zesty margaritas and one of the best (if not the best) Chiles en Nogada (meat-stuffed poblano in walnut sauce with pomegranate seeds) I've had. A favorite Mexican dish of mine, here the walnut cream is rich yet light, playing off ground beef inside a stuffed pepper.
Finding the low-quality, Velveeta-like cheese of the Tex Mex-style queso fundidos I've had in Texas or Oklahoma unappealing, I was delighted to find Queso Fundido in Mexico is another thing entirely: a plate or bowl full of melted cheese (not a creamy dip) usually covered in rosy-pink chorizo.
Amidst cobblestone streets and the renowned arts and crafts shops of Tonala, El Rincon del Sol is a delightful respite.
EL SACROMONTE, Zona Minerva/West Side – El Sacromonte is on a residential, tree-lined street, difficult to find until you happen upon its welcoming awning.
The main dining room is tented but open-air with a tree covered in white lights growing out of one side. There's a romantic hush over the place and a warmth that exudes from the bar staff to our adorable, elderly waiter. None spoke English but aimed to please. Our tiny-but-spunky waiter noticed me taking notes off the menu and insisted I quietly slip the menu into my bag with a wink and a "Shhhh…"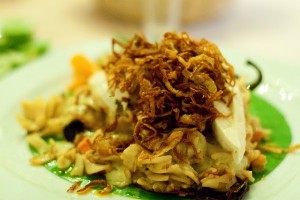 Review raves weren't wrong on its magic – everyone from NY Times to LA Times has weighed in on this out-of-the-way spot. Presentation is artistically impressive, especially considering the affordable prices. But there was a heavy amount of shrimp (I even reached camarones burn-out) and some plates were more style than substance. Overall, however, creativity shone in the Nuevo Mexican food, with delectable items like avocado and rose petal soup.
Santa Anita's Tartar (120 pesos, approx. $10) showcases earthy in a molded dip of avocado cream, huitlacoche ("corn smut" to you) and rice with fresh shrimp. Cold and mild, guajillo chiles give it a perk.
Palm of Mallorca (125 pesos, approx. $10) was my favorite starter. A chile stuffed with noodles and shrimp, drizzled with basil cream and addictive fried onion crisps, it's truly a unique dish.
San Marcos Chicken Mole (125 pesos, approx. $10) is described on the menu as "the best mole than you have proven with the authentic recipe of Coronado's grandmother". Though English translations are hilariously off on the menu, they weren't wrong on this mole's stellar quality. Dotted with pickled red onion and sesame seeds, it's a dark, spiced sauce robust with layered flavor, even if the chicken was a tad dry. Oaxaca is the origin region of mole, one of my most beloved eats, yet El Sacromonte represents well with their version.
Their signature dish is Queen Elizabeth's Crown (190 pesos, approx. $15): juicy, plump shrimp woven into a seamless "crown". I was on camarones burn-out as I neared the final third of the dish, however. Its lush, creamy lobster sauce began to wear, too. Salty and rich, the dish was certainly intriguing (and best shared), dotted with dissolving fried spinach, even if I could not finish it.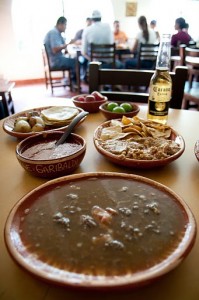 KARNE GARIBALDI, Zona Minerva/West Side – Karne Garibaldi holds the Guinness Book of World Records for fastest service in the world (13.5 seconds) due to the fact that they serve only one dish in small, medium or large platters: carne en su jugo, shredded beef and bacon simmering in a beef broth. Rounds of sides come out: homemade tortillas, addictive, whole grilled onions, veggies, and their famous refried beans with corn, which they sell by the can.
Service is cheery (no English spoken) and the filling spread totals to less than $10 a person with drinks. Oh, they also serve a mean (as in delicious) homemade horchata.
LA CHATA, Centro Historico
– The best breakfast of my trip and a spanking clean stop for classic Mexican dishes,
La Chata
is conveniently located in the historic center of the city with huge platters of food for a few dollars.
Watch the kitchen staff mold fresh tortillas and guacamole in the front kitchen, then order a hefty bowl of beloved soups, like regional favorite pozole. Their moist, flavorful chilaquiles are among the best I've ever had and come in a variety of breakfast combo platters with the likes of eggs, beans, potato hash. They also pour refreshing juices squeezed in-house, like a bright carrot-orange juice.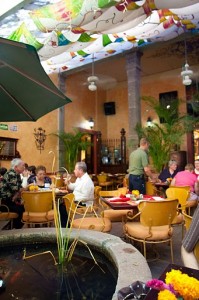 CASA FUERTE, Tlaquepaque – In my favorite area of Guadalajara, artsy, design-driven Tlaquepaque, is the somewhat touristy Casa Fuerte. Though plenty of locals dine here, there's an English menu (we went for the Spanish one) and frozen margaritas at every table. Thankfully, our waiter understood "on the rocks" so we were treated to two margaritas, including a Tamarindo, the best tamarind margarita I've yet had. The regular limon (lime) was decent, though not great.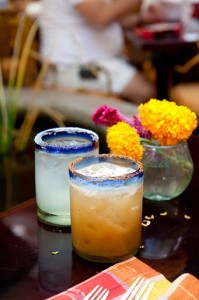 Under a leafy patio, next to a fountain full of koi fish, with a jazz trio playing soothing bossa nova, lunch here feels like vacation, so it's easy to see why it's far-and-away the most popular restaurant in the area.
I was wowed by Torta de Elote Colonial (68 pesos, approx. $5). A creamy corn cake reminiscent of polenta, drenched in a poblano/tomatillo sauce, it's a regional specialty that's completely satisfying. Not so with Beef Fajitas (68 pesos, approx. $13) with mushrooms and peppers, nor a bland Chile Relleno (89 pesos, approx. $7) filled with ground beef. Though the menu is hit-and-miss, I'd return to Casa Fuerte again to bask in its relaxing, jazz-drenched patio with one of those tamarind margaritas.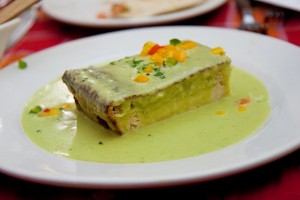 CAFE MADRID, Centro Historico – Though I can't say I was taken with milky, weak coffee (a common plight around the region in my hunt for a decent cup), I appreciated accommodating staff at Cafe Madrid with its vaguely 1950's diner decor (oddly enough, I'd instead go down the block to Holiday Inn's in-house coffee shop for a stronger, better espresso).
A treat came in Jericallas (25 pesos, approx. $2), a traditional, regional milk custard. It's baked, puffing up to a golden brown, reminiscent of (but different than) creme brulee. Redolent with cinnamon and vanilla bean, it gives off a whisper of banana and cardamom, though neither are present.