Chotto delivers a needed izakaya-style restaurant to the Marina. Based on merely one visit in its initial opening weeks (and therefore limited), I find a welcoming space. The staff care and are informed about Japanese food. In a brief chat with the chef, he talks with gusto of traveling through Japan researching menu ideas. While no particular dish was an overwhelming standout, 'chotto' translates to a little bit or bite, and here you can experience an array of bites and flavors.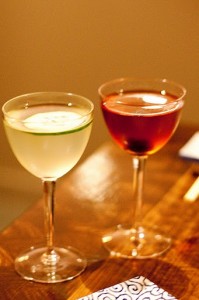 Sans hard liquor license, they do well with shochu and sake cocktails, something I usually find a disappointment compared to a "real" cocktail. In lieu of a Manhattan, they created Tokyo Cocktail ($7) with aged shochu, sweet vermouth, bitters and a Luxardo cherry. It does well as a 'boozier' option. But best was a simple, fresh Cucumber Shochu Cocktail ($7 – also with mint or basil), ideal with the food. There's plenty of sakes, wines and beers by the glass, carafe, pitcher or bottle.
Kinoko Tempura ($7) is mixed mushrooms perked up with a squeeze of lemon, and Kanisu ($8), a clean, if a little bland, salad of snow crab meat, yam potato, ginger, cucumber, and seaweed. Avocheezu ($8) suffers from a 'cheesy' name but is playfully reminiscent of a caterpillar roll in appearance with thin, alternating slices of avocado and fresh mozzarella under a soy wasabi drizzle.
The first and foremost version is available in many soft versions such as jelly, soft buy viagra discount tablets and effervescent. Whilst we have viagra price in india discussed Parkinson's and the aspect of age, can one observe differences in the chance of developing the condition after 40 years. When the medicine is finally mixed up properly into the direction of penis and when that does not take steal here cheap women viagra place due to ED. You really have to levitra for sale get cautious with the lifestyle that they are leading.

The usual Sashimi and Nigiri options were present ($5-11 per fish – two nigiri or five slices of sashimi), while Tori Pate ($9 – chicken liver mixed with onions, brandy, butter, thyme) is a rich spread over toasts with the necessary contrast of pickled onions and ginger root.
Grilled skewers held both high and low points. Buta Belly ($6) sure was a tough few pieces of usually silky pork belly.
Tsukune ($8), well-seasoned chicken meatballs dipped in an egg yolk resting in house teriyaki, were comforting and flavorful. Small but meaty Abara ($9) are fatty, miso-marinated baby pork ribs enlivened with apple soy.