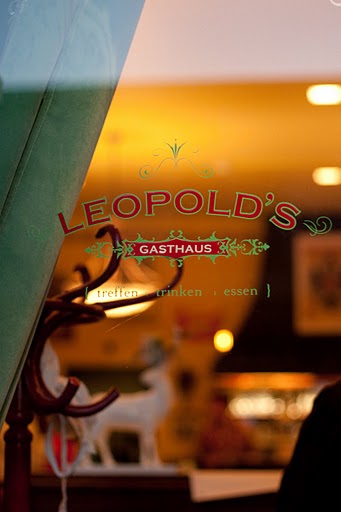 With the words Treffen (meet), Trinken (drink), Essen (eat) painted under the name, Leopold's offers something with no parallel in our city: an Austrian restaurant.
Leopold's opened quietly this past Friday night in a cheery, bright space on Polk Street housing animal heads, Austrian art, pine wood tables and booths.
Here, the relaxed warmth of a neighborhood beer haus (with a number of beers on tap and by the bottle, including Kostritzer Black Lager and St. Bernardus) meets dirndl-clad waitresses, all the while maintaining a refinement that doesn't cross the line into kitschy.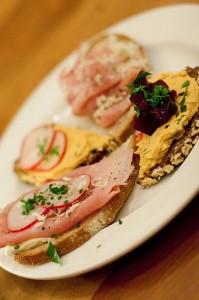 Brothers Albert and Klaus Rainer, from my favorite Austrian city, Salzberg, run the place with effusive charm. Though they must be working out new-opening kinks, my initial meal was seamless and delicious. Hungarian Goulash (borders of Hungary and Austria changed so often that regional dishes meld) is tender beef in a paprika-rich sauce with buttery, addictive spaetzle and a green salad brightened by lemon zest. Wiener Schnitzel is exemplary: prepared traditionally, lightly breaded, pounded flat with a squeeze of lemon, contrasted perfectly with more "fusion" sides of lingonberry sauce and a warm escarole potato salad. Entrees are quite filling at a mere $12.75 each, while the highest-priced menu item is Choucroute Garni Platter at $17.75.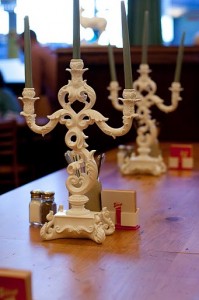 As in my travels through Austria, Switzerland and Germany, salads are ultra-fresh. Roasted beet salad ($6.75) rests on a light horseradish creme fraiche in a bed of mache and endive, accented by walnuts and radishes. Additional appealing starters include duck crepinettes, vegetable strudel and house-smoked salmon on potato cakes.
An off-menu starter of dense German breads made an impression topped with beets on a creamy liptauer cheese spread or Black Forest ham with fresh-shaved horseradish.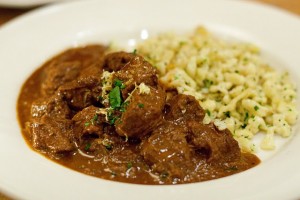 Wines are affordable at $20-34 a bottle, with plenty of glasses and carafes available. I delight seeing mostly wines from Austria, Switzerland and Hungary, with an additional few from Slovenia, California and Oregon. Save room for a slice of apfelstrudel (apple strudel – $5.75) in warm vanilla cream sauce.
This heartwarming haven is one I'm already plotting my return to.
2400 Polk Street (at Union)
415-474-2000
Sunday-Thursday, 5:30-10pm, until midnight Fri-Sat.