BIG BOTTOM MARKET, 16228 Main Street, Guerneville; 707-604-7295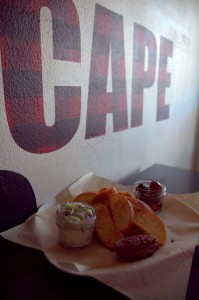 Amidst towering redwoods, summer heat, and parties along the Russian River is the small town of Guerneville, one of Sonoma's most unique towns, with vibrant gay community, laid back river/woods culture, and haunting redwood state park, idyllic for a quiet forest walk. On a recent summer weekend, barbecues and live twang bands added color to the bustling main street.
Foodies have a destination cafe/restaurant in Big Bottom Market, open since last summer by co-owners Michael Volpatt and Crista Luedtke (the latter owns neighboring boon hotel + spa and boon eat + drink restaurant), drawing crowds for breakfasts, lunch and cups of my favorite Sonoma County coffee, Flying Goat (their own special Big Bottom Blend). Their breakfast biscuits ($3-9) are stuffed with a changing array of goodness like bananas, peanut butter, strawberry white chocolate, or ham, Swiss and dill pickle (loved the mustard in the latter but was on the hunt for the ham). Offerings change daily and each biscuit is adorned with what's inside.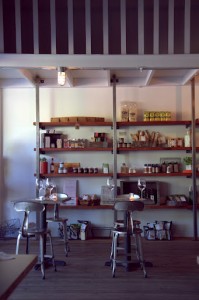 My recent weekend in Guerneville coincided with the launch of their dinner service (Thursdays-Saturdays only, 5-9pm). Executive chef Tricia Brown cooked at one of my all-time favorite restaurants anywhere, Gramercy Tavern in NYC, moving from Brooklyn to Sonoma for an entirely different life. With that pedigree, she is certainly cooking elevated "cafe" food. In the rustic farmhouse-feel shop lined with wood floors and wine and gourmet food items for purchase, there's comfort food for dinner like a Moroccan chicken tagine ($18) of apricot-studded couscous laden with Castelvetrano olives and toasted almonds, or green chile cheddar turkey meatloaf ($17) over chipotle mashed sweet potatoes.
Unexpectedly, sandwiches ruled: pinot pulled pork ($16) covered in spicy BBQ sauce, garlic aioli smeared on a toasted brioche, with sides of bourbon-bacon baked beans and cilantro-lime coleslaw (both $4 individually or 3 for $11), and a sandwich special of wild salmon, softly pink, almost medium rare, topped with slaw on buttery brioche. Both were made with care, blessedly robust in flavors and texture. Chilled cucumber soup spiked with mint and yogurt ($6) is a refreshing summer starter. Only a large pile of dry crostini felt out of place on a mezze platter ($9) of roasted red pepper hummus, lentil walnut pate, cucumber red onion yogurt salad and olives.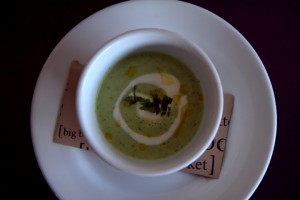 Small, local winemakers are featured on the wine menu, including a few of my go-tos like Thomas George Estates and Unti. They also feature different winemakers, like Sonoma's Paul Mathew Vineyards made by winemaker Mat Gustafson. I sampled all three of his featured wines, like a mineral 2010 Weeks Vineyard Chardonnay with slight citrus notes from stainless steel aging, rounded out by a hint of oak. I found the 2011 Knight's Valley Valdigue most interesting (and most affordable at $7 glass/$33 bottle). It's a chilled wine more akin to a Lambrusco or other chilled red with dry, strawberry notes, earthy yet bright.
Certainly when in Guerneville, one can enjoy the retreat-like (though dated) Applewood Inn, but Big Bottom Market hits at a lower price point though obviously more casual. For a sleepy (peaceful), small town in the redwoods nestled between vineyards and ocean, the Market's casual gourmet approach feels appropriate.
End the night at Rio Nido Roadhouse dancing under the stars out back to live music (blues, classic rock, etc…) Were it not for the redwoods and that clean, crisp Sonoma air, crusty, older cowboys, families and the dive bar/beer setting feels like you're in a small Texas town, embracing the warm Summer night.