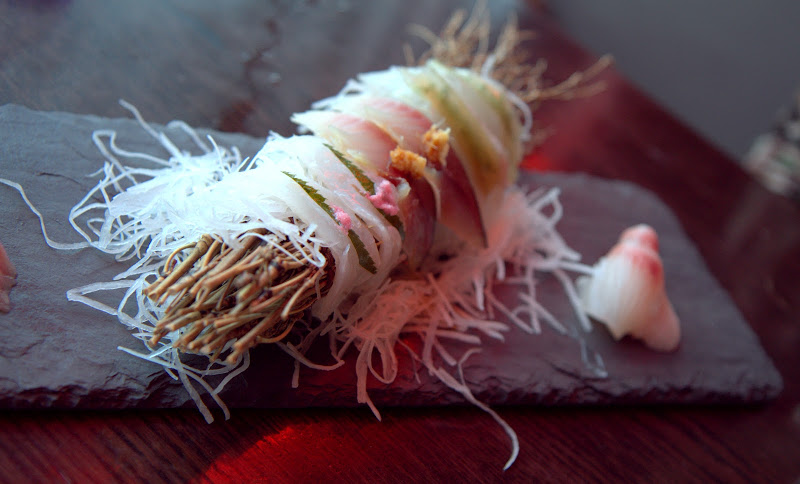 Sushi bars proliferate around SF with two more brand new spots on Russian Hill and in the Mission.
ELEPHANT SUSHI, Russian Hill (1916 Hyde St., between Green St. & Delgado Pl., 415-440-1905)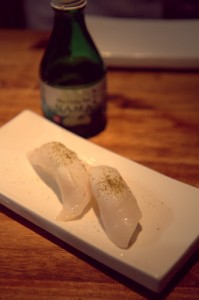 Think of Elephant Sushi as on "island time" (read: chilled out) and you'll enjoy your experience all the more. Reminiscent of early days at the original Sushi Bistro in the Inner Richmond when it first opened, dreadlocked waitstaff and reggae tunes set a relaxed, island vibe at Elephant. Soft opening in late August in the former Sushi Groove space, Elephant is in its infancy. Besides the Japan-meets-Jamaica spirit of the cozy space, Elephant sets itself apart at first glance with real wasabi (which I love eating on its own), housemade soy sauce and pots of intense, pickled ginger.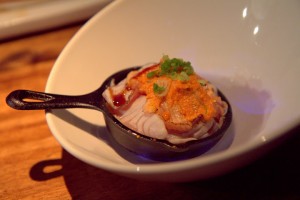 Winning points for doing what so few sushi restaurants do, even in our eco-conscious region, they source mostly wild or sustainably farmed fish, going the funky-fun route in their rolls and appetizers but not without freshness and precision in plain sight. Walu (Hawaiian term for escolar, the fish occasionally known to cause potentially unpleasant side effects in the… ahem… bathroom) is succulent and buttery here ($5 nigiri/$11 for 5 piece sashimi), among the best walu I've ever tasted. Sizzling mango seabass ($12) wins on presentation, arriving on fire in mini-cast iron skillet, thanks to sake and vodka, doused in masago aioli, Japanese chilis and scallion. But the dish was bland, a let down from the flashy flame of presentation.
Sipping sake or Sapporo on draft, I ordered crudo ($14) served in four spoons, two of young yellowtail in truffle oil, ponzu sauce, garlic chips and scallions, two of seared scallop in heirloom tomato, pickled wasabi stem and a tangy yuzu vinaigrette. If not quite the exquisite bites served at Bar Crudo, this crudo still pops with fresh flavor. Though varying in taste, maki (rolls) seems to be where their whimsical ethos best shines. Spicy King salmon ($9) rolled with cucumber, orange peel and masago roe in chili sauce is heavy on the orange notes, while the White Out ($15) is a mix of hamachi and avocado draped in more of that luscious walu (seared in this case – I prefer it raw).
The roll that stayed with me is the Boom Box ($10). I adore raw scallop, here with avocado, crunchy garlic chips and English cucumber. It's set apart draped in ripe banana with sweet soy glaze, a spanking fresh, of-the-sea dessert. Continue the banana theme with neighboring Swensen's banana ice cream ($3), placing Elephant Sushi firmly in the sleepy Hyde Street 'hood, a welcome addition I anticpate watching come into its own.

SUGOI SUSHI, Mission (1058 Valencia St. between 21st and 22nd, 415-401-8442)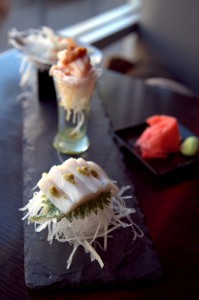 The building formerly housing Spork and pop-up Rice Broker was too cool to stay empty for long. In August, Sugoi Sushi opened in the space serving nigiri ($4.25-$7 for two pieces), five piece sashimi ($12-15), sushi rolls/maki ($6-$13), and a quite reasonable omakase tasting menu of roughly $40 for a few rounds of sushi. Mini-two person booths remain intact, while red walls, pillows of lime green and red brighten the space.
Friendly staff bring out plates that border on works of art, as fine sushi does, but in this case, even a step above many. Case in point: a sashimi platter as part of the omakase arrives on a stone slab, a bunch of twigs are bound together, covered in shredded daikon radish, draped with cuts of fish: masaba ($6) – Japanese mackerel, toro ($10) – blue fin fatty tuna, and kanpachi ($6) – baby yellowtail.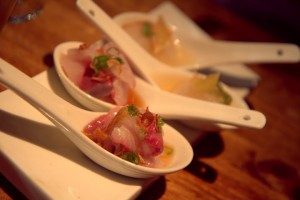 Another trio – raw scallops, escolar dotted with lemon seed mustard, and albacore belly bin toro – is presented three ways: in a cup, on a shell, on a pile of daikon.
While presentation immediately impresses, in each visit, there's been a funky piece of fish or two, though they emphasize sourcing fresh daily. Maybe it's source or style, but Japanese mackerel one visit was almost unbearably salty, while Japanese red snapper with truffle oil and sea salt was nearly gummy. Yakitori ($3) at times disappoints, namely a hot dog-like spicy pork sausage, while tender chicken thigh fares better.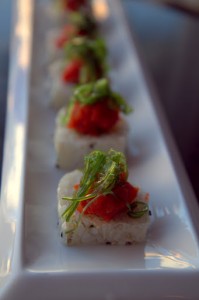 Rolls are filling and bright, like Golden Mountain ($14) packed with toasted salmon, scallop, crab, avocado, in curry tempura, or Hot & Cold Tuna ($12), of deep fried spicy tuna covered with maguro roe and seaweed salad. Sashimi-like slices of seared blue fin toro ($18) are a bit salty but fresh in chili sesame sauce and curry onion tempura, adding a rich, savory layer to the fish.
While Sugoi is still clearly on the hunt for its identity with consistency issues, the funky, relaxed space on Valencia Street and the artful eye of its sushi chefs hold promise, steps beyond other sushi restaurants lining the street.