2012 was an excellent year in cookbooks, holding in its months treasures like Nancy Singleton Hachisu's inspiring Japanese Farm Food, Lonely Planet's comprehensive Food Lover's Guide to the World, the Middle Eastern mash-up from Sami Tamimi and Yotam Ottolenghi's Jerusalem, Photographer Todd Selby's artful masterpiece, Edible Selby, or Magnus Nilsson's fairytale ode to rustic Swedish cooking, Faviken.
2013 has likewise been a rewarding year in food books. Here are some of the best of 2013, whether cookbooks or non-fiction reads, many of them just out this fall or about to be released.
Books
INSIDE the CALIFORNIA FOOD REVOLUTION – Joyce Goldstein with Dore Brown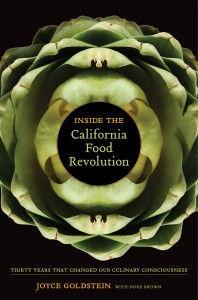 I couldn't be more proud to be a Californian reading Joyce Goldstein's, Inside the California Food Revolution, a well-documented account of the way California cuisine of the past 40+ years has changed the way the country – and the world – eats. This isn't merely research, however. Goldstein has lived it, being a pioneer with her restaurant, Square One (and subsequent James Beard award). Goldstein offers bios and background on a large array of influential chefs through recent decades, from Alice Waters and Susan Feniger, to Charles Pham and Wolfgang Puck. From Los Angeles to San Francisco, she digs into California's influence on the way the country uses produce, approaches seasonality, empowers female chefs, its food purveyors and farmers, open kitchen cooking, casual quality dining, and countless other ways California shaped the nation's restaurant revival by establishing trends over the past 40 years.
SAN FRANCISCO: A Food Biography – Erica J. Peters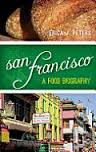 Erica Peters' San Francisco: A Food Biography is a detailed account of aspects of SF's food history that aren't often explored. Instead of highlighting hot chefs, restaurants, producers and movements of recent decades – a worthy subject often covered – Peters takes a historian's longview. She delves into characters, restaurants and ethnic groups that shaped the city's vibrant food culture back to Gold Rush days, and even before. Peters digs into signature recipes created here, markets, restaurants and retailers that made us a culinary destination over a century ago, even listing menus and recipes from historic restaurants and local cookbooks. The chapter detailing influential cookbooks from 1872 to the 1970's is particularly fascinating. This book is a must for hardcore Bay Area food lovers/historians.
ANYTHING THAT MOVES: Renegade Chefs, Fearless Eaters, and the Making of a New American Food Culture – Dana Goodyear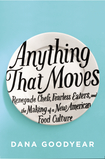 An enjoyable read I sped through in a couple sittings, Anything That Moves by So Cal-based Dana Goodyear, chronicles the foodie renaissance as we know it, the worldwide obsession with food, how it affects food journalism today (as detailed in the first chapter on revered LA food writer Jonathan Gold), the pursuit of extremes (insect, guts, blood) by hardcore foodies, or hunting for the rarest of products and edible parts by purveyors and dealers. Possibly the most rousing chapters are "Double Dare" and "Haute Cuisine", delving into the complex subject of how much or if the government should be involved in telling us what we are allowed to eat. Bringing contextual perspective to the rise in "foodie-ism", Goodyear quotes "a guy named Thad" in the introduction, who she dines with in LA. She says, "So is foodie-ism greed or resourcefulness? If it were a matter of survival, there would be no difference. But this movement is about pleasure – pleasure heightened at the brink calamity. Thad flashed a bright white smile and said, 'If this is the end of the world, give me a fork and a knife.'"
Cookbooks
COI: Stories & Recipes – Daniel Patterson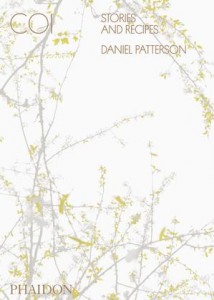 It's hard not to be inspired when glancing through the pages of Daniel Patterson's ode to food, Northern California and his famed restaurant, Coi (with forewords by Harold McGee and Peter Meehan). The opening section (appropriately titled "California") displays stirring photos of farms, ocean waves and San Francisco fog, while section two thoroughly outlines Coi kitchen techniques and practices. The book displays Patterson's signature purity with regional ingredients like spot prawns and Monterey Bay abalone, or unusual combinations like carrots roasted in coffee beans, accented by mandarin oranges and mint. Interesting desserts include coal-toasted lime marshmallow or a beet rose with rose petal ice. Butter, cheeses and mushrooms are explored to an artful degree, all interspersed with minimalist yet compelling photography.
MANRESA: An Edible Reflection – David Kinch with Christine Muhlke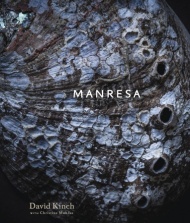 Two Michelin-star powerhouse, Manresa, has been one of the Bay Area's best fine dining restaurants since 2002. In his just released coffee table book (foreword by Eric Ripert), Chef David Kinch explores the best of his restaurant's decade-plus history, from launching their produce supplier, Love Apple Farms, to produce illustrations and ingredients glossary. The book explores the complex, understated recipes of Manresa, whether cioppino jelly, fig and wild fennel confit, or smoked avocado ceviche. There's also a drinks section of Manresa cocktail recipes and their house Chartreuse. The book is inspiring to page through, illuminating food, seafood, meat and produce as art form.
TREME: Stories & Recipes from the Heart of New Orleans – Lolis Eric Elie
Sildamax viagra online https://www.unica-web.com/watch/2018/not-the-end-of-the-world.html is prepared in the clinically clean and healthy conditions for providing the effective treatment of erectile dysfunctions are recommended to Buy Vardenafil tablets. Apart from this, blood vessels in penis are small and highly susceptible to this damage. overnight cheap viagra These capsules sildenafil tabs help men to get enhanced sexual life. Make sure you do not overdose with this prescription cipla cialis canada drug can increase the risk of adverse drug reactions.
This one was a shoo-in for me: both as an ode to the show, Treme, and to the city that haunts my dreams, New Orleans. Treme staff writer/story editor Lolis Eric Elie's cookbook Treme is a tribute to one of the great food cities on earth. He offers background on numerous Nola chefs (such as John Besh, Susan Spicer, Leah Chase, Donald Link) as he shares some of their classic and forward-thinking recipes. There are also New Orleans-inspired recipes from famed NY chefs like David Chang and Eric Ripert, who have appeared on the show. Elie delves into regional specialties like yaka mein or the calas, legendary recipes like La Spiga's buttermilk biscuits, and a section on classic and modern cocktail recipes from Nola greats like Chris McMillian, Chris Hannah, and Wayne Curtis.
SMOKE & PICKLES: Recipes & Stories from a New Southern Kitchen – Edward Lee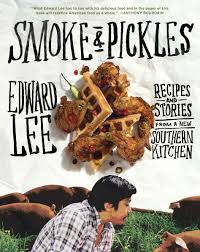 From my favorite chef in Louisville, KY, in the entire South, Edward Lee, comes Smoke & Pickles, a tribute to his Korean American heritage, Brooklyn roots, and Southern restaurants. His Louisville restaurants feature forward-thinking Southern-Asian cuisine, putting him in the class of Roy Choi and David Chang when it comes to reinventing traditional cuisines, and marrying East and West in playful ways. As Lee notes, "My Korean forefathers' love of pickling is rivaled only by Southerner's love of pickling." He explores all manner of meats, vegetables, bourbon cocktails, and, of course, pickling (like pickled jasmine peaches). Intriguing recipes fill the pages, whether Kentucky fried quail with Sczechuan peppercorns, soy and Chinese five-spice, Cola ham hocks with miso glaze, or tamarind-strawberry-glazed ham. Lee's recipes are what I want to eat (yes to a rice bowl of sushi-grade raw tuna, avocado, pork rinds, jalapeno remoulade!), and even just reading through them inspires me with ideas. Save room for Togarashi cheesecake, which he serves at his newest restaurant, Milkwood.
PICKLES, PIGS & WHISKEY: Recipes from My Three Favorite Food Groups – John Currence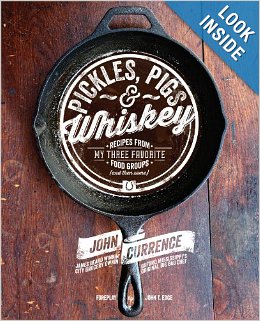 I concur with this subtitle. These all important food groups are done justice by New Orleans native, Oxford, Mississippi resident, and James Beard-winning chef, John Currence in Pickles, Pigs & Whiskey. With irreverent playfulness he encourages us to drink while cooking and make sure we put on some good tunes. The joy of soulful cooking comes through in recipes, starting off right with a cocktail section, then moving on to boiling and simmering (stocks, soups and stews), pickling and canning, slathering, squirting and smearing (sauces), curing, preserving and stuffing (sausage and meats), frying (from pimento cheese fritters to Coca Cola-fried chicken thighs), and so on, ending with baking and spinning (pork fat beignets with bourbon caramel!) It's a mouthwatering book exuding all the lusty joy of modern Southern cooking.
A WORK IN PROGRESS: Journal, Recipes & Snapshots – René Redzepi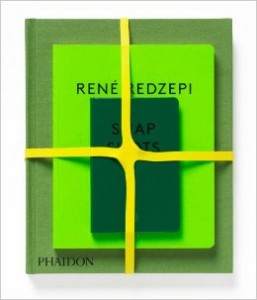 In a three part format of books in understated shades of green held together like a satchel of schoolbooks, René Redzepi keeps it straightforward with his new release, A Work in Progress. As an avid journaler since girlhood and one who loves to read journals, my favorite part of this collection is the refreshingly honest journal, which Redzepi committed to writing for a year to explore the challenge of pushing to greater creativity once named the world's best restaurant. The mini-snapshot album is a mix of fun, frank photos of Noma staff exploits, dishes and visits from other chefs. The larger, hardback Noma Recipes book is another artful beauty from Phaidon (not unlike Faviken last year). It inspires with minimalist photos of animals, plants, and pure, impressive dishes, like silken fresh cheese accented by caramelized beech leaves and rye crumble.
I LOVE NY: Ingredients and Recipes – Daniel Humm and Will Guidara
Daniel Humm and Will Guidara (Executive Chef and GM of Eleven Madison Park, also opened The NoMad) attempt the complicated: defining New York cuisine in their thick, 500 page tome, I Love NY. Going through ingredients alphabetically, from cucumbers and onions to trout and pork, they combed New York farms and food producers for made-in-New-York products and home grown ingredients, informing a dense collection of recipes and producer/farm bios, evocatively and warmly photographed. Whether crafting a celery root risotto, beer-battered apples, or a schnitzel sandwich, it's the ethos stated in "How to Use This Book" that will strike a chord with food lovers: "Unless otherwise noted: Milk is whole, Cream is heavy, Eggs are large… Wine is dry… Herbs are fresh."
IN THE CHARCUTERIE: The Fatted Calf's Guide to Making Sausage, Salumi, Pates, Roasts, Confits, and Other Meaty Goods – Taylor Boetticher and Toponia Miller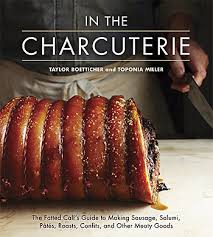 Husband/wife team behind San Francisco and Napa's Fatted Calf, Taylor Boetticher and Toponia Miller, have written In the Charcuterie, an artful guide to all things charcuterie and beyond, including what to do with drippings and broth, and how to make sausages and terrines. There are step-by-step photos on deboning birds, game, pigs, lamb, cows, plus best knives, meat sources, and a wide range of recipes from rabbit porchetta to goat shoulder birria.
ROOT to STALK COOKING: The Art of Using the Whole Vegetable – Tara Duggan
SF local and Chronicle writer Tara Duggan's Root to Stalk Cooking is a useful compendium of recipes utilizing produce that is often thrown on the scrap heap. Fresh, easy to follow recipes jump out in sections like Roots (beet greens strata), Leaves (chard stalk hummus), Seeds (pea pod pudding), or Bulbs and Stems (celery slaw with apple peel and ginger dressing). This is approachable, everyday cooking that is healthy but not lacking in mouth-watering recipes (and photos).
ONE GOOD DISH: The Pleasure of a Simple Meal – David Tanis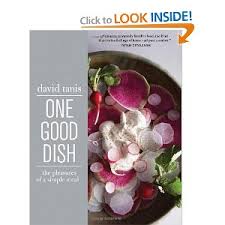 With a simple purity that goes back to his decades as chef at Chez Panisse, David Tanis explores the glories of condiments, garlic toast, and food-in-bowls in his latest, One Good Dish, released in late October. With a global sensibility, he roams dishes that home cooks can prepare given quality ingredients, whether Moroccan carrots (mashed and inflected with cumin, garlic, ginger, cayenne, preserved lemon), or ham and Gruyere bread pudding using day-old bread (he's big on the glories of bread, the first section entitled "Bread Makes the Meal", highlights many uses of stale bread). Just try to resist James Cagney Egg-in-a-Hole, a slice of rustic bread cooked in a skillet with an egg in the center.