In my latest Time Out column, nine of San Francisco's best tasting menus that are under $100, many of them of fine dining quality (article here):
www.timeout.com/san-francisco/restaurants/affordable-tasting-menus-san-francisco
In a region rich with fine dining, Michelin-starred greatness — not to mention supreme produce year round — tasting menus abound. But many are past the $100 mark. These 10 restaurants, from SF to the East Bay, offer fine dining quality or neighborhood comfort on tasting menus under $100.
Commonwealth, Mission
You'd be hard pressed to find a better tasting menu for the price than at Commonwealth, where chef Jason Fox has been crafting fine dining-worthy beauty on a plate since 2010. Though the restaurant has a Michelin star, it's as good as many 2 Michelin greats, serving inventive dishes that exceed the reasonable prices in a relaxed, intimate space. Paired with thoughtful wines or a non-alcoholic pairing, the five course (plus amuse bouche and palate cleansers), $85 tasting menu is a mash-up of contrasts, flavors and edible art. "Wow" moments might include a hot-cold collision of fried oyster, coastal succulents and frozen horseradish mousse, or squid noodles, crispy chicken skin and reconstituted spring peas in a lime, mint and pea consomme.
Francisca's, Outer Mission
Italian-Venezuelan cuisine? Engaging chef Manny Torres Gimenez and his wife Katerina De Torres offer a steal of a family-style tasting menu in the Mission at Francisca's (named after Manny's grandmother). Daily changing menus call on farmers market freshness but you get to choose what you want in each of the four courses ($65 with participation of the whole table). Chef Manny's innovation, love of Italy and his Venezuelan roots show in dishes like Santa Barbara spot prawns dipped in Venezuelan chimichurri, inspired plantain lasagna or yucca gnocchi. Whatever you do, don't miss his burrata arepas. Pro tip: for even more of a steal ($35 for 4 courses), dine at 5:30 or 9:30pm.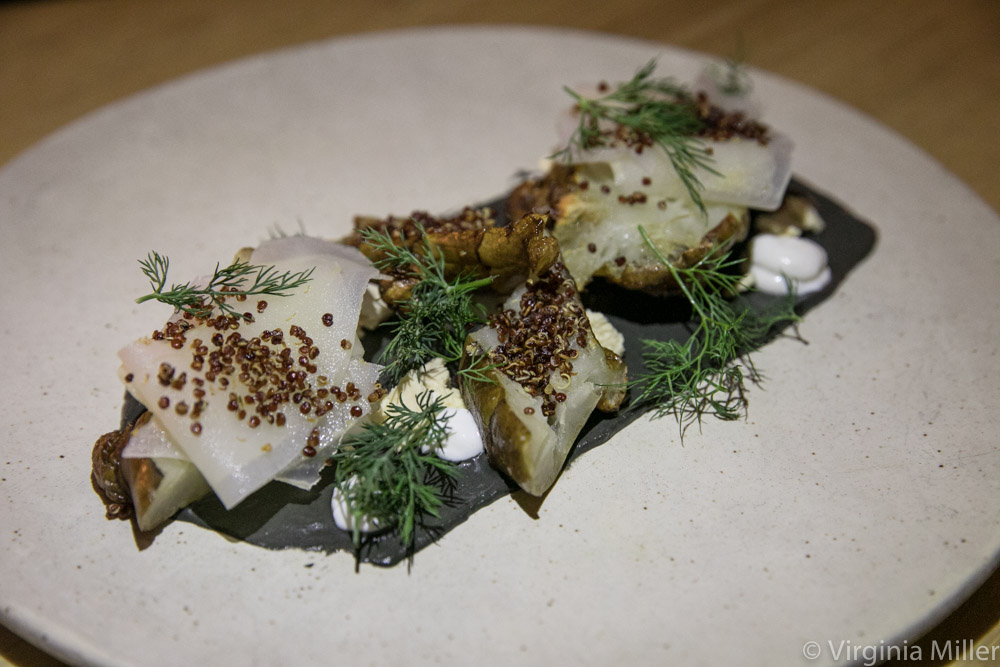 DOSA on Fillmore, Fillmore/Pacific Heights
Talented executive chef Arun Gupta (previously of New York's Gramercy Tavern) continues to turn out refined curries and seasonal dishes at Dosa on Fillmore since coming on board to the South Indian classic in late 2017. The new, family-style, $60 per person tasting menu is based off inspiration from Gupta and DOSA owners' Anjan and Emily Mitra's recent travels through India's Kerala state. The menu is a deal with four creative bites to start (like crab poori), vegetables and salads (such as silky Brokaw avocado chaat with grapefruit, habanero, coconut), Gupta's fantastic curries (like a Philipkutty coconut chicken curry recipe a home chef in Kerala taught them), finishing with family-style dosas and dessert.
Avery, Lower Pacific Heights
Chef Rodney Wages' (formerly Atelier Crenn, Saison) dishes at the new Avery, open in April in an intimate Fillmore space, are about as exciting a tasting menu for the price as you'll find anywhere. It'll cost you extra for sommelier Daniel Bromberg's stellar saké and wine pairings, but the many pours are rare and interesting. While they list a pricey $289 menu, it's actually for the private dining room upstairs so that leaves a $189 (13-15 course) or $89 "Cello Player" (7-8 course) menus, the latter showcasing Wages promise as a chef in inspired deliciousness like lemongrass-laden lobster curry or liquid tortellini en brodo with foie gras.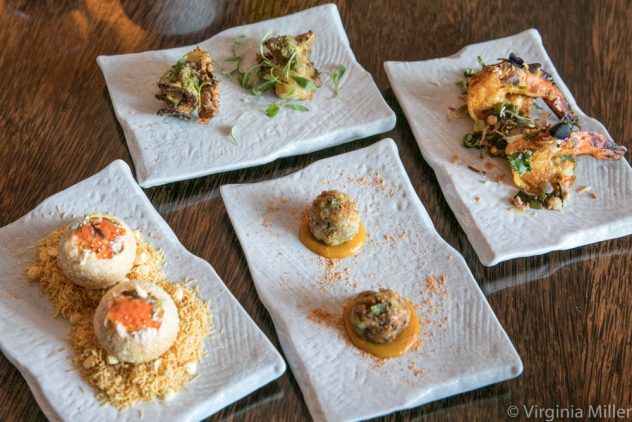 Nico, FiDi (Jackson Square)

Longtime Laurel Heights modern French favorite, Nico, moved to Jackson Square this spring, now featuring a full bar and prix fixe lunch and dinner menus from gracious husband-wife team, chef Nicolas and Andrea Delaroque. The menu remains focused on  farmers market seasonality, where peas sing with grilled lettuces and smoked trout roe in a warm sabayon, or silky steelhead trout comforts in an anchovy-laced broth. Operating in a prix fixe-only format — except for a short bar menu — there are 2 ($32) and 3 ($38) course lunch menus and at night, 4 ($62) and 6-course ($82, available by end of summer) menus.
Robin, Hayes Valley
At Hayes Valley's hip-chic Robin, sushi is set to hip hop, salmon pinks and greys and accompanied by Anna Nguyen's thoughtful saké pairings. Chef Adam Tortosa has fun with omakase menus that incorporate pristine, non-traditional nigiri supplemented by A5 beef tartare or sesame noodles in shaved black truffles. Omakase menus range from $79-179 so set the price in that range, where for under $100, you can experience a sushi feast unlike any other.
Merchant Roots, Lower Pacific Heights
Merchant Roots is a fantastic neighborhood cafe that opened this May serving daily handmade pastas, sandwiches and pastries but also quality, fresh pastas and sauces to take home and cook. Their chef's table launches this summer, an intimate, 8-seat only table that takes over the cafe after-hours. While some menus will be over $100 per person, they have $98 menus in the mix as well. Look for smart, playful themes around literary, historic and culture themes, as well as an upcoming $98 "Colors" menu where each course represents a color, like blue as oyster, butterfly pea flower and fennel bigoli pasta or yellow glowing in a salad of bartlett pears, delicata squash and curry yogurt.
Rich Table, Hayes Valley

The "catch"? Rich Table's family-style tasting menu is only for groups of 7 or more and you must reserve ahead. But it's well worth it when you're in the hands of one of SF's most talented chef duos, Evan and Sarah Rich, in a Michelin-starred restaurant that has remained one of our best since opening in 2012. When it comes down to having to decide between their game-changing bites (those porcini doughnuts, aged beef wontons), Evan's stellar, imaginative pastas (like cacio e pepe-style tonnarelli noodles in sea urchin Idiazabel cream sauce) or Sarah's exquisite desserts (like coconut shave ice over lime sherbet with toasted coconut), you don't have choose. You can have it all.
Parigo, Marina
With an invitingly cozy back patio (an ideal space for their Tiki bar pop-up Friday and Saturday nights), Parigo is a Marina wine bar offering good food, open mid-2017 from the owners of the Financial District's The Barrel Room. It's quite a deal at three courses with wine pairings for $65. Chef Manny Hewitt serves the likes of yellowfin tuna crudo accented in lemon garlic aioli, while wine director Sarah Trubnick's passion for wine means you have not one but two suggested pairings for each dish, with flights and half glasses as an option to maximize wine exploration.