My dining column at print and online magazine, Bob Cut — column details and my philosophy here — covers standout newcomers and longtimers we want to keep supporting. During shelter-in-place pandemic times, I cover outdoor dining, takeout and delivery restaurants:
ARTICLE HERE: www.bobcutmag.com/stories/2020/8/31/augusts-best-new-bay-area-restaurants-and-old-school-alternatives-to-order-to-go-from-or-dine-al-fresco-at
JAPANESE
New Kid on the Block: GOZU-Chan, SoMa
We were fans of GOZU when it first opened — with just 45 seats around a Japanese binchotan grill. As CA's indoor dining has been postponed indefinitely, chef-and-owner Marc Zimmerman and co-founder Ben Jorgensen shifted quickly. They're the first restaurant to install hospital-grade UV irradiation (via UV Guardian), so are ready to take indoor dining by storm whenever it's OK to do so again.
They launched A5 Meats, selling premium wagyu meats and more to help meet your upscale home cooking needs; plus you can find wine, whisky, and sake curated by sommelier Lindsey Young available for sale. Besides to-go via Tock, late July they launched GOZU-Chan Highball Garden and Robataya. It's a large patio where whisky and shochu highballs flow alongside the aromas of skewers from konro boxes and kishu binchotan grill. The beef is perfection, whether it's wagyu ribeye, Hokkaido dry-aged chuck roll, or the wagyu-stuffed morel mushrooms filled with koshihikari rice in yuzu beurre blanc or broccoli rabe in karashi mustard and miso-cured jidori egg yolk.. Gozu's delicate food and drinks transport straight to Japan, it's urban garden setting being well-spaced out and surrounded by high-rises. // 201 Spear St #120, www.gozusf.com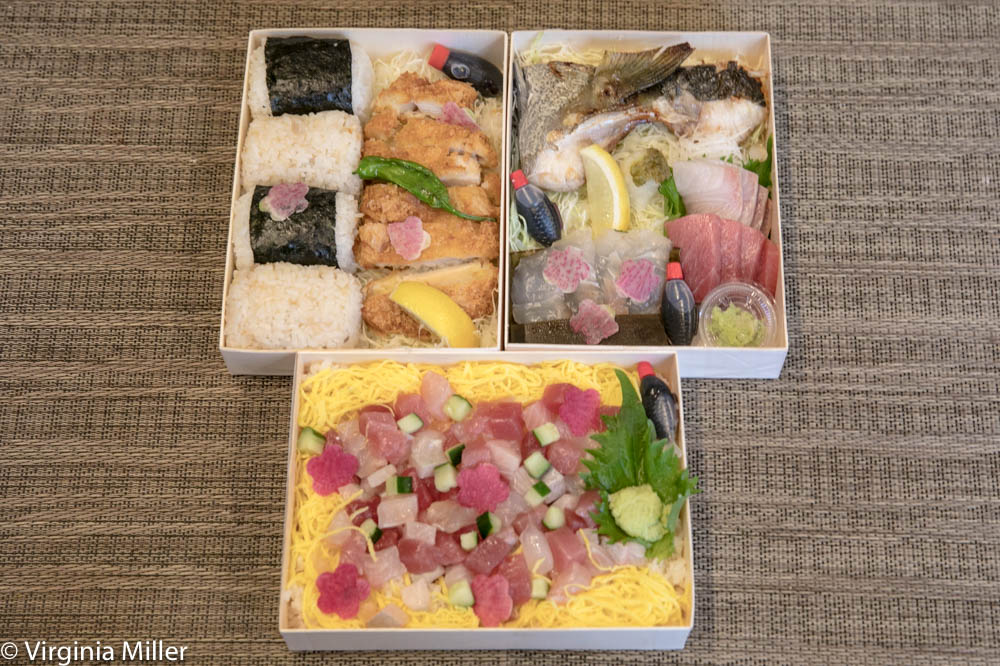 OG ALTERNATIVE: Rintaro
Hidden behind a gate, Rintaro's tiny garden and house feel like being whisked away to Kyoto. Owner Sylvan Mishima Brackett was born in Kyoto and his father, who apprenticed as a temple carpenter there, built the house utilizing redwood wine casks and hinoki cedar inside, as well as hand-planed wood mud walls. With milk crate seats and wood tables, the cozy courtyard is open for dining via reservations. Their to-go bento boxes are as artful and cute as packaging is in Japan, down to little fish squeeze bottles of soy sauce. A box of chirashizushi overflows with fish of the day, like chopped wild pacific bigeye tuna, konbu-cured SF halibut, and Baja amberjack yellowtail, accompanied by Half Moon Bay wasabi. Chicken katsu is enhanced by Cowgirl Wagon Wheel cheese. Go full local and pair with superb bottles of SF-made Sequoia Sake or Oakland's Den Sake Brewery. // 82 14th Street, www.exploretock.com/izakayarintaro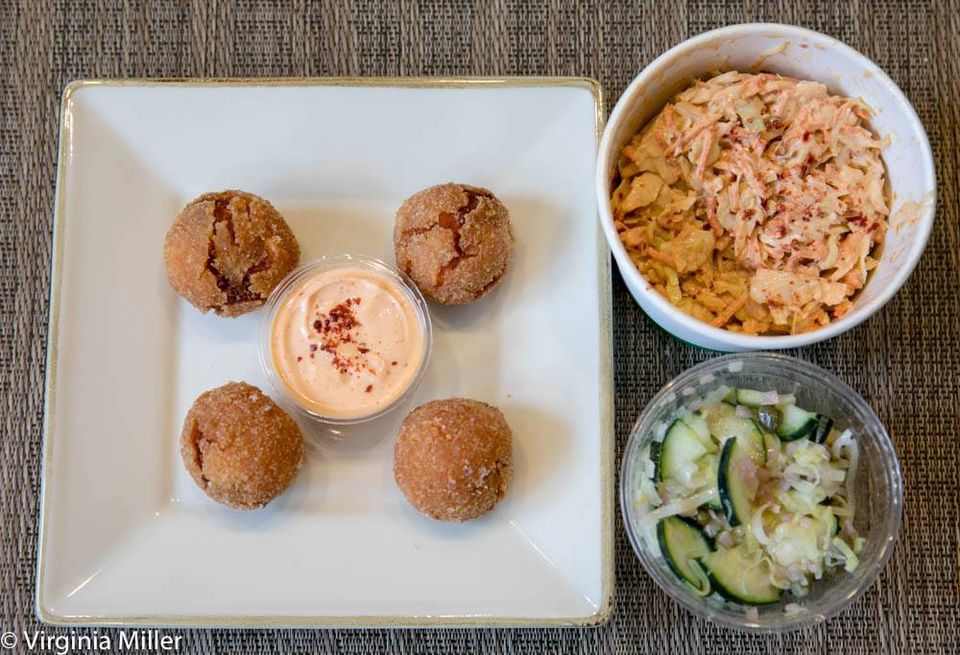 AMERICAN COMFORT FOOD
New Kid on the Block: The Roost at Merchant Roots
The Chef's Table at Merchant Roots was one of my top new restaurants of 2019, though now more of a permanent "pop-up" in the back of their gourmet cafe and wine shop.
Partners Madison Michael and chef Ryan Shelton's creative menus covered themes like earth elements or classic literature (like an unforgettable "Vanity Fair"/Thackeray-themed dinner). We're hoping for Chef's Table's return… but in the meantime, Shelton's irresistible cookies are a centerpiece of their new "buttery bites and bottles," while chef Ashley Keeler helms their catering side and recently-launched The Roost. The menu centers around ancho-mustard rubbed chicken (whole, half, quarter, or a tofu alternative) accompanied by salsa verde, adobo buttermilk slaw, and jasmine rice. Some of the salads and veggie sides — especially sweet potato croquettes oozing cream cheese (and those cookies!) — make it stand out amid a plethora of to-go chicken-rotisserie spots in town. // 613 York Street, https://theroostsf.square.site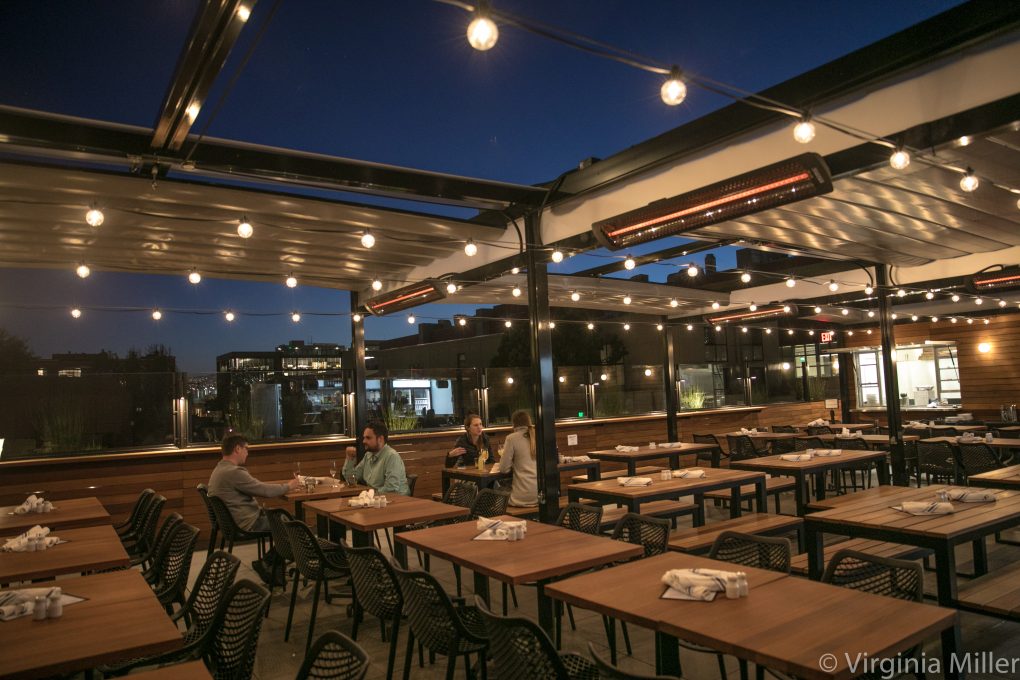 OG ALTERNATIVE: 25 Lusk
The rooftop 25 at 25 Lusk is a gift. Nicely spaced out tables, open-air and highrise views make it an urban oasis for brunch and dinner. Centered around chef Matthew Dolan's cooking (who has cooked from Finland to New Orleans), the recent relaunch of brunch brings includes local caviar and traditional blinis made from a 150-ish-year-old blini starter a Russian chef gave to Dolan (spoiler: as a longtime blini fanatic, it's the best blini recipe I've ever tasted). Frozen Mezcal Paloma slushies, massive platters of ribs, and Maine lobsters make it fun for a spaced-out group. From Maine Lobster egg benedict at brunch to pizza and Dungeness crab rolls all day, Lusk's sunny rooftop and service are a warm balm in tough times. // 25 Lusk Street, www.25lusk.com
ITALIAN
New Kid on the Block: Oak+Violet, Menlo Park
Oak + Violet at The Park James Hotel is not a new restaurant. But in launching their new Sicilian Summer Nights until September 30th, they showcase Palermo-native chef Simona Oliveri's roots and her new partnership with James Beard Award-winning sommelier, Italian wine expert and A16 co-owner Shelley Lindgren. O+V's spacious courtyard feels like a party on warm Silicon Valley nights under white lights as Sbagliatos (sparkling Negronis) and Palermo Punches flow. Oliveri shines when focused on her Sicilian roots, especially in rare glories like sardine meatballs laden with golden raisins and pine nuts, or a pitch-perfect fritto misto (fried anchovies, squid, shrimp, lemon).
The Lemon Sambuca sorbet is an ideal dessert and palate cleanser. Lindgren created an affordable Sicilian wine menu to pair with Oliveri's dishes, including greats like Marco De Bartoli or dessert wines like Caraviglio Malvasia Secco from Sicily's otherworldly Aeolian Islands. The Park James Hotel offers packages with a meal if you want to feast, then crash upstairs (with thorough COVID-19 procedures, they also have HVAC air systems in each room). // 1400 El Camino Real, Menlo Park; https://parkjames.com/oak-violet

OG ALTERNATIVE: Zero Zero
Bruce Hill has long brought us iconic SF restaurants, like the great Bix, which is now open for outdoor alley dining. His SoMa restaurant, Zero Zero, has been going strong since 2010 serving pizzas and Negronis. They're launching a parklet mid-August while offering delivery on all major apps alongside curated dinners for two via Tock. Their flash-frozen pizzas heat up beautifully, while out-of-the-oven pizzas include pies with SF names like the summery Judah pizza, which includes two types of cheese and is topped with Hobbs bacon, chili flakes, corn and more. Expect generous salads, spaghettoni amatriciana, cannolis, and Stoner garlic bread on Panorama sourdough that's smothered in garlic, basil, cheeses, and Calabrian chilis. // 826 Folsom Street, www.zerozerosf.com
ELEVATED PUB FARE
New Kid on the Block: Arbor
Morphing to contend with the current COVID-19 climate is now the only way to hang on, but longtime Absinthe Group has already had Arlequin Cafe (next door to their iconic Absinthe) undergoing rebirth pre-pandemic. It reopened in July as Arbor, focusing on American comfort food, sourcing from our region's wealth of organic ingredients. At first glance, it looks like yet another menu of burgers and fried chicken sandwiches. But Absinthe Group chef Ryan McIlwraith and former Barcino chef Kaili Hill are going high quality, so the fried chicken sandwich, for example, is on a housemade brioche bun, amped up with hot honey and herb-buttermilk mayo for spicy-sweet-creamy contrast. A simple summer veg dish of grilled corn and green beans is perked up with honey-garlic butter — and their menu is expanding as the weeks progress. The wines, beers, ciders, and kombuchas on tap are thankfully also available in by-the-glass portions.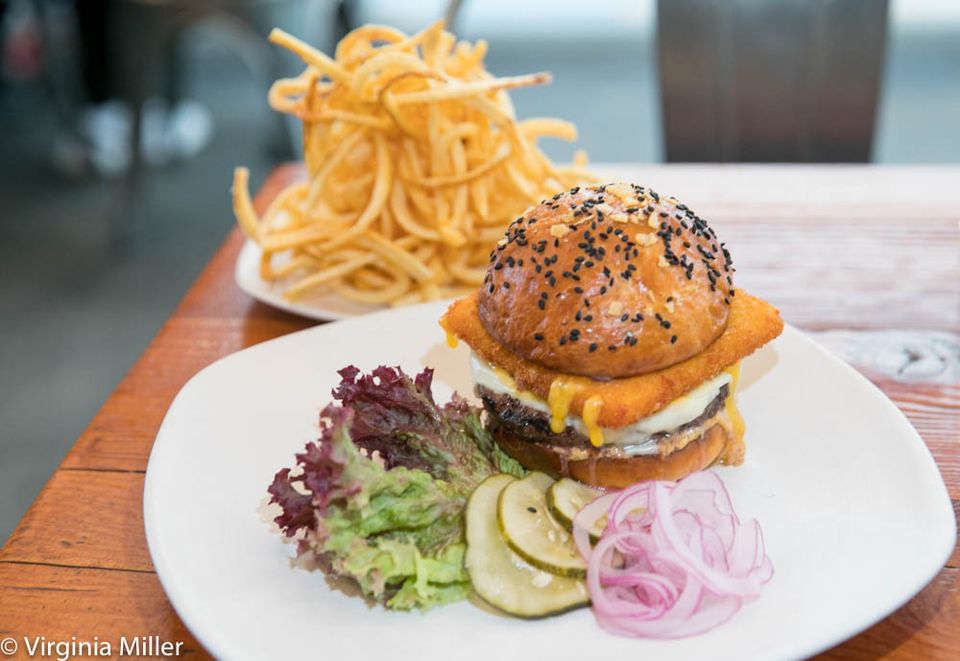 Neighboring Arlequin Wine Merchant offers a top-notch global wine selection in every price range to pair with your meal or take home. And Arbor's magical back garden just opened mid-August in addition to sidewalk seating. // 384 Hayes Street, www.arborsf.com
OG ALTERNATIVE: Curio at the Chapel
Curio was reborn a couple of years ago as the restaurant and bar inside The Chapel. They're keeping the music alive in a time we desperately need it (and musicians need safe places to play): within the confines of their patio, parking lot, and new parklet. All this outdoor seating gives it a European vibe, while chef Jason Raffin steps up the American comfort food and pub fare, from Ritual Coffee-rubbed chicken strips to salted caramel-nut popcorn. Raffin does contrast right, whether a light tuna tartare accented with Anchor Steam aioli, smoked pineapple and fried shallots or arguably one of the best new burgers in town.
The Americana Burger is on a toasted potato chip sesame bun sporting miso mayo, white American cheese, and bread & butter pickles (pro tip: add on katsu sharp cheddar). Drink selections are top-notch, whether its their popular Plymouth Gin-Lillet-Aperol Frosé or tiki-esque Banshee (a blend of light and dark rums, makrut lime, pineapple, coconut, turmeric, Angostura bitters, fresh nutmeg). Their "secret" cocktail menu includes a lovely, pink variation of a Pisco Sour. // 775 Valencia Street, https://curiobarsf.com
FRENCH
New Kid on the Block: Maison Danel
Danel and David de Betelu are the real deals: owners of long-beloved neighborhood French restaurant Baker Street Bistro in Cow Hollow (which tragically just closed, another COVID-19 casualty), they opened Maison Danel in February, just before shelter-in-place began— complete with shimmering chandelier and elegant floor tiles.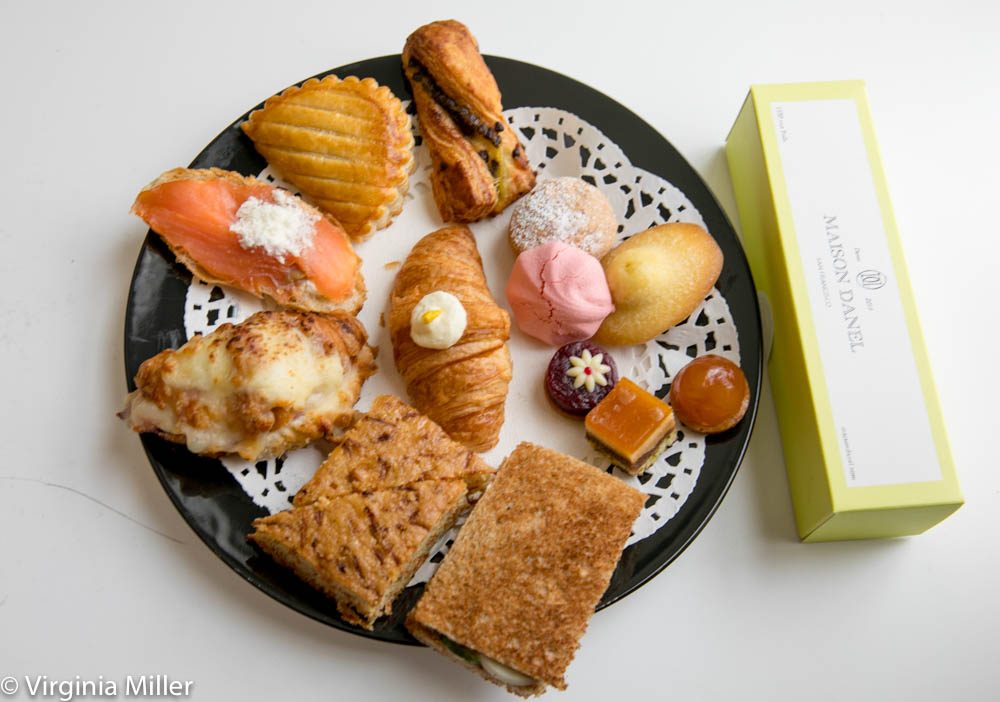 Thankfully, their pâtisserie, viennoiserie, and salon de thé (aka pastries of France; Vienna/tea salon) just reopened in July for takeout, pickup, and delivery, adhering to tight safety standards, including daily staff screenings. Afternoon Tea Boxes are sheer decadence, in artful, pastel Parisian-style boxes tied with ribbons. The boxes are packed with savory sandwiches, mini-viennoiseries, pastries, jams, madeleines, and loose-leaf tea. If you need a cheer-up, add on a ½ bottle of bubbly; their house bottling of Maison Danel Crémant is from Alsace, France. // 1030 Polk Street, www.maisondanel.com
OG ALTERNATIVE: Crumble & Whisk Patisserie, Emeryville
Black-owned Crumble & Whisk has been going strong since 2013. In the pandemic, they provide artful cakes and desserts for birthdays, weddings, and other special occasions that have admittedly been dimmed by the coronavirus.
You can also find them regularly at farmers markets from SF Ferry Plaza to markets in the East and South Bay. Chef Charles Farriér is most known for his cheesecakes on buttery shortbread crusts with creative and seasonal toppings from beet-berries to roasted corn-blackberry. Though the cheesecakes are available in mini-form, too, don't let that keep you from also diving into his cinnamon rolls, cookies, brownies, fruit cobbler, or vegan cookies and brownies. // 6270 Overland Avenue, Emeryville; https://crumbleandwhisk.com

// Restaurants are closing permanently at a faster rate each week as pandemic draws on and no government aid comes. Please sign this petition to reach out to your Congress representatives to #SaveRestaurants by passing crucial Restaurant Stabilization Act, which has gained bipartisan support but in urgent need of more signatures as it continues to stall in Congress.