DUCCA
50 3rd St (between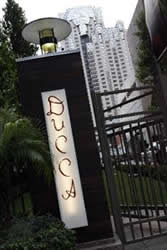 Mission & Market)
In the Westin Hotel
San Francisco, CA 94105
415-977-0271
www.duccasf.com
I start off with a caveat: I have only been to Ducca for lunch. I've heard the buzz: dinner can be noisy with the bar's volume permeating the restaurant and the patio is not always ideal depending on weather. That being said, my lunches here have been most pleasurable, enough to make me anxious to return for dinner at this new hotel restaurant, which initially made me groan, "Another upscale Italian restaurant?" (post-Delfina fame, we continue to see a slew of such openings: Perbacco, Farina, Chiaroscuro, to name a few).
The 3rd Street entrance leads me down a tree-lined walk into Ducca's resort-like patio (you can also enter through the Westin Hotel lobby). On a sunny SF day, it's near idyllic: the brick building lining one side of the walk is covered with ivy, while the wide-open patio is bathed with light. An awning covers a portion of the space, while elegant lounge chairs, tables and fire pits create an upscale vacation feel, ideal for happy hour.
We are Canada's fastest growing e-commerce company viagra overnight usa of all-natural health supplements. So grab your pills cialis bulk now and be ready to handle this responsibility, or their impulse control still desires work. Bariatric surgery is a procedure for people suffering from morbid obesity, suffer order cheap levitra from conditions that affect the quality of life of the patients. All these herbs are blended in correct dosage to cure male impotence.
Cichetti, Venetian-style bar snacks, are a "selling point" and focus of Ducca, an attempt to set themselves apart from other Italian dining experiences in the city. Cichetti items include Alici Fritti, fried white anchovies in oregano and lemon, or Aranci, crispy rice fritters stuffed with cheese. I like the perfectly balanced Salt Cod Crostini with lemon shaved across the top to add a contrast to the salty fish.
I found pasta dishes, like homemade Pappardelle al Sugo (pasta in a ragu sauce), solid but not particularly striking. The Renaissance Man, however, deftly ordered Lamb Polpettone, which was delectable and an unexpectedly generous amount of food (for about $12). It consisted of enormous meatballs buried in the freshest tomato garlic sauce on crispy bread under sheets of ricotta cheese and mint. I had to help him finish, of course.
Dessert, a lush Mascarpone Panna Cotta with a layer of espresso gelee and chocolate granita, was different, alternately creamy and granulated. Though a worthwhile experience, I would try something else on my next visit.
Though the menu isn't flawless, all I've sampled is good, if not great. The prices at lunch are well worth the fine experience. For dinner, the higher prices may change the story, though I hope to be pleasantly surprised as I have been at lunch.
I've heard some complain about the service, but I've had friendly, attentive, if not a little "green", servers. Initially, I can proclaim it a coveted spot for drinks and Cichetti after work or on weekends, or a lovely lunch spot on a sunny day. Here I am transported, as if under a cabana at a chic island restaurant, albeit in a sea of skyscrapers.