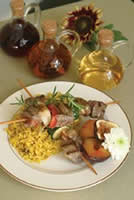 The October issue of San Francisco Magazine dubbed West Portal the "Noe West" of San Francisco. I do not see the similarity other than a high family quotient, finding my home of Noe more charming and intimate (biased, I know). But I adore West Portal for other reasons: its somewhat dated, suburban main street circa 1970s, "lost in time" feel. It's also unpretentious, offering reasonably priced dining and shopping, a small three-screen movie theater showing a nice selection of films and easy access around its Muni train hub. It's the SF 'hood that blessedly stays the same.
There is a time-warp feeling here with a number of structures unchanged since the 1950's, keep it refreshingly real and untrendy. I don't recommend overpriced, circa-1980's spots like Café for All Seasons, which are very popular with elderly, ladies-who-lunch crowds, but serve overpriced food (for example, salads are bland at around $15). Here are a few spots of interest on the main drag of West Portal Avenue:
Bursa Kebab, 60 West Portal Ave (between Claremont Blvd & Portola Dr), 415-564-4006 – Though not the best Turkish food in SF, this restaurant offers fresh Middle Eastern food in a relaxed, chic dining room, though some dishes are bland compared to better citywide spots.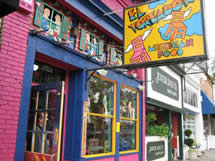 El Toreador, 50 West Portal Ave (between Claremont Blvd & Portola Dr), 415-566-8104 – Don't go here for the generic, greasy Mexican food unless you care little for quality or taste, but do go for the bright, colorful interior with Day of the Dead dolls and festive décor making it a welcome, unique environment for margaritas.
Fresca – Though I cringe as their prices continue to rise rather rapidly, making it less worth dining here all the time, the food (especially their ceviches, entrees and cocktails) is quite tasty at this local Peruvian chain, this being the original location.
Old Krakow – My pick for West Portal's best food adventure is this rare Polish haven. The décor is, in keeping with the area, dated, but cozily so. It's like dining in Grandpa & Grandma's living room (Polish grandparents, naturally!) Hearty, filling food tastes homemade but not amateur. I like traditional dishes such as the Herring, Garlic Soup or Stuffed (with rice, pork, ground beef) Cabbage Rolls in Tomato Sauce. Polish beers (like the refreshing Zywiec) are also a highlight.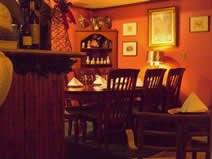 Que Syrah – A comfy neighborhood wine bar offering weekly wine flights along with the usual by-the-glass or bottle selections.
Roti – On food alone, I can't recommend Roti, whose high-priced dishes are definitely good, but offer no taste improvement over many of SF's hole-in-the-wall Indian spots at half the price. But if you are looking for a classier place to have your naan and curries, this original location of a local chain (the other is in Burlingame) fits the bill perfectly. Just be prepared for $4 Garlic Naan (double the price of many city locations) or $14 for standards like Chicken Tikki Masala.