BREAKFAST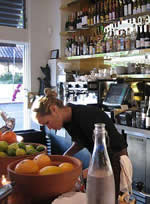 At The Hungry Cat's brunch in Santa Barbara,Yellowtail Confit ($14) on rustic bread/toast, topped by a poached egg, with a potato/green bean/peppers salad in buttermilk dill dressing.
SAVORY – VEGETARIAN
Fresh, flavorful Curried Couscous Edamame Salad ($8) at Lilah Belle's, the Castro's cute new take-out serving healthy meals and salads on the go – great concept!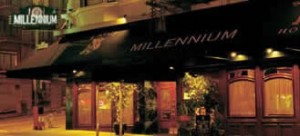 Vegetarian master, Millennium wowed me, as usual, with every dish, including a Black Bean Plantain Torte($10.95) over a smoky bean puree with pumpkin-habanero papazul, a drizzle of cashew sour cream and a refreshing watermelon red onion salsa.
SAVORY – SEAFOOD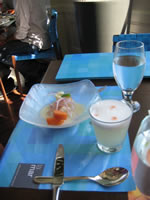 Bright Cebiche Chifa ($9 half/$15 full portion), a ceviche of Baja California yellowtail tuna with peanuts, scallions, ginger, pickled carrots, daikon, habanero pepper, wonton strips, cilantro in sesame leche de tigre broth. The space of Embarcadero's hot newcomer, La Mar Cebicheria, is likewise bright, airy, huge – PS: great pisco cocktails, too!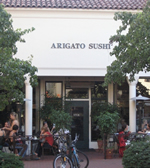 Ginger Bluefin Sashimi (5 piece, $19) at Arigato Sushi at 1225 State Street, Santa Barbara: fresh, silky fish delicately topped with delicate shavings of grated ginger, yuzu garlic oil, Hawaiian pink salt and chives.
SAVORY – MEAT
Though I miss Myth's gorgeous dining room already, thankfully Sean O'Brien returns, this month opening brand new Zinnia. I joyously revisited his classic Seared Potato Gnocchi in a Wild Boar Bolognese with a touch of mascarpone and Parmesan ($14).
Ah, a carnitas taco on homemade tortillas at dumpy Taqueria Tlaquepaque in San Jose (2222 Lincoln Ave, 408-978-3665) will set you back only a couple bucks (order a few!) but the taste pleasure is multiple times greater than the price.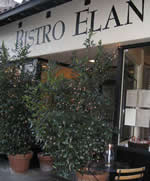 La Quercia Rossa Prosciutto w/ fresh Peaches, French feta, peppercress, XV olive oil and lemon ($13.75) at Palo Alto's cozy but elegant Bistro Elan (448 S. California Avenue, 650-327-0284).
SWEET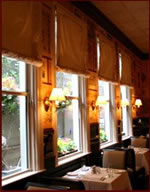 "Not Your Grandma's Pie" ($9) at Zare's at Fly Trap: a fabulously tart, deconstructed dessert of lemon filling, a mound of coconut meringue, toasted pineapple wedges, buttery graham cracker crumbs, coconut/Persian lime sorbet and a drizzle of mint/basil vinaigrette. Sound like too much going on? It's not.
DRINK
The Louisiane ($9) at Pisco Latin Lounge, Destino'sbrand new next door neighbor serves pisco-based, Latin and classic cocktail recipes (this particular cocktail combines Old Overholt Rye, Kubler Absinthe – my new fave, Benedictine and Peychaud Bitters). I found all three small plates I tried mediocre and not worth the price (eat an early dinner at Sushi Zone around the corner, then come here for drinks!)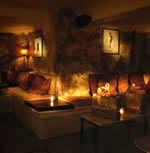 My taste buds thanked me for trying medium-bodied Gardet Brut Champagne; $10 a glass special at a recent happy hour) at Bubble Lounge – an exquisite, dry, smoky champagne… magnifique!