We're back to enchanting Charleston for island eats and drinks with a view.
CHARLESTON BARS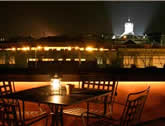 VENDUE INN: A casual rooftop bar atop a charming, historic Inn. On a warm day, feels like a margaritas (regular or watermelon) and beer rooftop party: casual, relaxed, breezy.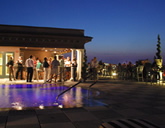 PAVILION BAR: On the Market Pavilion Hotel sits this romantic rooftop bar… ideal for taking in the sunset over Charleston with a glass of wine. There's a cascading pool and lounge chairs as you watch the magical glow of day turn into night.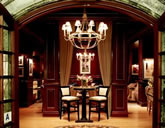 CHARLESTON PLACE: A ritzy mall in a hotel, this glamorous, 'yuppity' hotel bar may not be on the agenda unless you get stuck in a sudden thunderstorm as the Renaissance Man and I did one night: wild lightening pierced the sky and we were getting soaked. We slipped into this mega-hotel for what was a surprisingly elegant refuge of a live jazz duo, cocktails and dessert.
FURTHER AFIELD… on the Islands
There are three delightful islands just outside of Charleston: Mount Pleasant, the busiest and most suburban, Isle of Palms, with its lovely beaches, and Sullivan's Island with fascinating Fort Moultrie.
Here I gained a great appreciation for the rich Gullah heritage of the islands – in Charleston proper there is famed Gullah baskets and wares sold in open air markets. Gullah is defined in Wikipedia (I know, I know) as: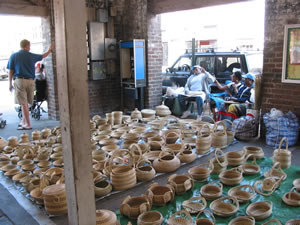 "The Gullah are known for preserving more of their African linguistic and cultural heritage than any other African American community in the United States. They speak an English-based Creole language containing many African loanwords and significant influences from African languages in grammar and sentence structure. The Gullah language is related to Jamaican Creole, Bahamian Dialect, and the Krio language of Sierra Leone in West Africa. Gullah storytelling, foodways, music, folk beliefs, crafts, farming and fishing traditions, all exhibit strong influences from West and Central African cultures."
On Mt. Pleasant, two great food finds I had to share with you: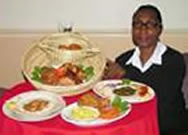 GULLAH CUISINE: This humble little house serves native cuisine of the Gullah islands. It's the real deal – a mix of West African, Southern, Creole and Island cuisine: She Crab Soup, Fish Head Stew, Fried Chicken, Oxtail Stew, Conch Fritters and a PERFECT Sweet Potato Pie.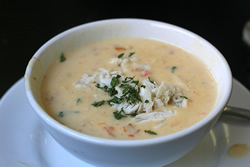 LOCKLEAR'S LOW COUNTRY GRILL: Famous for their award-winning She Crab Soup (Cup $3.99, Bowl $5.25), it's a luxurious, creamy version that hit the spot after a morning on the beach.