There is no way to quite do the magical dining experience that is CYRUS justice. Much has already been written about one of the highest-rated restaurants in the nation, and I've been dying to go since it opened.
The Renaissance Man made it my birthday dinner surprise (we went the weekend before since my birthday is actually Christmas Day). It is possibly the best fine dining experience I've ever had up to this point.
CYRUS sits at the northern end of Sonoma County just a couple blocks from Healdsburg's town square, with a sophisticated but understated dining room in the Paris-reminiscent Les Mars Hotel. Not only is there a spare elegance to the room, but service is absolutely impeccable from start to finish. I asked the girl cleaning bread crumbs off our table to confirm an ingredient I thought I was tasting in a dish and she knew exactly what went into it. Every server was completely knowledgeable about every last detail of the meal, which impressively speaks of not only the waitstaff but management's ethos to inform and educate their employees.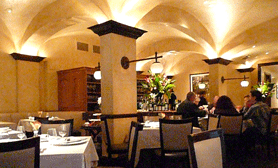 Tasting menus run three ($78), four ($90) or five ($102) courses, each your choice, or there's a chef choice at $130. Decadent extras include a Champagne and Caviar Cart or truffles in a box, shaved over dishes. The wine list is exhaustive and broad, and the cocktails, created by the one-and-only Scott Beattie (check out his recent book, Artisanal Cocktails, which is fast becoming the standard for artisanal, farm-fresh cocktails), are a revelation. The drinks ($12) change each season. Winter includes a sweet apple chip-topped Autumn Apple, made of Germain-Robin Apple Brandy, apple juice, sparkling apple cider, lemon juice, ginger syrup and a thick layer of creamy apple foam. Glorious! The Egg Nog cocktail could be dessert, whipped light and creamy, perfectly balanced with Weller Bourbon, eggs, cream, nutmeg, vanilla beans. But there's more than seasonal: updated classics are made to absolute perfection, including a Frankfort Manhattan made with vanilla citrus peel-infused 12-year Weller Bourbon, or The Last Word: Plymouth Gin, Luxardo Maraschino Liqueur, Green Chartreuse, Lime Juice.

We ordered four courses each, each one thrilling in its own right. In addition, there's an Amuse Bouche "tower", covering all five taste profiles: sweet, salty, sour, bitter and umami. I'd love to start every meal this way – with all taste buds awakened! There's divine housemade breads, like Garlic Sea Salt Sourdough or melt-in-the-mouth Gruyere Hawaiian rolls, served with two kinds of sea salt and butters. A palate cleansing Prickly Pear and Lime Popsicle came midway, and a platter of exquisite candy treats finished us off (mini-chocolate Alfajores, Pistachio Cinnamon White Chocolate Truffles, Blueberry Marshmellows… oh, my)!
There was not a disappointing course among the eight I tried… from a Terrine of Foie Gras with Asian Pear, Tamarind, Crumpets, to Crispy Poussin with Brussel Sprouts, creamy Parsnip Puree, Maple Butter Jus, to the sublime Medai (Butterfish) with Curried Cauliflower, Apples, Coconut Milk Foam. I was forced to choose a favorite, however, it would be Truffled Red Wine Risotto with a Parmesan Foam/Broth. I (unsuccessfully) tried to contain a moan of pleasure with each bite, savory truffle complimenting the delicate risotto exquisitely. The Cheese Cart was yet another highlight, with a choice of three cheeses out of many from around the world. I had a strong, smooth Roquefort Blue from France (paired nicely with a housemade Pan Forte), a sharp Cheddar from Modesto, CA, and an ideally-balanced Green Hill Double Creme from Georgia.
If my stomach wasn't near bursting already, then came dessert! Outside of the cheeses and dessert we chose as part of our four-course dinner, unexpected fun arrived with a birthday treat in a glass case, a balloon attached. They ordered me to deflate the balloon, which released chocolate shavings in a shower over chocolate chip cookies inside. Its compliment was a playful mini-Brooklyn Egg Cream (milk, Valhrona Chocolate, Club Soda). A birthday dinner I will remember…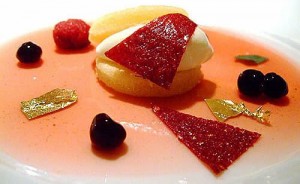 Save