BREAKFAST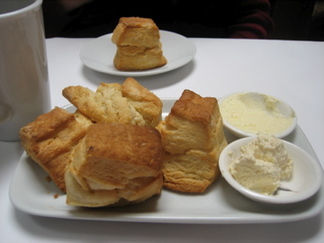 Since the Meetinghouse closed years ago, I've been a sad girl – not only because it was a supreme SF brunch spot, but because Joanna Karlinsky's biscuits are about the best I've ever put in my mouth (and that includes my visits to the South!) Thank you, Joanna, for bringing your buttery biscuits to us at one more location besides the well-intentioned but mediocre Elite Cafe (it's a NoLa-themed restaurant so believe me, I wanna love it). If you don't want to have to go to a restaurant to get them, they're now served in the little "food court" inside Laurel Height's Jewish Community Center all day, every day.

Bette's Oceanview Diner – Sitting at the counter, I ordered a special of the day, the near perfect Cornmeal Currant Pancakes with Sweet Potato & Bacon Sausage. Sounded good… tasted even better. Now that's the way to brunch!
SAVORY – MEAT
This "take two" on Venice Beach favorite, Baby Blues BBQ, is a joy from start to finish. Not only do they deliver (to my 'hood of Noe – right on!), but everything from their brisket to pulled pork to smoked links to BBQ gulf shrimp hits the spot. It's may not be the best (though certainly is among) SF BBQ, but every note is right, from friendly service, to Johnny Cash on the stereo, to revolving beers on tap.
Phat Philly (3388 24th Street at Valencia, 415-550-7428) – Yes, you can get authentic Cheez Whiz cheesesteaks here, but there are plenty of other toppings besides (if you're a Cali native who doesn't 'get it'): from housemade sauces (Cheddar Beer, Garlic Mayo, Mr. Pibb BBQ Sauce) to caramelized onions or peppers. Amoroso rolls are shipped from Philly with East Coast snacks for sale like Tastycakes andHerr's. I'm not always in the mood for cheesesteak, but when I am, I'm comin' here.
SWEET
Humphry Slocombe – Look out, my new obsession is here! You who know me know I freak out over ice cream and this may be the most exciting around. Sure, I adore classic Mitchell's, creamy Bi-Rite, et. al. as much as everyone else. But where else can I get "Secret Breakfast" (Bourbon & Cornflakes! I'm hooked!), Blue Bottle Vietnamese Coffee, Thai Chili Lime Sorbet, Strawberry Candied Jalapeno, Banana Red Hots and Peanut Butter Curry?!? The Mission's brand new Humphry Slocumbe is where. These vibrantly rich flavors thrill adventurous taste buds – and initiate the less adventurous to a new level of pleasure. Vision is alive and well here – no surprise given the fine dining background of the creators. I've tasted every flavor at each visit and not one is short of great. Meet me there now?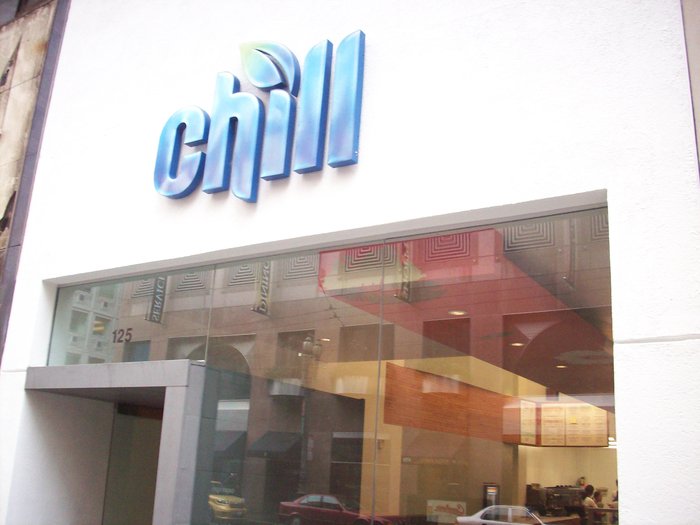 Chill – I'm sick of fro-yo as much as you are, but Chill is doing it differently offering a range of fresh, unique toppings/combos, tea "coffees" (lattes made with red rooibos tea), crepes and housemade sodas. Consider it a froyo-dessert-drink cafe plus. There's also free wi-fi, impeccable ingredients and convenient FiDi location. If you're gonna do fro-yo, their Black Sesame is uniquely nutty and worth a visit.
DRINK
The stunning new Dosa on Fillmore has an intriguing list of cocktails created by Jonny Raglin of Absinthe. Smoked Cup ($11) is a smoky Mezcal imbibement (Pimm's, Black Cardamom, Ginger Beer, Cucumber, Smoked Sea Salt), but I can't stop dreaming of the Juhu Palm ($10) with Palm DH Krahn Gin, coconut milk, lime juice, Kaffir lime leaf, bird's eye chili, served up with a spanked (yes, spanked!) curry leaf. Not too sweet, but sweet enough, not too thick, rather, a hint of cream… it goes down, oh, so easily. But beware the crowds at this place, which have already descended.
Church Key (1402 Grant Avenue at Green Street, 415-963-1713) – Brand new artisan beer bar in North Beach (a 'hood which already has Belgian beer treasure, La Trappe) has about 8 draught beers and another 50 bottles in what is, for now, a thankfully mellow setting. In initial weeks of opening, they had Allagash Curieux ($10 on draught) from Portland, Maine's Allagash Brewing Co. It's a bright, refreshingly complex Bourbon barrel-aged tripel with notes of Bourbon (natch), oak, cognac, vanilla and peach.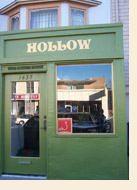 Inner Sunset gets a prize in tiny, low-ceilinged new coffee haven and curious shop, Hollow (1435 Irving Street between 15th and 16th, 415-242-4119). Like a little Hobbit's corner or Secret Garden hovel, there's only two tables but it's a dreamy, welcoming spot to linger with a book over Ritual coffee, a Jessica Foster truffle (try the Dark Chai) or their homemade buttery Pecan Crisp.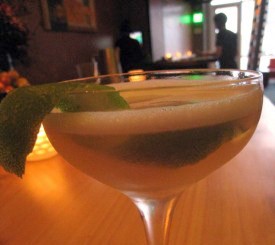 I know where my latest classic cocktail hangout is gonna be. Despite rather small portions of good but not-worth-the-cost food at Charles Phan's brand new Heaven's Dog & Noodle Shop (1148 Mission Street between 7th and 8th, 415-863-6008), the gorgeous, elongated bar hosts a thrilling line-up of SF mixologists (like Thad Vogler, Jackie Patterson, Erik Ellestad) and an ice machine par excellence… it's worth coming out just to drink here. With a changing cocktail list (all $10) from Charles H. Baker's classic "Gentleman's Companion", there's not a shoddy drink on the list.
Stand-outs? The Biarritz Monk Buck bursts with spicy ginger, refreshes with Pellehaut Armagnac and yellow chartreuse. Remember the Maine is a gorgeous blend of Rye Whiskey, Italian Vermouth, Cherry Brandy and Absinthe. Or take the final option (I did) to choose a liquor and have them create the drink – they know what they're doing. Did I mention it's the most beautiful ice you'll ever see?