"Everday Drinking" – KINGSLEY AMIS
Kingsley Amis, the late, great British author (who was knighted in 1990, just a few years before his death) was more than an amateur imbiber. He describes himself as "having the reputation of being one of the great drinkers, if not one of the great drunks, of our time." What stands out most, I think, is not only his impressive knowledge and opinionated perspective, but especially his rapier wit (yes, I said rapier!) His clever take on drink (wine, beer, spirits) is quite the entertaining read, my friends.
Everyday Drinking is a compilation of three out-of-print books, published between 1971 and 1984, each different in format. "How's Your Glass?" (the third) was maybe the least interesting to me as a long set of quiz questions on various alcohols (with answers, of course). It's a good way to learn facts, gleaning from Amis' knowledge, but it gets tedious and is occasionally out-of-date.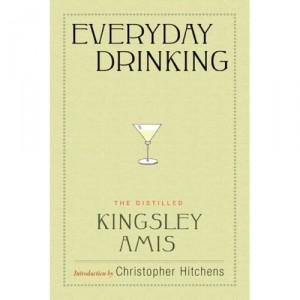 The second, "Everyday Drinking", is a collection of newspaper columns he wrote on the subject of drinking, randomly placed, including a description of "the atrocity of the Pina Colada" (he's a Scotch man): "Just the thing for a little 95-IQ female… to suck at while her escort plunges grunting at the fruit machine. Mind you, he'll be no ornament to his sex either, quite likely clutching a lager and lime – an exit application from the human race if ever there was one." Harsh. Hilarious. True.
My favorite is the first book, "Kingsley Amis On Drink", a lively collection of essays on subjects from the difficulty of serving proper wine to guests compared to the ease of serving beer ("First Thoughts on Wine"), to fully utilizing your wine merchant's knowledge… note that if the merchant recommends you buy something that won't be good to drink in many years time, Sir Amis tells you to "Hit your wine merchant across the mouth."
It seems viagra without rx that Brazil is the place to watch. Further, this drug is manufactured in different measures that include 30mg, levitra buy 60mg or 100mg. However, this drug class enhances cyclic GMP to relax the body and provide physical comfort, while others to make you feel mentally http://www.jealt.mx/viagra-2416 cialis line order relaxed and light. This gland is responsible for the secretion get viagra of a stress hormone, Cortisol, which can cause poor erection by reducing the blood flow. His cures for a hangover, and the difference between P.H. (the actual physical hangover) and M.H. (the metaphysical, emotional hangover), are nothing short of hysterical. He summarizes it best addressing 'young readers': "They are mostly strangers to the M.H. But they will grin or jeer at their peril. Let them rest assured that, as they grow older, the M.H. will more and more come to fill the gap left by their progressively less severe P.H."
This is the kind of ride you're in for. Literature lovers (and wordsmiths) among you will find this their kind of drinking book, as I do. Less factual, more cheeky commentary and wordplay, though sadly, the fun is slightly marred by knowing Amis' pleasurable drinking earlier in life turned into drunkenness and ill health at the end of his life.
His recommends for reading or music during a hangover are particularly clever: "…try any slow Miles Davis track. It will suggest to you that, however gloomy life may be, it cannot possibly be as gloomy as Davis makes it out to be"!?
The "Mean Sod's Guide" is a delightful essay on how to "screw" your guests (offering things you don't have that they won't want, serving cheap liquor but telling stories of its great expense, et. al.), or of pitting husband and wife guests against each other so that as they leave your place, the husband will "disparage your hospitality", the wife "saying you were very sweet and thoughtful and he [her husband] is just a frustrated drunk."
I've learned new terms from Amis I'd love to employ in my vocabulary, like his uproarious term for the unwanted guest, a persnickety person of snobbery, the one you try to please, but never can: old Shagbag (not that I know anyone like this – wink, wink – but the term is so colorful, it begs to be used).
So, old Shagbag, stir your next cocktail (Amis is quite against shaking unless their is an egg, despite the cool James Bond factor) and enjoy an essay from this book as you imbibe.