"…all really interesting people – sportsman, explorers, musicians, scientists, vagabonds and writers – were vitally interested in good things to eat and drink; cared for exotic and intriguing ways of composing them. Diplomats and colonial officials were pungent gourmets." – Charles H. Baker, Jr., "The Gentleman's Companion"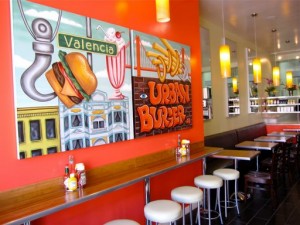 Is it just me or does it seem like despite the state of the world, good eating is proliferating in our fair city? Cash may not be flowing as freely, but the love is, and quality remains high all over the place, from ever-increasing food carts to sit down meals. Which means, once again, narrowing down top tastes these past two weeks hasn't been easy. As usual, there were many others (revisits, regulars & the like): Pagan, a solidly good Burmese meal, though I prefer Larkin Express, Burma Superstar and Mandalay first (yes, also dig Yamo). Tried the downstairs bar menu during Good Evening Thursdays at Bruno's. Back to Schmidt's for a third time in a month – fabulous German food. Kick-ass chicken & waffles, Reuben and beers at always comforting Magnolia. Another lovely waterside lunch at La Mar. Dim sum feast at Mayflower. Multiple visits to Baby Blues BBQ make me happy. And the rest…
SAVORY – VEGETARIAN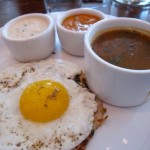 • At Dosa on Fillmore, Uttapam ($10 – South Indian dish, similar to dosa ingredients but thicker) with an egg sunny side up on top, paired with sambar (spicy Indian stew), plus a coconut and a tomato chutney, is so good, I'd love it for breakfast or lunch any day. Comfortingly warm Red Beet Cumin soup ($7) is cooled with creme fraiche on top.
• Though named Fried Cauliflower, Firefly's veggie appetizer ($9.50), tasted grilled, not fried, enlivened by fennel, Marcona almonds, candied orange zest and paprika. Eat your veggies!
SAVORY – MEAT
• One of the more tantalizing pizzas I've maybe ever had is Orson's Pastrami, sauerkraut, onions, gruyere pizza ($16) with Russian dressing. It's a Reuben on pizza and I'm pretty much crazy about it.
• Cornish Hen ($16), at Oakland's brand new The Grand Tavern, is juicy, slow cooked in ginger and onions by mom of the mother/son team that run this lovely place (more under "Drinks" and my Guardian write-up).
• Chow down on burgers at Urban Burger and you won't be sorry (your stomach might be, though) – either make your own or order from 10 special giants, like the Buffalo-style ($9.50) with blue cheese and Frank's Red Hot Sauce, which hit the spot on 5/20 opening day.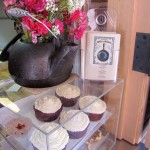 • Finally up and running, gourmet "cheap eats" continue mad proliferation with the chicken & waffles walk-up window in an alley, Little Skillet, from the folks behind FarmerBrown. Waffles are cute but a little dense – quite tasty with syrup. The chicken has crispy skin and tender meat. Together? A darn pleasing lunch or breakfast. Get 2-piece ($7) or 3-piece chicken with a waffle, a chicken lunch box with biscuit ($6.50-$15), or waffles by themselves ($3.50-$11, for 1-4) with cinnamon-pecan or citrus butter. I'm jonesing for more… but I warn you about lunch-hour lines.
• Escargot Puffs ($2 each) from Chez Spencer's charming French food in a taco truck, Spencer on the Go!, were THE hit of May 21st opening night (and since). Frog Legs & Curry were sold out by the time I arrived, Sweetbreads warm & savory, but Escargot on a stick ROCKS! I'll take five of 'em, thank you.
SAVORY – SEAFOOD
• Mission St. Food on May 21 was an adventurous feast from Jordan Grosser & Ted Fleury of The Alembic. From super fresh Corn Salad ($5) with edamame, fennel, red onion, serrano and cilantro, excitement rose with Duck Heart & Foie Gras on a Stick ($11), accompanied by royal trumpet mushrooms, tart with cherries, on a creamy polenta. Wow. Grilled Kobe Beef Tongue ($8) was savory goodness in a burdock-soy glaze. Mango Sticky Rice ($6) in young coconut juice with cilantro sauce, a beautiful finish. I can't choose a "top" from such a fun-filled meal, but maybe most comforting was Soft Shell Crab Po' Boy Sliders ($10) with old bay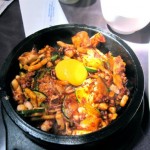 aioli, sunomono slaw and homemade salt & vinegar chips. Just the right touch of crisp with hefty chunks of sweet crabmeat. These guys need to cook here again soon.
• Seafood Bibimbap ($7.50 at lunch for a huge portion) at Arang is loaded with octopus, plump shrimps, tender rice, grilled onions, bright red with mild spice and egg yolk to mix in. It's an ideal Korean lunch/dinner stop, is cheap, and there's karaoke upstairs.
SWEET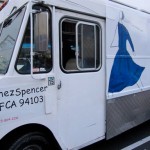 • Firefly always floats my dessert boat and the other night was no exception: Warm Chocolate Peanut Butter Budino ($8.50) with banana malt ice cream and candied peanuts. Dense, dark chocolate with peanut butte, cooled by creamy banana, put me to bed happy.
• Damn! Humprhy Slocumbe has me again with Peanut Butter Curry ice cream. Creamy on the PB with a curry finish. Hooked once more. They really need to stop this.
DRINK
• New seasonal drinks at one-and-only Alembic, include nuanced Strawberry Alarm Clock ($10): Stranahan's Grand Mesa Malt Whiskey, sweet vermouth, strawberry puree, shot of Tabasco, and a tiny dose of parsley and peppermint oil. Layered, just a hint of strawberry with a slow-burn finish. Aw, yeah… Can't go wrong with a strong Blue Steel ($10): Appleton Estate Rum, Creme de Cassis, absinthe, Angostura bitters, splash of rye whiskey with a sprig of cilantro and lemon peel. As always, they do it right.
• The Castro's welcoming, 5-month old juice shop, Frapez, is miles from a Jamba-type offering. With lovely wheatgrass shots in shot glasses and a menu full of intriguing combos, I liked the way I felt after a glass of deep green Optimmunity ($8 for 16 oz./$9.50 for 20 oz.): pumpkin seeds, goji berries, strawberries, mango, spirulina, rice syrup, echinacea leaf, coconut milk and green tea.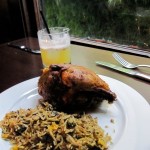 • Back at The Grand Tavern (see more under "Savory – Meat" and my Guardian write-up), cocktails fare well with Kold Draft machine for perfected ice and classic recipes made with care. Absinthe Gimlet ($9) is Plymouth gin served up, with lime and a hint of absinthe (could almost use more than a hint), but it's smooth and a little too easy to drink.
• Celebrating Strawberry Week on Whiskey Wednesdays at Fifth Floor (different flights featured each week, $7 classic cocktails, plus Laurent Manrique's only-on-Wed fab Duck Cassoulet, a hearty portion for a mere $12), Strawberries in the Barrel ($10) is a lightly sweet cocktail of Buffalo Trace Bourbon, Cinzano sweet vermouth, Luxardo maraschino liqueur, lemon juice, sparkling French Lemonade.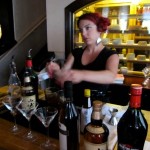 •  My top taste during SF Cocktail Week's closing party at swanky Jardiniere, was Brian MacGregor's gorgeous Strawberries Revival: single-malt scotch, Vieux Pontarlier Absinthe, cane syrup, Angostura bitters, lemon, strawberries. A powerful punch of absinthe, smooth with muddled berries. My fave classic served that night was prepared by lovely Kelli Bratvold, of Bourbon & Branch, the Saratoga (a Jerry Thomas recipe): rye, sweet vermouth, cognac, Angostura bitters. Yes, I will try that one at home.